Best Cotopaxi Backpacks for Hiking, Travelling and City Breaks
In this blog, we're taking a closer look at our hand-picked selection of the Best Cotopaxi Backpacks.
There are all kinds of reasons to love this brand, chief among them being the conscientious production they bring to the outdoor market.
Everything they make is designed to get the common traveller out into the wide unknown – to encourage everyday folk to explore more and to strive to enforce a positive impact on other peoples' lives.
We're talking all those influencers online, behind happy hashtags (like #getoutdoors) and this entire culture of wanderers trying to inspire their friends to ditch the draw of screen-scrolling gratification.
While instead promoting our common migration outside, to find some value in nature.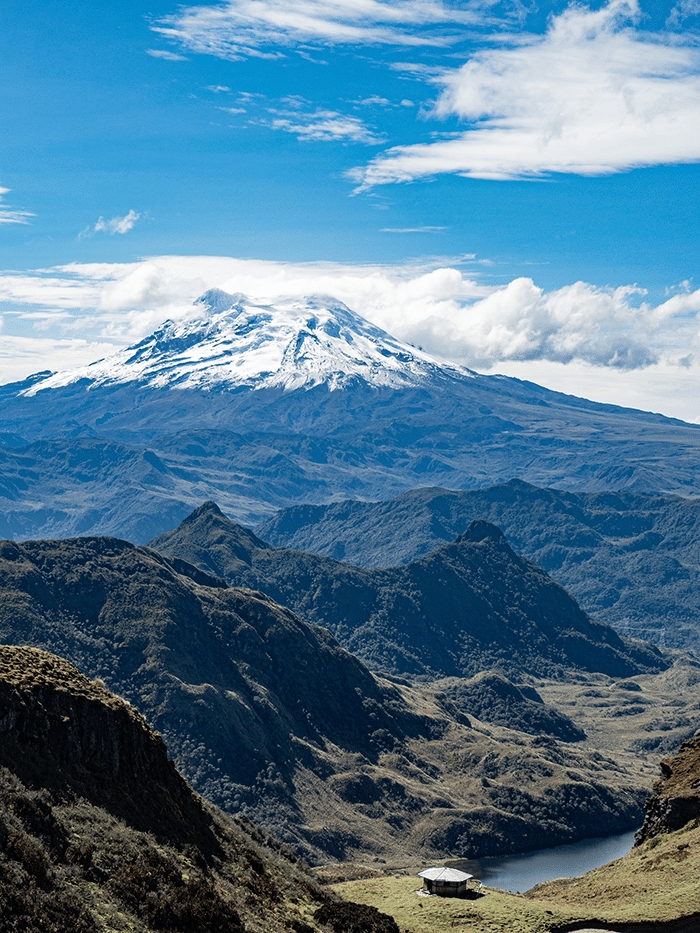 Cotopaxi are part of this movement and their sustainably-made gear is built for the outdoors, yet also created to do some good in the world. A percentage of Cotopaxi revenue is always devoted to non-profits set up to improve the human condition.
Their travel products can boost our enjoyment of the outdoors, offering more comfort, with less hassle, which is exactly what is needed to bring adventure into our everyday.
We're talking products for car campers, road trippers and backpackers tramping to the furthest reaches of our planet.
They specialise in award-winning family travel packs and overland bags – all of which is nimble and secure – as well as fun, high quality apparel to make disorganised backpackers a stereotype of the past.
It's also just happens to be pretty cool that the brand is named after one of the world's highest active volcanoes, in Ecuador – a site which is sacred to the native Quechuans. It's also where Cotopaxi founder, Davis Smith, grew up.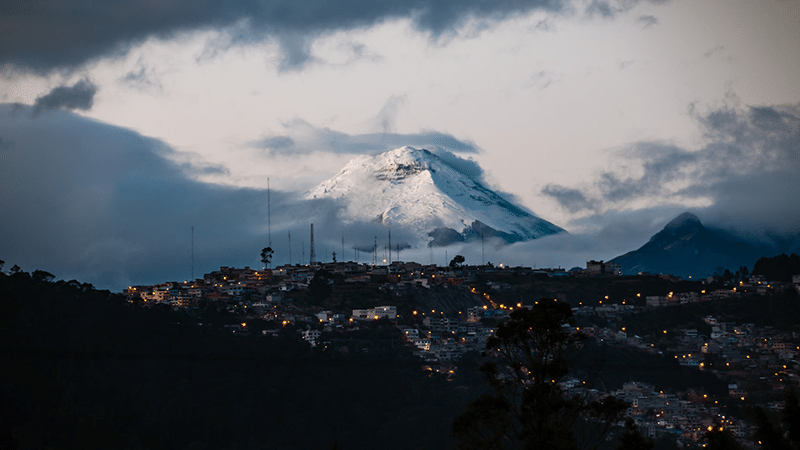 In fact, the volcano loomed over his early life and his school was even named after it. Looking back, Davis remembered the world of his childhood as being traversed by glacial streams, roamed by wild llamas and criss-crossed by endless trails, snaking off in all directions to uncover the promise of adventure.
And this world was likely fuel for the spirit of entrepreneurship he later displayed. Not to mention it being a lesson in hardship and the unequal access to opportunity evidenced across Latin America.
All of this helped to stoke the origins of a principled brand that has adapted a business model similar to Patagonia – vaguely parroting the adage that 'doing good is good for business'.
Best Cotopaxi Backpacks
Following is our pick of the best Cotopaxi backpacks, especially chosen for hikes, travels and city breaks:
Best Cotopaxi Backpacks for Travelling
Checkout our favourite Cotopaxi Backpacks for travelling.
Allpa 35L Travel Pack (£200)
First up, let's unzip the second-generation Allpa 35L Travel back, currently available in Blue Violet and other colours.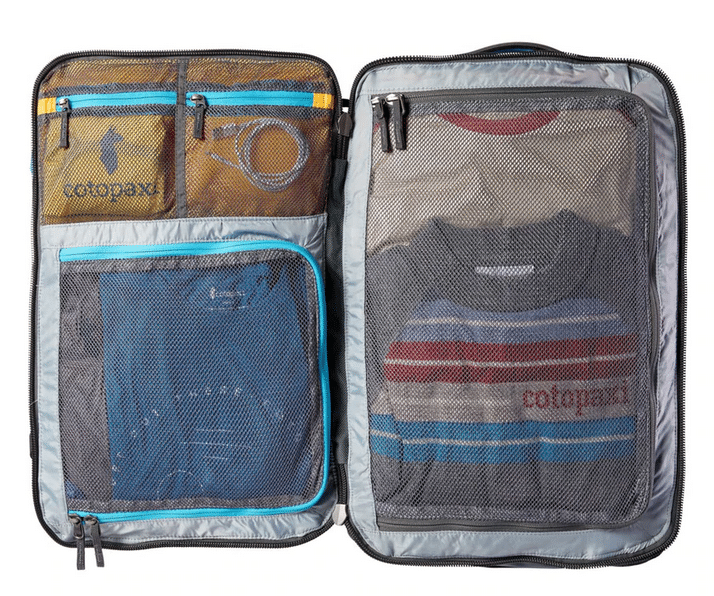 In making this, Cotopaxi took on a healthy amount of customer feedback, creating a lighter and more durable version of the bag's best-selling predecessor – a lightweight backpack system, for all vagaries of exploration.
The backpack is sized for carry-on convenience and adapted with durability in mind. So, it can still be a good adventure companion after years of use.
The tough Allpa 35L shell contains TPU-coated 1000D polyester and 840D ballistic nylon panelling.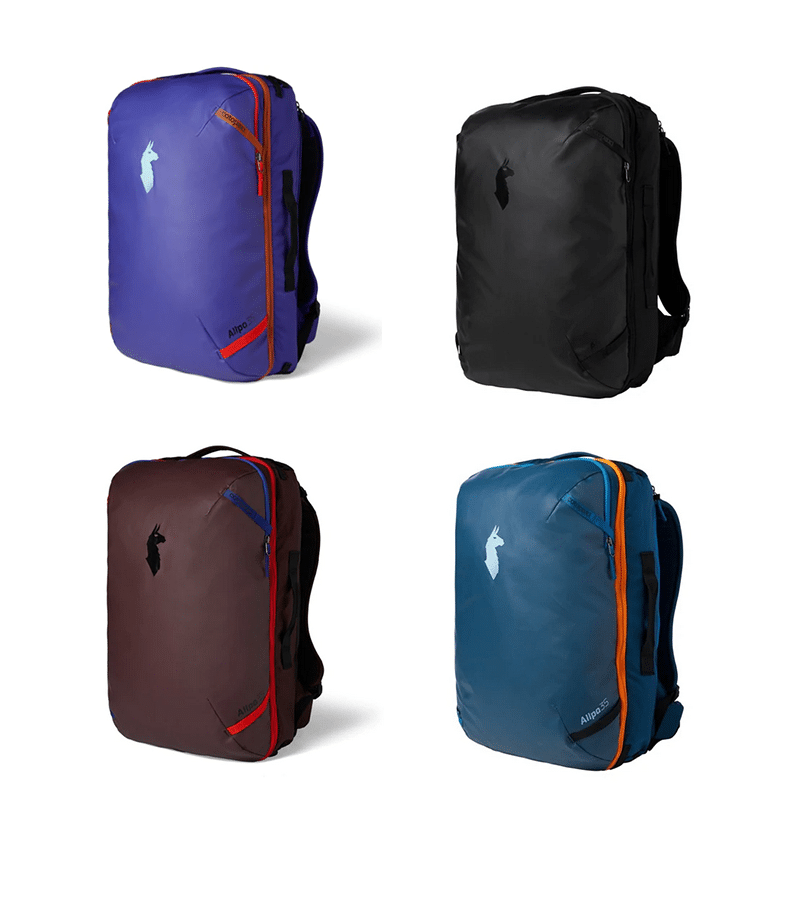 The low-profile harness and suspension system combine for increased comfort, allowing the wearer to easily distribute weight on longer journeys. The system also includes contoured shoulder straps and removable hip belt for extra support and balance.
While the bag remains a reasonable size – easily stowable in an overhead compartment. The breathable air mesh on the back panel comes in handy and the sternum strap is also adjustable to enhance comfort.
There is an array of useful zippers, including a full-wrap main compartment that opens to reveal more interior zippered, mesh pockets. Throw in additional padded laptop sleeves inside and you've got room for all your essentials, protected by theft-proof webbing, sewn over the openings.
Allpa 42 L Travel Pack (£220)
Available in stylish Black, this is Cotopaxi's largest backpack – a rugged and functional design, specially made with adventure in mind. It doesn't matter if you're headed off close to, or far from, your front door. You'll never be caught off guard with the Allpa 42L Travel Pack.
Now, you can comfortably lug around your worldly possessions at all times.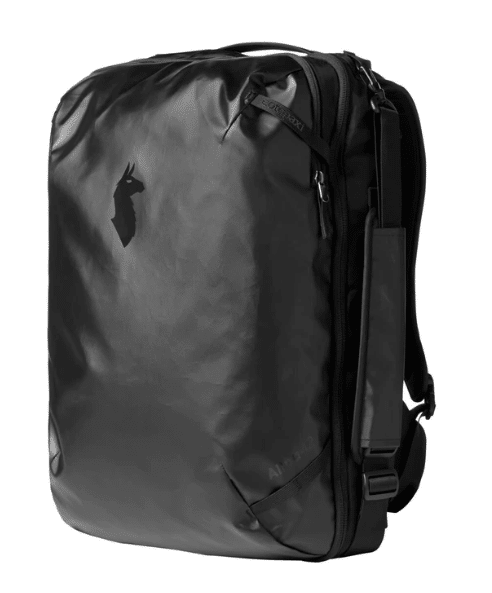 Or, strap this pack to your car roof and let the Allpa's exterior TPU-coated polyester shell fend off any rough weather. There's also a mesh suspension system and load lifter straps to ease your load bearing capability.
You'll find added comfort on long hikes and ease of carriage on your next rush to catch a flight. The suitcase style feature is great for moving the pack with ease and zippered openings are handy for quickly getting into interior mesh pockets of varying sizes – plenty of places to roll up and store clothing, toiletries or essential travel documents… whatever you might need for your jollies around the world.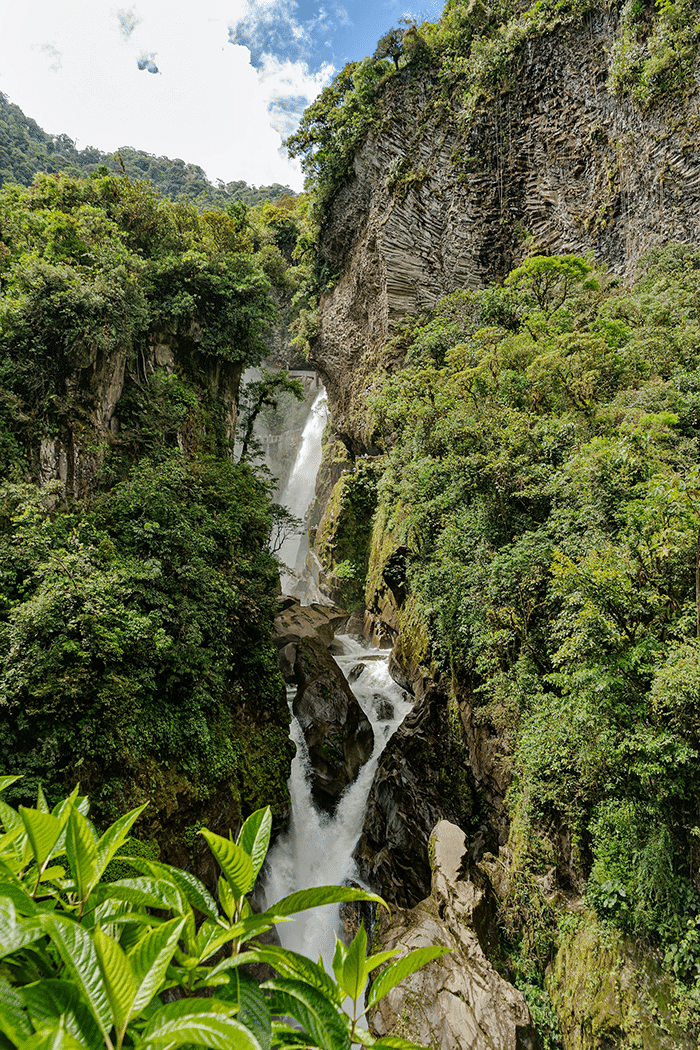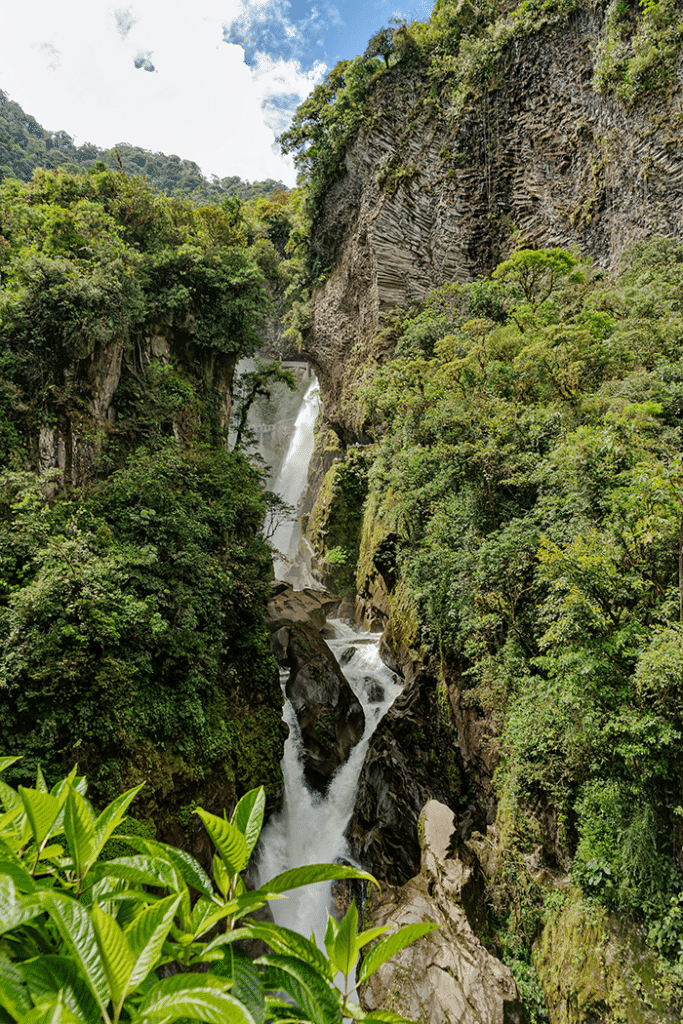 The upper pocket is fitted with a zipper too, storing any items that might be needed on the move. Then there are a few other shortcut pockets, in case you don't want to tear into the whole bag and start digging through clothing in a busy airport.
You'll even notice a few carabiner connection points to latch on any extra gear, if needed.
Allpa 28 L Travel Pack (£180)
This one is extra stylish to serve you well on your travels – also available in Evergreen colour.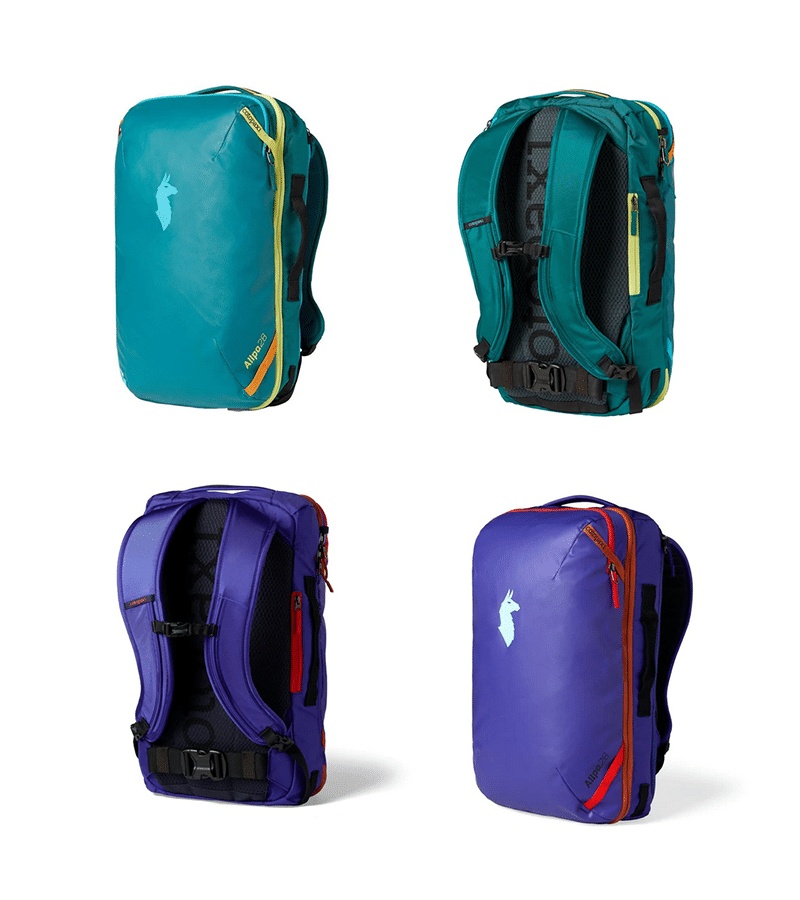 You can travel light with the Allpa 28L, which is smaller and more agile than some of the other backpacks in our selection. This one was again refined with feedback from droves of reviewers. It's durable and well-constructed, with contoured shoulder straps and a padded, low-profile harness to ensure your comfort when the pack is fully loaded.
The design features a blend of TPU-coated 1000D polyester and strong 840D ballistic nylon panelling. It's lightweight, but still strong and ideally styled for more fast-paced weekend trips.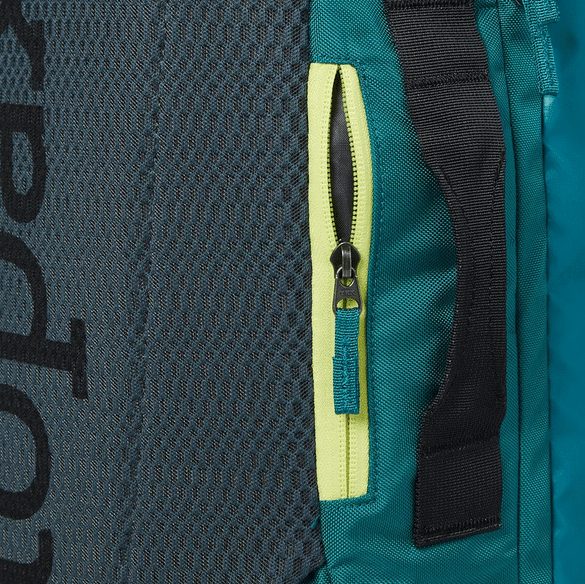 You can gain additional comfort using the adjustable chest strap and lightweight nylon hip belt – both combine to boost your ease of travel and allow for better accessibility.
The interior padded laptop and tablet sleeves are great for easy storage and a slotted back panel can be utilised to hold your shoulder straps and hip belt – a clever way to avoid getting your straps snagged on any overhead bins, or trapped somewhere on a conveyor belt.
This one also includes the popular suitcase style, with full wrap-around zipper to allow checkers to easily view the contents. Inside, you'll find two halves, secured with mesh dividers for the best and quickest organisation.
Best Cotopaxi Backpacks for City Breaks
These are the best Cotopaxi Backpacks for life and trips in the city.
Chasqui 13L Sling Pack – Cada Dia (£70)
They named this little beauty after the messengers of the Incan Empire. Hence why Chasqui is a modern messenger bag, stylish and easy to wear, with plenty of space to stow all your belongings on the move.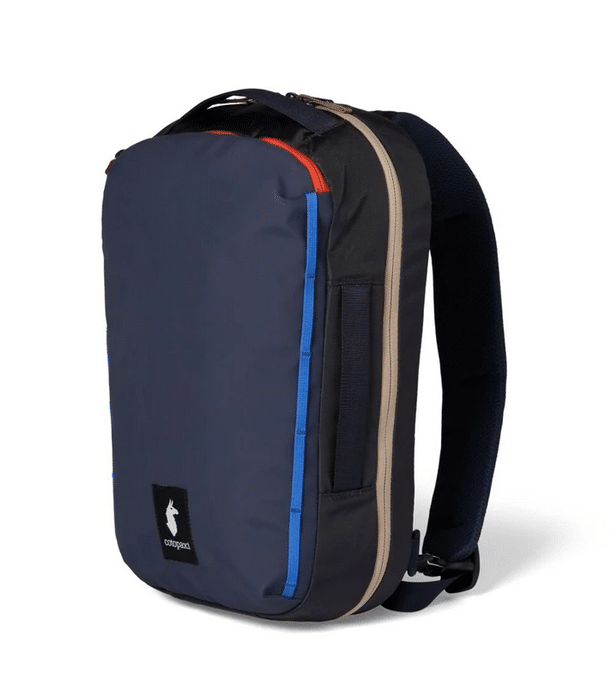 This sling pack is available in the Graphite colour, with thoughtful construction and a conscientious design made mostly from recycled materials. This one is exceptionally comfortable and features intuitive components for daily-use.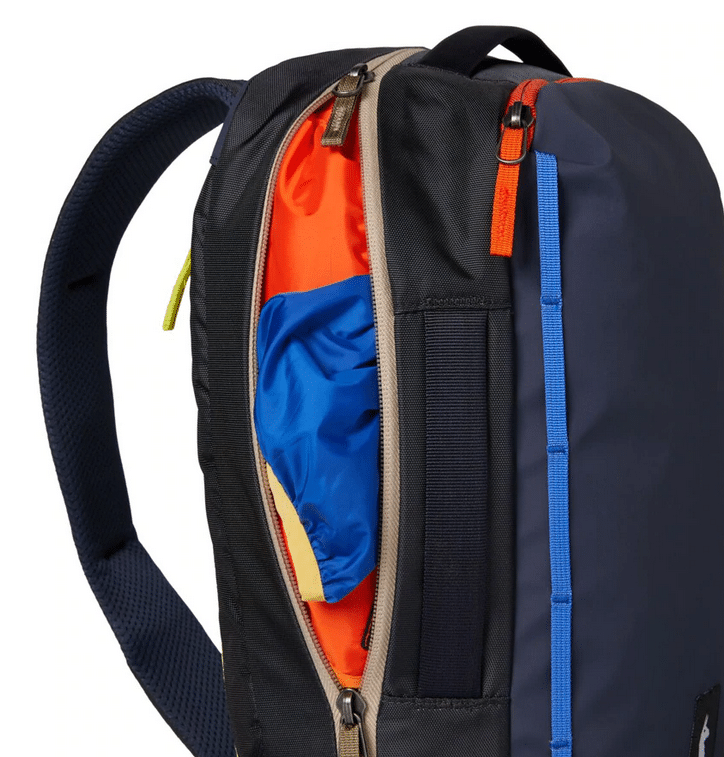 The more casual design is enough to take the discomfort out of your everyday load. You can pack away all your business needs and sling the Chasqui over one shoulder, for life on the move, affording you easy access and the ability to hold your essentials close – where they'll be well-protected at all times.
Hielo 12L Cooler Bag – Del Dia (£120)
When you pick out a Hielo pack, you'll be delivered a one-of-a-kind design and the ability to choose at random from a total surprise colour, made partially from repurposed materials.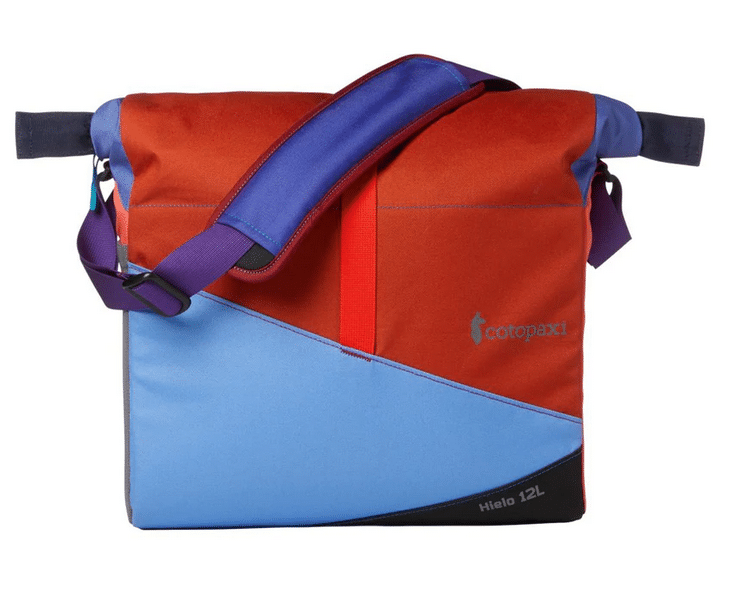 The cooler bag is colourful and enables you to both eat and drink outdoors in style. It's convenient, 100% food safe and the cooler features a clever roll top and buckle closure to protect your movable feast. The mouth opening is wide with a metal frame, allowing you dive in for easy access and to paw through all your stores at a moment's notice.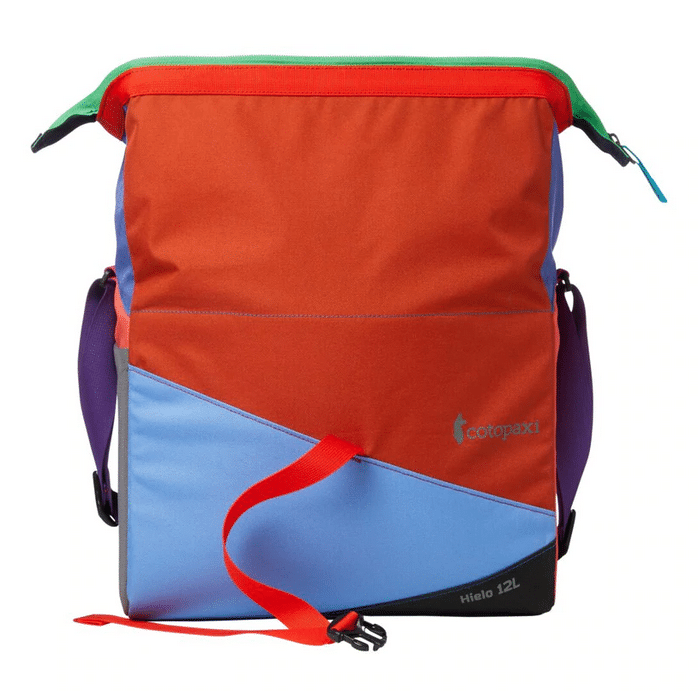 The waterproof liners are welded and fitted with repurposed foam insulation, keeping your snacks fresh and your beverages cool. You'll find an exterior bottle pocket too for hydration on the go.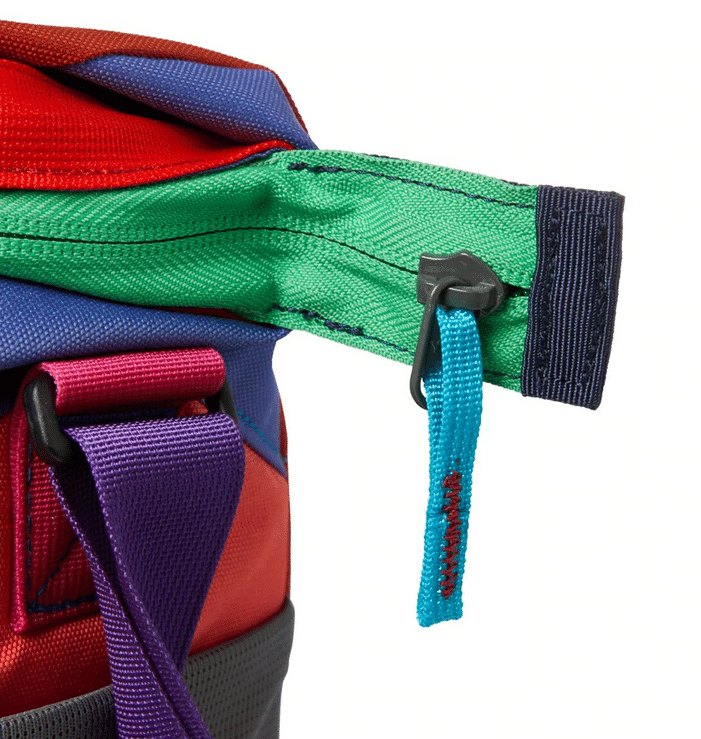 You can lift up the Hielo with the side carry strap, or alternatively use the back grab handle for pick up and go travel. The Hielo is well-suited for walks in the park, or for any places you want to roam in the city, with your possessions in tow. The one-of-a-kind colours are just some added fun, hurled into the mix.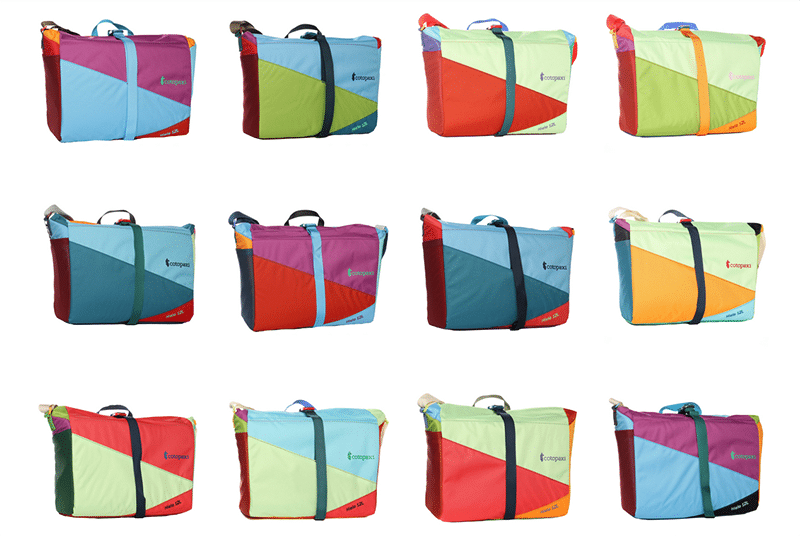 Best Cotopaxi Backpacks for Hiking
Going into the wild on a hike? Make sure you have one of these with you.
Moda 20L Backpack – Cada Dia (£115)
The Moda 20L Backpack is another thoughtfully designed creation by Cotopaxi – which is again 'made with Mother Earth in mind', as the brand likes to say. It's built with mostly recycled materials and available in four colours, striking Mezcal is our favourite.
Check out these Cotopaxi insulated jackets
You can load this one from the top and carry it everywhere with you, seeking out adventures on less-travelled paths.
The design was inspired by the iconic Luzon – another versatile backpack that can stay with you, keep your pace and survive any stumbles.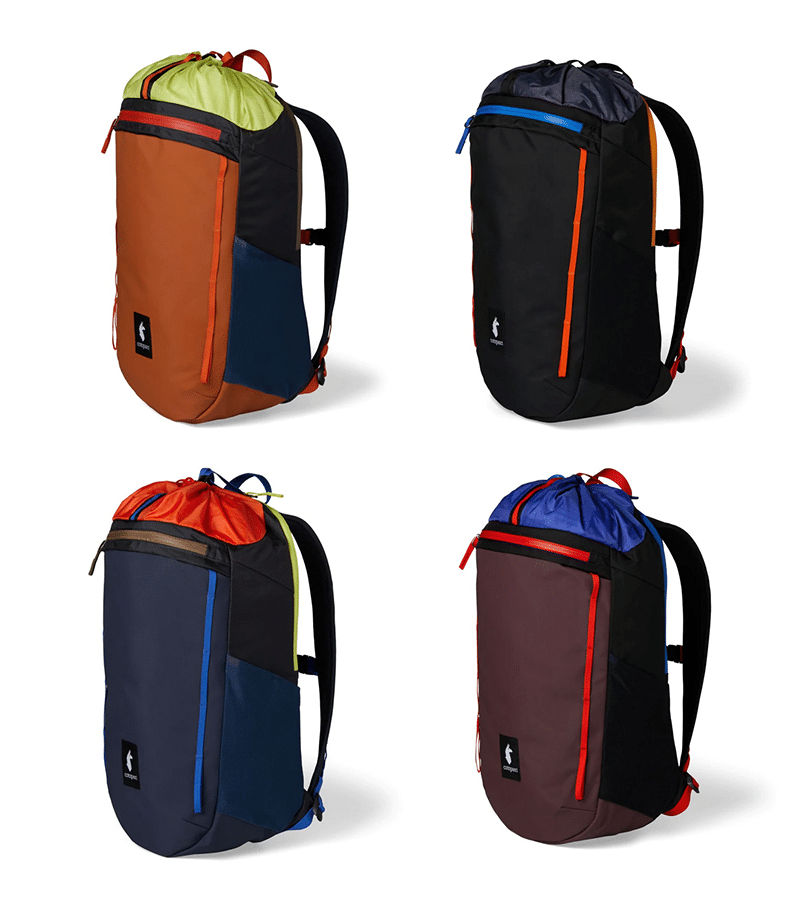 We're sold on the eye-catching colour and clever cinch-top closure, leading you in to a suspended laptop sleeve and expandable mesh pockets for water bottles, compatible with any endurance sport.
The ergonomic design is essential and the compartments allow you to stay organised under pressure. It's no surprise this one is so well-reviewed, with more side pockets for additional hydration on your back, as well as the included hip belt for additional support.
It would stand up in the city too as it's easy to slip on and take with you on a whim.
Coso 2L Hip Pack – Cada Dia (£45)
Okay, so it's not exactly a backpack, but this clever little companion will definitely look after you on the trails.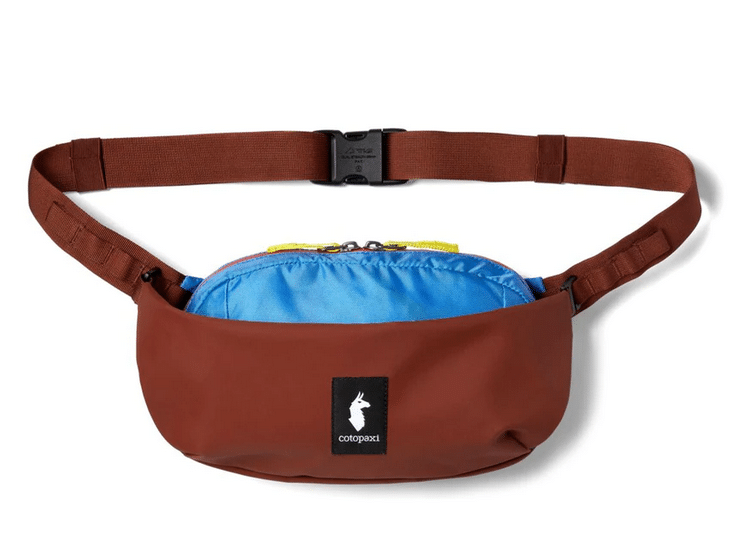 It can hike wherever you go and should never be underestimated. The Coso is made from recycled polyester, worn for absolute convenience with no-hands, allowing you to swing your arms freely as you scamper off on your wanderings.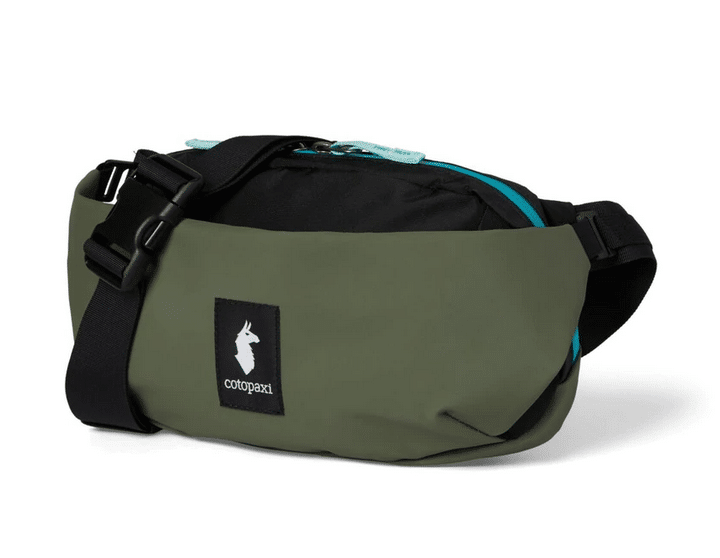 The easy-to-access main compartment is surrounded by spaces for all your electronics – an interior phone pocket and flat pocket to safely carry your wallet, or transit pass.
There's also a handy back pocket for your secret essentials and plenty of places for smaller items, including (and this is the clincher!) a grazing bag, filled with snacks to chew on during your alpine walks.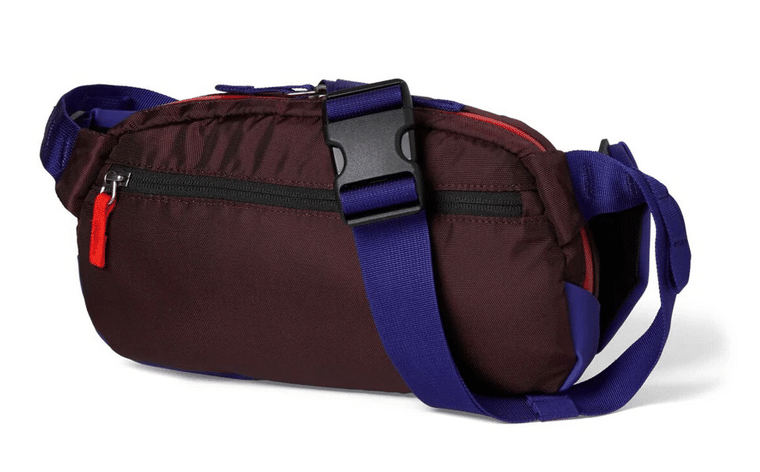 This hip pack is available in a unique Rust/Azul colour and three other options.
Learn More
Try these other great outdoor equipment brands from around the world.