Best Outdoor Fitness and Hiking Sock Brands
This complete guide will teach you about the best outdoor fitness and hiking sock brands.
Find the perfect fit for your feet, requirements, budget and style.
What are Hiking Socks?
Hiking socks are a type of sock that are specifically made for hiking.
While they can be worn for other outdoor activities, like biking or running, they're designed to keep your feet comfortable during long hours on the trail.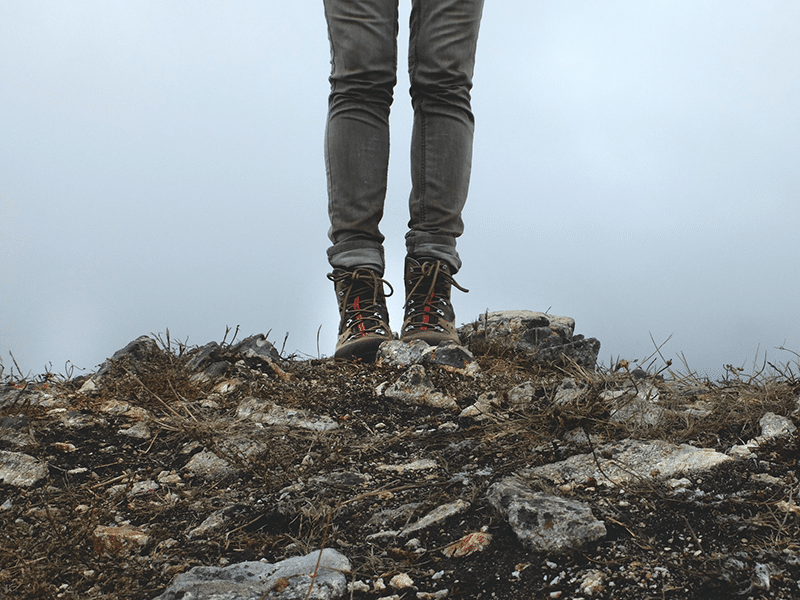 They usually have extra cushioning and support compared to other types of socks, and they often feature special materials that wick moisture away from your feet. Hiking socks come in different fabric blends and thicknesses to accommodate various trail conditions and footwear choices.
Hiking socks were traditionally made from thick merino wool, but modern styles also include synthetic fibres like nylon and polyester that take advantage of new technologies like temperature regulation.
These materials tend to be less expensive than wool as well; some brands use a blend of synthetic fabrics and wool for the best of both worlds.
How Much Support Should Hiking Socks Provide?
As a general rule, more support is better, with one important caveat: if you have too much support for your specific foot type and activity level, the socks may actually be less comfortable than those offering less support.
The amount of support different socks provide depends on their level of compression.
Compression refers to how tightly the sock material is woven together; a tighter weave provides more compression—and therefore more foot stability—at the cost of flexibility.
Hiking socks should maximize both stability and flexibility, in order to provide appropriate levels of protection while allowing a full range of motion as you hike.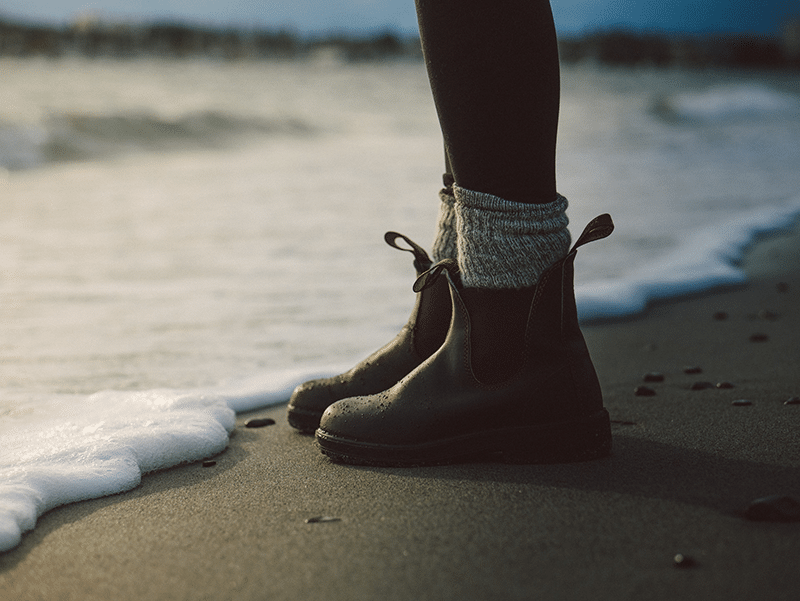 Finally, note that some brands offer greater amounts of support in certain areas (forefoot/toe box or arch) than others. This can be useful if you have narrow feet or high arches: look for socks that offer targeted compression at problem areas like these.
Compression itself is measured in millimetres of mercury (mmHg). For example, if a sock has 30 mmHg compression at the toe box and 15 mmHg at the arch, it will offer more stability where you need it most but still allow enough movement to keep your feet from feeling constricted during your hike.
What Hiking Socks are the Most Comfortable?
Hiking socks are designed to be comfortable and supportive.
The best way to keep your feet comfortable is by choosing a sock with cushioning. These socks have thick padding on the bottom to help keep your feet comfortable and supported.
You can also choose hiking socks that are made out of moisture-wicking materials like wool, synthetic material or merino wool. Cotton is the least comfortable material for hiking socks because it will not wick away moisture like other materials, it's heavy and it offers less cushioning than other materials.
Stay warm on your hikes with Yak wool!
Cushioning will provide the support you need while you're hiking and give you more comfort as you walk.
Wool is a breathable material that provides great moisture control while synthetic materials provide good moisture control without being as heavy as wool.
Merino wool is becoming a popular choice among hikers because of its ability to absorb odor, wick away moisture and offer more support than cotton or synthetic fibres.
If you're looking for an option that offers both comfort and warmth without being too heavy then a merino wool sock might be your best choice!
How Should Hiking Socks Fit?
When trying on socks, make sure the heel fits snugly against your foot.
They should fit the shape of your foot, not the shape of your shoe. A tight sock will cut off circulation and keep blood from getting to your toes.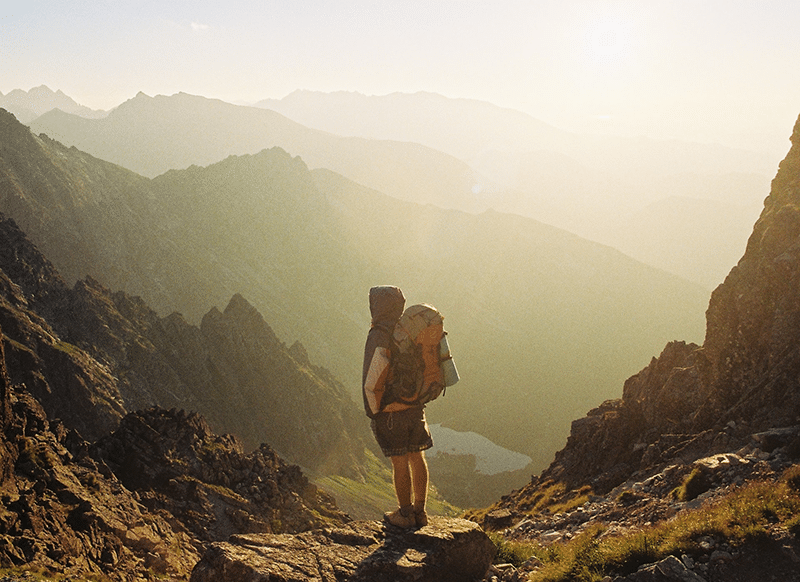 On the other hand, a sock that is too loose will bunch up and wrinkle inside your shoe, creating blisters.
Be wary of socks that are either very thick or very thin; both can cause painful friction inside your hiking boots. If you notice any loose threads or material bulging outside of the sock seams, choose a different pair; there's no need to get blisters from poorly constructed socks.
What Fabrics are Hiking Socks Made From?
Wool
A natural fibre that's sheared from sheep and other animals, wool is durable, moisture-resistant, and very warm. However, it can be heavy and can retain moisture.
Synthetics
Nylon is one of the most common synthetic fabrics used to make hiking socks. It's also a tough material that resists wear and tear well. Polypropylene has excellent wicking abilities but is not as durable as nylon. Spandex/elastane gives socks their elasticity (stretchiness)
Merino Wool
Merino wool is fine fibres made from Merino sheep. It's generally softer than traditional wool because of its finer fibres.
Cotton
Cotton is soft and strong but also retains moisture which could lead to blisters if cotton makes up the majority of your sock fabric.
Hiking Sock Brands – Silverlight
Silverlight socks are made from merino wool, nylon, and spandex. They're built for those who have a passion for the outdoors: hiking, camping, cycling.
Silverlight wants to make sure that their customers can enjoy their outdoor adventures without worrying about blisters or foot pain.
Their socks also feature an arch support band to help relieve foot fatigue, as well as extra padding in the heels and toes.
These socks are made in the U.S.
Fitness and Hiking Sock Brands – Lasso
Lasso is a good option if you're looking for warmth, cushioning, and durability.
Made of merino wool to keep your feet warm while hiking, they have thick cushioning on the bottom and extra padding around the heel.
They're best suited for long hikes because they are fully double-layered with a reinforced toe and heel. These socks will last you a long time through use and repeated washings.
Hiking Sock Brands – Smartwool
Smartwool is a merino wool sock company, and the brand is known for its high-quality hiking socks made from the best materials.
Its selection of different sock heights, widths, and styles are designed for various activities like trail running, walking around town, skiing in Aspen, or even just lounging around your home.
Smartwool also offers socks for temperate climates as well as colder conditions; it even has socks with padding specifically intended to relieve pressure on your feet.
With all this in mind, Smartwool should be your go-to brand if you're looking for versatile hiking socks that will stay comfortable even after hours of wearing them on long hikes or adventures.
They also provide excellent cushioning for long periods spent trekking around on hard surfaces like rocks or concrete floors inside buildings.
Hiking Sock Brands – Balega
Balega socks are made with high-quality materials and designed by experts to offer the best support to runners.
The brand's running socks have a built-in arch support, which helps keep your foot in place while running and prevents the formation of blisters. The company's socks also have reinforced toes and heels to increase durability and comfort.
Another thing we like about Balega is its unique designs. If you love colour or patterns, there are many fun options for you to choose from at Balega, including argyle, stripes, or neon colours that glow in the dark if exposed to UV light.
If you love hiking or doing other outdoor activities like trail running on uneven terrain wearing warm socks is important, especially in cold temperatures.
Hiking Sock Brands – Injinji
Toe socks were first developed to eliminate blisters and wick away moisture. This company grew its reputation on making socks that keep your feet dry and blister-free, and has developed a wide variety of outdoor activity specific socks.
The company makes over 200 styles of toe socks currently, including running/hiking/biking/swimming/water sports, multi-sport, casual wear, bridal wear (really) and more.
They are made in the USA from global components, so you know exactly where your sock was made (even if not the materials themselves).
As you might have guessed from the name, these are toe socks for running and hiking. They fit like regular socks with fabric between each toe. So, no awkward separating or bunching of toes—they're just comfy!
They make models for every type of foot too: from a thin ultralight no show to an ultra-thick cushioned trail sock.
If you're looking to match your outfit, they also make a variety of fun colours and patterns!
Hiking Sock Brands – Farm to Feet
Farm to Feet is a North Carolina-based company that produces socks made entirely in the USA.
The company source their products domestically, and use American merino wool.
This means that unlike some other brands, they're able to trace their wool back to its origins, which helps them ensure quality.
Their socks are moisture-wicking, breathable and odour-resistant. They're also machine washable if you don't have time for hand washing (or just don't want to).
Hiking Sock Brands – People Footwear
In an effort to be more environmentally-conscious, People Footwear makes their socks from recycled plastic, EVA (foam), rubber, cotton, and wool.
These are the same materials that are used to make many other brands of outdoor socks; however, People Footwear has chosen to go a step further in hopes of reducing waste by sourcing their materials from recycled products.
The company's goal is to create a circular economy for footwear: one where all products can be reused or recycled after use instead of being thrown away.
People Footwear is a brand that focuses on producing high quality hiking and outdoor socks for men, women, kids as well as adults.
All of the company's shoes come in different sizes so they are able to fit any foot type no matter what size it may be.
With over 40 styles available in both adults' and children's section you'll definitely find something that suits your needs when shopping at People Footwear.
Hiking Sock Brands – Swiftwick
If you're looking specifically for socks made from merino wool, Swiftwick stands out as an option with a variety of features and use cases.
These socks are made in the U.S.A., and the brand has a reputation for quality, durability, and comfortability.
They're popular with hikers, runners, and cyclists who can appreciate their performance-oriented construction (with padded heels), but they also offer suitability for daily wear in both athletic and casual situations.
Hiking Sock Brands – Darn Tough
Darn Tough hiking socks are made in Vermont, and they come with a lifetime guarantee. They're comfortable, durable, and breathable—exactly what you'd want from your travel footwear.
The company uses merino wool to create its thick but lightweight feet covers, so they're great for keeping your feet warm in the winter and cool in the summer. They also help your toes resist moisture build up by wicking away sweat.
If you need a new pair of socks for your next outdoor adventure, Darn Tough should be at the top of your list (they were on ours).
Hiking Sock Brands – Feetures Elite
Feetures Elite socks are made from a blend of Merino wool, nylon and lycra.
This material is meant to be snug on your foot for enhanced blood circulation and blister prevention. The snug fit also makes it more durable.
The no-show design makes them ideal for wearing with athletic shoes.
Hiking Sock Brands – Wrightsock
Wrightsock is a high-end sock brand that focuses on reducing blistering.
They were founded in the early 1970s by Dale Wright, an avid runner who had encountered his fair share of blisters.
Frustrated with the options available and determined to find a solution, he created Wrightsock as a way to provide runners with extra protection against blisters.
His patented double-layer design has been praised for its anti-blister properties and praised by many people who find it worth the price tag.
Like Thorlo, they have a lifetime guarantee that makes them one of our top choices when it comes to hiking socks.
How High Should Hiking Socks Be?
In general, you'll want to wear longer socks for longer hikes and shorter socks when the weather is hot or when you're doing a high-intensity activity (or both).
This combination will keep your feet comfortable as well as give them the support they need during more challenging excursions.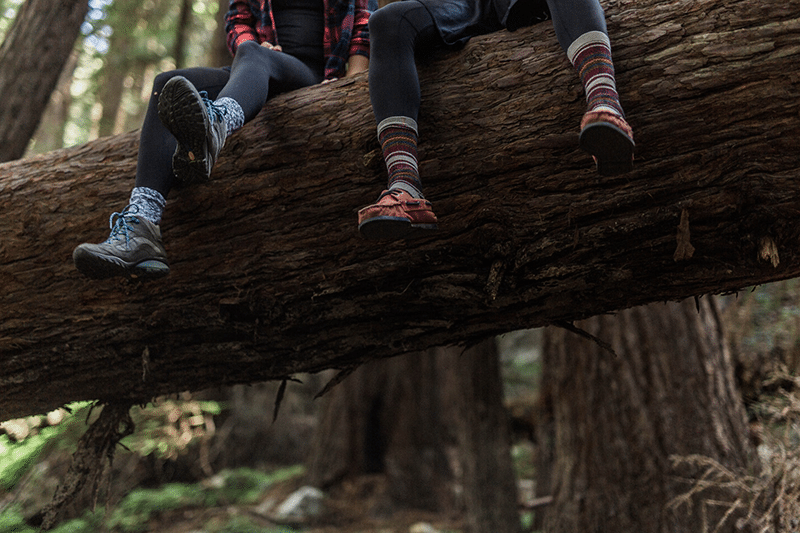 As discussed earlier, longer hiking socks are typically bulkier and heavier than their shorter counterparts but provide extra insulation for colder weather conditions.
Additionally, since taller hiking socks often come in compression styles that lend them added support and stability, they can also be a good choice if you're looking for extra protection on long hikes with heavy backpacks.
While there are many benefits to wearing taller socks on longer hikes, some hikers may prefer the lightweight feel of short socks regardless of distance because they offer far greater breathability than most tall styles.
How Do you Wash Hiking Socks?
Washing hiking socks is similar to washing most other clothing items, but there are a few things worth noting.
Most sock manufacturers will give you specific washing instructions, but generally speaking, it's fine to wash your socks in the machine with like colours and avoid using bleach or fabric softener.
Tumble dry on low heat if you don't want to air dry them.
How Do you Care for Hiking Socks?
Not all socks are created equal, and wearing the wrong sock for the wrong activity can mean blisters.
The same material that may be great at wicking away moisture when you're hiking a mountain, can make your feet hot and sweaty on a long bike ride.
Here are some general tips on sock care:
Wearing thick socks will reduce friction between your foot and the shoe or boot. You can even wear two pairs of socks if you need to—one thin pair with a thicker pair over top—to add an extra layer of cushioning.
Avoid cotton socks whenever possible as they absorb moisture, which is absorbed by your skin, leading to blisters and discomfort. Invest in wool or synthetic blends that wick away moisture instead of absorbing it.
Rotating between two good pairs of socks will keep your feet from getting soggy after a long day on the trail. Some people like to change their socks once in the morning, then again at lunchtime to keep their feet dry for the afternoon hike out.
If you plan on doing more than one activity during your hike (like swimming or climbing), bring an extra pair of dry socks so you don't have to wear wet ones for longer than absolutely necessary!
It's best not to get into water without changing out first so there isn't lingering moisture left behind from sweat before getting wetter again while swimming or splashing around rocks in streams—wet equals cold!
Wet also means more friction against your shoes which could lead blisters if left too long without changing out first!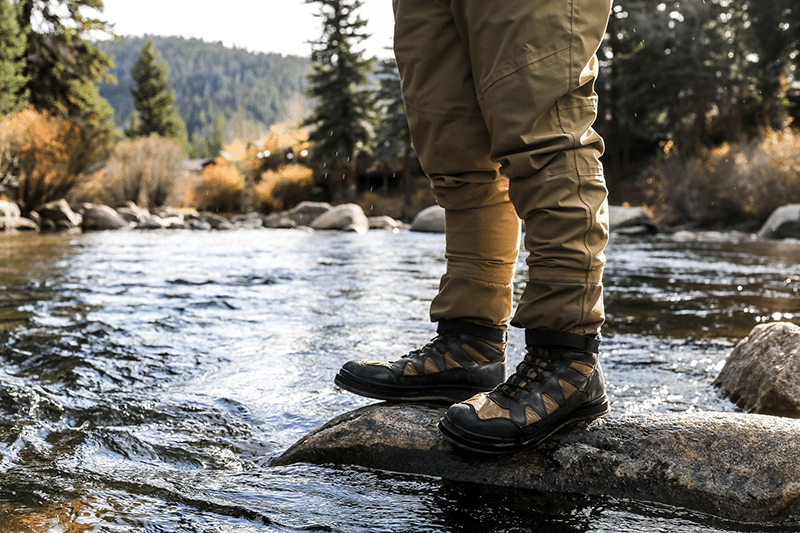 To avoid this problem altogether make sure there aren't any holes in them where water might seep through before heading out on any hikes involving river crossings etcetera (we recommend testing them manually).
What Hiking Socks are Best for Summer?
The best summer hiking socks for your hike will depend on the type and duration of the activity.
If you're hiking for a brief period in warm weather, wool socks may be fine for you to wear. They wick moisture away from the skin and provide some insulation, keeping feet relatively cool and dry even when temperatures are high.
If you're planning a long-distance hike in hot conditions, consider synthetic socks made with materials such as polyester, nylon and spandex.
These materials tend to be more breathable than wool and dry quickly when they get wet. They also tend to offer more cushioning than wool socks do — an important consideration if you'll be lugging around a heavy backpack on your trek or have sensitive feet that require extra padding for comfort.
What Hiking Socks are Best for Winter?
Winter hiking socks require a different set of criteria than summer hikes or other times of the year.
In general, you should buy thicker socks with more cushioning. One reason wool is such a popular fabric for hiking socks is because it keeps feet warm in cold weather and cool in hot weather.
It's also moisture-wicking, so even if your feet are wet from snow or slush, they'll stay dry.
For winter hikes, look for merino wool blend hiking socks that have an additional layer or two of the material to provide insulation and cushioning between the foot and boot or shoe.
Also consider buying a pair with padded heels, toes and arches to prevent blisters from forming when you're wearing thick boots.
What are the Best Technical Socks for Hiking and Running?
Technical socks are the best choice for hiking, running, or any activity where you're giving your feet a workout. These socks are designed to provide excellent performance in any number of settings, whether you're pounding the pavement in the city or trekking through challenging terrain.
Socks are an often-overlooked component of activewear.
They can make all the difference when it comes to a successful hike or run. Whether you're wearing them with hiking boots, trail runners, gym shoes, or even going barefoot on a trail run, you need socks that will help keep your feet comfortable and blister-free while also protecting them from dirt and other elements.
You can find technical socks in all sorts of materials—wool is a popular option for its breathability and moisture-wicking properties. But there's no need to be intimidated by what seems like an overwhelming number of choices!
What are the Best Toe Socks?
Toe Socks are perfect for you if any of the following apply:
Your feet are sensitive.
You want to prevent toe blisters.
You have sweaty feet and want extra breathability.
You want a sock for summer or hot weather running.
It is cold outside and you need the extra warmth from toe socks.
What are the Most Durable Hiking Socks?
If you're looking for the most durable hiking socks, your best bet is to buy a pair made from wool and synthetic materials.
Wool's natural elasticity, along with its ability to wick away moisture, makes it an excellent material for hiking socks.
It's also inherently antimicrobial, which helps reduce odour-causing bacteria. If a wool sock is not blended with another material, however, it may hold onto sweat and become heavy when wet.
The result is a less comfortable sock that might lead to blisters during long hikes or sweaty workouts. Socks that contain both wool and synthetic materials will be more durable over time than either one on its own.
Acrylic fibres are often used as a substitute for wool in cheaper versions of hiking socks because they imitate many of the natural fibre's best qualities at a lower cost.
While acrylic fibres can feel very soft against the skin and tend to have good stretch recovery—meaning they'll return to their original shape after being stretched—they also tend to pill up easily when washed repeatedly (which you'll want your hiking socks well washed).
This can cause them to feel scratchy against the skin over time.
What are the Most Breathable Socks?
Best Overall:
Smartwool Ph.D Outdoor Light Crew Socks
Darn Tough Merino Wool Boot Light Sock
Swiftwick Aspire Twelve Performance Socks
In order to keep your feet dry and comfortable, you will want to look for socks that are made from the most breathable fabrics.
The most breathable socks in our lineup were lightweight, thin, and had good air circulation.
The best performing socks in our tests used a wool or wool blend of fabric.
These were better at wicking moisture than any other material in our tests.
If you live in a particularly warm or humid climate, you will want to find a sock that is relatively thin and light weight since the thickness of your socks can affect the breathability of your shoes as well as your feet themselves.
Good Socks are an Important Part of Having a Great Outdoors Experience
You may not have thought about it, but socks are a critical part of having a good outdoor experience.
Socks aren't just for comfort—they're for protection too. The right socks can prevent blisters, keep you warm or cool, and prevent foot odour.
They're an important part of a layering system, insulating your feet from skin-to-boot contact and helping to regulate body temperature at the same time.
Not all socks are created equal! You wouldn't wear a cotton sock on an expedition to Mt. Everest, just as you wouldn't wear wool socks on a summer hike in Florida (unless you like sweltering heat).
Make sure to match the right sock with the activity you're doing. If you're running in sandals, your biggest concern will be keeping rocks out of your shoes.
If you're snowshoeing in January, on the other hand, warmth will be more of an issue than anything else. And if you spend much time backpacking and hiking at high altitudes or in developing countries where foot hygiene isn't always ideal, then odour control could become the most important factor in choosing which pair to pack (try wool).
Socks also come in different sizes for different feet.
Generally speaking: short people need less sock; tall people need more sock; larger feet will require bigger socks; smaller feet will fit into smaller socks; and boots that fit tightly can accommodate thinner socks while bulkier footwear requires thicker ones.