Nuobell vs Flybird vs Powerblock – What are the Best Adjustable Dumbbells?
Welcome to the complete guide to adjustable dumbbells.
For the purposes of comparison, we have selected three variations and used the 50lb model from each company.
This will help to give you a better understanding of how they differ from one another, and help you to find the right one for your needs.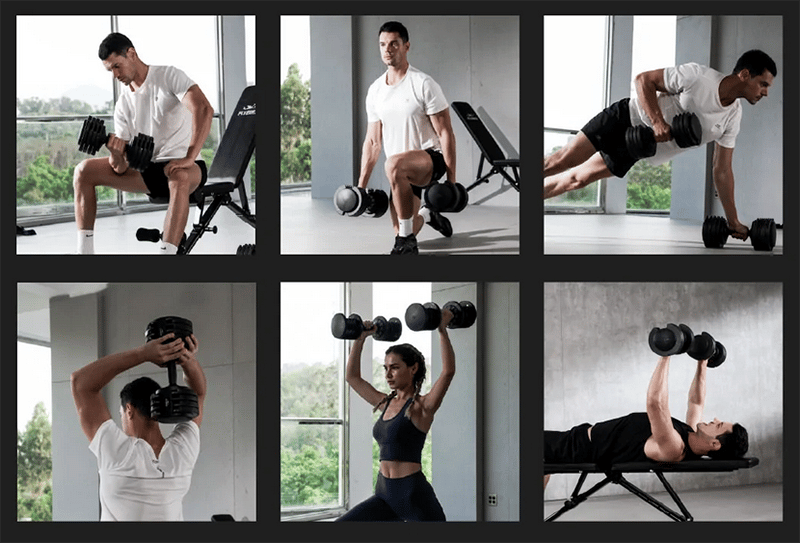 What are Adjustable Dumbbells?
Adjustable weights are an ingenious space saving way of cramming an entire wall of dumbbells into a single piece of equipment.
They allow the lifter to select which weight they want, adjusting the dumbbell to the required weight.
Find out which ones are the best for you…
What are the Benefits of Adjustable Dumbbells?
Cost effective in the long run
Save space
Easier to transport
Efficient for periodization
Enhance training in general
Perfect for home gyms!
Quick Guide
Nuobell vs Flybird vs Powerblock Adjustable Dumbbells – What Sets them Apart?
Brand
Nuobell
Flybird
Powerblock
Material(s)
Metal
Cast Iron
Steel
Sold as Pair
Yes
Yes
Yes
Colour
Black
Black
Black
Cost
$595
$519.99
(now $409.99)
$499
Where to Purchase
Nuobell
Flybird
Powerblock
Nuobell 50lb Adjustable Dumbbells Overview
Known as the "World's Smartest Dumbbell," Nuobell from SMRTFT is a Swedish-designed, all-in-one adjustable dumbbell that uses real, machined steel weight plates rather than a selector dial, creating a natural feel with optimum durability.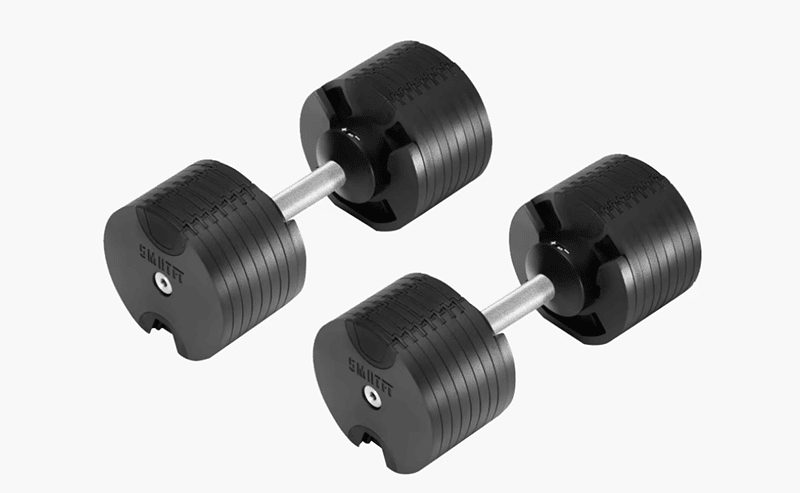 Sold in pairs and available in 50 LB and 80 LB models, each Nuobell is adjustable by 5 LB increments, with a simple twist of the handle establishing your preferred custom weight.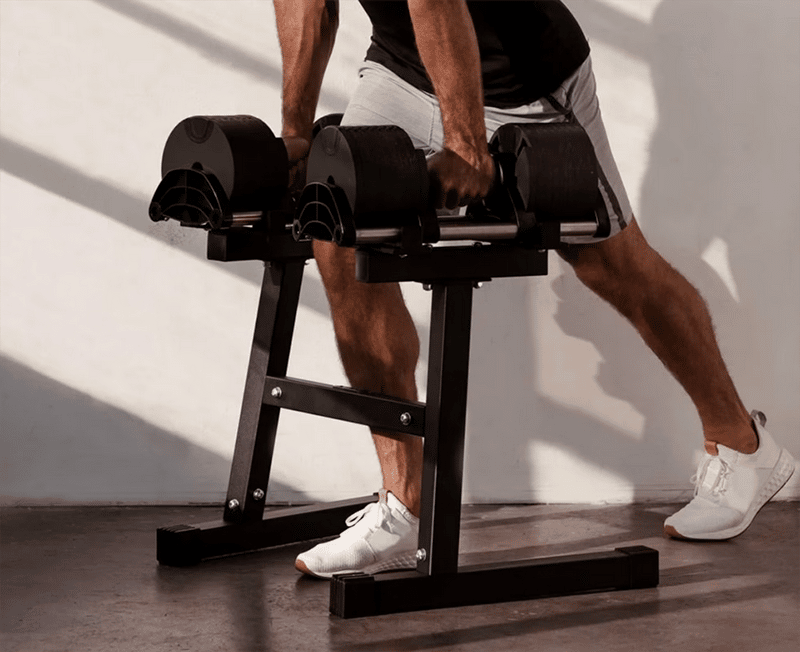 Now, rather than needing an entire rack of traditional DBs for different workouts or multiple athletes, one set of these innovative new training tools does the job on its own.
All sets come standard with two portable cradles for storage.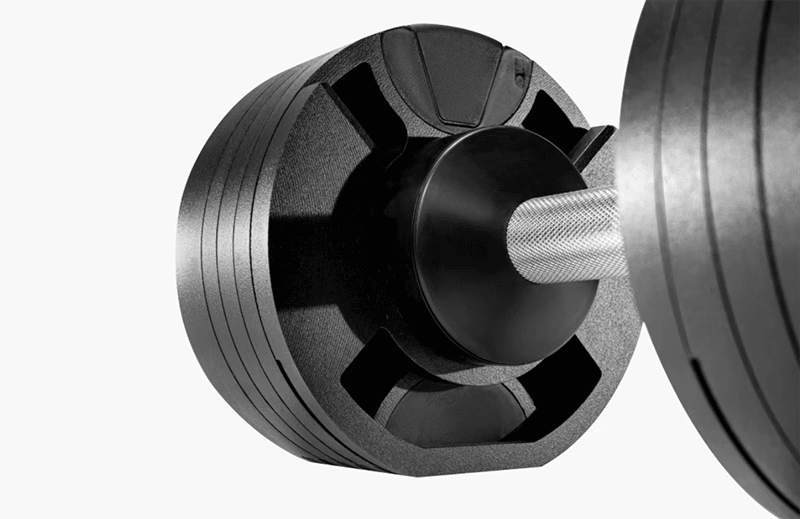 Note: SMRTFT offers a 2-year warranty on Nuobells
Nuobell 50lb Specifications:
Adjustable All-in-One Dumbbell System
Sold in Pairs
Patented Swedish Design
Steel and Plastic Construction w/ knurled handle
Available in 50LB and 80LB max weight versions
Adjustable by 5LB increments by flexing handle
2 Portable Cradles included
Plate Color: Black
Cost
$595
Flybird 55 lb Adjustable Dumbbells Oveview
The Ultimate dumbbells for Muscle Gain and core strength gains.
Adjust the weight from 11 – 55 lb with just a twist. Perfect your form and engage your core and stabilizer muscles with this functional alternative to traditional weightlifting.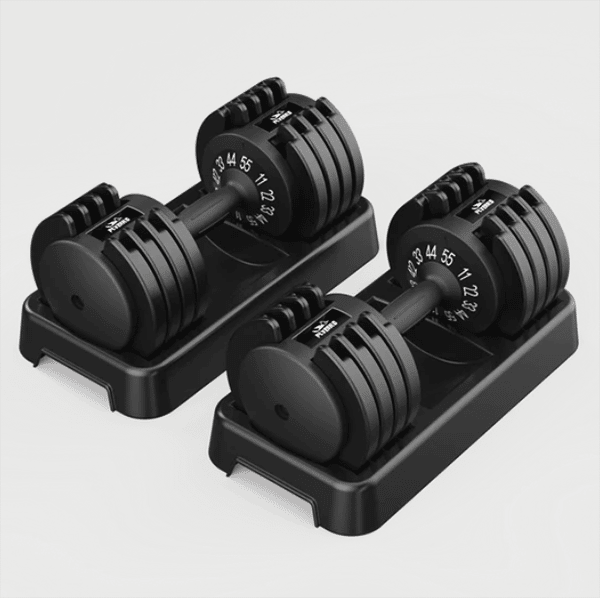 Ensure Training Safety
Special locked down design makes sure the FLYBIRD adjustable dumbbell can only adjust the weights on the tray.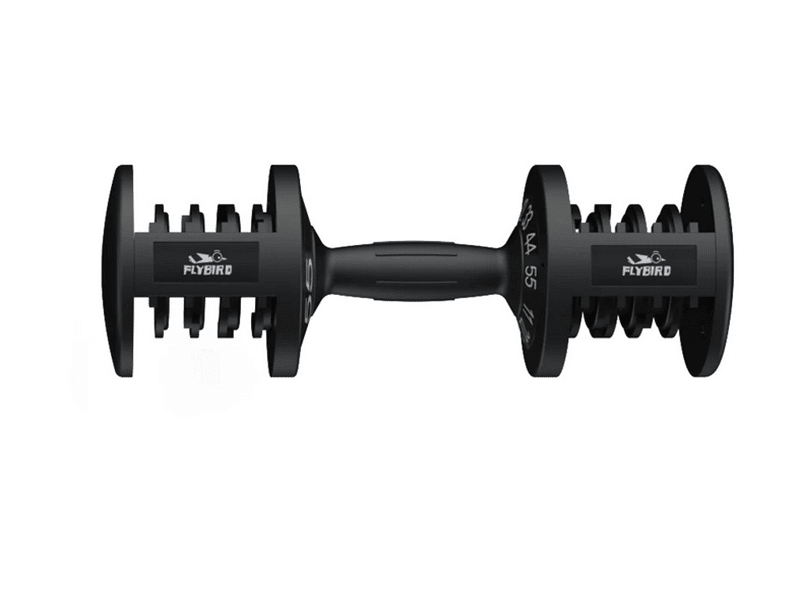 When lifting the dumbbell and starting your training, the buckle structure on weight plates will match the handle, ensuring that the plates will not fall off.
All Metal Design
Cast iron weight plate, surface sprayed which brings extreme durability, no rust and no smell.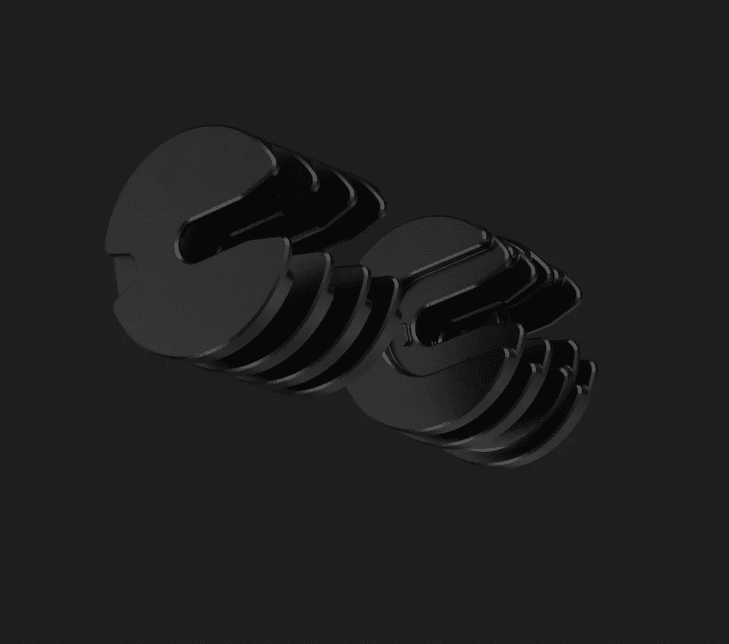 Precise weight plate: 5.5LB/PCS.
Ensure Training Safety
Are you still worried about not having enough space to store different weights of dumbbells?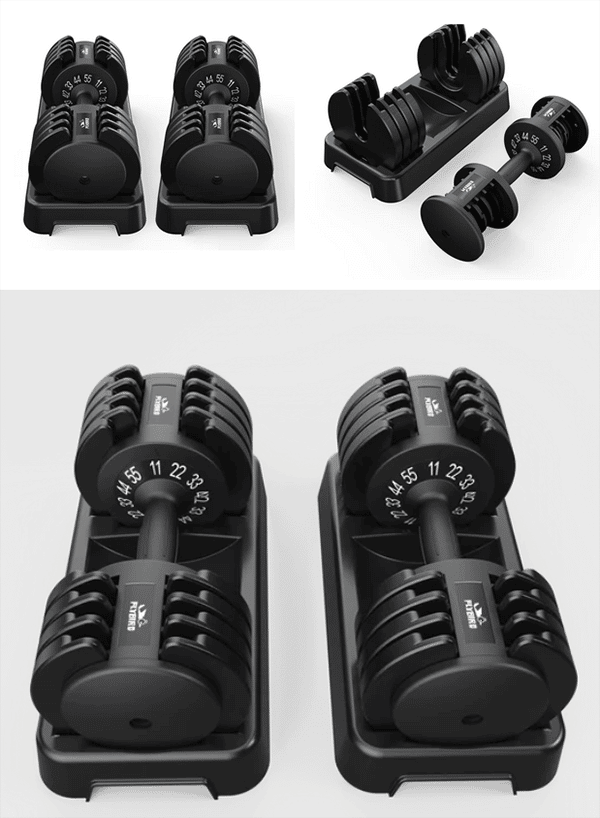 Now you only need a place less than one square meter, Flybird adjustable dumbbells help you to build your perfect home gym.
Cost
$519.99 (now $409.99)
Powerblock Pro 50lb Adjustable Dumbbells Overview
One set of PowerBlock Pro 50 Dumbbells can replace 20 pairs of traditional DBs (the equivalent of 1049 LBS of free weights), as users can adjust the weight in 2.5 LB increments all the way up to 50 LBS on each hand.
This innovation can save gyms dramatically on both purchase costs and storage space.
Each PowerBlock Pro 50 features urethane-coated steel weight plates and color-coded side rails that correspond to a clear weight reference chart on the handle.
To change the weight in just seconds, slide the provided selector pin into the rails at the weight you want; the durable polypropylene pin is magnetized to ensure it stays locked in.
Then reach inside the "core" and grab the ergonomic, rubber-grip handle. When you lift the handle, the weight you selected is lifted along with it.
Want to make micro-adjustments as you train?
The 'Auto-Lock' lever on the handle enables the removal of two chrome ballast weights within the lower tubes of the block. To remove the inner weights, tilt the handle back so the weights don't spill out, then pull the lever down.
Carefully remove the inner weights and put them aside or in your PowerBlock Stand or PowerBlock Cart.
Then drop the handle back in the weight stack to close the lever, or do it manually. To add the weights back into the handle reverse the process.
Powerblock Pro 50lb Specifications
Sold In Pairs
Dimensions : 13″L x 7" W x 7.25″ H
Steel Weight Plates – Black Urethane molded
Weight Increments : 2.5, 5, 7.5, 10, 12.5, 15, 17.5, 20, 22.5, 25, 27.5, 30, 32.5, 35, 37.5, 40, 42.5, 45, 47.5 and 50 LBS (per hand)
Rubber Grip Handle with Auto-Lock feature
Contoured TPR Grip / 1.5" Dia (38mm)
Color-Coded Weight Bands + Polypropylene Selector Pin
1 Pair Replaces 20 pairs of traditional dumbbells, the equivalent of 1049 LBS of free weights
Cost
$499
Are Adjustable Dumbbells Easy to Store?
One of the main benefits of adjustable weights is that they can be stored in a small space. If you have limited storage space, then this is a huge benefit to you.
If you have a large amount of weight plates, it may be difficult to find room for them all. With adjustable, you only need one set and can use the same set for many different weights over time.
This makes them much easier to store than regular sets because they take up less space and require fewer weight plates. You can also store your adjustable weights under your bed or in a closet as long as it's not too heavy duty – many people do this!
If you have enough room under your bed or in another area where there isn't anything fragile (like glass), then storing them there will work out nicely!
Do Adjustable Dumbbells Help to Save Money?
Yes, adjustable weights are an excellent way to save money.
Instead of buying up to 10 separate fixed dumbbells you can make a one time investment and make an impressive saving.
Is it Better to Buy Adjustable than Regular Fixed Dumbbells?
There are a lot of benefits to buying adjustable dumbbells over fixed ones.
Adjustable weights are more versatile than fixed dumbbells because you can adjust the weight in small increments, which allows for better precision when working out.
Fixed dumbbells have a higher per pound cost because each individual weight needs its own equipment, whereas an entire set of adjustable dumbbells can be adjusted to different weights at once.
You'll save space by purchasing adjustable rather than fixed weights because they take up less room when not in use and do not require separate storage areas for each weight.
Do Adjustable Dumbbells Help to Save Space?
Adjustable weights are a great space-saving option if you have limited space. They can fit in a closet, under the bed or on top of the dresser. If you have limited room, adjustable is the way to go!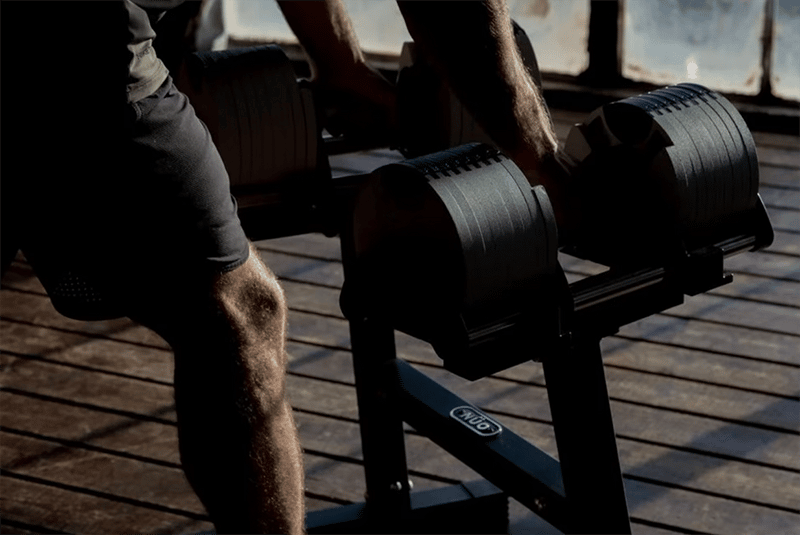 Are Adjustable Weights Suitable for Beginners?
Adjustable weights are a good option for beginners, as they allow you to start with lighter weights and gradually increase the weight as you get stronger.
The reason why adjustable weights are good for beginners is because they allow you to work on your technique and build up strength without having to worry about the heavier weights.
Beginners should start out with lighter weights (8-12 lbs) in order to learn how to properly lift them before moving on up in weight.
Once you've mastered these exercises, then it will be easier for most people to progress by increasing either the number of repetitions or sets per exercise as well as increasing their intensity level by adding more weight onto each side of their adjustable dumbbells.
What Exercises Can Be Performed with Adjustable Dumbbells?
As you might imagine, the exercises you can do with adjustable dumbbells are very similar to those that you would perform using a traditional pair of dumbbells. This includes many upper body and lower body exercises as well as some core training moves. Some examples include:
Upper Body Exercises – Chest Press/Fly, Bicep Curls, Triceps Extensions, Shoulder Presses (Front Raise)
Lower Body Exercises – Squats & Lunges
Core Training Moves – Crunches & Twists
Who Should Use Adjustable Weights?
Adjustable weights are a big hit with fitness enthusiasts. Here are some reasons why:
They're Inexpensive
A set of adjustable weights costs less than one hundred dollars, while the same weight in traditional dumbbells can cost hundreds more.
That's an immediate savings for those on a tight budget. For those who don't want to buy multiple sets of fixed weights—and for those who already have a variety of fixed-weight sets that they'd like to supplement with an adjustable set for travel or convenience.
It makes sense to get the most bang for their buck by purchasing an efficient and economical option.
They Save Space in Your Home Gym
While traditional dumbbells take up tons of room and require storage racks, adjustable weights can be stored away in small spaces because they collapse down into compact units (typically just 1-2 inches thick) when not in use!
This is especially beneficial if you live in an apartment or condo where space is limited; by using these instead of the larger standard models, you'll still be able to work out with heavy weight without taking up too much room at home or storing them anywhere other than right inside your own closet!
What is the Best Place to Buy Adjustable Dumbbells?
We recommend Rogue Fitness and Flybird.
How Much Do Adjustable Dumbbells Cost?
In conclusion, they are a great option for anyone who wants to exercise at home.
They are easy to store, they save money and space compared with regular fixed dumbbells, and they allow you to do a wide range of exercises.
The only downside is that they can be expensive up front but in the long run they will save you money.
Other Useful Equipment