Why You Should Train with the Rogue Monster Pritchett Pad
Learn why you need the Rogue Monster Pritchett Pad in your home or commercial gym.
Designed in collaboration with Strongman Legend Jerry Pritchett, the Monster Pritchett Pad gives athletes a novel and space-efficient way to do chest-supported rows.
Unlike other chest-supported landmine row machines that take up a lot of room and come with expensive shipping costs, the Pritchett Pad is a small adjustable rack attachment that ships fully assembled.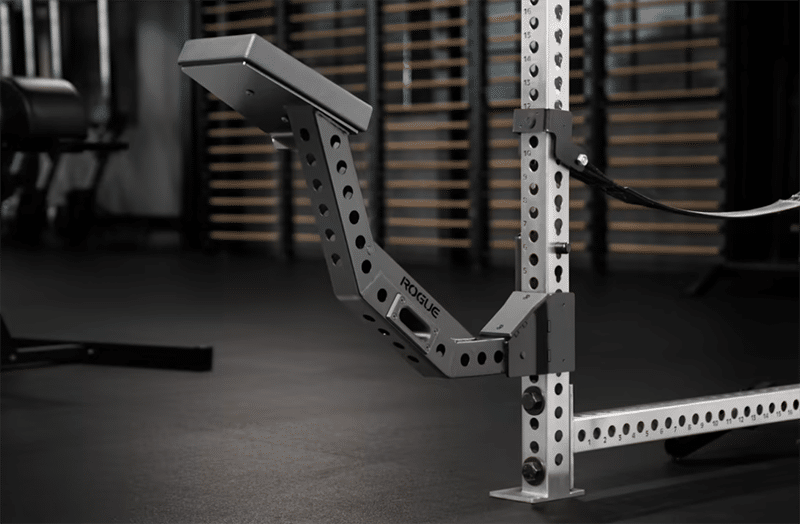 The unique clasp design requires no extra hardware or detent pins
What are the Benefits of Chest Supported Rows?
The benefits of chest-supported rows include the alleviation of unnecessary strain on the vertebrae and shoulder joints, allowing for more reps and heavier weights to be lifted without the injury risk of unsupported rows.
Rogue Monster Pritchett Pad
The Monster Pritchett Pad is manufactured in the USA utilizing a 3×3" 11-gauge steel arm and a tapered pad design that allows for better freedom of movement.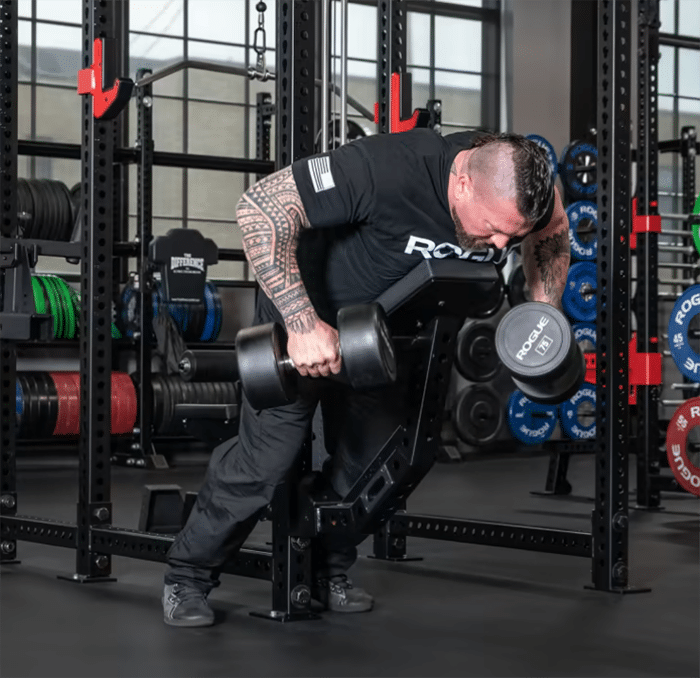 The arm is reinforced with two gussets, and UHMW plastic is included in the mounting channel to prevent metal-to-metal contact. Rogue have also provided a built-in handle with machined UHMW plastic for easier installation. Once locked in, the pad extends 33" out from the mounting upright.
They designed the Monster Pritchett Pad with the Rogue Monster Landmine 2.0 or a similar rack-mounted landmine attachment in mind.
However, the pad can also be used with a post landmine or for dumbbell rows, barbell rows, and more.
Safety Advice for The Rogue Monster Pritchett Pad
For your safety, the Monster Pritchett Pad should only be installed on rigs or racks that are securely fastened to the floor.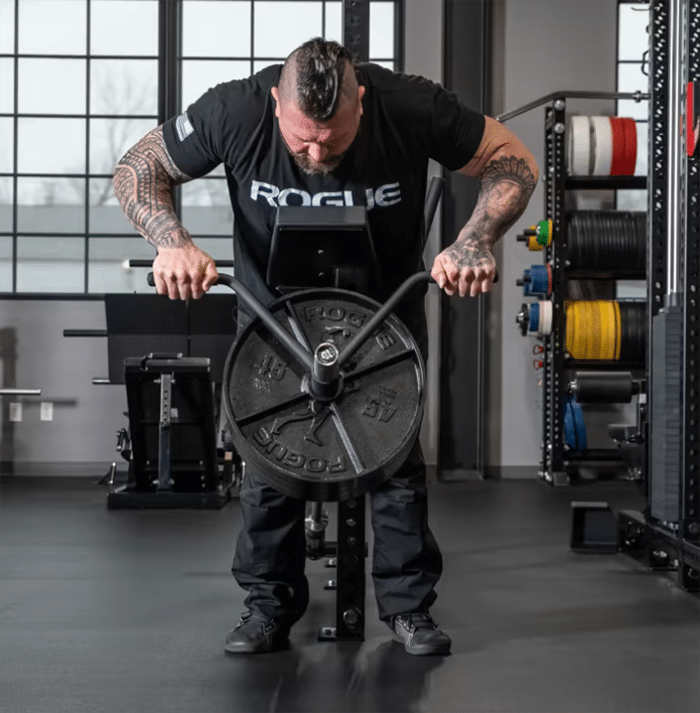 Specifications:
Made in the USA
Co-developed with professional Strongman Jerry Pritchett
Mounts Exclusively to 3×3" Monster Rack
3×3" 11-gauge steel construction
MG Black Powdercoat finish
Weight: 39.15LB
Length: Pad extends out 33" from face of mounting upright
Built-In Handle for easy set-up
No hardware required
Ships Fully Assembled
Pad Construction: Proprietary self-skinned polyurethane foam
Pad Dimensions: 12" long and 8" wide at the top, 11" wide at the bottom, 2.25" thick
How Much Does the Rogue Monster Pritchett Pad Cost?
The Rogue Monster Pritchett Pad costs 295 USD.
Why is Rogue Fitness Equipment Such Good Quality?
Rogue Fitness has gained a reputation for producing high-quality fitness equipment for several reasons:
Material Selection: Rogue Fitness uses premium materials to manufacture its equipment. Whether it's barbells, kettlebells, or racks, they prioritize using durable, heavy-duty steel and other high-quality components. This ensures their products can withstand heavy use and last a long time.
Craftsmanship: Rogue takes pride in the craftsmanship of its products. Skilled welders and fabricators are employed to create their equipment, ensuring precise construction and attention to detail. The welding and finishing processes are critical in maintaining the quality and safety of the equipment.
Quality Control: The company places a strong emphasis on quality control. Each piece of equipment undergoes rigorous testing and inspection before it leaves the factory. This helps identify and address any defects or issues, ensuring that customers receive products that meet the highest standards.
Innovative Design: Rogue is known for its innovative designs. They often collaborate with athletes and trainers to develop equipment that not only meets the needs of users but also sets new standards in terms of functionality and durability.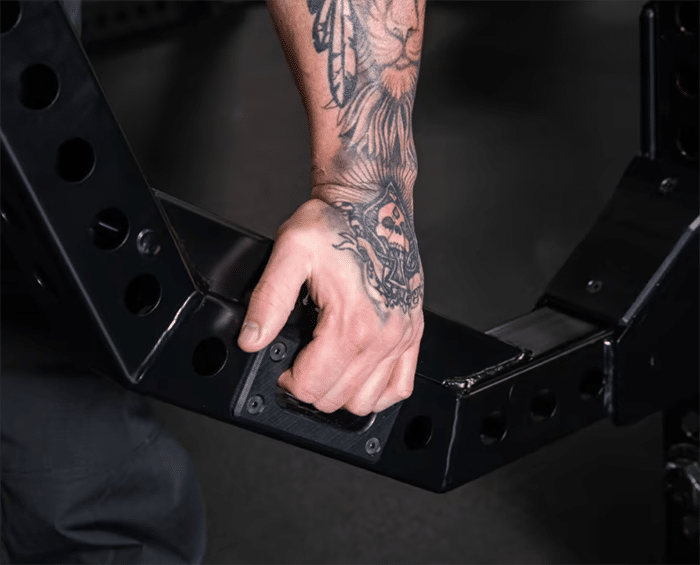 Continuous Improvement: Rogue Fitness is committed to continuous improvement. They actively seek feedback from customers and the fitness community to refine their products and make necessary updates. This dedication to improvement helps them stay at the forefront of the fitness equipment industry.
Warranty and Customer Support: Rogue offers generous warranties on their products, which reflects their confidence in their quality. Additionally, their customer support is known for being responsive and helpful, providing assistance to customers if any issues arise.
American Manufacturing: Rogue Fitness manufactures many of its products in the United States. This commitment to domestic manufacturing allows for greater control over the production process and quality assurance.
Customization: Rogue Fitness offers a level of customization for some of its products, allowing customers to choose specific options to meet their needs. This level of personalization can contribute to customer satisfaction and loyalty.
Transparency: The company is known for its transparency in providing detailed product specifications and information. Customers can make informed decisions about which equipment best suits their needs.
Reputation: Over the years, Rogue Fitness has built a strong reputation in the fitness industry. This reputation is a result of consistently delivering high-quality products and maintaining the trust of their customer base.
In summary, Rogue Fitness equipment is of such good quality due to a combination of factors, including material selection, craftsmanship, quality control, innovation, continuous improvement, customer support, and a strong reputation in the fitness industry.
These elements collectively contribute to their reputation for producing top-tier fitness equipment.