7 Lesser Known Mountains In Scotland Everyone Should Climb
It's time for another adventure as we set off up our favourite mountains in Scotland, seeking out the best-kept secrets that the Far North has to offer.
Many of the British Isles' highest mountains, scree-scarred tors and most inspiring vistas are found here. Truly, who can name a part of the world that's more evocative than the Scottish Highlands?
We'll wait…
Your Right To Roam The Mountains
For some of us, our knowledge of this part of the world comes mostly from that blue-painted blockbuster: Braveheart. The sound of bagpipes and the clang of claymores still ring in our ears!
Indeed, before Peter Jackson put New Zealand on the big screen, the heather-spotted hills of Scotland were roamed by a kilted Mel Gibson in his Hollywood retelling of William Wallace's rebellions.
'Many of the British Isles' highest mountains, scree-scarred tors and most inspiring vistas are found here.'
Now, Scotland is well-known around the world for the feeling of "freeeeeeeeedom" it evokes. This hearty response is protected by a 2005 statutory right, called the 'right to roam'.
Most of the land and inland water is open for recreational use, excluding farmlands, quarries, railway properties and airfields. So long as you respect your fellow highlanders and care for the environment.
No Shortage Of Hiking Routes In Scotland
It's no easy task when it comes to choosing the best mountains in Scotland – shorten that list to those that are lesser known and the curation gets even more tricky.
Of course, many of the snow-speckled heights in the Highlands are suitable for hiking. Some inland trails are fairly unexplored and when it comes to lesser-known routes you're really spoilt for choice. The awe you'll encounter in these uplands is never in short supply!
Scottish mountains that range upwards over 4000 feet are typically referred to as 'Ben' – as in 'Ben' Nevis. Smaller peaks are usually called 'Munros' and many handpicked lists of these mountains are worthy of your research.
The question you should ask yourself is: exactly, what is it you're looking for? Adventures in rugged landscapes abound and there are so many different directions to spin off in, following the clutches of that adventurous spirit.
When you embark on a journey through the Highlands, whether you're climbing the iconic ridges of Ben Nevis, or scaling The Cobbler, you're entering into a natural playground of sorts. Seasoned mountaineers and aspiring hikers all come here for life-affirming natural highs.
In this blog, we'll attempt to whittle down the list, finding some of those lesser known mountains in Scotland, which should be recognised for their unique character and the challenges they offer.
So, lace up your favourite hiking boots, take a swig of that stream-filled water bottle and get ready for some ascents you'll never forget!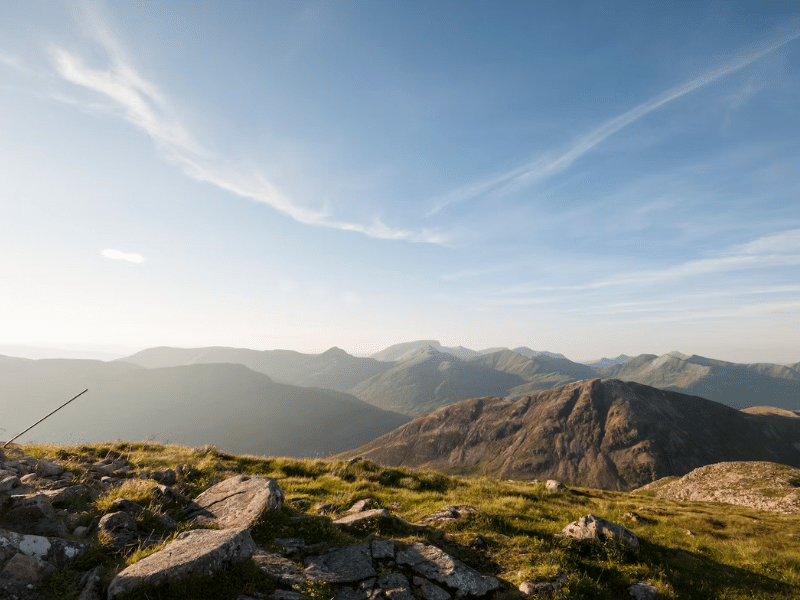 7. Buachaille Etive Mor
Welcome to the Scottish Highlands! We're starting you off with the pyramid of Buachaille Etive Mòr at the head of Glen Etive. Otherwise known as 'The Buachaille', this is surely one of the most easily identified mountains in Scotland.
Buachaille rises from green slopes like the spine of a stegosaurus (in fact, it consists of four significant peaks), carved upwards to a 1,022-metre summit that juts sharply into the sky. The Egyptians couldn't have built it better themselves!
Not only do we love this one for its angular shape, but the range is also split by the stunning Etive River and remote surrounds also make this mountain a centrepiece of sorts.
Granted, you might have already seen this pick on a few postcards and calendars, but we may have to play lightly with the term 'lesser known' from here on.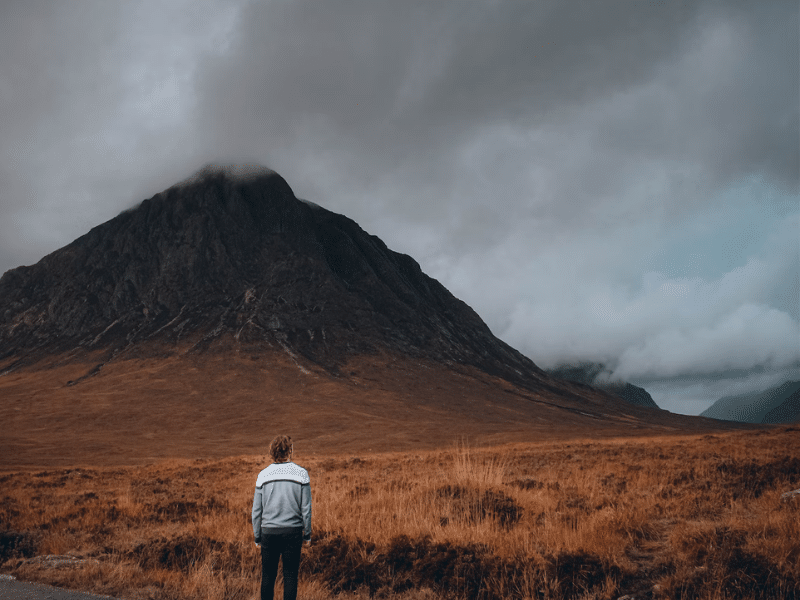 6. Aonach Eagach
Like most Scottish mountains, Aonach Eagach is hard to pronounce without a throatful of phlegm. This rocky ridge is another iconic centrepiece in the Highlands, which is found on the northern reaches of Glen Coe, with twin Munro peaks.
The full ridge snakes roughly 10-kilometres from west to east (the highest peak is 968 metres) as it climbs the Devil's Staircase from Glencoe. In fact, this is the longest stretch of mountains in Scotland and the beauty of Aonach Eagach is enough to make any hiker's heart sing.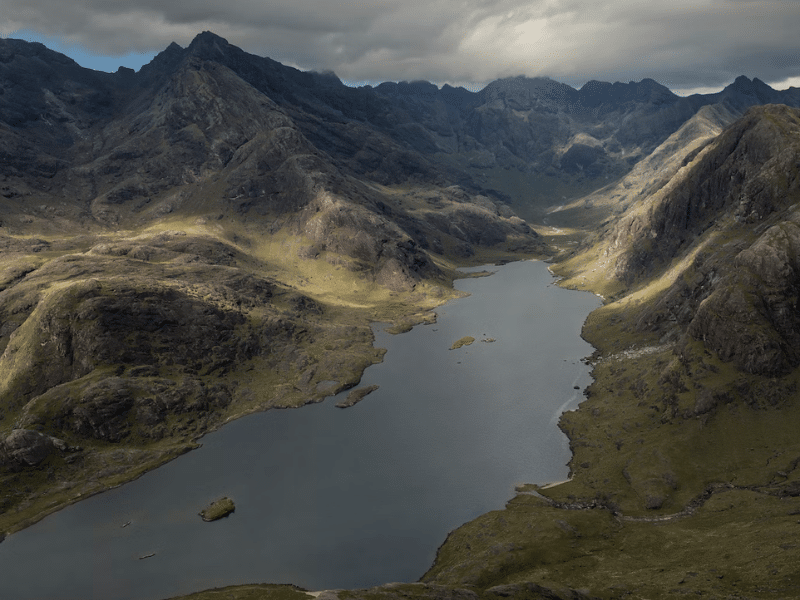 5. Sgurr na Stri
This lesser known wonder is one of our smaller Scottish mountains, reaching a height of just 494 metres. That being said, what Sgurr na Stri lacks in stature it surely makes up for in character.
The climb itself is pretty straightforward (some would argue it's a little lengthy at roughly 24 kilometres), but the view you get at the top makes the ascent worth it – you're privy to some of the finest peaks on the Isle Of Skye.
Also, right there below you shines the centrepiece of Lochan Glen! What more could a hilltop roamer want?
4. Ben A'an
A list of all our favourite Scottish mountains would run longer than the first draft of War And Peace. Hone it down and regardless of how short it becomes we would always have Ben A'an on there.
It's another one that ranks among the smaller hills in Scotland, but Ben A'an is popular for other reasons that height alone. It happens to sit right at the heart of the Trossachs and serves as an inspiring miniature lookout.
Raised just 454 metres above sea level, this mountain has become well-loved for the glory of its vantage point, especially at sunset.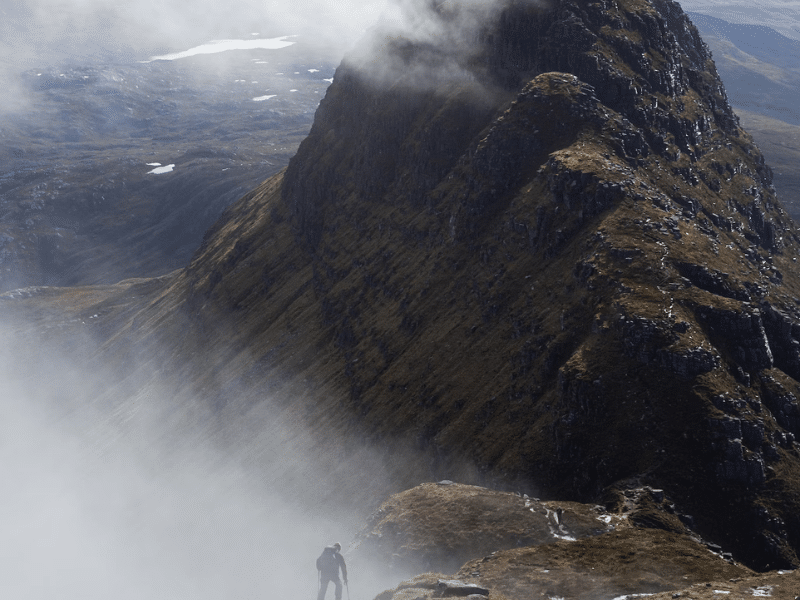 3. Suilven
The Scottish peak of Suilven is found in the remote reaches of western Sutherland. It runs roughly 2 kilometres in length and is noticeable for its steep depression.
This taller mountain stretches up to a 731-metre zenith, towering over many of its more diminutive cousins. From the top, you'll enjoy a very memorable view, stretching far over the Inverpool Nature Reserve.
Granted, it is one of the more difficult ascents to climb in this region and it happens to be one of the biggest mountains in Scotland as well.
2. Liathach
Wander with us to Glen Torridon and we'll stand in awe together under the summit of Liathach. This iconic mountain in the northwest Highlands is beloved by mountaineers and hillwalkers alike.
In fact, you might've heard Liathach being described as one of the finest mountains Scotland has to offer. The name is derived from a Gaelic word and translates to 'the grey one' – perhaps a reference to its rocky ridges and scree-covered slopes.
It's a moody name for a grand mountain that invites a sandstone scramble to the top. Liathach is also wedged between Loch Torridon and the phlegm-inflected Beinn Eighe.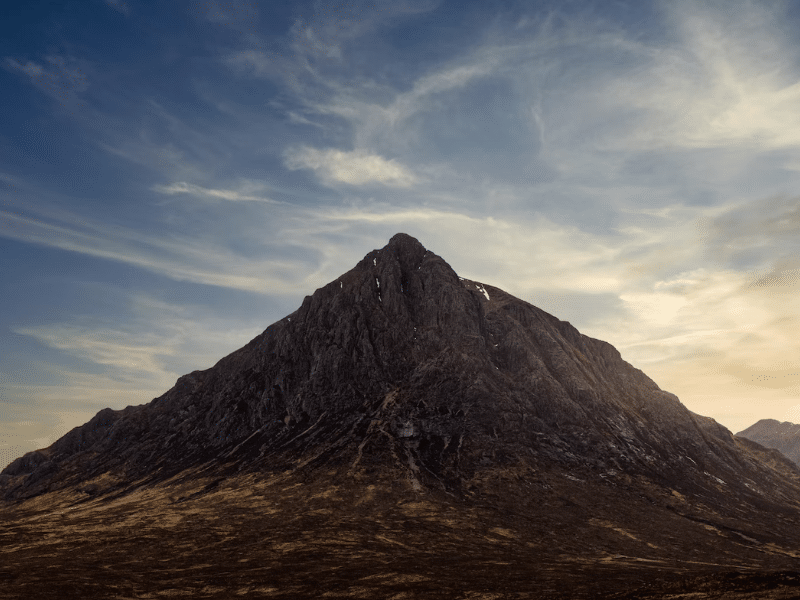 1. Beinn Hòb
Last on our list, Ben Hope is known in Gaelic as 'Beinn Hòb' – a mighty peak in northern Scotland that doubles as the most northerly Munro. As such, the mountain rises over 3,000 feet and effectively dominates the surrounding landscape.
You'll find this beauty in Flow Country, which is a region characterised by peat and bogs that squelch in an expanse between Caithness and Sutherland.
There's something extra special about finding this mountain in such a vast and wild setting. Thereby Beinn Hòb serves as a solitary lookout, standing sentinel over a distinctly Scottish panorama, which really has to be seen to be believed.
It may be remote, but this mountain has no difficulty attracting visitors and climbers are often found here, inching their way to the summit. The ascent is short but sheer and there are sections of shifting gravel and clinging mud. You might want to dip in a waterfall to clean off on your descent!
More Outdoor Adventures
Leave No Trace: The Ultimate Guide
Hiking with Kids – Tips for Family-Friendly Outdoor Adventures