Quotes about Mountains for Adventurous Spirits
These quotes about mountains capture the awe, power and magnetic pull that these great formations inspire in the human mind.
MOUNTAINS OF THE WORLD
The International Mountaineering and Climbing Federation or UIAA recognise eight-thousanders as the 14 mountains that are more than 8,000 metres (26,247 ft) in height above sea level. All eight-thousanders are located in the Himalayan and Karakoram mountain ranges in Asia, and their summits are in the death zone.
Thirty of the world's highest mountains are in the Himalaya. The summit of Mount Everest, at 29,035 feet (8,850 meters), is the highest point on Earth.
The tallest mountain measured from top to bottom is Mauna Kea, an inactive volcano on the island of Hawaii in the Pacific Ocean. Measured from the base, Mauna Kea stands 33,474 feet (10,203 meters) tall, though it only rises 13,796 feet (4,205 meters) above the sea.
There are many majestic mountain ranges spread across the planet.
Name
Continent(s)
Country/ies
Highest point
Altitude
(metres above
sea level)
Himalayas
Asia
Pakistan, Nepal, India, China, Bhutan
Everest
8848
Karakoram
Asia
Pakistan, China, India
K2
8611
Hindu Kush
Asia
Afghanistan, Pakistan
Tirich Mir
7708
Pamirs
Asia
Tajikistan, Kyrgyzstan, China, Afghanistan
Kongur Tagh
7649
Hengduan Mountains
Asia
China, Myanmar
Mount Gongga
7556
Tian Shan
Asia
China, Kyrgyzstan, Kazakhstan, Uzbekistan;
Jengish Chokusu
7439
Kunlun
Asia
China
Liushi Shan
7167
Transhimalaya
Asia
China
Mount Nyenchen Tanglha
7162
Andes
South America
Argentina, Chile, Peru, Bolivia, Ecuador, Colombia
Aconcagua
6962
Alaska Range
North America
United States
Denali
6194
Saint Elias Mountains
North America
United States, Canada
Mount Logan
5959
Caucasus Mountains
Europe and Asia
Georgia, Russia, Azerbaijan
Mount Elbrus
5642
QUOTES ABOUT MOUNTAINS
"Thousands of tired, nerve-shaken, over-civilized people are beginning to find out that going to the mountains is going home; that wildness is a necessity"
– John Muir, Our National Parks
"Climb the mountains and get their good tidings. Nature's peace will flow into you as sunshine flows into trees. The winds will blow their own freshness into you, and the storms their energy, while cares will drop away from you like the leaves of Autumn."
– John Muir, The Mountains of California
"I am losing precious days. I am degenerating into a machine for making money. I am learning nothing in this trivial world of men. I must break away and get out into the mountains to learn the news"
– John Muir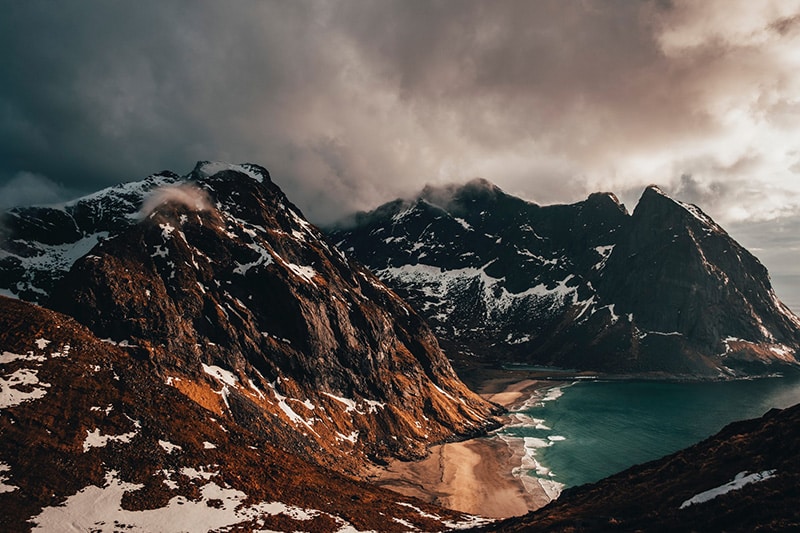 "Mountains are not Stadiums where I satisfy my ambition to achieve, they are the cathedrals where I practice my religion."
– Anatoli Boukreev
Want to take your mountaineering fitness to the next level? Check out these awesome programs.
"What are men to rocks and mountains?"
– Jane Austen, Pride and Prejudice
"Mountains seem to answer an increasing imaginative need in the West. More and more people are discovering a desire for them, and a powerful solace in them. At bottom, mountains, like all wildernesses, challenge our complacent conviction – so easy to lapse into – that the world has been made for humans by humans. Most of us exist for most of the time in worlds which are humanly arranged, themed and controlled.
One forgets that there are environments which do not respond to the flick of a switch or the twist of a dial, and which have their own rhythms and orders of existence. Mountains correct this amnesia.
By speaking of greater forces than we can possibly invoke, and by confronting us with greater spans of time than we can possibly envisage, mountains refute our excessive trust in the man-made. They pose profound questions about our durability and the importance of our schemes. They induce, I suppose, a modesty in us."
– Robert MacFarlane, Mountains of the Mind: Adventures in Reaching the Summit
"Those who travel to mountain-tops are half in love with themselves, and half in love with oblivion."
– Robert Macfarlane, Mountains of the Mind: A History of a Fascination
"The sea tells you everything will be fine. The mountains tell you it doesn't matter anyway."
– Adeel Ahmed Khan
Learn how to improve your hiking skills
"Although I deeply love oceans, deserts and other wild landscapes, it is only mountains that beckon me with that sort of painful magnetic pull to walk deeper and deeper into their beauty. They keep me continuously wanting to know more, feel more, see more."
– Victoria Erickson
"Every mountain top is within reach if you just keep climbing."
– Barry Finlay, Kilimanjaro and Beyond
Good shoes for running in the mountains
"People ask me, 'What is the use of climbing Mount Everest?' and my answer must at once be, 'It is of no use.' There is not the slightest prospect of any gain whatsoever. Oh, we may learn a little about the behaviour of the human body at high altitudes, and possibly medical men may turn our observation to some account for the purposes of aviation. But otherwise nothing will come of it. We shall not bring back a single bit of gold or silver, not a gem, nor any coal or iron… If you cannot understand that there is something in man which responds to the challenge of this mountain and goes out to meet it, that the struggle is the struggle of life itself upward and forever upward, then you won't see why we go. What we get from this adventure is just sheer joy. And joy is, after all, the end of life. We do not live to eat and make money. We eat and make money to be able to live. That is what life means and what life is for."
– George Mallory, Climbing Everest: The Complete Writings of George Mallory
"He loved mountains, or he had loved the thought of them marching on the edge of stories brought from far away; but now he was borne down by the insupportable weight of Middle-earth. He longed to shut out the immensity in a quiet room by a fire."
– J R R Tolkien, The Lord of the Rings
"Mountains, according to the angle of view, the season, the time of day, the beholder's frame of mind, or any one thing, can effectively change their appearance. Thus, it is essential to recognize that we can never know more than one side, one small aspect of a mountain."
– Haruki Murakami, A Wild Sheep Chase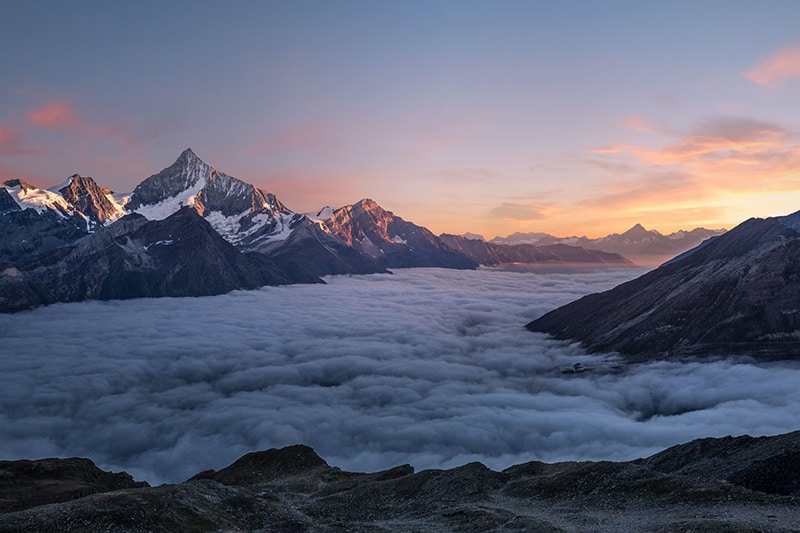 "[In mountaineering, if] we look for private experience rather than public history, even getting to the top becomes an optional narrative rather than the main point, and those who only wander in high places become part of the story."
– Rebecca Solnit, Wanderlust: A History of Walking
"Sometimes in the summer evenings they walked up the hill to watch the afterglow clinging to the tops of the western mountains and to feel the breeze drawn into the valley by the rising day-heated air. Usually they stood silently for a while and breathed in peacefulness. Since both were shy they never talked about themselves. Neither knew about the other at all."
– John Steinbeck, East of Eden
"May your dreams be larger than mountains and may you have the courage to scale their summits."
– Harley King
Learn how to control fear when pushing your limits in the mountains
"All mountain landscapes hold stories: the ones we read, the ones we dream, and the ones we create. -from the Editor's Note, The Alpinist (April 1, 2010)"
– Michael Kennedy
"Everything was everlastingly loose and responsive, it was all everywhere beyond the truth, beyond emptyspace blue. "The mountains are mighty patient, Buddha-man," I said out loud, and took a drink."
– Jack Kerouac, The Dharma Bums
"…seen from above, landscapes are made up of mountains and watercourses. Just as a transparent model of the human body consists of a framework of bone and a network of arteries, the earth's crust is structured in mountain ridges, river, creeks, and gullies."
– Reinhold Messner, Mountains from Space: Peaks and Ranges of the Seven Continents
"I ascended the mountains to hear the voice of God, and was answered in echoes from afar."
– Meeta Ahluwalia
"Does the man sitting in the valley and belittling the mountain don't know that the water in the valley comes from the mountain?"
– Quotes about Mountains from Mehmet Murat ildan
"The best way to make smaller a big mountain is to climb that mountain; the best way to shorten a long road is to travel on that road! Anything that looks big or long to you is actually because you didn't go to it, because you didn't live it!"
– Quotes about Mountains from Mehmet Murat ildan
"Mountains make me believe that nothing can be bigger than nature, not even human ego."
– Jay Kumar Singh
"The way up to the top of the mountain is always longer than you think. Don't fool yourself, the moment will arrive when what seemed so near is still very far."
– Paulo Coelho
"Every man should pull a boat over a mountain once in his life."
– Werner Herzog
"Earth and sky, woods and fields, lakes and rivers, the mountain and the sea, are excellent schoolmasters, and teach some of us more than what we could learn from books."
– John Lubbock
"Great things are done when men and mountains meet; This is not done by jostling in the street."
– Quotes about Mountains from Willian Blake
"The greatest gift of life on the mountain is time. Time to think or not think, read or not read, scribble or not scribble—to sleep and cook and walk in the woods, to sit and stare at the shapes of the hills."
– Quotes about Mountains from Phillip Connors
If you enjoyed these quotes about mountains and want further inspiration, check out these famous Polar explorations, beautiful cycle routes in Scandinavia or inspiring quotes by women, for women.