Best Electric Bikes for Adventure
Time to browse the best Electric Bikes for adventure and find the right one for you.
For many, the long saddle-top commute to work is a dreaded experience, pursued only in preference to shuddering trains, or sedentary buses.
Of course, there are those who love nothing more than gritting their teeth through the lactic acid build-up.
While others would forego the grunt-work of pedalling – or, if given the option, would much prefer a little assistance in that sweaty meander up steep, quad-killing inclines.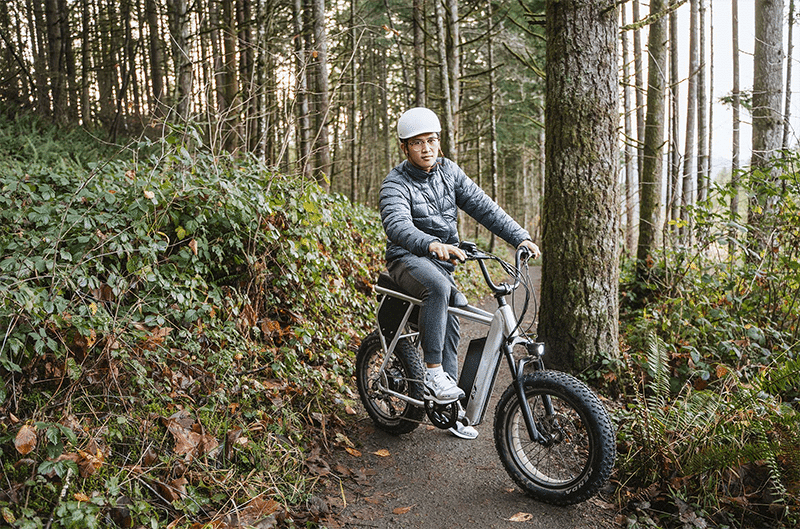 So, it's no wonder companies like Juiced Bikes, specialist purveyors of e-bikes and e-scooters, have been able to establish such a loyal customer base.
Maybe you don't want to change into workout clothes every time you leave the office.
Perhaps the enjoy the image of yourself freewheeling under city lights in your business casual attire.
You can also sit smugly behind the handlebars of a more eco-friendly option, conveyed with motor-powered momentum as you kick back and zip up difficult climbs, without even breaking a sweat.
In case you hadn't noticed already, we're big advocates of everything Juiced Bikes stand for.
We love their products and relished this opportunity to pick out our favourite Electric Bikes from their extensive collection.
Best Electric Bikes for Adventure
For us, one of the most appealing things about hopping on an electric bike is the ability to suddenly take off on longer adventures with little concern for your own physical fitness.
With fatter tires and robust frames, many of these bikes are entirely at home on dirt tracks and well-suited for motor-powered mountain biking.
Let's get into it…
6. RipCurrent
The appeal of this super versatile electric bike can be summed up in a few simple words: 'full-throttle, fat-tire fun!' And fun is one of the primary concerns in the design of the highly rated RipCurrent e-bike, equipped with fat tires to make light work of troubling terrain.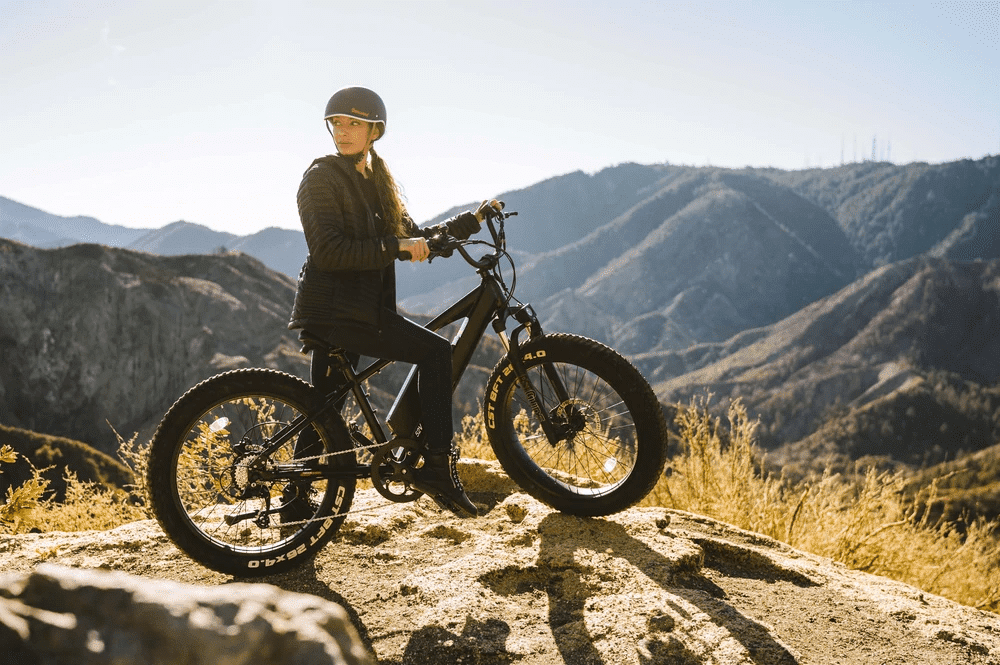 In terms of value, the RipCurrent is hard to beat. It's also incredibly versatile, powered by a 52V 15Ah battery and combined 750W motor.
Your ride is assisted by Torque and Cadence pedal sensors and hydraulic disc brakes serve to make your travel that little bit smoother. You might also appreciate the advanced LCD display, providing immediate feedback and valuable real-time metrics as you go. You can hit speeds of up to 28mph on this thing and ride on single charge for an astounding 45+.
The 9-Speed Transmission is an added bonus and the convenient Thumb Throttle pitches in too to make this a very competitive sport utility e-bike, suited for all-terrain.
5. Scorpion X
What can we say about this sleek moped-style electric bike? Well, if you like an upgraded riding experience, this particular model packs more power, speed and range than many of its counterparts.
Fitted with an updated electronics system and customised RetroBlade motor, the Scorpion X is an e-bike with no shortage of high-value features. You can pedal more securely with Torque and Cadence assist technology, powered ever onwards by a big 52-Volt 15Ah pack, with more riding range, turning roads to tarmac rivers beneath your wheels.
The upgraded 8-speed cassette and 56T-11T transmission chip in to take the strain out of pedalling at higher speeds.
Also, the Scorpion is equipped with a 100 db horn and Key Switch for improved security.
It's a safe, reliable and powerful e-bike if you're in the market for buying options that entail the least amount of risk.
4. Scrambler
This electric adventure bike is designed to take you further, faster and for longer – equipped with Juiced Bikes' ground-breaking 52V battery platform and available in both Camp and City models.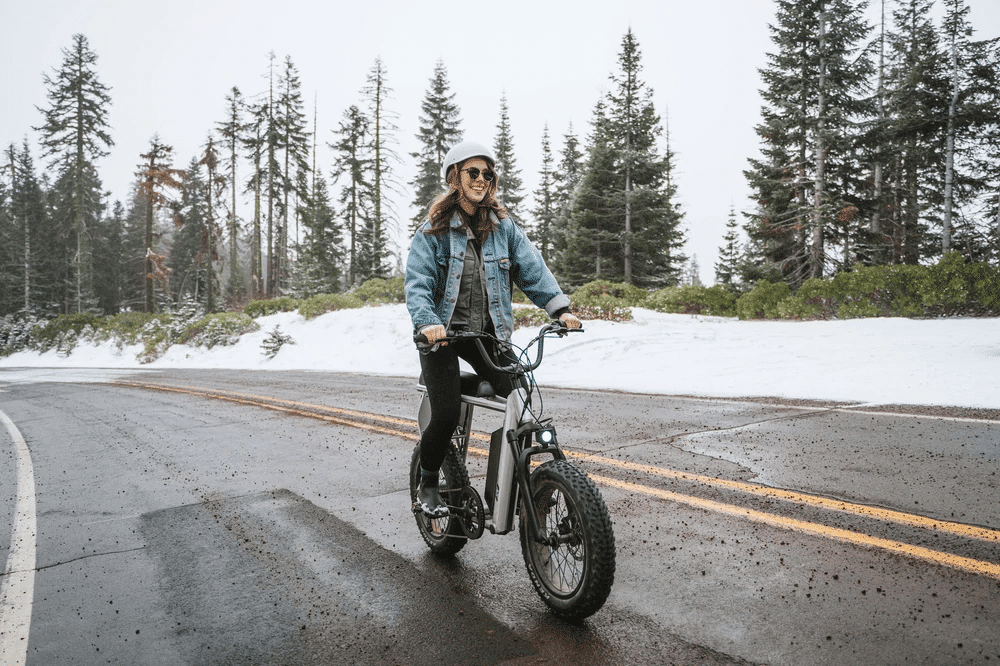 Throw in a durable 750W Bafang motor and you've got the consummate e-bike adventure vehicle, styled with a robust aesthetic.
The two available models are the CampScrambler, suited for off-roading with knobby tires, and the more lightweight City Scrambler, equipped with mag wheels and street tires for more low maintenance adventures, especially in an urban environment.
3. Electric Bikes – CrossCurrent X
They call it the 'Ultimate Commuter Bike' for a reason – the CrossCurrent X is a micro-mobility showcase in motion.
In terms of e-bike community, it really doesn't get any better.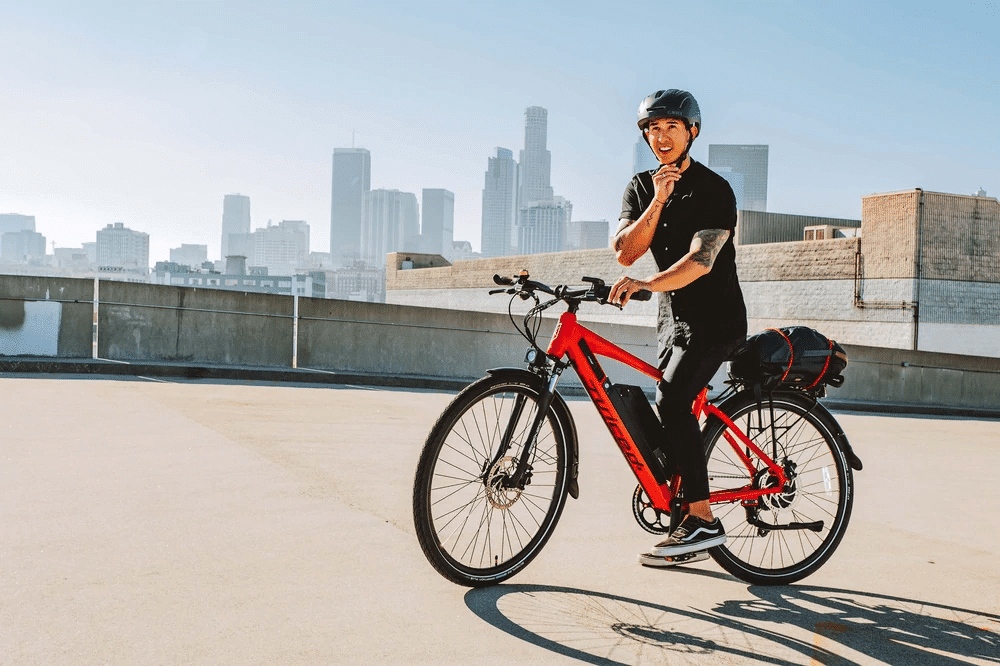 In fact, this beautifully engineered commuter e-bike was recognised by Forbes as 'a true car replacement', fulfilling all your eco-friendly dreams and offering an added boost of safety, speed and comfort.
Travelling at greater distance shouldn't be a problem either as this model has an 80+ riding range.
This CrossCurrent also arrives fully-loaded and ready to roll.
2. CrossCurrent X Step-Through
Another, slightly cheaper, CrossCurrent model is the X Step-Through designed for safety-conscious commuters and fans of non-theatrical dismounts.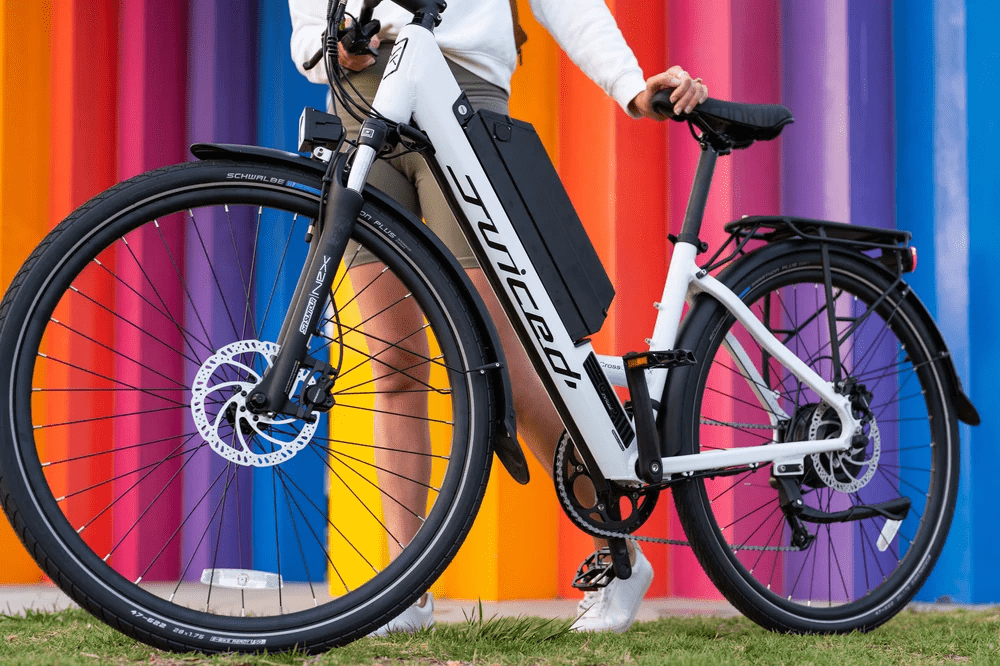 This is a more accessible version of the standard commuter model in the open frame style for added comfort and safety.
Expect many of the usual premium features, with added emphasis on ease of use and an irresistible lower price. The X Step-Through comes equipped with a 52v/15Ah battery and enough range (65+ miles) to get you where you need to go.
You might not get as far as you would on some other electric bikes, but you can rest assured the robust construction will deliver you there in one piece.
1. Electric Bikes – RipCurrent S Step-Through
Last but by no means least, we come to another popular RipCurrent – this step-through electric bike replete with gravel-churning fat tires and go-anywhere capabilities.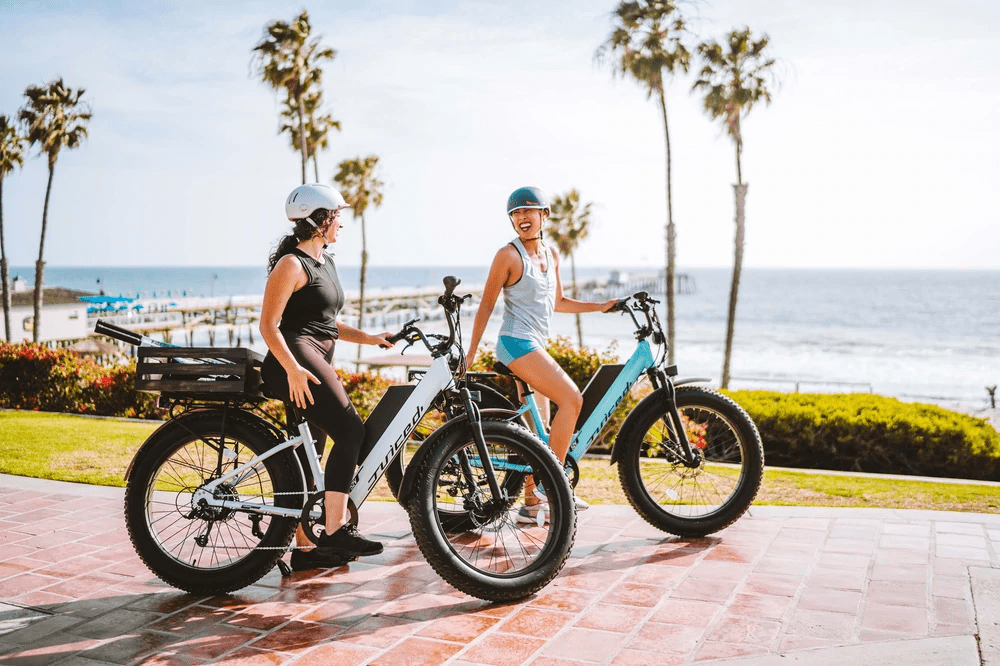 There's little you can't do on this new versatile RipCurrent S Step-Through, loaded with advanced components and a powerful 52V 19.2Ah battery.
The lightweight open frame allows for safe and quick mounts/dismounts.
The riding range runs up to roughly 70 miles and you can motor along at speeds of up to 28mph.
It's fun, functional and unmatched as far as functionality is concerned.
More Adventure
Check out these incredible Scandinavian, Icelandic or USA cycle routes.