5 Incredible USA Cycle Routes You Must Try
If you love adventure then these USA Cycle Routes will be perfect for you.
Pack your saddle bags, pump up your tires, it's time to freewheel our way through 5 Cycling Routes you won't ever forget.
We've picked out a selection of on and off road routes across the broad reaches of the United States.
Get ready for biking excursions among jaw-dropping scenery. Athletic skinny-tyre challenges and agonising climbs for cycling-centric vacations.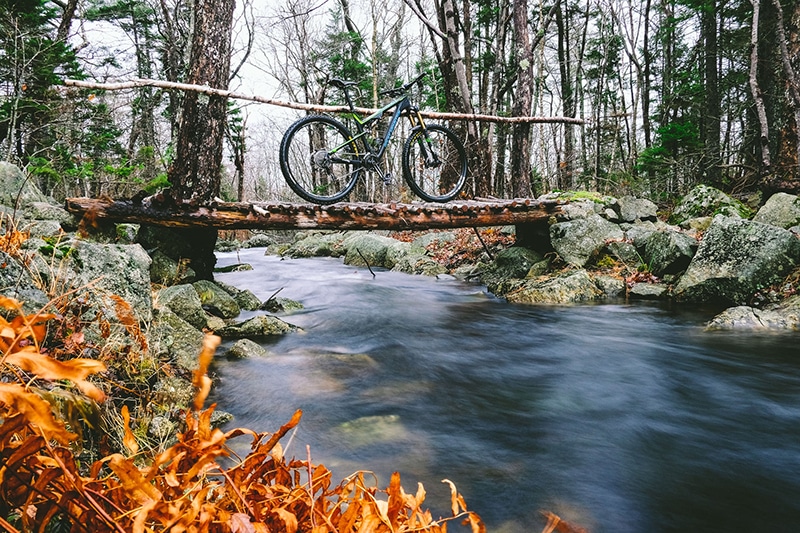 Or, more moderate climbs and long, blissful descents to give you time to look up and stoke your curiosity and sense of wonder.
Our criteria was simple. These are all popular rides in stunning geographical regions of America. There's something here for both road and mountain bikers – newbies and pedalling veterans.
So, get ready, we're taking out for a taste of wind-filled freedom:
5. Green Mountains Loop, Vermont, New York
This is a chance to cycle among colourful vistas that look like they've been daubed onto a canvas.
The Green Mountains serve up flanks of forested slopes and a variation of autumnal colours that have come to define much of Vermont's landscape. Freewheel with a happy, rolling backdrop torn directly from Grandma Moses' paintings.
Take on the Green Mountains Loop and venture out from among the mountains – start in Burlington and you can circle back and end there too. In doing so, you will take in not just Vermont, but incredible portions of New Hampshire too, following the shoreline of the myth-shrouded Lake Champlain.
Skirt New York and loop for more than 370 miles, with alternate routes and offshoots on offer for the adventurous – or, if you have time.
The East Alternate, for example, winds through the small town of Peacham. Another setting that seems to have tantalised painter's over the years – Norman Rockwell territory!
4. Flume Trail, Lake Tahoe, Nevada
Okay, so maybe if you have a fear of heights this might be one to pass on. After all, the trail is perched a gut-turning 1,600 feet above the shimmering blue waters of Lake Tahoe.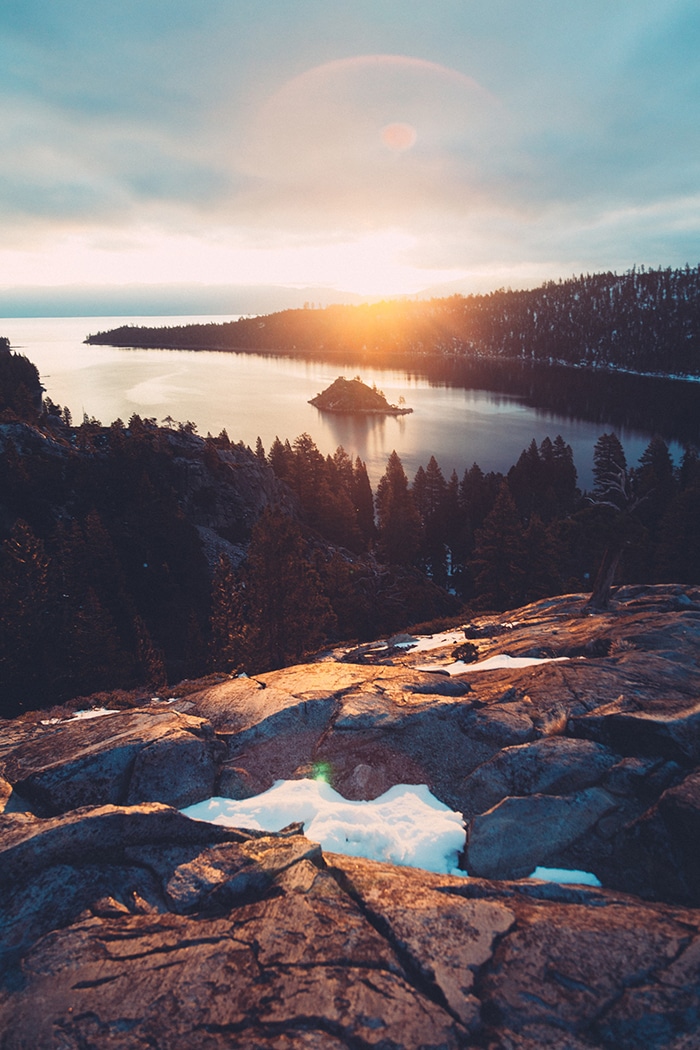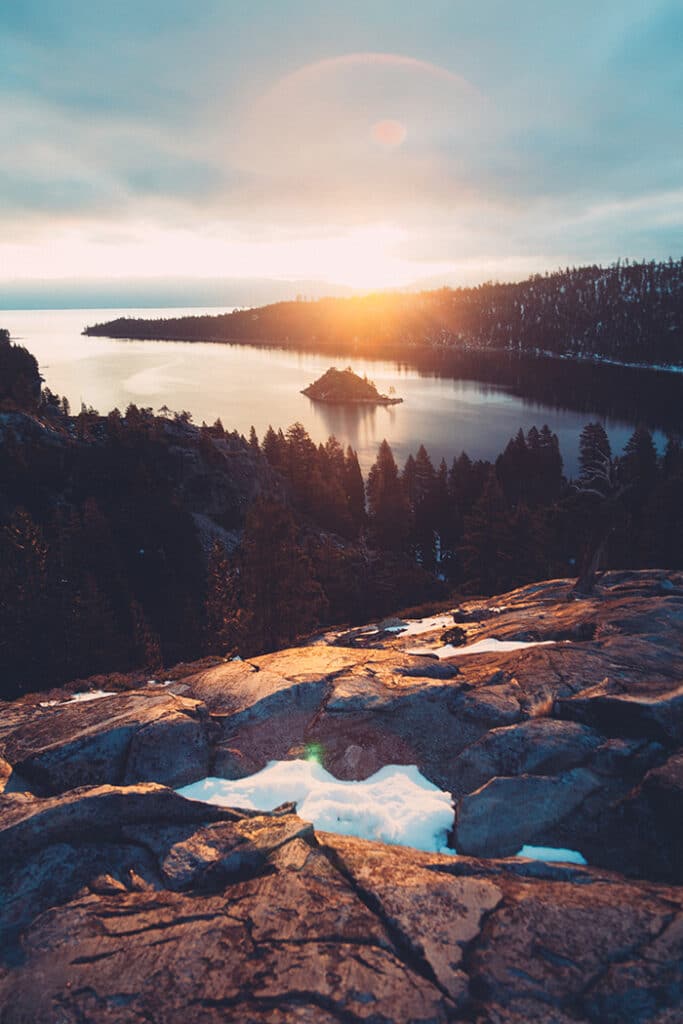 The views are totally incredible though – it might be worth stomaching a few jitters. Most often, riders set off from Spooner Lake State Park and earn their rest breaking a sweat on the climb up the canyon road over Marlette Lake.
The Flume Trail is your reward once you plant your wheels at the top – 4.5 miles on a single track with the breathtaking company of Sand Harbor and more mountains than you could ever take in on one ride.
It's high altitude stuff and an epic ride, sweeping between shoulders of tall pines, with far-reaching views across the Tahoe area.
Pretty meadows and coastal beaches and, yes, more mountains… You can hurtle out into the Lake Tahoe Basin – a great option for both beginners and intermediates, depending on how much you want to push it. It's likely that even seasoned riders will need to dismount at a few stages though.
Learn why you should spend more time outdoors
3. USA Cycle Routes – Captain Ahab Trail, Moab, Utah
Specially chosen for mountain bikers looking to ride fast and fun trails, with some bounce and a few steep and technical sections.
Mostly single track, this route takes you along an iconic 4.3-mile dusty canyon trail. Take in panoramic views of Jackson Hole and the rugged Canyonlands as you peddle.
The upper section of the trail is cut out for endurance riders, with plenty of technical descents – really, you can make it as difficult as you like – and larger drops.
Not to mention scenery that belongs in American extreme sports commercials, or a Quentin Tarantino western.
Rust-coloured canyons sprawl in all directions, under those big, blue skies the continent is famous for.
Advanced bikers will have a lot of here on the rough trail. Also, the trail is named after that element-hardened protagonist from Herman Melville's novel, Moby Dick – only you'll be hunting a different kind of thrill up there and no whales will be harmed in the process of your ride.
Further down, the trail branches off onto the popular Amasa Back trail – there are technical slickrock portions and a few big climbs along the way. Watch out for views of the Colorado River as it open ups and snakes across the lowland stretches to the horizon.
Get inspired by these Nature Quotes
2. USA Cycle Routes – Mount Lemmon, Arizona
The term Sky Island refers to an isolated mountain, wrapped in a different climate roundabout it – a unique region of biodiversity, circled by swathes of desert floor.
Mount Lemmon is a 2,791-metre tall Sky Island.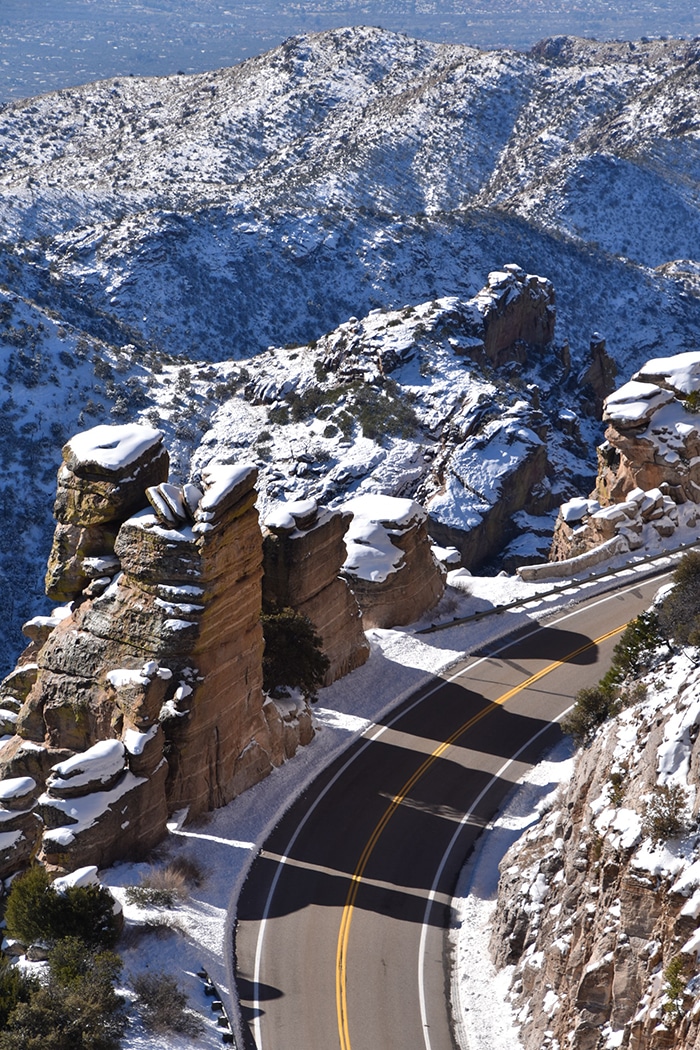 The scenic route unfolds around it, with a backdrop of the most impressive panoramas Tucson, Arizona, has to offer. It's a cyclists' mecca on the mountain trails in an ideal climate, with a variety of other outdoor activities to distract you along the way.
Ascend the Catalina Highway right up to the peak of Mount Lemmon – take a few extra layers with you so you can wrap up. It's likely you'll pass through a range of temperatures and weather conditions.
There's even hope of snowfall at the top, when you come to the Summer Haven resort.
Enjoy the quad-rest as you coast back down as well. Try to avoid the temptation to take any hairpins at top speed and please do return to Tucson without any scrapes and in time for dinner.
Learn from famous USA Environmentalist John Muir
1. USA Cycle Routes – Highway One, Big Sur, California
Time for the ride of your life – we've off to the biker's paradise laid out within this historic stretch of Highway One.
Coastal biking doesn't come much better.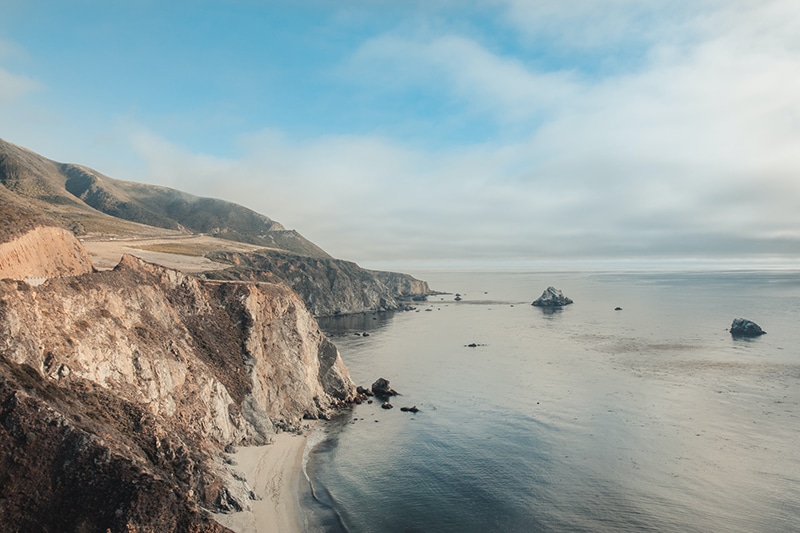 It's roughly twenty sea-facing miles along the West Coast, from San Simeon to Ragged Point. Eat up the road with your skinny tyres and enjoy ocean breezes that cool the sweat from your skin.
You might need to stop at times to truly sit and soak up California's Pacific coastline.
The popular approach is to map out a route from Carmel to Cambria, which suits your skill in the saddle and incorporates whatever sightseeing checklist you might have.
Ragged Point is one of the most essential water-break spots and there are few delights that come close to cruising the cliffside, among coastal bluffs, with the blue surf raging beneath you.
Beginners should be aware that at times you might need to cosy up to some car traffic – there are some narrow shoulders to be mindful of! More challenging climbs might also present problems.
Just remember than any hard work is well rewarded with restaurants and wineries along the way – just stay off the ride until your legs are worn out for the day. Not to mention a smattering of world-renowned vineyards, laidback beach towns and flourishing nature preserves.
There is also backroad access to longer distance rides through the strawberry-spotted region of San Luis Obispo County.
If you enjoyed these USA Cycle Routes then you must check out our choice of the best Scandinavian cycling routes.