Outerknown Blanket Shirt: The Top Choice For Outdoor Life
Writing an article about Outerknown Blanket Shirts is like dropping into the perfect wave – just let the momentum carry you until it stops. What's more fun than writing about the super-cool clothing brand of surf icon Kelly Slater and design legend John Moore?
Outerknown has two things front of mind when it comes to their products: style and sustainability. The clothing brand was co-founded by Kelly Slater so it comes as no surprise that it represents many of his core values. If you care about the environment you'll love what they make and it's all inspired by that laidback surf lifestyle.
The casual styles of their beach-friendly clothing has been achieved with organic, recycled or regenerated materials – over 90% of their products are made in this way. Everything is built to last and made by manufacturing partners who adhere to strict guides for safer working conditions (verified by the Fair Labor Association (FLA), Bluesign, and Fair Trade).
Outerknown's bestselling blanket shirt is the focus of this blog and out of all the styles on offer for men and women, we just can't get enough of how effortless and eye-catching these designs are.
Below, you'll find more information about our picks and a few notes on things to consider before you make your order. We might as well yell it from a mountaintop at this point – we love Outerknown.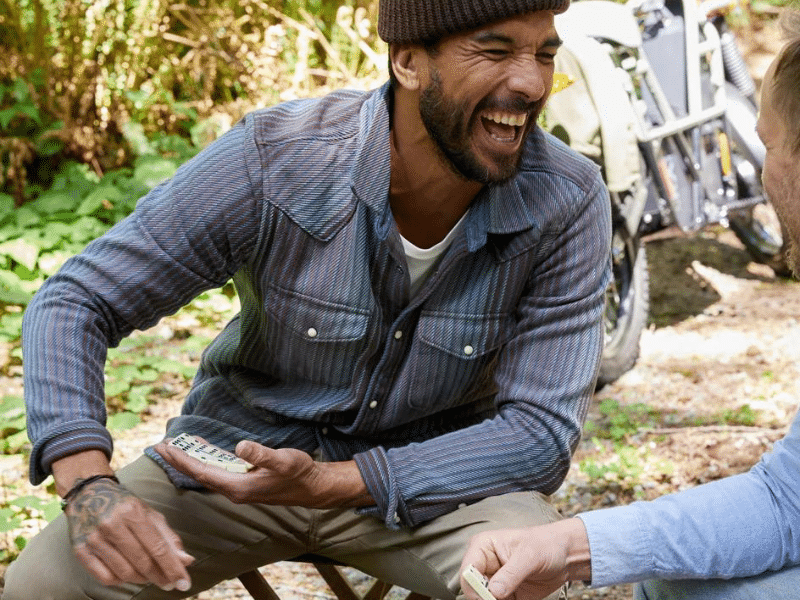 Built On Solid Ground
As a professional surfer, Slater is no stranger to the crushing pressure of competition, or the even heavier crush of a broken wave. He's won a record 11 World Titles and this venture is part of that simple love for surfing, which has made him world-famous.
In 2014, Slater parted from his Quiksilver sponsor and started his own surfwear brand (Outerwear) to carve out a place in the market. He's always been an advocate for sustainable living, closely tied to the environment by the rigours of his sport.
It makes sense that a lifestyle brand would come from someone who has actually lived that lifestyle – not pieced it together on an office mood board, or waxed lyrical about it in distant meetings.
This brand rooted in strong design principles and sustainable production. Slater's partner, the designer John Moore, is also a surfer who grew up with briny-inspired brands and logos that are rooted in positive sustainability models.
The only downside is that all this ensures a slightly higher price tag. There are added costs to bear when it comes to making quality product. Just know that Outerwear designs are built to last by manufacturers who value the health and wellness of their workers.
'As a professional surfer, Slater is no stranger to the crushing pressure of competition, or the even heavier crush of a broken wave…'
The Vibe Is Right
Outerknown's beach style is defined by bestsellers for both men and women, which reflect a love for the ocean and waterborne sports as well. It's simple, casual and laidback, but not lazy. Low-maintenance, but not sloppy.
You might want to take some time to meander through their collection. You'll find cosy sweaters, pants and jumpsuits – not to mention shirts that match comfort and durability, like the heavyweight Blanket Shirt, made from 100% organic cotton. Then there's the elegant Neptune Tank Dress made from hemp and Tencel Lyocell.
The surf community has been waiting for a brand like this. So, picture yourself with your toes in the sand. Feel that salty breeze as it brushes your cheek. Hear the waves as they roll towards you.
Let's learn more about a few of our favourite styles from a collection of Outerknown Blanket Shirts.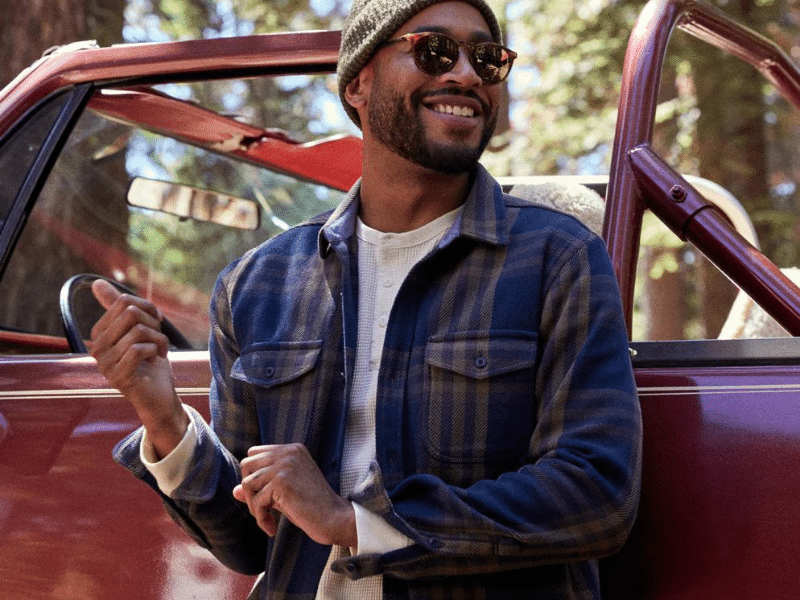 The Classic | Outerknown Blanket Shirt
They say it's 'Often imitated, never duplicated' – well, this could very well be one of the cosiest shirts you ever put on. Outerknown's Classic Blanket Shirt does stand out and it steps up for every season as well, ready to put its outstanding quality to the test.
What we love most about the design is that it doesn't sacrifice anything in terms of comfort. You can wear this quality shirt, wrap yourself in its cosiness, and know that it's come from 100% organic cotton. You'll feel good every time you put it on.
This pick is versatile and essential – a trusted layer for years, come rain of heavy swells. If all that doesn't convince you, know that it's made from soft organic cotton twill with the wonderful addition of buttons made from nuts (that's right… nut-buttons).
To be more precise, the corozo buttons are made from tagua palm nuts collected from the forest floor. So, they've picked up a natural alternative to harmful plastic.
The design also features handy chest pockets with a buttoned flap closure and no harmful synthetic chemicals have been used in the creation of this shirt. Outerknown is dedicated to safer working conditions and stewardship of a healthier planet.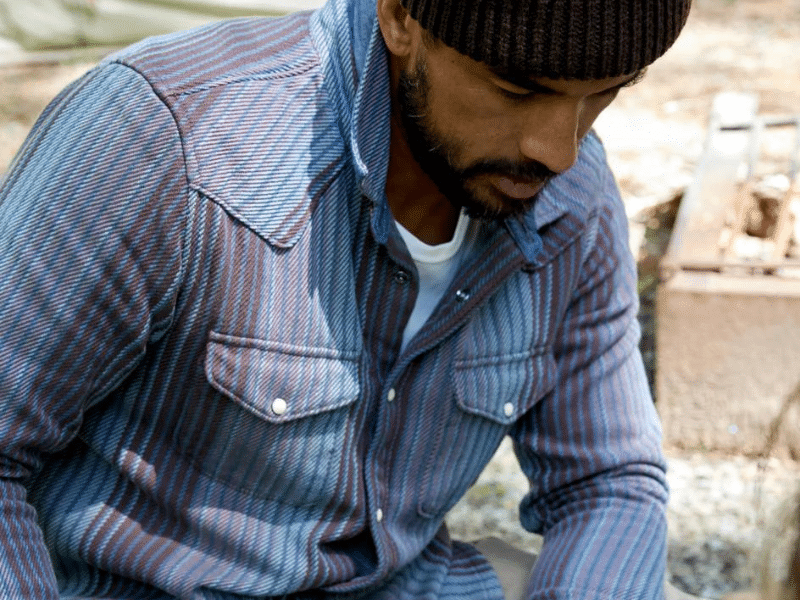 Stripes | Westerly Outerknown Blanket Shirt
Here comes the sun and surf! Outerknown's classic Blanket Shirt is best-worn for time outdoors. Styled with western detailing, the design puts your comfort first and is made from cosy organic cotton.
There's a reason this Westerly Shirt is on their list of best-sellers, decorated with that western-inspired pearl snap detailing and built to take a beloved icon and give it a vibey, surf-ready twist. Crafted from soft, organic cotton twill, this is a worthy frontbencher for any wardrobe.
Notice the classic western yoke, flapped chest pockets and faux mother-of-pearl snaps. Throw in that 100% cotton heavy twill, cutting out those unwanted synthetic chemicals, and you've got a blanket shirt that stands out and truly earns its price tag.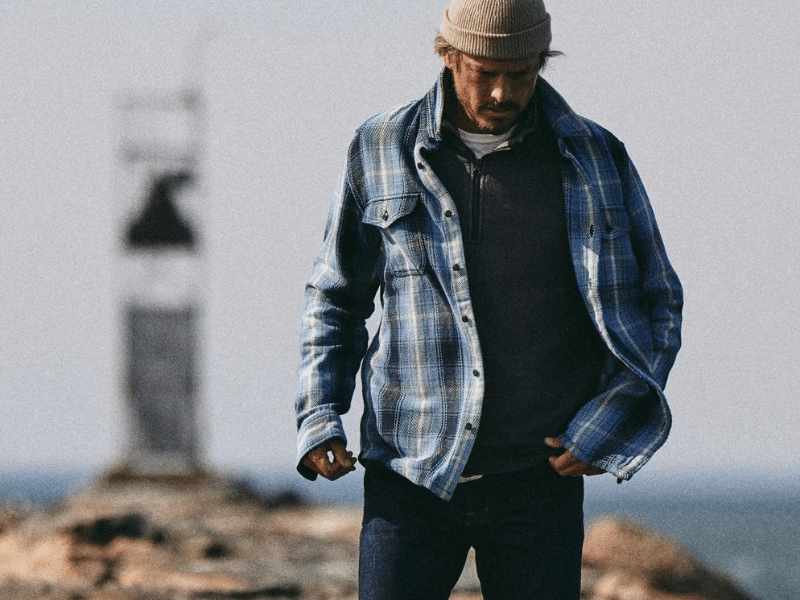 Plaids | Outerknown Blanket Shirt
Next on our list, the 'often imitated' Blanket Shirt is back, but this time it's styled slightly differently. The plaid design is the notable design feature that separates this Outerknown shirt from the pack.
One thing that hasn't changed is the fact that this is still one of their cosiest shirts, built for feeling good in the outdoor and soaking up that post-surf afterglow. This is one of the brand's best layers for for all seasons. You can feel the quality when you put it on.
Not only does it feel good, but Outerknown's plaid blanket shirts look great too. They're versatile and always essential – a comfortable layer to wear again and again.
This one is also made from soft, lofty organic cotton and it has those much-loved nut buttons made from tagua palm nuts. Notice the chest pockets with button flap closure as well.
Bereft of any unwanted plastic, backed by a promise that the manufacturing process involves no exploitation of workers, this shirt is aligned with dreams of a healthier planet. It is 'made for the outdoors' in every sense of the phrase.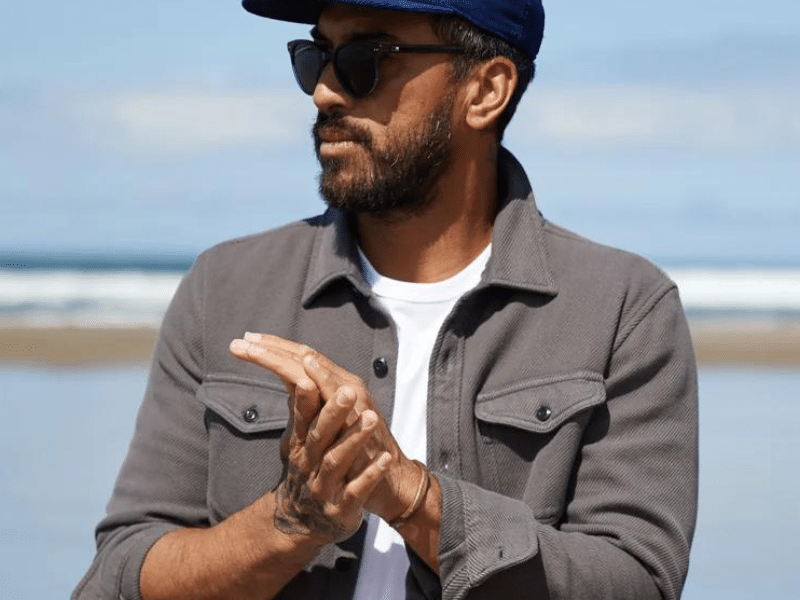 Chroma | Outerknown Blanket Shirt
Finally, we've sadly ridden the crest of this wave to our final Outerknown selection. The Chroma Blanket Shirt bring best-selling style to a cosy shirt coloured with garment-dyed solid hues.
This one is made from that usual 100% organic cotton, which, if we haven't said so yet, is super soft – you'll love it! Bear in mind that you get the addition of buttons made from tagua palm nuts as well.
This design of the Chroma Blanket Shirt offers an easy fit for maximum comfort. It's perfect for layering when the temperature dips, or if you're sitting on the beach watching the hours crawl by.
Additional features include chest pockets with buttoned flaps and an organic cotton yoke. Just a few more reasons to check out Slater and Moore's brand the next time you're shopping for an adventure.
More Of The Best Outdoor Clothing Companies
Best Organic And Sustainable Clothing Brands
Best New Zealand Outdoor Clothing Companies