Helly Hansen Outdoor Backpacks For Hiking: The Ultimate Guide
We're back with the best Helly Hansen Outdoor Backpacks for hiking. The question we've been asking ourselves is what exactly do you want from a backpack? What are the essentials when it comes to a comfortable and enjoyable adventure?
Of course, you want a balanced load and no extra burden to haul along the trail. It doesn't matter if you're trudging with a 90L expedition backpack, or a backpack that's 25L – every gram matters.
First, let's explore a few ways to get the most out of your Helly Hansen Outdoor Backpacks. We're going to be locking at packing tips for intelligent weight distribution and those small comforts that make big feats of endurance just that little bit easier.
What's The Best Way To Pack?
Let's be honest, many of us are averse to the idea of packing. Even if you're a little nomadic, unbothered by the restless angst of always moving on, the process of getting all your essentials organised can be a drag.
One trick we've learnt from seasoned adventurers is to always lay out everything you need. Find a space on the floor and shift some tables aside if you have to. Arrange all your kit out and take plenty of time to review what you have.
What do you keep? Well, William Morris (the Victorian designer and artist), said you should banish anything from your house 'that you do not know to be useful or believe to be beautiful'. The same is pretty much true for your backpack, but with more emphasis on practicality over beauty.
In short, stick to the essentials. Shed anything that isn't necessary, or somehow good for motivation.
What's The Best Way To Sort What You Need?
Let's say you've picked out everything you're set to carry – you've also saved space with stuff sacks, packing cubes or compression sacks. You've done all you can to reduce the volume of your gear. What's next? It might be helpful to further organise your gear into four groups:
Light items: sleeping bags, mats and pillow…
Heavy items: Tent, water, boots…
Bulky items: food, cooking tools, water filter…
Also, you might have extra hiking essentials, like a rain jacket, compass, maps and grazing bags. Just remember the aim is to reduce the volume of everything that's about to be stuffed in your backpack.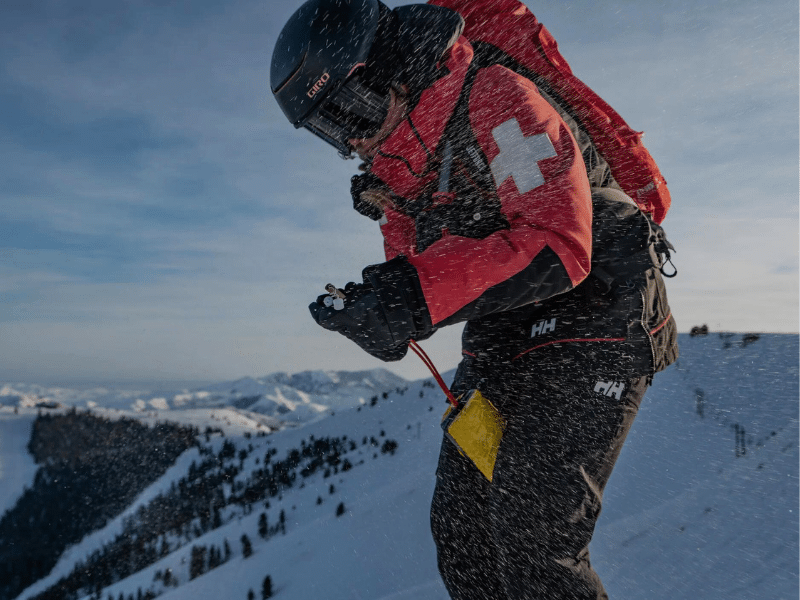 Easy Tips For Filling A Backpack
There are easy-to-follow steps you can take to ensure you travel as light as possible.
First, pack your lightest items at the bottom of your bag and place your sleeping bag on top of them. This is an ideal position to fill in all those spaces around your sleeping bag with other light additions.
Now, your backpack has the lightest items on the bottom so your pack will feel less weighed down. These items will also act like shelf to support the impending arrival of a few heavier items.
When it comes to placing your heavy items you will want to keep them in the middle of the backpack, close to the back panel. They must also be balanced so they don't rock from side to side and muddle your pace.
Keep the heaviest weight aligned with your centre of gravity.
If you've followed these steps your backpack should feel stable and at this point we can add the bulkiest items, like extra water or a tent, which can also be divided into components. Keep those sharp objects sealed and tucked away – the last thing you want is to pierce your last source of hydration.
All those bulky items need to again be placed in the middle of your pack, but nearer the bag's front and on top of your heavy items. You can save space by storing utensils inside cooking pots.
Finally, bring in the reinforcements with your lid and external pockets. These storage spaces can carry all the gear you need on the move. Keep these essentials close at hand and use those hip belt pockets too if you have them (an ideal pouch for snacks).
Now, we know how to pack for our hike. We've inspected our backpack, checked everything is secure and tightened our compression straps. Let's check out 5 of the best Helly Hansen Outdoor Backpacks to find out which ones we'll be filling up:
5. Capacitor Backpack RECCO®
This is the big one! Helly Hansen's large 65-litre mountain backpack is the biggest one they have. It's engineered with your comfort in mind, designed for strenuous multi-day trips and long days on the trail.
You can hike assured that you're not the first person to put the 65-litre Capacitor Pack to the test as well. Helly Hansen have fine-tuned this backpack to protect your gear in the most merciless conditions.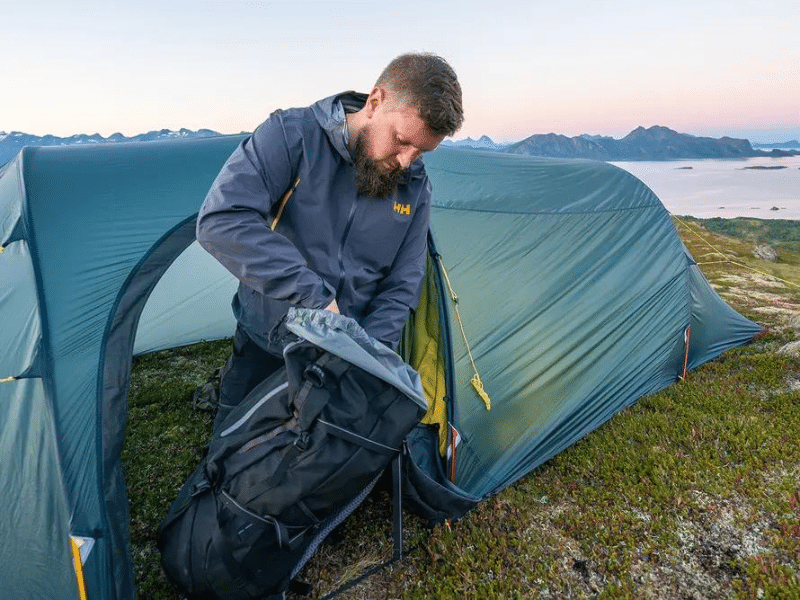 Multi-day mountain expeditions are made easy (or easier) with the Capacitor's carefully honed frame, padding and suspension – all engineered to bear some of that load and distribute weight most efficiently.
We love the floating top lid which is great for securing extra volume and holding larger pieces of gear. Also, the torso and back length can be easily adjusted and the back has a 3D mesh that improves ventilation if you work up a sweat.
4. Transistor Backpack, RECCO®
So it's not as sizeable as our previous pick, but this could very well be your go-to daypack for outdoor adventures. The lightweight 30-litre Transistor Backpack is built for the trials of mountain treks and downhill biking.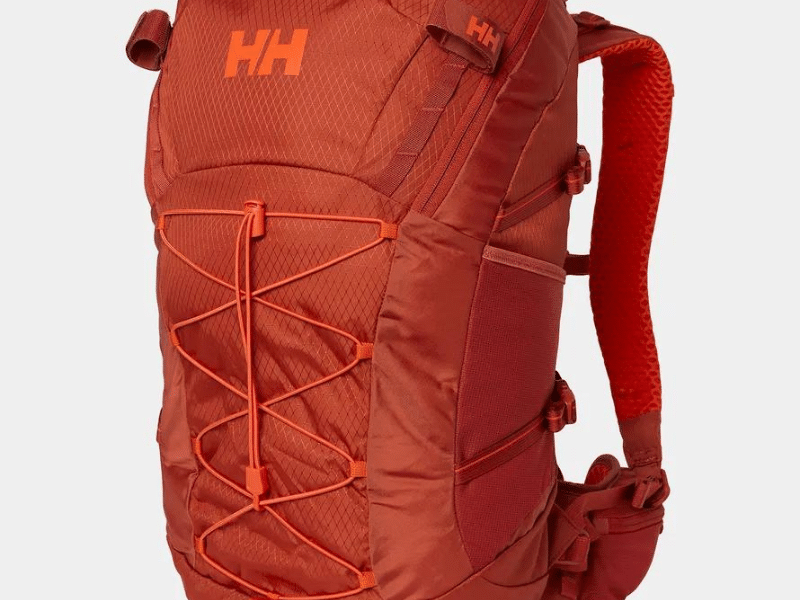 Helly Hansen says it's a 'must-have' and the versatility alone is enough to justify bringing this easy-to-carry performance pack on your next escape. It's designed to maximise performance, backed by the features you'd expect from a larger hiking pack, without the added bulk.
You'll be happy to learn it's fully hydration compatible and also comes with dual ice axe and trekking pole attachments. So, you don't always have to stick to the trail out there!
3. Generator Backpack
Even lighter than the Transistor Backpack, this 20-litre Generator Backpack is versatile, durable and the perfect companion for hiking trails and single-tracks.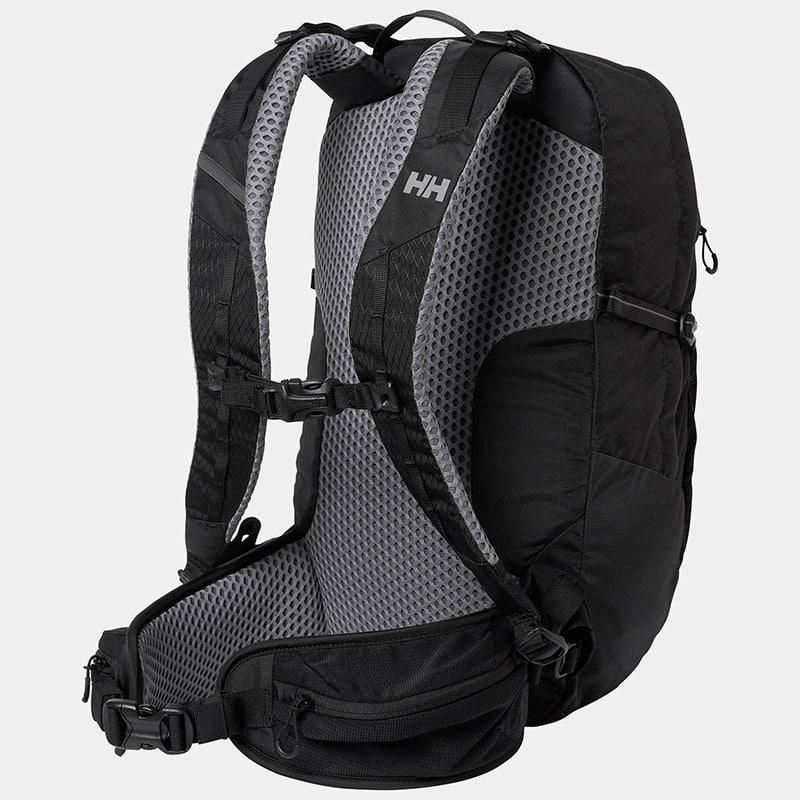 Wherever your adventures take you, this lightweight backpack will support you every step of the way. This front-loading pack is made for easy access and it has all the capabilities to keep your essentials organised, as well as being quicker to pack than a traditional top-loader.
The expandable stuff pocket, breathable mesh and waist belt are all welcome additions. While there are a few smaller details you might miss at first glance – notice the whistle on the adjustable sternum strap and the hydration compatible sleeve.
2. Loke Backpack, 25L
Bring on those breezier hikes and urban adventures, the 25-litre Loke Backpack is a fantastic pack (more of a welcome companion, really) for your next trip.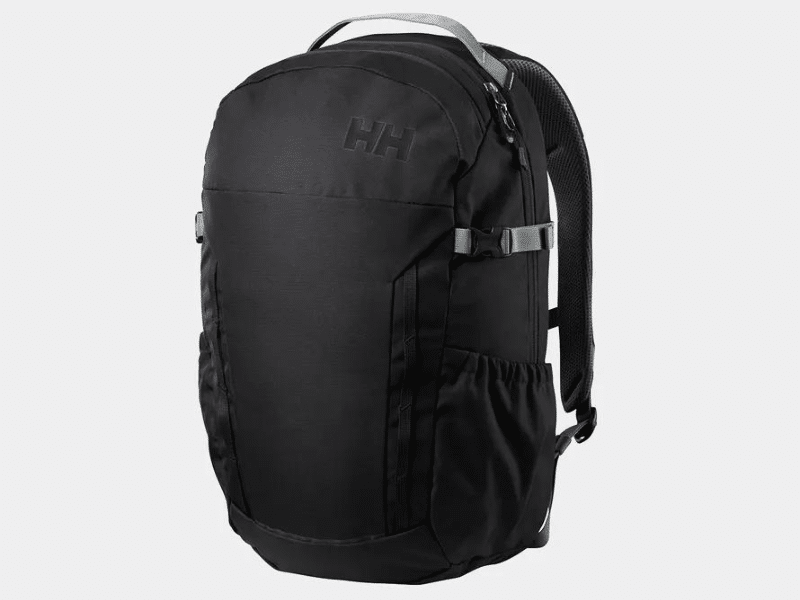 You might want to consider this option for those spur of the moment adventures when you need a quick escape. The interior has a spacious main compartment, padded laptop sleeve and internal organizer for all your city needs as well.
This one is designed with durable polyester Oxford fabric, so it looks great and also stands the test of tougher conditions. Notice the exterior has a quick-access pocket, elasticated bottle pockets and reflective printing for safety too.
1. Riptide Waterproof Backpack
Last on our list of Helly Hansen Outdoor Backpacks, we've come to the one that fends off all the water. The sturdy Riptide Waterproof Backpack is water-resistant to the extreme. Don't expect a drop of water to get through interstices in this armour.
So, if you need to protect your gear in a downpour, you can always rely on the Riptide Waterproof Backpack – a great option if you're taking a boat trip as well.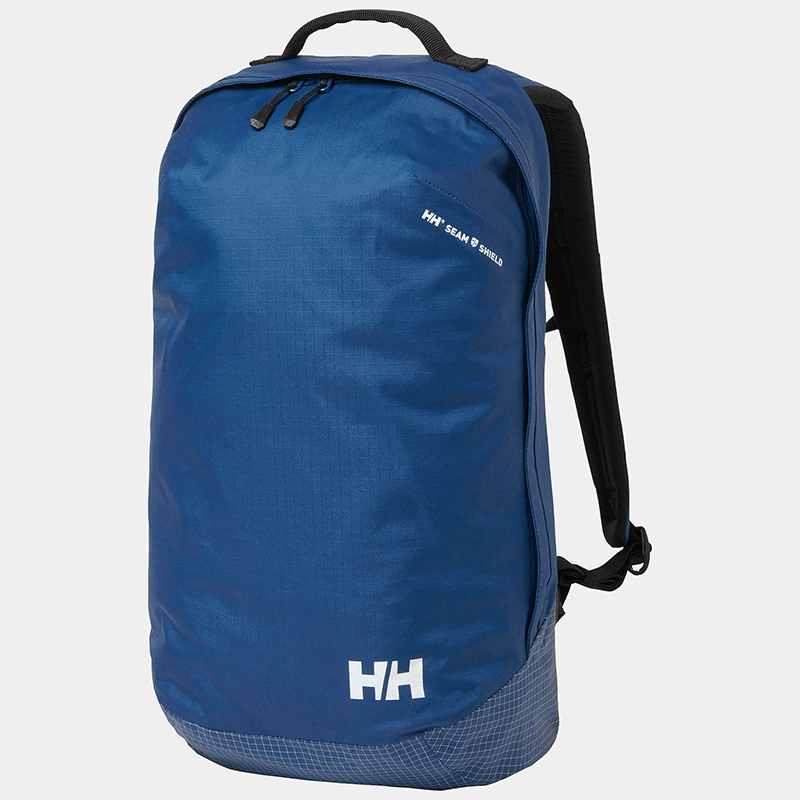 Not only will the Riptide keep your essentials drier than desert bones (notice the TPU coating and sealed seams), but it can handle heavy loads and tools as well. You don't have to worry about the material ripping either.
Like we said, this protective backpack is built for gusts of rain and barrages of sea spray.
Other Outdoor Backpack Brands