The Best Flexible Solar Panel For Campers And RVs
Campers, when it comes to seeking out the best flexible solar panel there are a few things you'll wind up looking for. In this article, we've honed in on the most ideal set up and picked out one product in particular that we think stands out above the others.
Of course, solar panels are essential pieces of kit when it comes to staying powered up on the road. Not many of us ever go truly off the grid – even when we're way out in the depths of national parks or hunkered down in remote campsites.
Extended periods in the world's outback doesn't have to mean giving up your creature comforts. Also, when you hop into your RV or camper, you don't want to have your travel plans dictated by campsites or parks with electricity hookups.
Limited battery or gas supplies can diminish quickly when it comes to keeping your fridge and toaster running. So, easily-renewable energy sources are vital if you need to keep power on the move.
Over the years, we've found the best option is simply to kit out your wheeled home with RV solar panels. Alongside solar power generators, semi flexible solar panels are always a quiet and sustainable alternative.
This way, you can keep your appliances on and you wont need to lug around any of those clumsy spare gas cans. It also doesn't require you to fuel up your traditional generator at a gas station.
Semi flexible solar panels come in various sizes and wattages for all your different RV needs. You can even buy adjustable panels if you plan to pare down or expand your set up for specific trips.
What Materials Are We Looking For?
There are two common types of materials used for RV solar panels, which are monocrystalline and polycrystalline. Monocrystalline panels have a single silicon crystal that is used to capture solar energy. While polycrystalline panels use multiple silicon crystal fragments.
When it comes to picking the right solar panel for your RV, we recommend monocrystalline panels, which are proven to be more efficient. Now, the type of solar panel you pick depends on whether you want a rigid or flexible model.
What's the difference? Well, the style of panels you pick will depend on whether or not you want to mount them on top of your RV or camper. Flexible panels are made to be mounted on curved, or uneven surfaces. Rigid panels are more generally designed for flat-topped RVs.
Fear not, mountable panels come with all the instructions and simplified manuals you'll need to install the hardware yourself. Self-installation is no longer the nightmare it once was.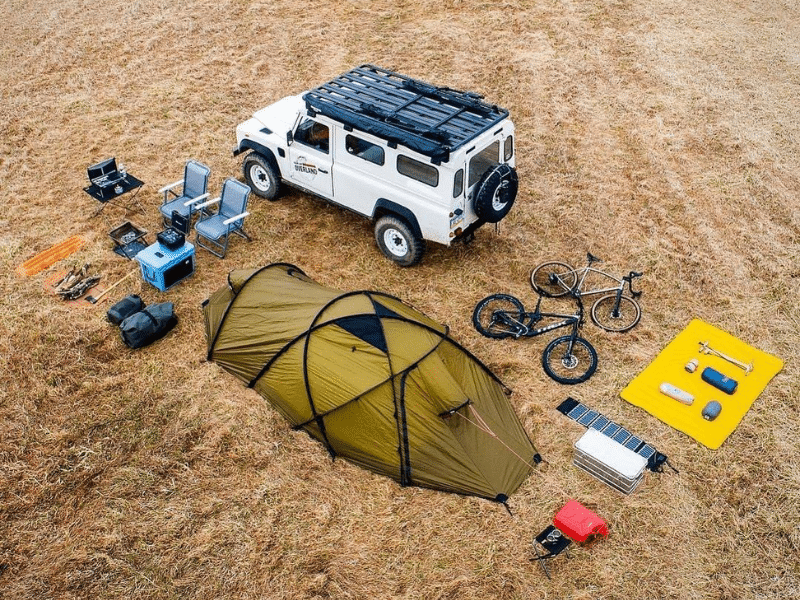 Remember that mountable RV solar panels also tend to be more durable than the portable alternative. They are waterproof and wind resistant, which stands them in good stead against bad weather.
On the other hand, portable solar panels will fold for compact storage and these are made for an easy set-up. That means you can also tear-down your site without too much of a delay as well.
One other thing we can say for portable solar panels is they are scratch-resistant and fit to fend off a light shower. Just bear in mind that they shouldn't be left out permanently. You'll also find models with integrated kickstands and handles, which can be set at optimal angles.
What's The Best Flexible Solar Panel For Efficiency?
In terms of wattage, most RV and camper rigs need between 100-500 watts of solar power. This of course depends on what you're powering. For example, 100 watts might work for small fridges, toasters and coffee makers. If you need an electric stove, fridge and other appliances, you'll need more power.
We find that the best approach is to start small. You can always expand your wattage as your needs evolve over time. Multiple panels can be connected together if your energy needs increase.
It's also worth noting that product descriptions describe watts in the best possible conditions. We're talking cloudless days of optimal sunlight and no shade whatsoever. Don't be surprised if your panels draw less power than was previously stated.
It might be easier to just look at efficiency rate for a clearer indication of which solar panels work best (you're looking for a panel that works at about 23%, or higher).
Now, let's take a closer look at the panel we've picked out for all your RV electrical needs. Chosen from a range of top products, as well as scoured user reviews, we've arrived at this semi flexible solar panel to keep you powered up and moving on the road.
Introducing… Overland!
Overland Solar is a brand strengthened by workers with similar interests. Their products have been refined after years of meeting countless travellers and like-minded campers, who were all in desperate need of a reliable power supply to use on the go.
So many camper and RV users were having the same problem, which is why Overland Solar stepped in to make up for a lack of engineering, which they noticed in most of these power systems.
When you arrive at a campsite it is common to see RVs all parked up in rows and 'plugged-in' to top up their energy supplies. Of course, there are better ways to keep the lights on – a reassuring notion to those who hate to be restricted.
What Overland decided to do was work on portable systems that are cost effective and easy to use, without giving up anything in terms of efficiency. The brand is happy to say they've eventually don't just that, having surfaced from many days or research and tested prototypes.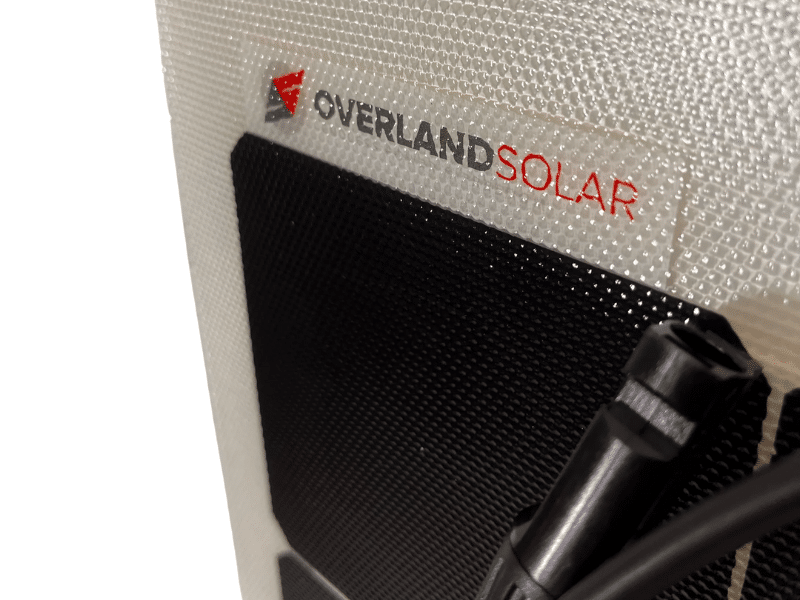 This is the long-awaited settler of frustrations caused by overpriced power systems that consistently underperform. What's more, you don't need any drilling or specialised electrical installation.
Let's see if their Overlander 160™ ETFE Semi-Flexible Solar Panel, with top mount junction box, lives up to the hype…
The 160W Overlander™ Flexible Solar Panel
Some would say the Overlander™ 160W Flexible Solar Panel is the best power source on market for travellers who need a reliable energy source. Kitted out for a semi-nomadic life, this high-performance solar panel is specially made for campers, overland builds and RVs.
Due to Overland's rigorous testing processes, you can rest easy knowing that this product has been trusted by explorers worldwide. It's certainly not oversized either, measuring 22 x 58 inches and just 4 mm thick.
That means the Overlander™ 160W carries an impressive amount of energy, but is also compact and lightweight (weighing in at only 6 pounds). We love the slim design and featherlight feel of this product, which is easily mounted on curved or uneven surfaces.
It's great to know you can store your solar panel without any hassle and a durable ETFE (Ethylene Tetrafluoroethylene) top layer ensures the Overlander™ 160W panel is resistant to any environmental slings and arrows hurled its way (bring on the branches and hail).
You'll always be ready for harsh conditions and backed by optimal performance with industry-standard MC4 connectors. It's designed for easy integration and compatible with most solar power systems. The maximum voltage is an impressive 45 volts.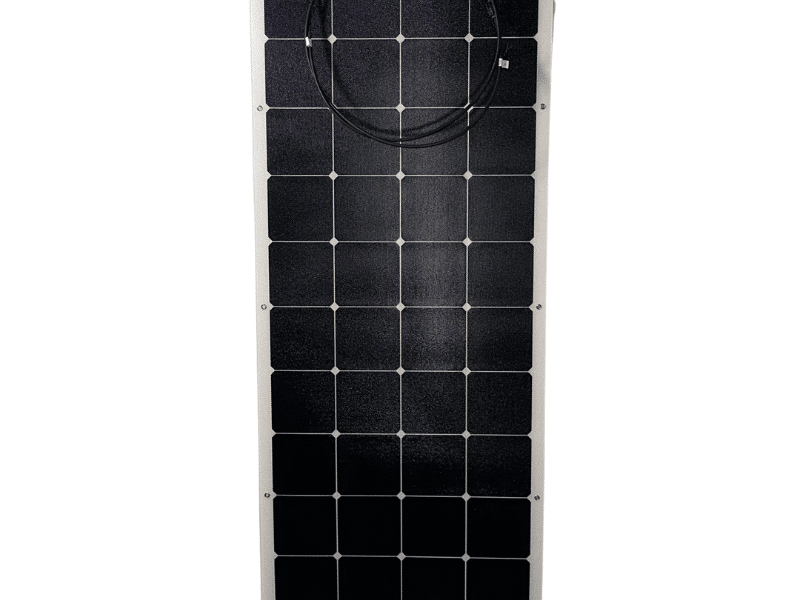 When it comes to high-efficiency power in a compact and lightweight package, there really is no competition for the Overlander™ 160W solar panel. All your off-grid needs are catered for as you ride smoothly into your adventures, powered by the gold standard of solar energy solutions.
This is truly one of the best semi-flexible solar panels we've reviewed so far.
More Motivation For Your Outdoor Adventures
Leave No Trace: The Ultimate Guide