The Best TYR Shoes for Cross Training and Weightlifting
This guide will explain everything you need to know about the best TYR shoes for cross training and weightlifting.
It will help you make the best choice and find the right shoe for your goals and training style.
A leading name in specialized athletic apparel for nearly 40 years, TYR has developed a line of premium weightlifting and cross training shoes that has been quickly adopted by many of the top strength and CrossFit athletes in the country.
Who are TYR?
TYR Sport was established in 1985 to provide the competitive swim market with new, innovative technical swimwear.
Since its inception, TYR has grown to exist as one of the world's most recognizable swimming and fitness brands. Whether it's personal records or world championships, they have the hard earned hardware to back it up.
BEST TYR SHOES FOR CROSS TRAINING AND LIFTING
Click on the link below that best suits your needs.
Or scroll down to learn more about the different TYR models, materials and features.
TYR LIFTING SHOES – TYR L-1 LIFTER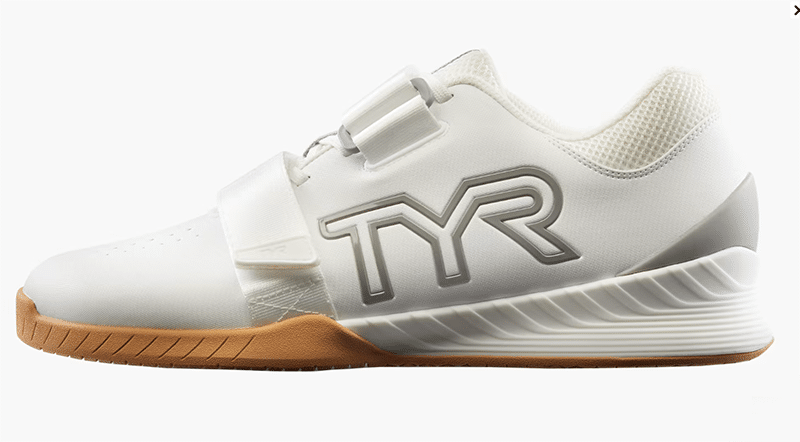 The L-1 Lifter features a patent-pending anatomical toe box, adjustable double straps, and a flat wide sole for optimal stability through the most brutal regimens.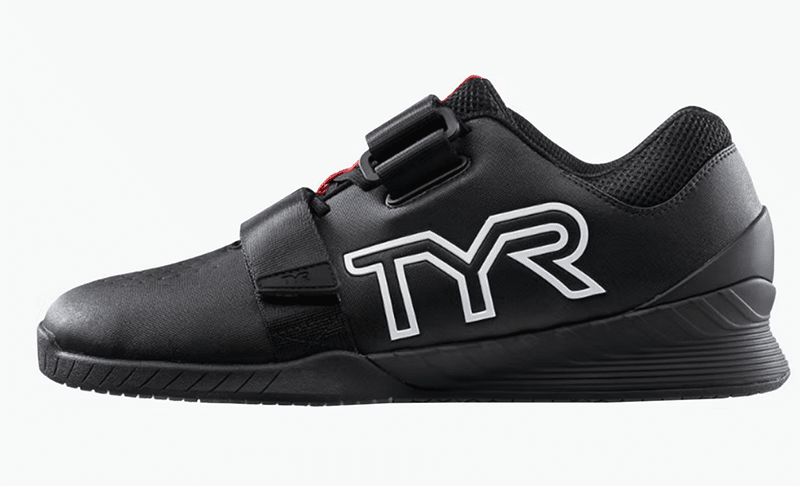 The L-1 Lifter's 21mm heel-to-toe drop allows for a more upright torso during lifts and can help improve squat depth.
The unique, extra wide toe box also promotes a more natural, non-constrained fit for comfortable and powerful lifting.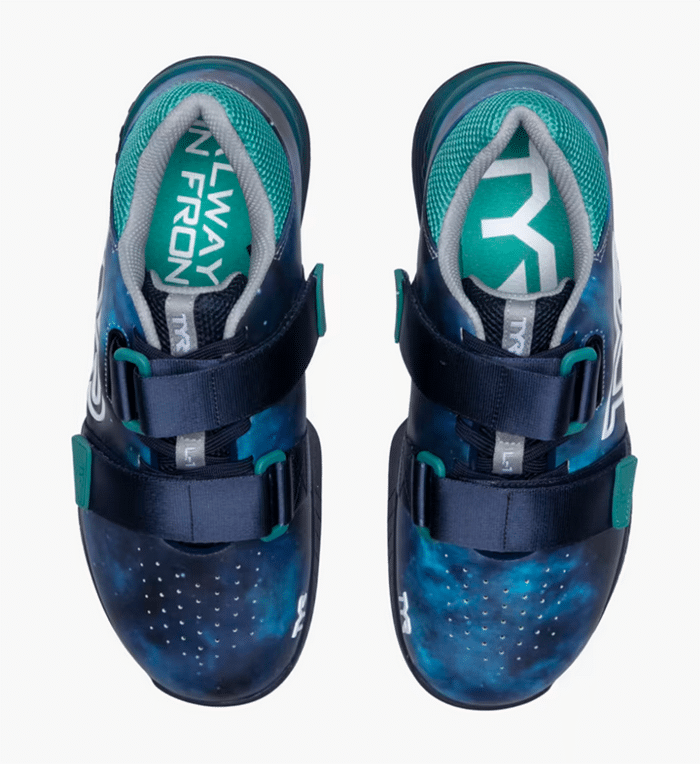 SPECIFICATIONS:
Weightlifting Shoe
Patent-Pending Anatomical Toe Box
21mm Heel-to-Toe Drop
Back Heel Support
Adjustable Double Straps at midfoot
Flat Wide Sole
TYR CROSS TRAINING SHOES – TYR CXT-1 TRAINER
The CXT-1 Trainer is designed with rigorous training regimens and competitions in mind, combining a patent-pending stability platform with a responsive NRG foam midsole, flexible forefoot, and breathable mesh upper.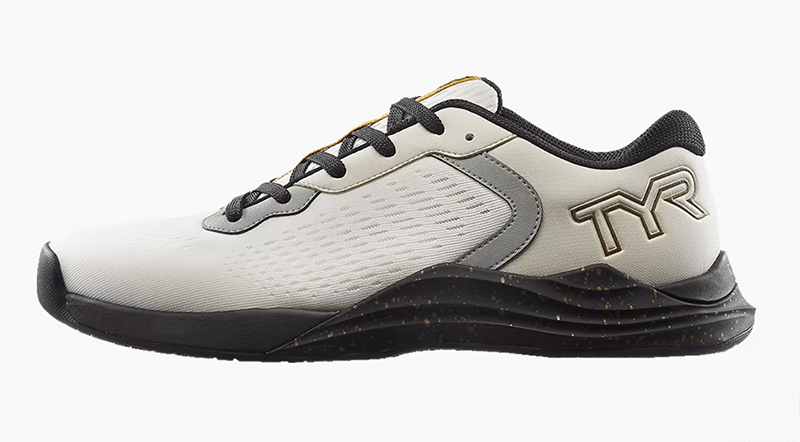 The CXT-1 also includes a smooth and durable heel tab for effortless glide during handstand push-ups; an extended toe guard for greater durability and traction; and a wrap-around side gripper around the heel for added stability.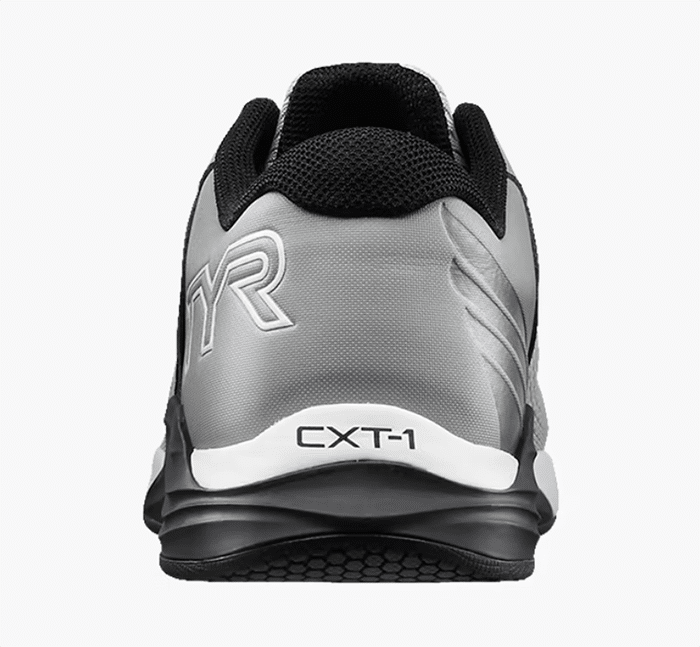 Each trainer has a 9mm heel-to-toe drop with a solid base for weightlifting and comfortable, ergonomic support through sprints, climbs, and box jumps.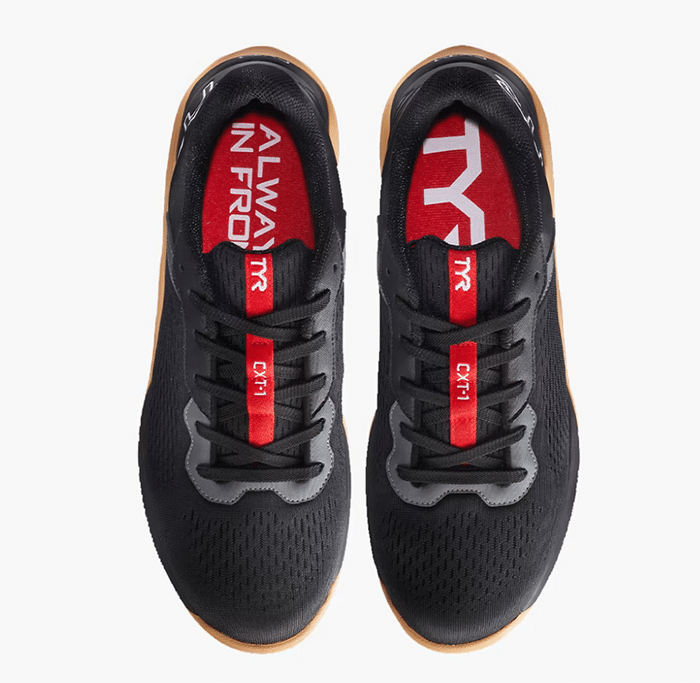 SPECIFICATIONS:
Cross-Training Shoe
Patent Pending Stability Platform
Wrap-around Side Gripper extending around the heel
Anatomical Toe Box
NRG Foam midsole
9mm Heel-to-Toe Drop
Engineered Mesh Upper
Extended Toe Guard
Smooth and Durable Heel Tab
Flexibility in the Forefoot
Stable Heel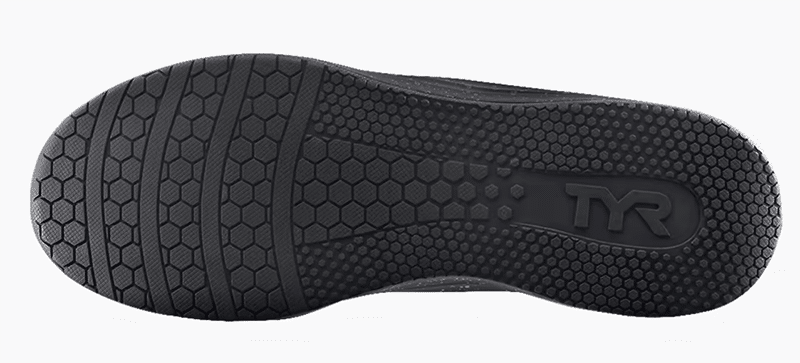 How Much Do TYR Shoes Cost?
Where is the Best Place to Buy TYR Shoes?
The best place to buy TYR cross training and weightlifting shoes is from Rogue Fitness.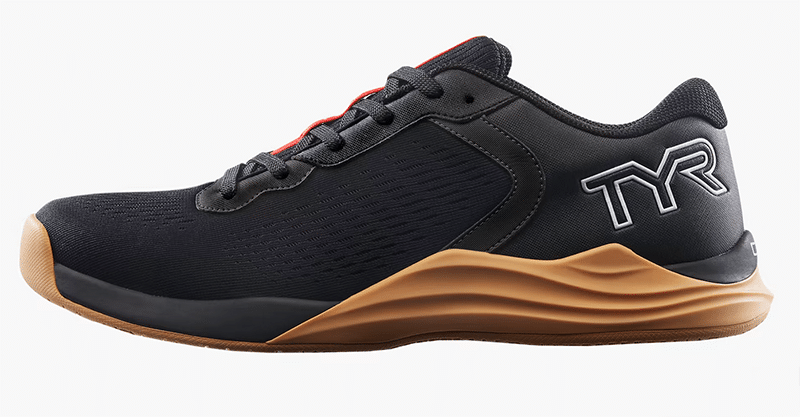 Why is a Strong, Hard Sole so Important for Weightlifting Shoes?
A strong, hard sole is important for weightlifting shoes for a few key reasons:
Stability: When lifting heavy weights, it's important to have a stable base to push off from. A hard sole helps to create a solid foundation that allows for better stability and balance during lifts. This can help to reduce the risk of injury and improve overall performance.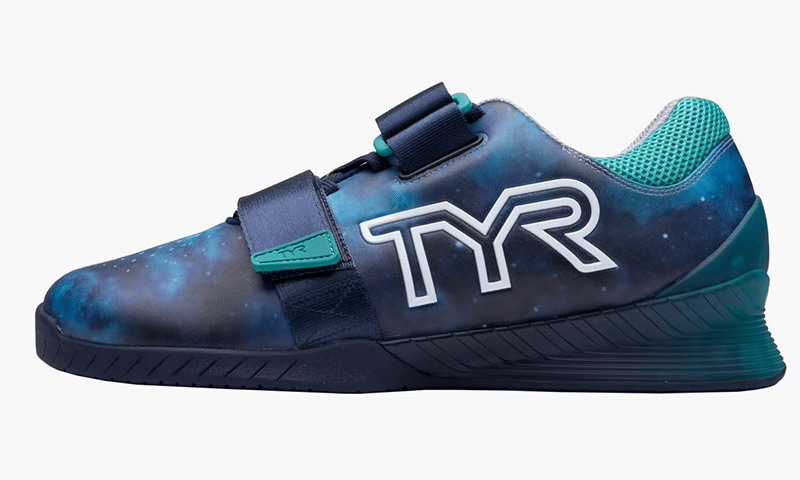 Force Transfer: A hard sole helps to transfer force more efficiently from the feet to the ground during lifts. This allows for greater power output and more efficient use of energy, which can lead to better performance and results.
Durability: Weightlifting shoes are designed to withstand the wear and tear of heavy lifting. A hard sole helps to prevent the shoes from breaking down or wearing out too quickly, which can help to prolong their lifespan and save money in the long run.
Traction: A hard sole can also provide good traction on gym
What Exercises can you Perform with Cross Training Shoes?
Cross-training shoes are versatile athletic shoes designed to support a variety of exercises and movements. They are ideal for activities that involve a combination of movements, such as weightlifting, plyometrics, HIIT workouts, and cardio. Here are some exercises that you can perform with cross-training shoes: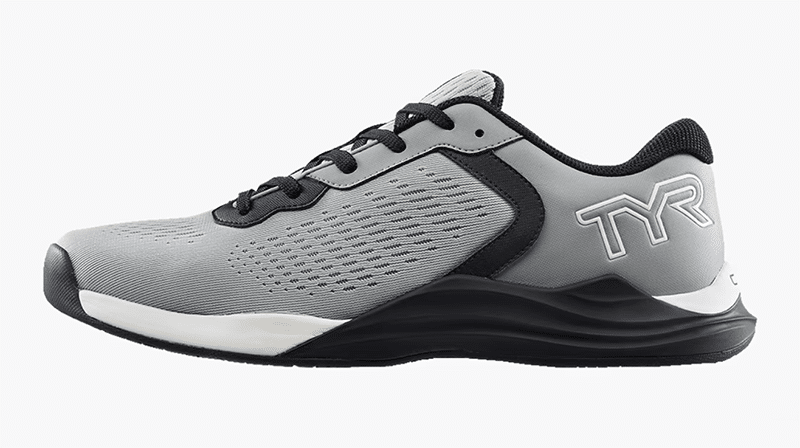 Weightlifting: Cross-training shoes provide a stable base for weightlifting exercises, such as squats, deadlifts, and bench presses. They typically have a hard sole, which helps to transfer force from the feet to the ground and improve stability during lifts.
Plyometrics: Cross-training shoes are also good for plyometric exercises, such as box jumps, jump squats, and burpees. They provide cushioning and support for jumping and landing movements, while still allowing for quick and explosive movements.
High-Intensity Interval Training (HIIT): Cross-training shoes are well-suited for HIIT workouts, which involve a combination of high-intensity cardio and strength exercises. They provide good support and cushioning for jumping, running, and other cardio movements, while still providing stability for strength exercises.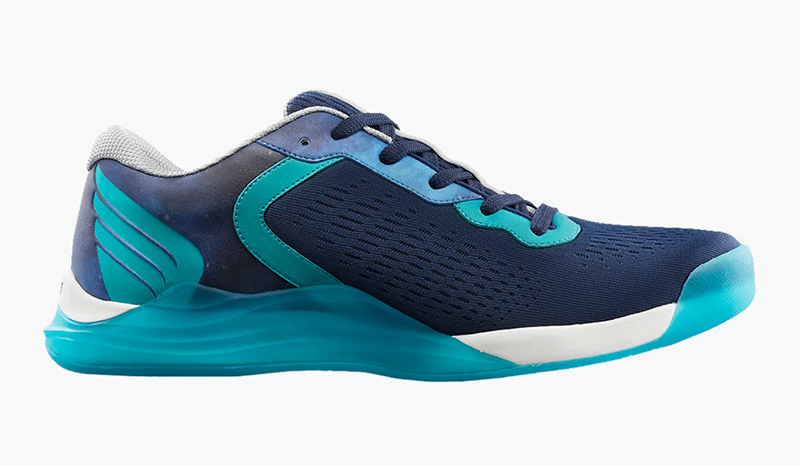 Cardio: Cross-training shoes are also good for cardio workouts, such as running, cycling, and rowing. They provide good support and cushioning for the feet, while still allowing for a natural range of motion.
Overall, cross-training shoes are designed to be versatile and supportive for a range of different exercises and movements. They are a good choice for anyone looking for a single pair of shoes to use for a variety of workouts.
Which Swimmers do TYR Represent?
KATIE LEDECKY
7X OLYMPIC GOLD MEDALIST, 15X WORLD CHAMPION, 14X WORLD RECORD BREAKER
MICHAEL ANDREW
OLYMPIC GOLD MEDALIST, 9X WORLD CHAMPIONSHIP MEDALIST
LILLY KING
2X OLYMPIC GOLD MEDALIST, 11X WORLD CHAMPION, WORLD & AMERICAN RECORD HOLDER
CLAIRE CURZAN
OLYMPIC MEDALIST, WORLD JUNIOR RECORD HOLDER
TORRI HUSKE
OLYMPIC MEDALIST, AMERICAN RECORD HOLDER
NIC FINK
2020 OLYMPIAN, AMERICAN RECORD HOLDER
ANASTASIA PAGONIS
2X PARALYMPIAN
BOBBY FINKE
2020 OLYMPIC GOLD MEDALIST.
PATRICK CALLAN
2021 OLYMPIAN, USA NATIONAL TEAM MEMBER
HUNTER ARMSTRONG
2021 OLYMPIC GOLD MEDALIST, 5X WORLD CHAMPIONSHIP MEDALIST, WORLD RECORD HOLDER
PHOEBE BACON
2021 OLYMPIAN
BROOKS CURRY
2021 OLYMPIC GOLD MEDALIST, 3X WORLD CHAMPIONSHIP MEDALIST
ZACH HARTING
2021 OLYMPIAN
NICK ALBIERO
USA NATIONAL TEAM MEMBER
JUSTIN RESS
2X WORLD CHAMPION
CHARLIE CLARK
2022 WORLD CHAMPIONSHIP TEAM MEMBER
KATIE GRIMES
2021 OLYMPIAN, 2X WORLD CHAMPIONSHIP SILVER MEDALIST
DAVID CURTISS
USA NATIONAL TEAM MEMBER, ACC CHAMPION
Which CrossFit Athletes do TYR Represent?
ANNIE THORISDOTTIR
2X FITTEST ON EARTH, 10X CROSSFIT GAMES COMPETITOR
PAT VELLNER
3X CROSSFIT GAMES PODIUM DEFENDER.
GUIHERME MALHEIROS
3X FITTEST MAN IN BRAZIL.
DANI SPEEGLE
4X CROSSFIT® GAMES COMPETITOR, TITAN GAMES WINNER
ROMAN KHRENNIKOV
2ND FITTEST MAN ON EARTH (2022)
BJÖRGVIN KARL GUÐMUNDSSON (BKG)
CROSSFIT® GAMES COMPETITOR
NOAH OHLSEN
8X CROSSFIT GAMES COMPETITOR, 2ND FITTEST MAN ON EARTH 2019
TRAVIS MAYER
7X CROSSFIT GAMES COMPETITOR
EMMA CARY
2021 WORLDWIDE CROSSFIT OPEN RUNNERUP, 7TH FITTEST AMERICAN WOMAN IN 2021
RICKY GARARD
3RD FITTEST MAN ON EARTH ('22)
LAZAR DUKIC
5X FITTEST MAN IN SERBIA.
Which Strongmen Do TYR Represent?
MARTINS LICIS
2019 WORLD'S STRONGEST MAN CHAMPION, CURRENT WORLD RECORD HOLDER – STEINBORN SQUAT (565#)
MITCHELL HOOPER
PROFESSIONAL STRONGMAN, 2022 ARNOLD CHAMPION
Other Great Training Shoes