Best Inov 8 Shoes for Cross Training and Weightlifting
This extensive guide will teach you everything you need to know about the best Inov 8 Shoes for Cross Training and Weightlifting.
Inov 8 are a highly respected brand, famous for their incomparable trail running, technical and hiking shoes.
Deep roots in the UK outdoors scene have interwoven durability, exceptional materials, quality, craftsmanship and a commitment to performance into all their products.
Since stepping into the Cross Training and Weightlifting arena, they have continued to excel with the shoes that they have created.
Working closely with top level athletes such as Dani Speegle, Scott Panchik and Jaime Simmons, they have created some of the most underrated and solid shoes in the game.
Who are Inov 8?
Forged in the fells and mountains of the British Lake District, inov 8 is a footwear, clothing and equipment brand for committed trail and off-road runners, fitness athletes and adventure-seeking hikers who push boundaries and stretch limits.
When Was Inov 8 Founded?
Inov 8 was founded in 2003 by Wayne Edy.
Innovative Materials: Grip and Graphene
Inov 8 has become renowned as a world leader in grip.
The brand lives by the philosophy that an athletes' interaction with the environment is the single most important factor when designing products.
Their kit is light, fast and always innovative, as proven by their pioneering use of wonder-material graphene in sports footwear.
Thanks to their agility as a brand, they were able to beat other big sports companies to the use of their patent-pending graphene technology. They are the world's first – and only – brand to use the wonder-material in sports shoes.
Inov 8 started working on the project in December 2016 with The University of Manchester, which homes The National Graphene Institute.
The two scientists who first isolated graphene from graphite at the university in 2010 have since been awarded the Nobel Prize for Physics.
Best Inov 8 Shoes for Cross Training
Browse through the best Inov 8 shoes for Cross Training and find the perfect pair for your needs.
Inov 8 F-Lite 260 V2
This fully updated take on Inov 8's popular F-LITE 260 cross-training shoe was co-developed with 10x CrossFit Games competitor Scott Panchik.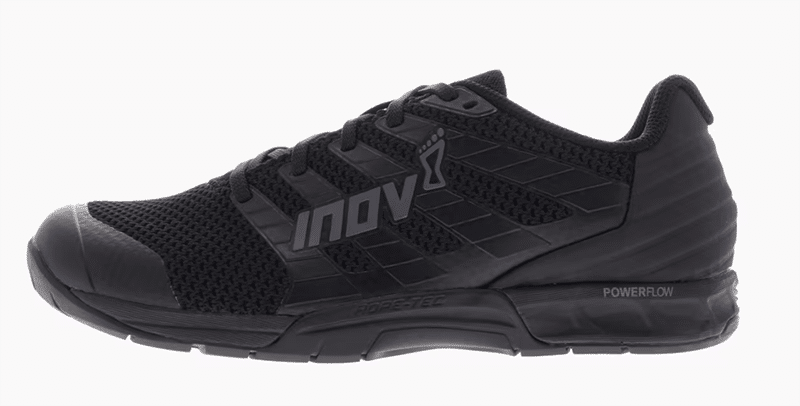 It introduces a wider fit and a new met-cradle design that keeps the foot protected and stable during lifts and rope climbs.
Inov 8 has also added a new style of toe bumper in a super lightweight but no less effective format, offering protection during burpees and other floor movements.
Like the previous F-LITE 260, this model is versatile, durable and breathable, with a knitted upper fabric that allows the shoe to adapt while the foot is in motion.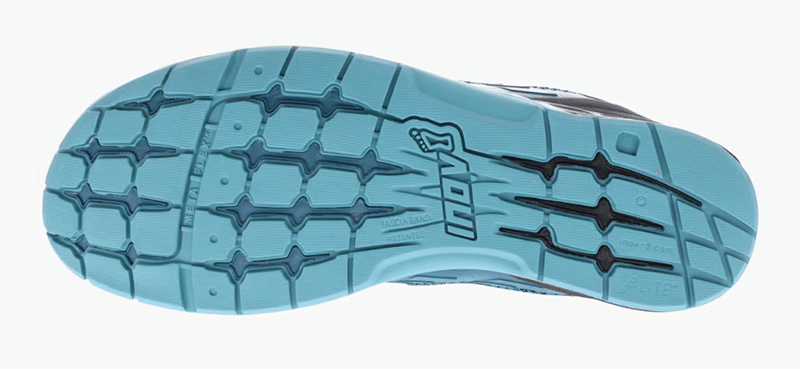 Rope-Tec technology adds a boost of confidence on rope climbs, and a PowerFlow midsole delivers both comfort and reliable support during lifts.
Inov 8 F-Lite 260 V2 – Specifications
Drop: 8mm
6mm Power Footbed
Lug Depth: 3mm
360 Rope-Tec traction
Breathable Knitted Upper
Powerflow Midsole
New Wider Fit
New Met Cradle Design
New Toe Bumper for protection from burpee fatigue
Weight: 260g
Cost: 140 USD
Inov 8 F-Lite G 300
The Inov 8 F-Lite G 300 is their most advanced and durable cross-training shoe to date, ramping up its stability / support for weightlifting as well as its cushioning and flexibility for running, jumping, climbing, etc.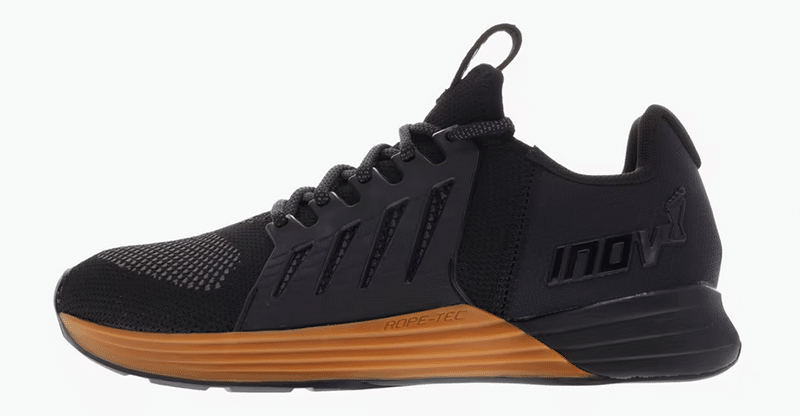 At just 300g, this lightweight, breathable shoe punches above its weight with a Graphene PowerHeel for a great lifting foundation and a Graphene-enhanced rubber sole compound for superb grip and traction.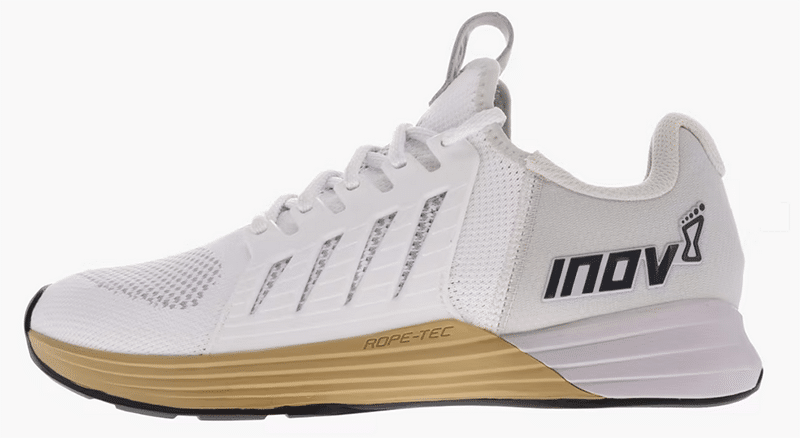 A wrap-around upper cage offers all-around support, and Rope-Tec™ protection adds a boost of confidence to every rope climb.
Inov 8 F-Lite G 300 Specifications
Drop: 6mm
Graphene PowerHeel
Graphene Enhanced Rubber Sole Compound
Cushioned ETPU Footbed
EVA Midsole
360 Rope-Tec traction
Lug Depth: 2mm
Weight: 300 g
Color: Black / Gum
Cost: 150 USD
Best Inov 8 Shoe for Weightlifting
If you want to focus purely on weightlifting, then Inov 8 have you covered.
Inov 8 Fastlift Power G 380
The Fastlift Power G 380 from Inov 8 is a maxed-out weightlifting shoe equipped for unrivalled support, reliable grip, a lockdown fit, and unique breathable comfort.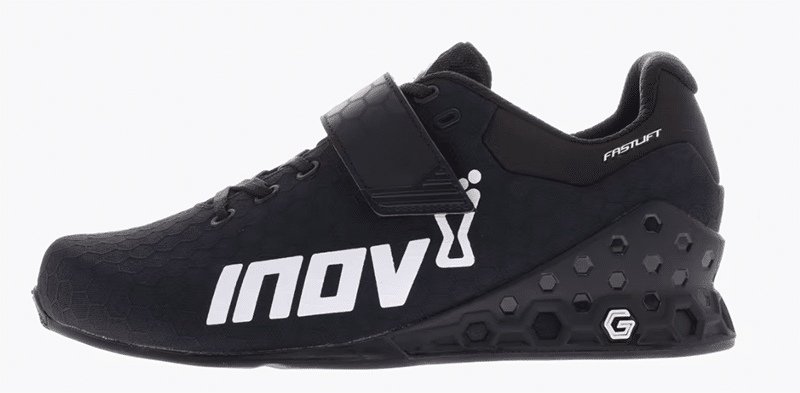 The Power G 380 includes a Graphene-infused Powerheel with a 22MM drop and 6mm EVA footbed.
A graphene rubber outsole provides traction on most surfaces, and a wider strap closure enables a custom, secure fit.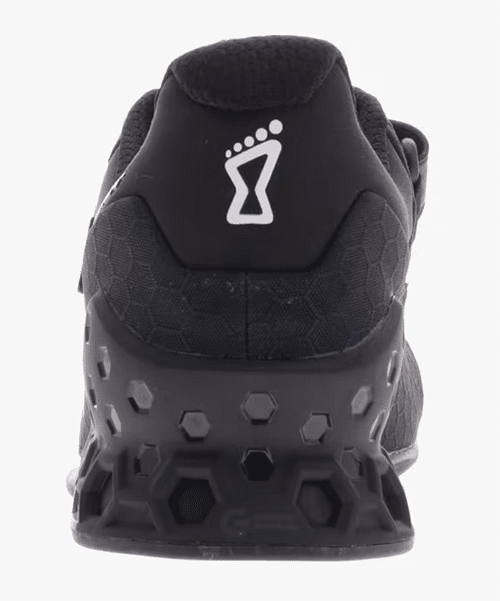 The durable Ripstop upper is uniquely flexible for a better range of movement, and it promotes airflow to keep your feet cooler and drier as you train.
Inov 8 Fastlift Power G 380 Specifications
Drop: 22MM
Footbed: 6MM EVA
Lug Depth: 1MM
Midsole: PowerHeel
Upper: Breathable One-Piece Ripstop
Sole Compound: Graphene Rubber
Wide Lockdown Strap
Weight: 380g
Cost: 210 USD
Why are Inov 8 Cross Training Shoes Good?
Light and Flexible
Inov 8 shoes are great for cross training because they are light and flexible.
They weigh less than many other types of Cross Training shoes. They also have a low profile to keep you swift and fast when working out and competing.
They also have an athletic fit that makes them feel like an extension of your body when you're training.
Durable
Inov 8 shoes are good for cross training because they are durable.
You can use them for a lot longer than many other types of shoes before having to replace them. This saves you money in the long run.
Unlike many other brands' products, Inov 8s don't fall apart after a few rough sessions either.
You can count on them to last through a huge volume of workouts over many years.
Comfortable
Inov 8 shoes are exceptionally comfortable. Their history of designing functional shoes for long distance trail runners and adventurers has given them a great deal of practice when combining performance and comfort.
Why are Inov 8 Weightlifting Shoes Good?
Inov8 is a brand that has established itself as one of the best weightlifting shoes on the market.
High Quality Materials
They are made from high quality materials, designed for weightlifting and are lightweight, durable and comfortable.
Performance Enhancing
They have been specifically designed to enhance performance during these activities.
The soles of their weightlifting shoes feature graphene, rubber and polyurethane materials which makes them excellent at gripping surfaces such as wood or carpeted floors.
Better Traction and Support
This helps create better traction during your lifts which ultimately allows you to lift heavier weights without increased risk of injury.
What Materials are Inov 8 Shoes made from?
Inov 8 shoes are made from a variety of materials including:
Graphene enhanced rubber
Breathable Knitted Upper
Plastic bottles
Post-industrial rubber tyres
What Country are Inov 8 from?
The company is based in the UK, and their products are designed for high intensity workouts such as trail running, weightlifting and CrossFit®.
Inov 8 shoes are also used by professional athletes to help them compete at the highest level.
How Much Do Inov 8 Cross Training Shoes Cost?
How Much Do Inov 8 Weightlifting Shoes Cost?
The most popular pair of Inov 8 Weightlifting shoes, the Fastlift Power, costs 210 USD.
What is the Heel Height on Inov 8 Weightlifting Shoes?
The Inov 8 Fastlift Power has a heel height of 22mm.
Are Inov 8 a Sustainable Brand?
Yes, Inov 8 is a sustainable brand.
They have implemented their company's vision and mission to be ethically responsible, socially conscious and environmentally friendly.
Inov 8 generates electricity and heat from its factory in Sheffield, England through the use of waste heat from production processes.
They also use recycled materials such as post-industrial rubber tyres and plastic bottles to make their products.
The company has been awarded several environmental awards for its efforts including:
Inov-8 received a Gold Award for Carbon Reduction at the Green Business Awards 2016 for reducing emissions by 4,500 tonnes per year since 2005 when they moved into their new headquarters building in Rotherham
Inov-8 received a Silver Award from Ethical Consumer Magazine's 2016 Eco Rating Guide which ranks companies based on how ethical they are across several different areas including: product development, manufacturing processes and labour relations
What Should I Consider Before I Buy Inov 8 Shoes?
Before you purchase a pair of Inov 8 shoes, there are several factors to consider.
What Type of Training do You Do?
Cross training shoes are designed for high-intensity workouts and strength training, while weightlifting shoes are designed for powerlifting and Olympic lifts.
If your workout involves both strength and cardio, or CrossFit, cross trainers will be the best option for you.
What kind of Shoe you Want and how much does it Cost
Your budget is another important factor in choosing which pair of Inov 8s to buy: if money isn't an issue, go ahead and splurge on the highest quality shoe possible.
But if saving up requires some sacrifice in quality (or vice versa), there are plenty of options available at every price point.
The Shape of Your Feet
Your foot width should also be taken into account before making any purchases.
Are Inov 8 Shoes Suitable for Beginners?
Inov 8 shoes are an excellent choice for beginner athletes.
The brand is known for producing high-quality products that deliver excellent results, and its Cross Trainers are no exception.
They're reasonably priced and can be used in a variety of athletic endeavours—and they're durable enough to last you through many training sessions before needing to be replaced.
Conclusion
Inov 8 shoes are a great choice for anyone who is looking to improve their performance, Cross Training results and strength.
These shoes are perfect for cross training and weightlifting, but they have also create numerous models used in many other sports such as trail running.
They come with a variety of benefits including high level comfort, durability, support and traction which ensure that you will always train and compete with reliability and confidence.