AdiPower vs Powerlift – What is the Best Adidas Weightlifting Shoe?
So, what is the best Adidas Weightlifting Shoe?
This full comparison guide will provide you with everything you need to know to make the right choice based on your training requirements, personal style, budget and goals.
Let's go straight into the comparison table.
AdiPower 2 vs Powerlift 4: What Sets them Apart?
Specs
Adidas AdiPower
Adidas Powerlift
Latest Model
AdiPower 2
Powerlift 4
Heel Height
20.1mm
15mm
Sole
PTU midsole
Rubber outsole
Strap
Single canvas
Single canvas
Fit
Regular
Narrow
Extras
– Reinforced heel
– Padded rearfoot
– Woven upper
material
– Open forefoot
– Flexible toe
design
– Breathable canvas
Upper
Cost
160 USD
100 USD
Where to Purchase
AdiPower 2
Powerlift 4
Adidas Weightlifting Shoe Overview: Adidas AdiPower 2
This revolutionary weightlifting shoe (originally developed for the London Olympic Games) continues its evolution as the new AdiPower 2 from Adidas.
It introduces an updated design that finds performance improvement through simplicity.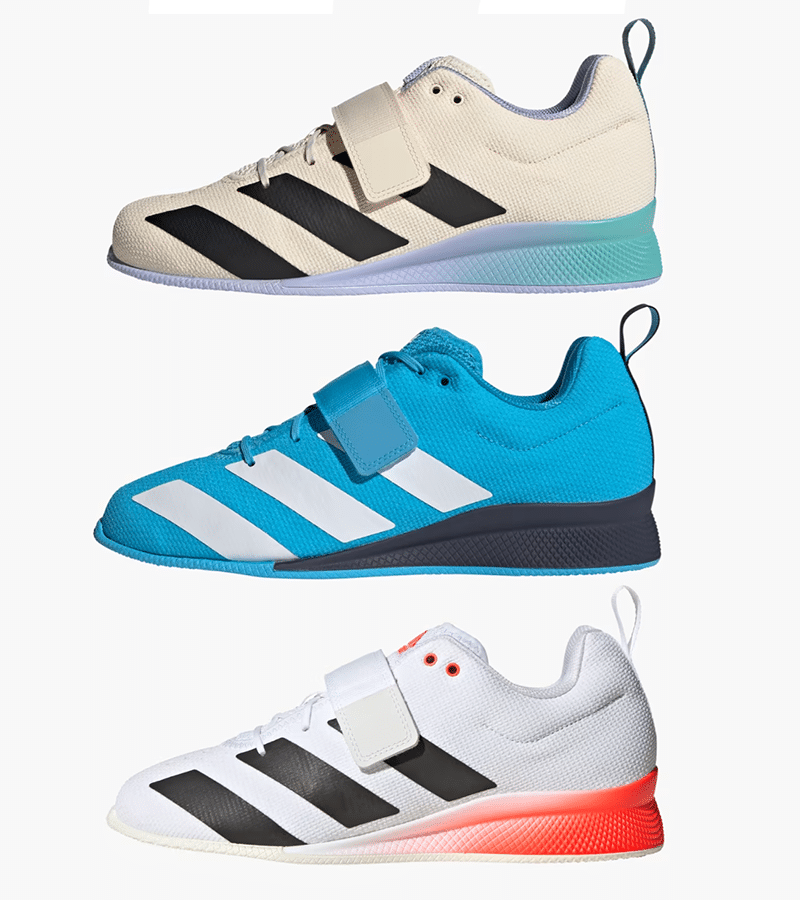 The AdiPower 2 weightlifting shoe features a "regular fit" suited to almost any foot; a specifically configured heel height of 20.1mm (optimized for Oly snatch and clean & jerk movements); and a strap & laces closing system for a truly locked-down midfoot.
What is the Best Rogue Dip Station?
As has always been the case, dependable support, stability, and unique comfort are essential to this design, and are now assisted by an updated TPU midsole, reinforced heel and forefoot, padded rearfoot, and a strong woven upper material that's both breathable and glove-like in fit.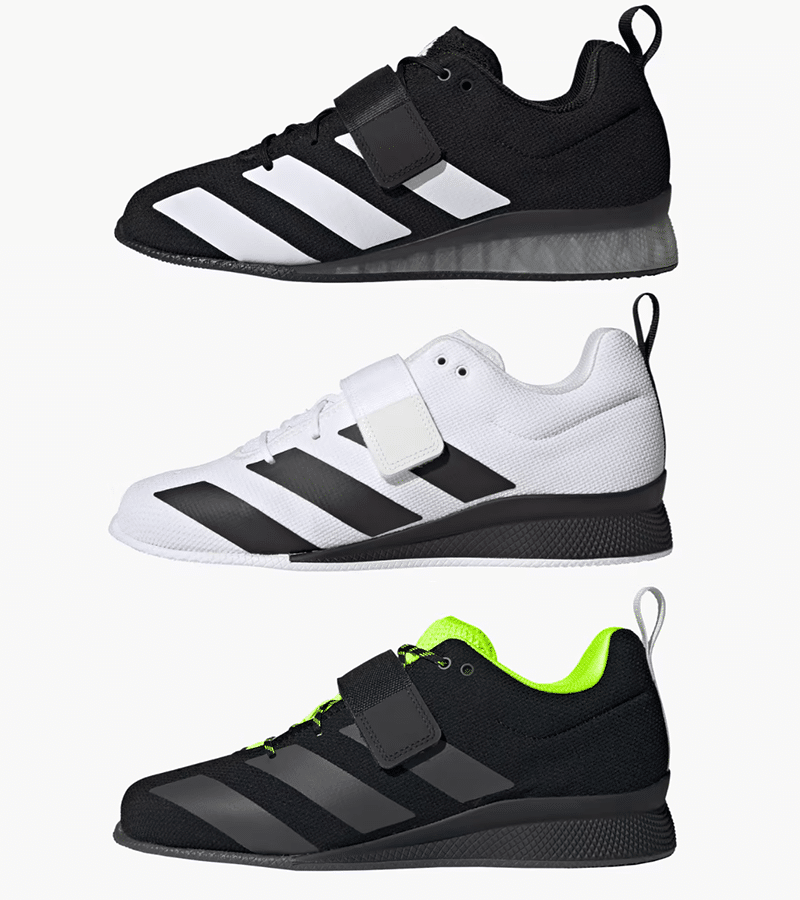 The precision-built, load-bearing design of the AdiPower 2 is geared around providing a strong foundation for any workout—up to the standards of serious lifters at the highest levels of competition.
AdiPower 2 Specifications
Heel Height: 20.1mm lift
Regular Fit: For universal feet
Strap and Laces lockdown closure
Strong Structured Woven Upper
Reinforced inner forefoot and heel; padded rearfoot
Strong TPU midsole
Rubber Outsole
Adidas Weightlifting Shoe Overview: Adidas Powerlift 4
The Adidas Powerlift 4 features an updated, narrower fit with a die-cut midsole wedge, rubber outsole, and wide instep strap for maximum, lockdown stability.
Every aspect of the Men's Powerlift 4 is fine-tuned specifically for the needs of the serious weightlifter, without sacrificing comfort.
An open forefoot, flexible toe design, and lightweight canvas upper ensure the right amount of breathability and flexibility with enough durability for long-term performance.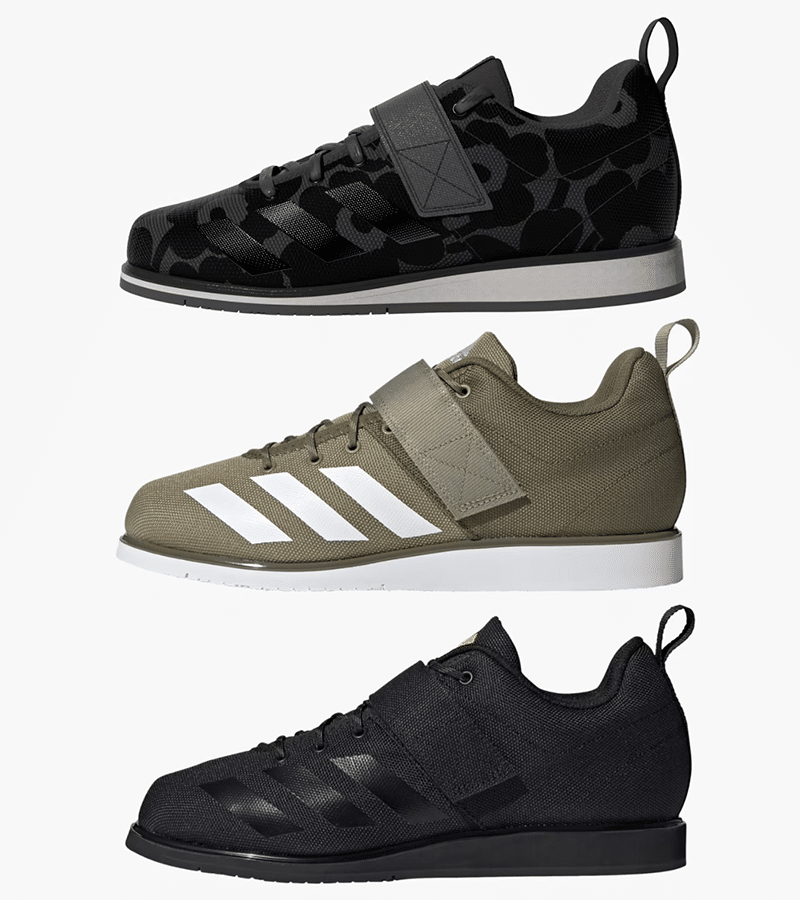 Adidas Powerlift 4 Specifications
Narrow Fit
Durable Lightweight Canvas Upper
Open Forefoot Construction + Flexible Toe
Wide Hook-and-Loop Instep Strap and Lace Closure for tight, secure fit
Slip Resistant Rubber Outsole
What are the Benefits of Adidas Weightlifting Shoes?
Adidas Weightlifting Shoes provide many great benefits for your lifting, training and progress.
Elevated Heel
A higher heel will enable any athlete to Squat deeper.
It also makes a significant difference when it comes to ankle flexibility.
Numerous athletes have problems with squatting deep because they struggle with ankle or hip mobility. Adidas Weightlifting Shoes align the body into an effective position, from which the athlete can focus 100% of their efforts on the lift in front of them.
If you've never experienced exactly how much easier it is to Squat with an elevated heel, place two bumper plates beneath your heels the next time you hit the gym.
You will be impressed by the results!
A Hard, Flat Sole
The hard, flat soles will give you a solid lifting platform for your body.
This mazimises force production, which in turn creates better lifts due to greater power output.
This is because the harder the sole, the less energy that will be expended pushing into the floor, and the more force will be powered into the actual lift.
For example, think about Deadlifting in soft, squishy running shoes. The foam and padding of the shoe would absorb a proportion of the power that would otherwise go towards lifting the weight itself. In this way, Nike Weightlifting Shoes help you lift more weight.
Better Stability
Good lifts require a great base.
For example, think about a successful Deadlift or Back Squat. Your body must have a solid foundation from which to lift the weight.
Without a stable base, the core will have more work to do, and it will make everything else more ineffective.
The wide, flat soles of the Adidas Weightlifting Shoes will solve this problem for you.
Lock Your Feet in Place
Adidas Weightlifting Shoes feature expertly designed straps that lock your feet in place within the shoes themselves.
This stops you slipping around during your lifts when you train and lift.
Are Adidas AdiPower 2 Weightlifting Shoes Worth it?
They are very reasonably priced for a high-performance training shoe originally designed for the Olympic lifting stage.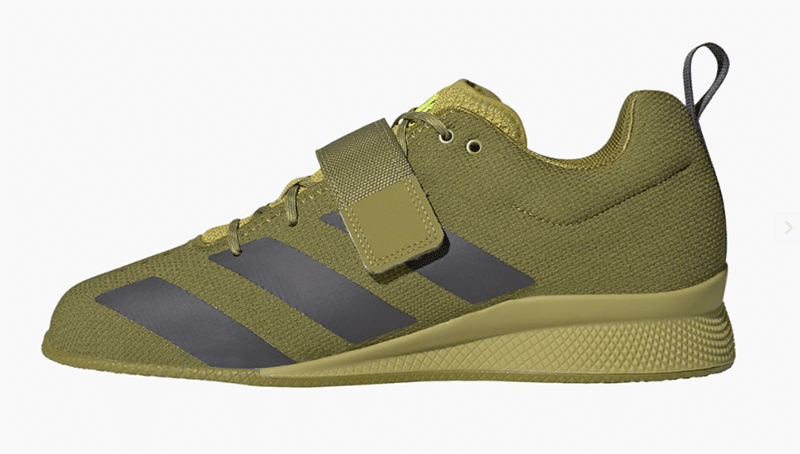 These are a fantastic investment for anyone that is serious about taking their Oly lifting and functional fitness to the next level.
How Much do Adidas AdiPower 2 Weightlifting Shoes Cost?
Adidas AdiPower 2 Weightlifting Shoes cost 160 USD.
Are Adidas Powerlift 4 Weightlifting Shoes Worth It?
You can't go wrong with this sturdy, durable, reliable and stylish model.
Over four iterations, the AdiPower has continually evolved and progressed, becoming in the process a staple in strength and powerlifting gyms all around the world.
For an entry level price, you get a high level shoe.
How Much do Adidas Powerlift 4 Weightlifting Shoes Cost?
Adidas Powerlift 4 Weightlifting Shoes cost 100 USD.
Who Should Use Adidas Weightlifting Shoes?
Athletes of all ages and training levels can make great use of Weightlifting Shoes.
There is no-one that is excluded.
With these two Adidas models, you want to think about the exact purpose of the shoe itself.
They can both be used for lifting heavy functional fitness and CrossFit® workouts. They are both great for Wall Balls, Pistols and other Squat variations.
However, neither will serve you well when running or sprinting is involved.
If Oly lifting is your jam then buy the AdiPower 2.
If Powerlifting and strength training is your main goal then choose the Powerlift 4.
Why Should I Use Adidas Weightlifting Shoes?
You should use Nike Weightlifting Shoes because they will:
Improve general lifting performance
Provide additional stability
Place the body in the right position for lifting
Help with ankle and hip mobility
Optimise your power output (better lifts)
Keep your feet locked in place when you lift
When Should I Use Weightlifting Shoes?
You can use weightlifting shoes for all Olympic Weightlifting exercises such as the Snatch and Clean and Jerk.
They are also excellent for all powerlifting and strength focuses exercises such as stone lifting and weighted carries.
The next section will explain further exactly how the two different Adidas Weightlifting shoes fit into these two slightly different roles.
That being said, make sure that you use them as a tool and never a necessity.
As discussed above, weightlifting shoes provide a strong and stable position for the ankles. However, no lifter should ever use this as an excuse to avoid developing ankle flexibility and mobility.
Weightlifting shoes are also helpful for Thrusters, Wall Balls, Overhead Presses, Odd Object work and many functional fitness and CrossFit® workouts.
The Verdict: AdiPower 2 vs Powerlift 4 – What's the Best Adidas Weightlifting Shoe?
Both of these Adidas Weightlifting Shoes are excellent when it comes to performance, durability and value for money.
They each provide many different colour styles to choose from, so whatever your personal taste, you will be catered for.
Each training shoe is designed for a slightly different purpose, therefore decide on your own goal and simply match that to the appropriate shoe
The Best Adidas Weightlifting Shoe for You
If you need a weightlifting shoe for Olympic Weightlifting and some functional fitness workouts then the AdiPower 2 is the perfect choice for you.
If you require a weightlifting shoe for powerlifting, general strength work and functional fitness workouts then the Powerlift 4 is your pick.