Savaleos vs Romaleos – What's the Best Nike Weightlifting Shoe?
So, what's the best Nike Weightlifting Shoe?
This extensive comparison guide will give you all the information you need to find out which Nike shoe is right for you, your training needs, goals and personal style.
Let's jump right in to the comparison chart.
Savaleos vs Romaleos: What Sets them Apart?
Specs
Nike Savaleos
Nike Romaleos
Latest Model
Nike Savaleos
Nike Romaleos 4
Heel Height
15mm lift
20mm lift
Sole
Flat wide sole
Flat wide sole
Strap
Lockdown Hook-and-Loop
strap
Adjustable wide straps over
laces for lockdown security
Extras
– Padded mesh in heel
– Rigid midsole construction
– Padded tongue and collar
– Rigid Midsole
– Large Heel Lift
– Wide Heel for stable base on lifts
– Rubber Tread for durable traction
Cost
120 USD
200 USD
Where to Purchase
Nike Salvaleos
Nike Romaleos 4
Nike Weightlifting Shoe Overview: Nike Savaleos
Nike's Savaleos Weightlifting Shoe is optimized for max stability on the heaviest lifts, with a hook-and-loop strap that locks down the midfoot and an elevated heel for superior balance.
What is the Best Rogue Dip Station?
The flat, wide sole makes a solid base under pressure, and the rigid midsole construction delivers excellent power transfer from the ground; vital for explosiveness.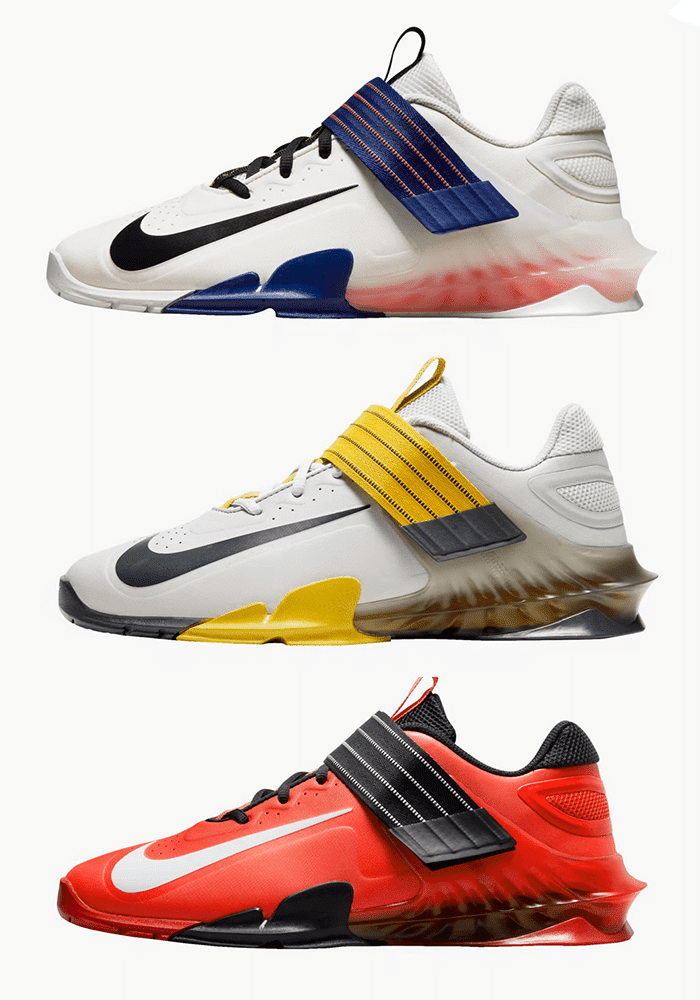 The Savaleos also includes padded mesh inset at the heel for breathability and impact absorption, and a padded tongue and collar with "Nike Weightlifting" branding.
Done lifting? Savaleos have the versatility and comfort to get you through the rest of your workout, too.
Nike Savaleos Specifications
Weightlifting Shoe
Heel Height: 15mm lift
Flat Wide Sole
Elevated Heel for Peak Power Transfer
Padded Mesh in Heel
Rigid Midsole Construction
Lockdown Hook-and-Loop Strap
Padded tongue and collar
Pull tab on tongue
Nike Weightlifting branding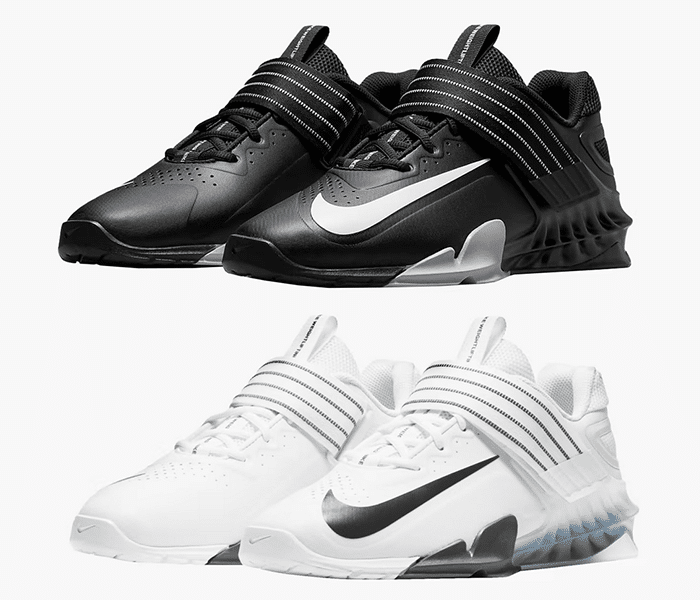 Nike Weightlifting Shoe Overview: Nike Romaleos
The Nike Romaleos 4 is a next-level Olympic weightlifting shoe, optimized for efficient power transfer, absolute stability, and a lockdown fit.
This updated design features a supportive midsole and a wide, flat outsole, with adjustable straps over the laces at the midfoot to secure the foot during high-intensity workouts.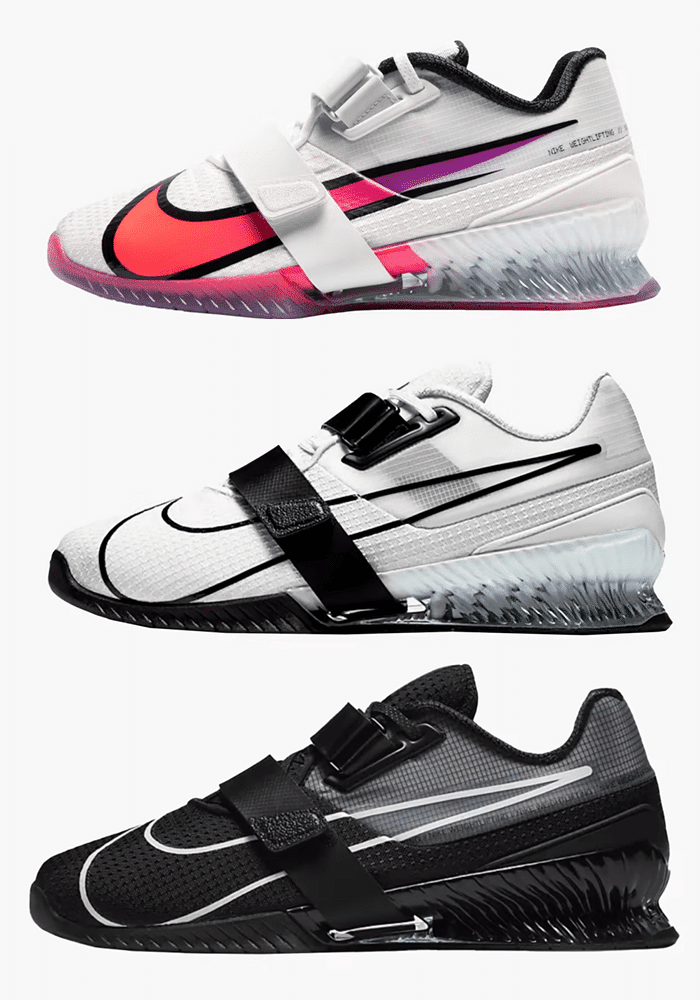 The substantial heel-to-toe drop reduces the ankle flexion needed at the bottom of a lift, and—combined with the rigid midsole—enables greater explosiveness off the ground.
The wide heel of the Romaleos 4 also creates a more stable foundation for heavy lifts, while durable rubber treads provide valuable traction.
Nike Romaleos 4 Specifications
Weightlifting Shoe
Heel Height: 20mm lift
Adjustable Wide Straps over Laces for lockdown security
Rigid Midsole and Large Heel Lift for optimal power transfer, explosiveness
Wide Heel for stable base on lifts
Rubber Tread for durable traction
What are the Benefits of Nike Weightlifting Shoes?
Nike Weightlifting Shoes provide numerous considerable benefits.
Hard, Flat Sole
One of the most fundamental aspects of all weightlifting shoes is that they feature a hard, flat sole.
This provides a solid surface from which to maximise force production.
More power equals better weightlifting.
The harder the sole, the less energy that will be lost, and the more force will be powered into the lift itself.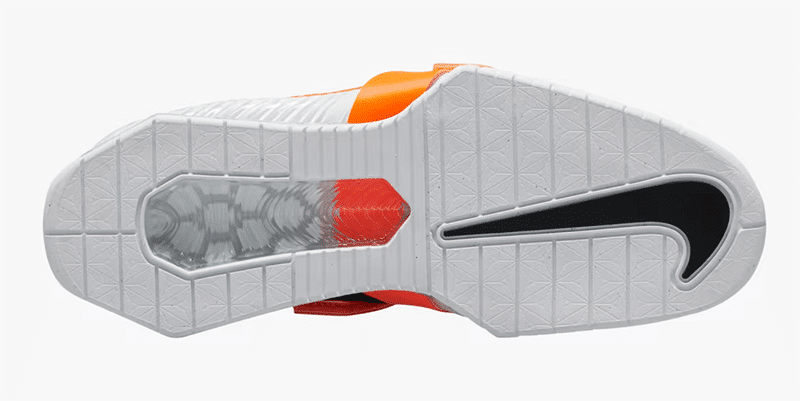 For example, think about Deadlifting in soft, squishy running shoes. The foam and padding of the shoe would absorb a proportion of the power that would otherwise go towards lifting the weight itself. In this way, Nike Weightlifting Shoes help you lift more weight.
The sole also helps to create stability for the athlete.
When you have a heavy weight on your shoulders during a Back Squat, you need to be as stable as possible. A wide, flat sole (as featured on both the Savaleos and the Romaleos) is perfect for establishing as solid a foundation as possible.
Elevated Heel
The higher heel allows any athlete to Squat deeper and plays a significant difference when it comes to ankle flexibility.
Many athletes have problems with squatting deep because they struggle with ankle or hip mobility. Weightlifting Shoes fix the body into an excellent position where the athlete can focus all their efforts on the lift at hand.
If you've never experienced just how much easier it is to Squat with an elevated heel, place two bumper plates beneath your heels the next time you hit the gym.
I guarantee you will be amazed at the results.
Straps
Nike Weightlifting Shoes feature carefully designed straps that lock your feet in place within the shoes.
These are easily adjustable and stop your feet slipping around when you lift.
Are Nike Savaleos Worth it?
Simple answer, yes.
At 120 USD the price point alone is exceptional for a Nike training shoe of this calibre.
If you are new to lifting, these are perfect.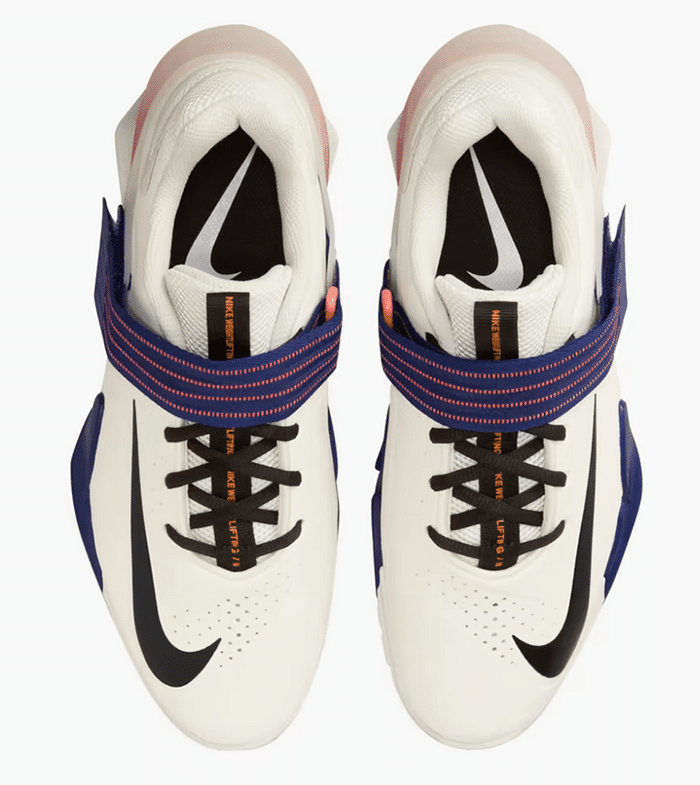 Are Nike Romaleos Worth it?
Also, yes. The Nike Romaleos 4 are one of the best specialised Weightlifting Shoes that money can buy.
If you are serious about taking your lifting to the next level and want to invest properly in your fitness and abilities then these are the shoes that will help you achieve your goals.
Who Should Use Nike Weightlifting Shoes?
Athletes of all ages and ability levels should use Weightlifting Shoes. There is no-one that is excluded.
Think about the exact purpose of the shoe itself. If you only lift then choose a specialised Weightlifting Shoe (such as the Romaleos 4) and if you will also complete functional fitness workouts in them then choose a more hybrid based model (such as the Savaleos).
Why Should I Use Nike Weightlifting Shoes?
You should use Nike Weightlifting Shoes because they will:
Optimise your power output (better lifts)
Provide additional stability
Place the body in the right position for lifting
Help with ankle and hip mobility
Keep your feet locked in place when you lift
When Should I Use Weightlifting Shoes?
You should use weightlifting shoes for all Olympic Weightlifting (Snatch, Clean and Jerk etc), Squatting and some functional fitness workouts.
That being said, make sure that you use them as a tool and not a crutch.
Make sure to work on your ankle flexibility as well and don't ignore it just because the shoe will provide better positioning.
Certain functional fitness workouts can be performed with Weightlifting Shoes. Any high volume lifting or exercises such as Wall Ball Shots, Thrusters or Pistol Squats will benefit from the edge that Weightlifting Shoes will provide.
The Verdict Savaleos vs Romaleos – What's the Best Nike Weightlifting Shoe?
So, what's the best Nike Weightlifting Shoe?
Here our decision comes down not to the shoe itself, but the goal of the athlete.
If you want to specifically improve your lifting then the Nike Romaleos 4 are perfect for you. They are, hands down, one of the best Weightlifting Shoes on the market right now.
If you are brand new to lifting and / or you will also be using the shoes for functional fitness, the Nike Savaleos are the best for you.