10 Best Helly Hansen Sailing Jackets
We're back with another weather-proven selection of our favourite outdoor apparel, this time, we've picked out a selection of Helly Hansen sailing jackets For Men and For Women.
There are many reasons why we love this brand – the fact is was founded in Norway is a good start.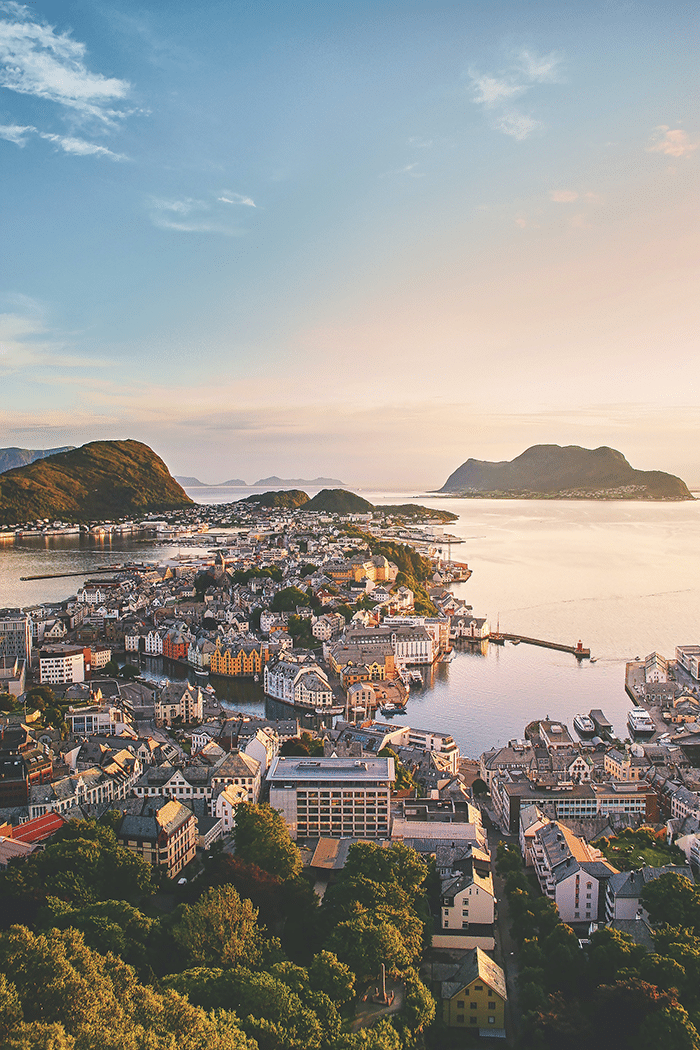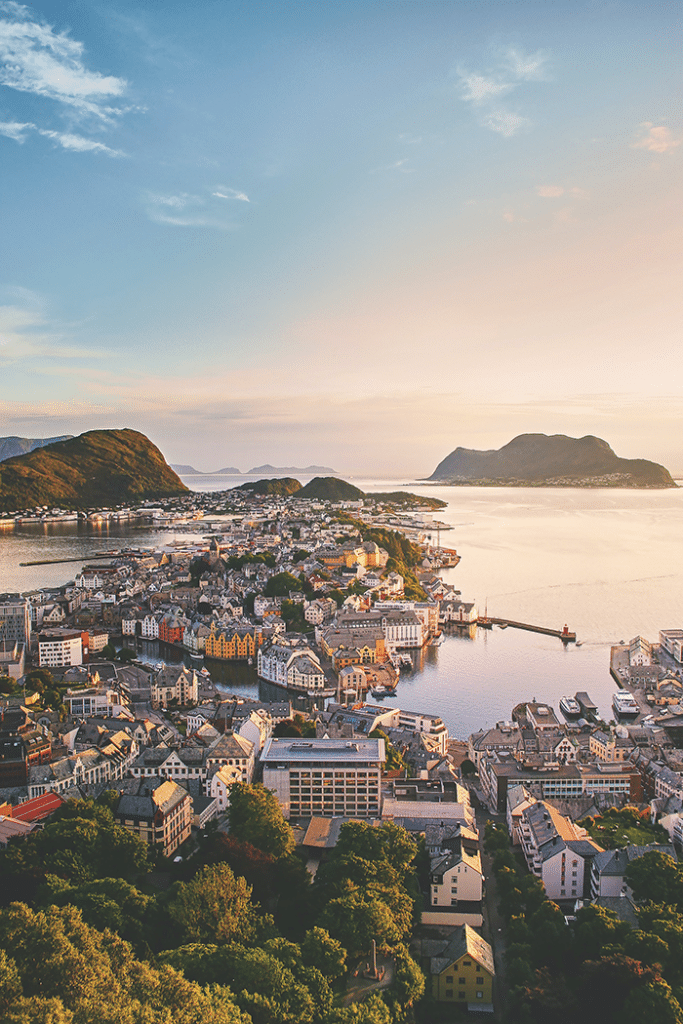 Also, they've been churning out professional-grade gear since 1877, backed by a proven record of helping folks to stay and feel alive. Those hard-won insights they've gained along the way have come from working in the world's toughest environments.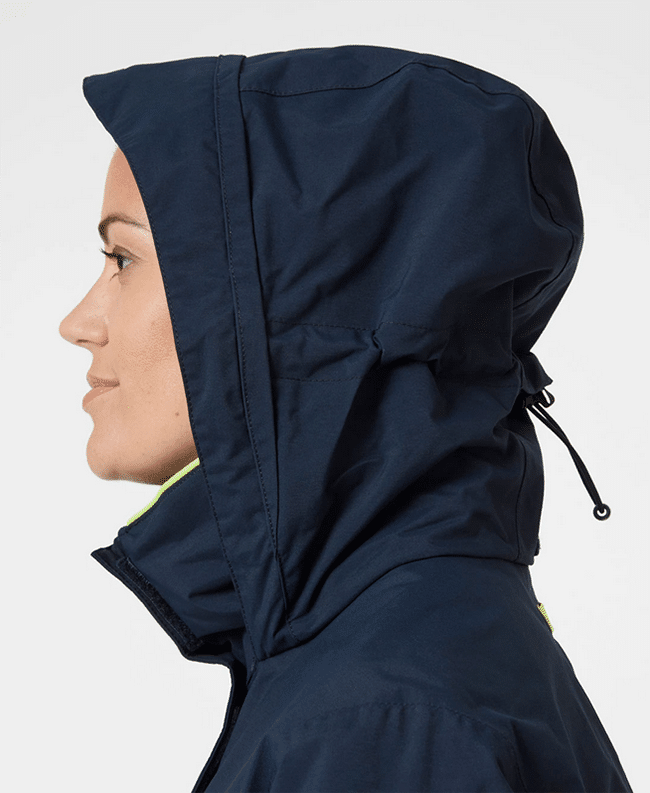 So, it's no surprise they have been responsible for many first-to-market innovations, from their 140-year-old designs for waterproof fabrics to their award winning and patented H2Flow® system for temperature regulation.
Helly Hansen Sailing Jackets
Today, they are widely regarded as one of the most trusted purveyors of technical sailing and performance ski apparel. You might've spotted their ski uniforms being put to the test on the most competitive stages – worn and loved by over 60,000 professionals, including storied Olympians, as well as mountain guides and outdoor specialists in over 200 ski resorts.
In fact, their specialist collections have been designed with insights from professional sailors and refined using first-hand knowledge of gruelling conditions.
Helly Hansen sailing jackets are suitable for all kinds of outdoor enthusiasts, whether you're a sea-hardened sailor, or someone who simply enjoys a leisurely meander along the coast – this gear has been specially made to keep you safe and comfortable out there in a range of conditions.
For professionals these jackets have been proven to stand up to the harshest conditions. While they also keep you dry and comfortable for coastal adventures, rocking on the open waters without a care in the world.
Following, you'll find a selection of products that cover all kinds of requirements. We've picked out some lighter and more versatile gear, which is also waterproof and breathable for fun-loving escapes on the briny. Other jackets are built more for high-performance, enabling sailors to have freedom of movement and much-needed protection when they're close to excitable water.
Let's lay out our jackets and take a closer look at what we've found:
Helly Hansen Sailing Jackets for Men
Find the perfect kit for your next adventure.
5. MEN'S PIER 3.0 COASTAL SAILING JACKET
First up, here's a jacket that's fully waterproof and versatile, especially made for coastal sailing and inshore sailing. The Pier 3.0 Jacket is made with patented HELLY TECH® Performance fabric – that means it's fully waterproof, windproof and breathable too.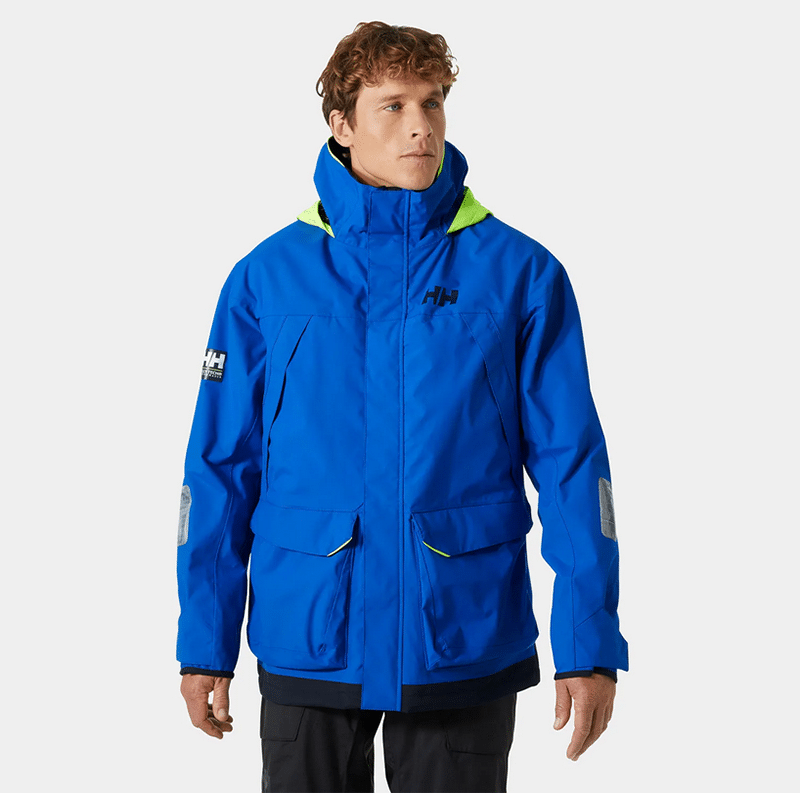 You can hit the seas in style, wrapped in light yet sturdy protection, with a packable neon hood, double storm flaps, and drainage that serves greater security when you need it most. Ideal for professional sailors and coastal workers, the design includes a profiled high collar, adjustable double cuff seals and fleece-lined pockets to keep those extremities toasty.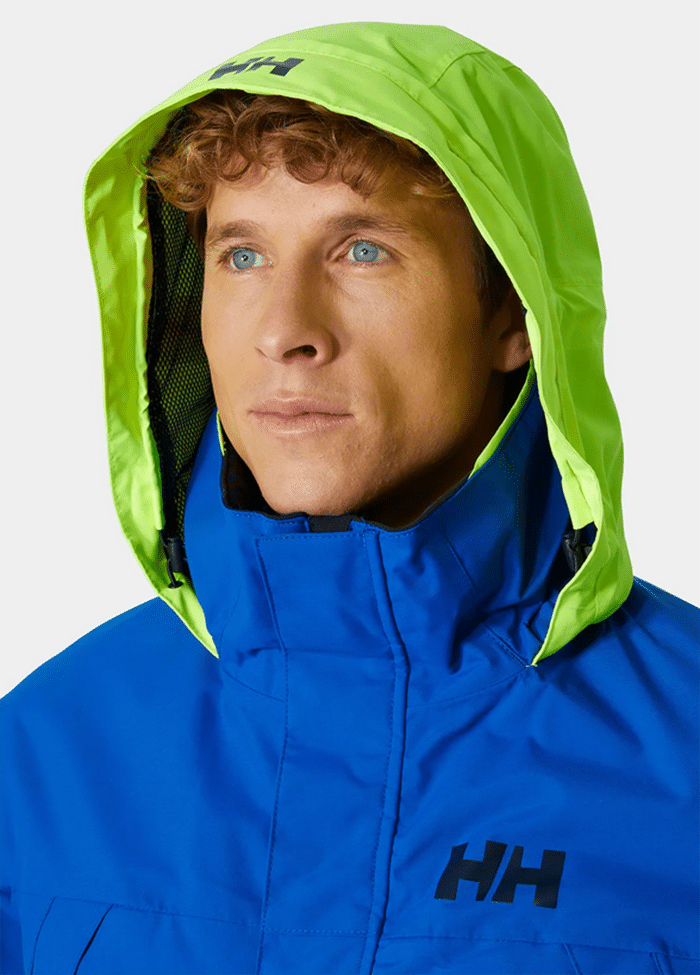 4. MEN'S CREW MIDLAYER SAILING JACKET
Next, we have one of Helly Hansen's best-selling midlayer jacket – this one is waterproof, windproof and breathable too, with a stylish cut that maximises your abilities to stay warm and dry.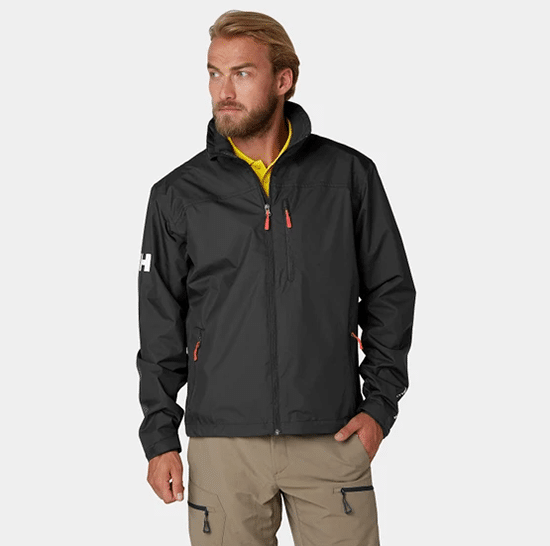 Again, this marine midlayer is made with HELLY TECH® Performance fabric and has a fleece lining for added warmth.
The all-purpose Crew has been refined with several unique sailing features that come in handy during blustery weather. Sealed seams, a high collar, adjustable hem and cuffs and dual zippered hand pockets ensure you'll be well protected, wrapped in a 2 ply fabric construction with Durable Water Repellency (DWR) treatment.
3. MEN'S HP LIFALOFT™ RACING SAILING JACKET
This waterproof midlayer jacket offers a clean and technical marine design for all your active needs. That being said, this one has been styled with the input of professional racers, so the Racing LIFALOFT™ Jacket is one of the brands more technical midlayer options.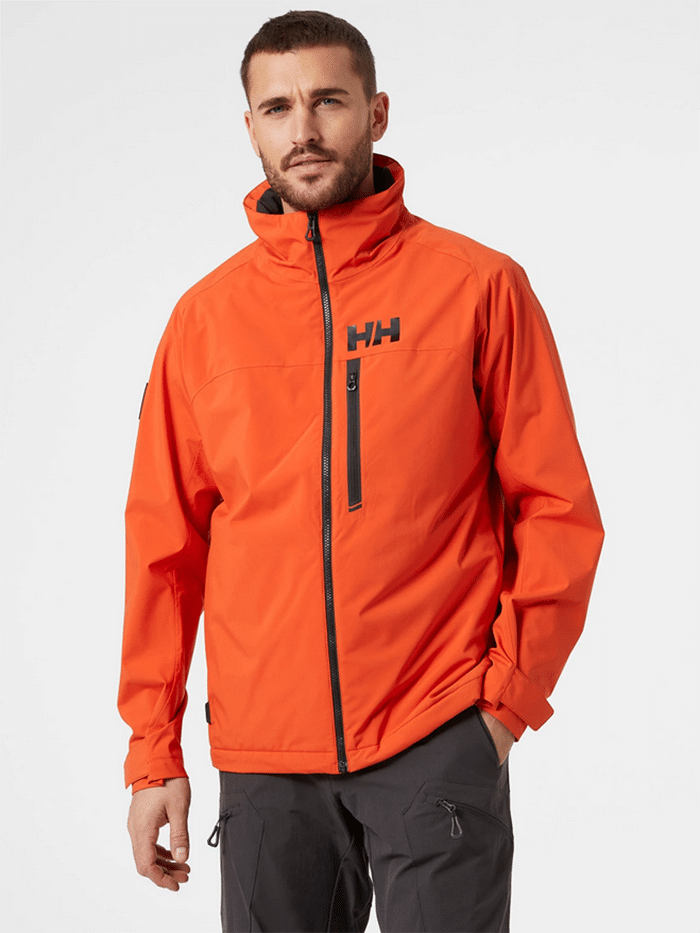 You can rely on the LIFALOFT® Insulation for warmth and put your faith in the full stretch HELLY TECH® PERFORMANCE outer layer to act as a buffer between you and the next cloud of lashing sea spray. There's a handy (excuse the pun) chest pocket with a YKK zipper as well.
2. MEN'S ÆGIR RACE SAILING JACKET
Light, durable and exceptionally weatherproof, the Ægir Race sailing jacket doesn't just have a great name, but also offers full protection from a doubled-up beating by waves and wind.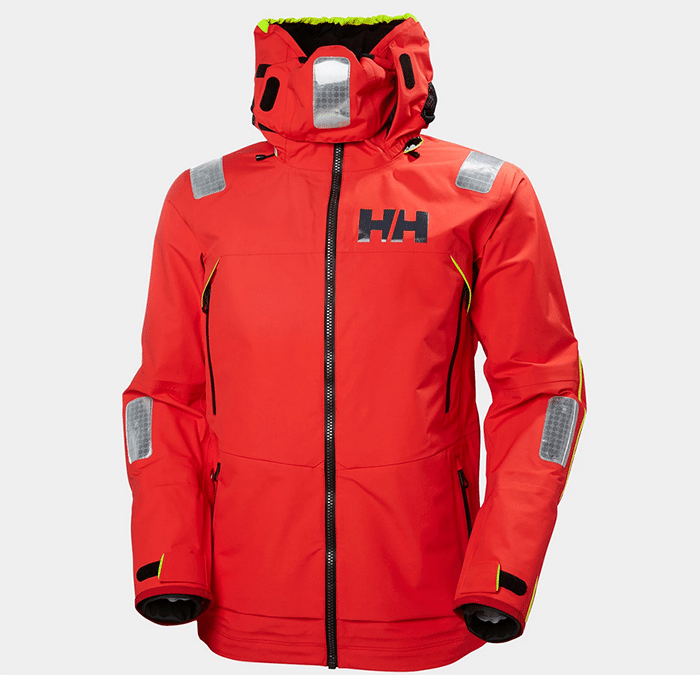 This jacket definitely stands up to extreme elements and offers professional sailors the freedom needed to operate at sea, backed by technical assurances that help the wearer stay calm and covered.
Don this jacket for sodden feats of endurance and see if you don't find a use for the adjustable cuffs, waist and hem, as well as a few other professional-grade details, like a hi-vis hood.
1. MEN'S HP OCEAN SAILING FULL-ZIP JACKET 2.0
Last jacket for the men, we've picked out this versatile and lightweight sailing jacket made from recycled materials.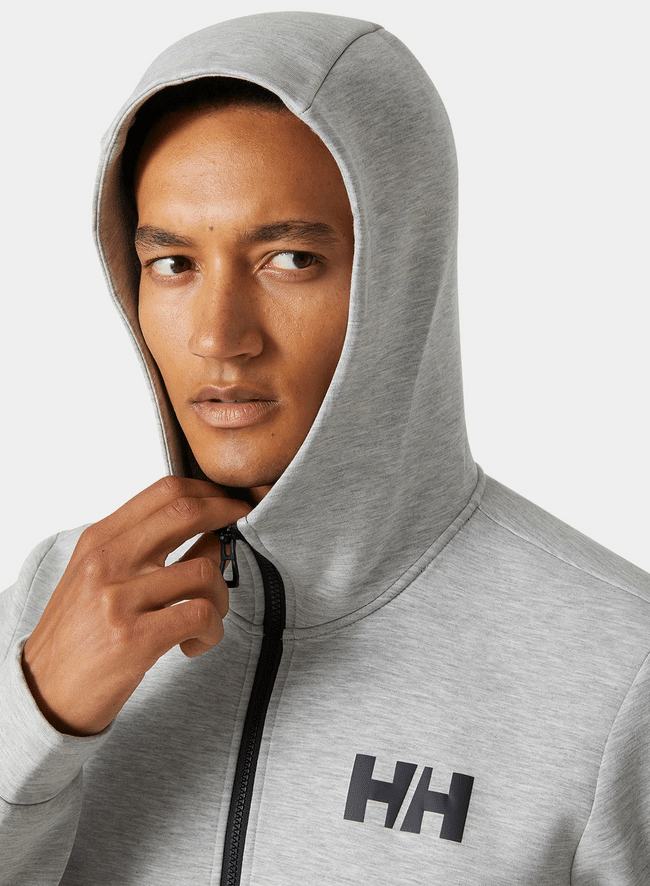 The Hydropower Ocean Jacket is built for the briny (as the name suggests), offering the features you'd expect from a high-performance sail race jacket, achieved with over 50% recycled materials.
Whip up the high collar for comfort and enjoy the snug fit of a hood drawn tight around your face.
This particular jacket is well-suited for coastal and dinghy adventures – not to mention the varying weather conditions encountered during offshore sailing.
Helly Hansen Sailing Jackets for Women
Protect yourself on the high seas.
5. WOMEN'S CREW MIDLAYER SAILING JACKET
First up for our women's sailing jackets – this crew is an all-around over achiever. It's waterproof, windproof and fleece-lined, serving a level of comfort you'll surely appreciate on your next sailing trip.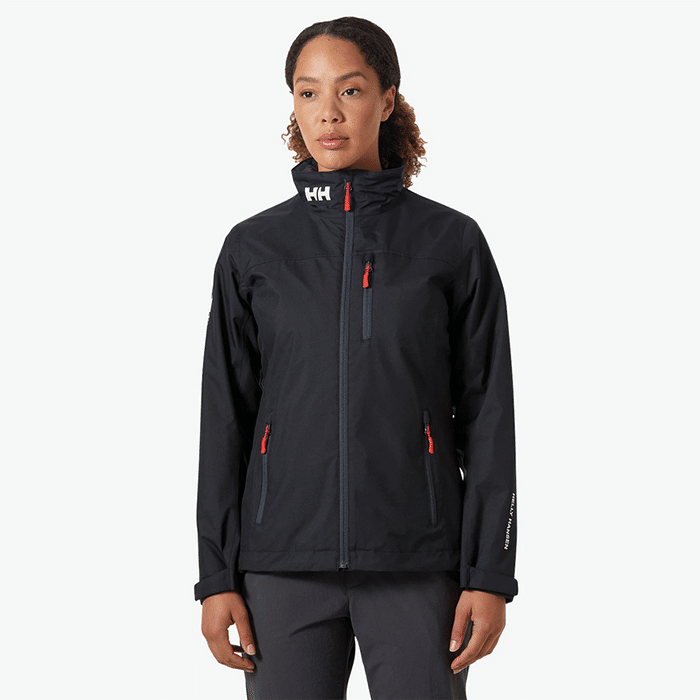 This marine midlayer has been designed with a trusted HELLY TECH® PROTECTION fabric system and weatherproof sailing features that count when it matters, like sealed seams, a high collar and adjustable hem and cuffs, as well as dual zippered hand pockets and a 100g Polartec® fleece lining.
4. WOMEN'S CREW HOODED SAILING JACKET
This iconic sailing jacket has all kinds of neat technical features. Of course, as you'd expect by now, it's fully waterproof, windproof and breathable with a classic marine design.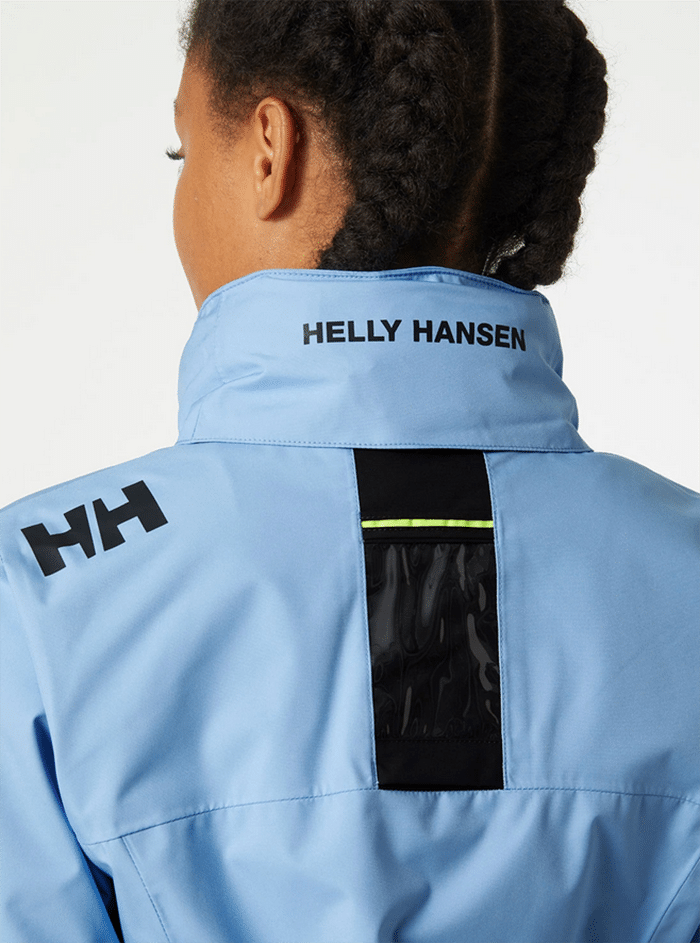 Inshore sailing trips will uncover the welcome versatility of this jacket, with a packable hood, Polartec® fleece-lined collar and sealed-seams.
We're sure you'll also enjoy the adjustable hem with a handy drawcord and the mesh lining for improved comfort, breathability and faster drying capabilities.
3. WOMEN'S SALTHOLMEN SAILING JACKET
The Saltholmen jacket has an uncomplicated design, naturally styled and refined for light sailing, with a classic style that carries the Helly Hansen® flag stripe and HH® printed logo.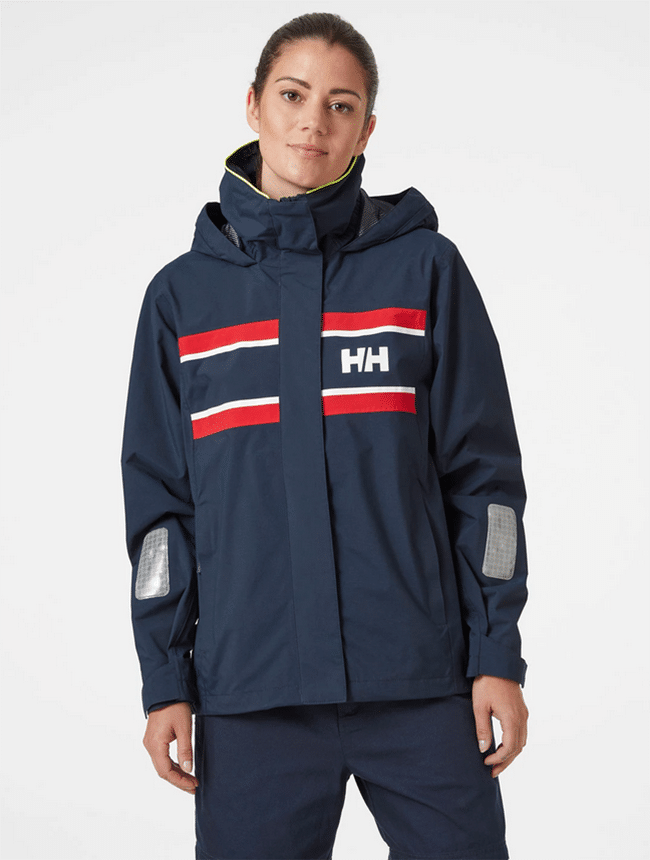 The Saltholmen jacket weighs just 650g and closes with a very easy-to-use YKK® Zipper.
The cuffs and bottom hem are adjustable and the hood can be swiftly rolled into the collar. It's all fully seam sealed and fitted with a front placket (storm flap) and hi vis hood, ensuring extra visibility in more muggy conditions.
2. WOMEN'S SKAGEN OFFSHORE SAILING JACKET
For our penultimate selection, we have this durable sailing jacket that's been built with the input of professional racers, who know what they need in a crisis. This jacket was made with 58% Ocean Bound recycled materials and wrapped in waterproof, breathable and windproof Performance fabric.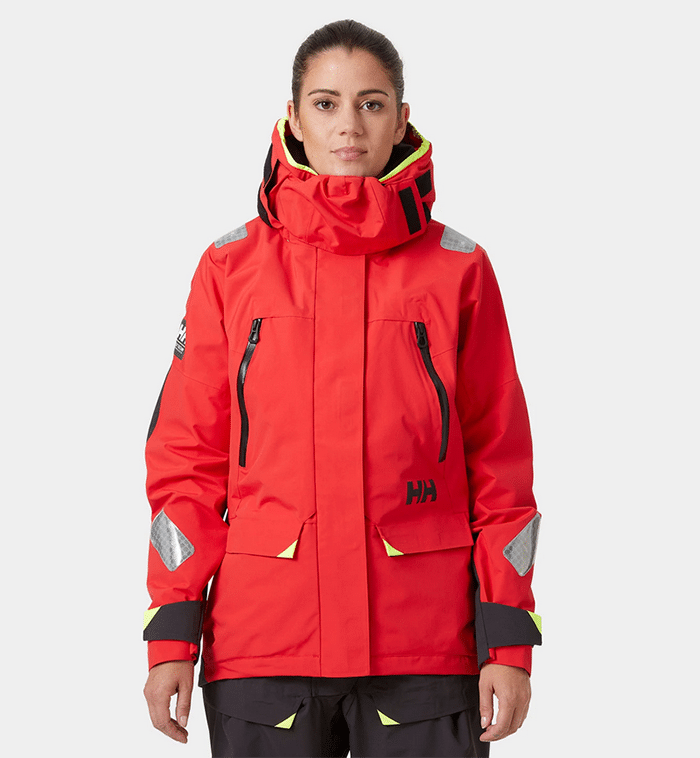 The 2-layer construction offers total weather protection and the interior has a quick-dry and mesh lining that you're bound to appreciate when the action heats up out there.
Hood, face shield, hem and cuffs are all adjustable, combined to bring you a customisable fit, with a few neat additions, like a neon yellow hood and fleece-lined collar.
1. WOMEN'S PIER 3.0 COASTAL SAILING JACKET
Last up, we have this fully waterproof coastal sailing jacket that is ready and waiting for your next coastal and inshore sailing adventure. The Pier 3.0 Jacket is made with that HELLY TECH® Performance fabric, which gives you light but sturdy protection when it matters most.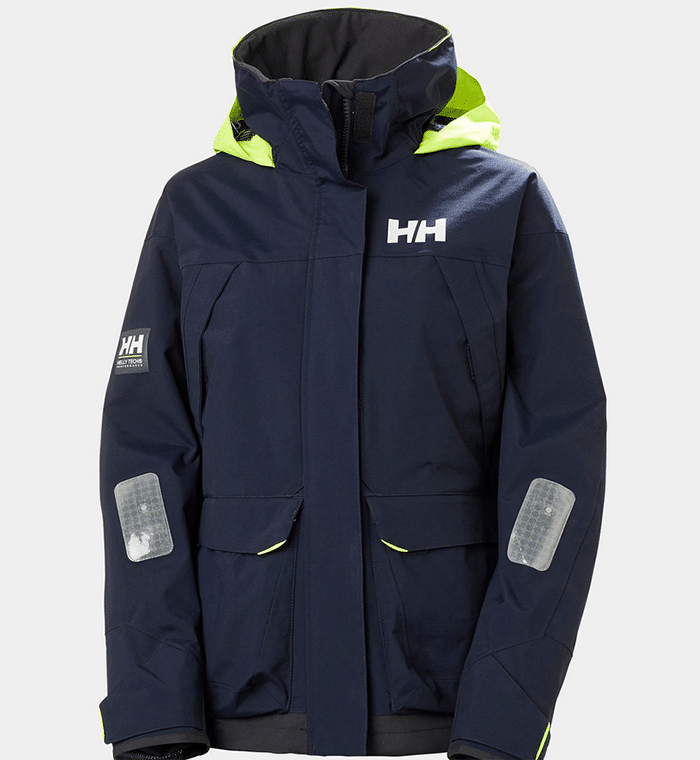 Other welcome additions include a packable, neon yellow hood, double storm flaps, and drainage to make light work of bad weather.
Your time at sea will be much smoother in this high performance jacket, styled with a profiled high collar and adjustable double cuff seals to keep you tightly wrapped-up at all times.
What more could you want when the wind buffets your sails and the offing calls you onwards?