10 Best Patagonia Windbreaker Jackets for Women and Men
It's no secret that Patagonia is one of our all-time favourite outdoor clothing brands – their selection of Patagonia windbreaker jackets For Men and For Women features a variety of iconic pieces that deserve that top podium spot.
These designs set the standard for other the capabilities of a windbreaker, packed down and stowed away with ease. Only to be broken out when a little defence is needed from wind or light rain.
These jackets stuff into very small packages and they're so lightweight you could clip them to your belt, or climbing harness, with ease.
Also, they're nicely tucked away into saddle bags for longer bike rides, with a few features Patagonia has become famous for, including ultralight DWR coating, which certainly isn't phased by an incoming rainstorm.
Come downpour or sunbreak, these multifunctional jackets are suited for all-day alpine escapes, as well as trail runs, more exposed free climbs and evening laps on your mountain bike.
For those who aren't aware, Patagonia is an American retailer that specialises in top-of-the-class outdoor clothing for a more active lifestyle.
The company was founded by Yvon Chouinard in 1973 and headquartered in Ventura, California. Today, they've opened popular stores in over 10 countries worldwide – you'll find their factories in 16 different countries as well. Yvon Chouinard was an accomplished rock climber who sold hand-forged mountain gear, stamped with the Chouinard Equipment brand, way back in 1957 his company .
Now, Patagonia has branched out significantly and expanded its product to adventure apparel targeted at all kinds of extreme sports, from surfing to rock climbing. You'll find their clothing in the most unlikely places – there was a time when you couldn't look at a room of financial executives without spotting at least one Patagonia fleece.
More recently, in 2022, Chouinard transferred ownership of the company he founded to the Patagonia Purpose Trust, which is overseen by the Chouinard family and their advisors. They mission falls under the banner motto that 'doing good is good for business' as profits are largely used to address climate change and protect land.
While Chouinard kept control of the company and gifted his shares to a nonprofit holding company. At the same time, the brand still holds true to its '70s values and a minimalist style, inspired by the laidback culture of climbers and surfers simply doing what they love. Emphasis is still placed on performance and a spirit of trying to do better for the planet.
That's why Patagonia clothing is made from organically grown cotton, hemp, traceable down and recycled polyester – not to mention the fact they offer more Fair Trade™ sewn styles than any other competitive brand of their ilk.
Let's dive into our carefully picked selection of 10 stylish Patagonia windbreaker jackets:
Patagonia Windbreaker Jackets for Men
5. Men's Houdini® Air Jacket ($179)
First up on our list, we've got a jacket made for longer missions, with enhanced breathability and weather resistance – both of which are essential attributes as the hours tally up in testing conditions.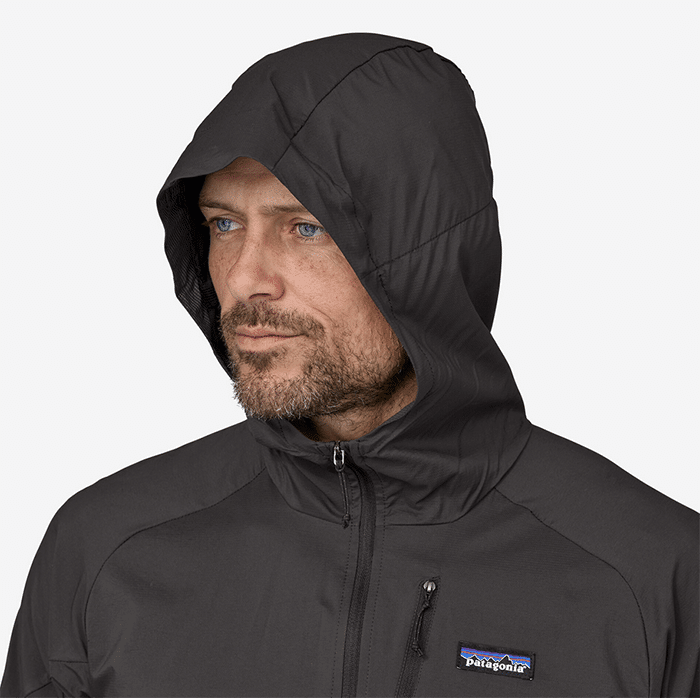 The PFC-free DWR finish ensures a water repellent coating, without the use of perfluorinated chemicals.
This jacket is also Fair Trade Certified™ sewn, with a breathable Pertex® Equilibrium double weave and a texturized back for increased next-to-skin airflow.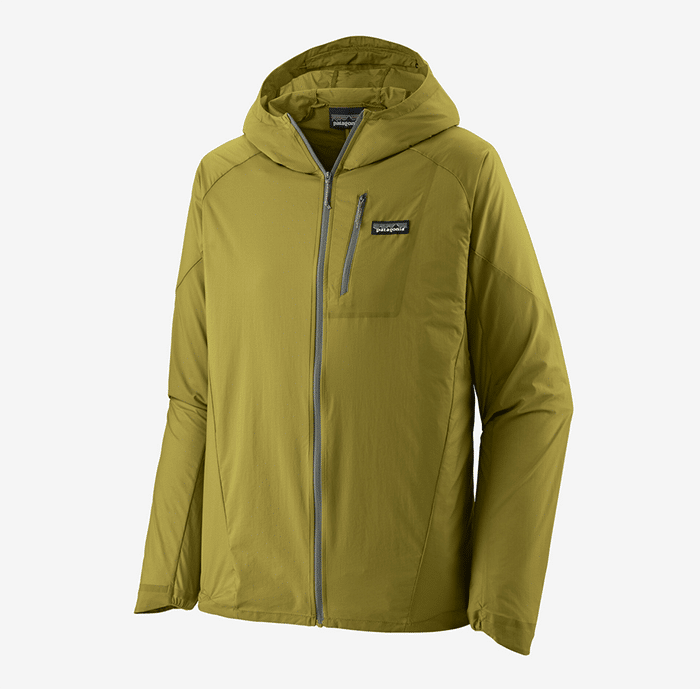 Of course, that means you can avoid being drenched in sweat during high-output activities – a little magic trick Houdini would've surely approved of.
4. Men's Torrentshell 3L Rain Jacket ($179)
The Torrentshell 3L Rain Jacket is simple and unpretentious, with trusted 3-layer H2No® Performance Standard technology and a PFC-free DWR finish for durable water repellence.
This particular option is exceptional for waterproof and breathable performance. Also, it cuts no corners in terms of all-day comfort, serving up waterproof durability and a 3-layer shell refined for the highest levels of comfort.
The microfleece-lined neck is just one addition we really appreciated. While the shell acts as a barrier between your skin and any strength the rain and wind can muster.
3. Men's Isthmus Anorak ($149)
Supposedly inspired by a deep dive into the Patagonia archives, this lightweight windbreaker pullover is geared for all seasons.
Made of 95% nylon, you'll notice it has the DWR (durable water repellent) finish and 40+ UPF sun protection in case the weather clears when you're up and exposed on the peaks.
This anorak also dries fast and provides very impressive protection from wind and light moisture. The design features classic set-in sleeves and gusseted cuffs, with twin sets of snaps for added adjustability.
2. Men's Steel Forge Puff Jacket ($249)
The iconic Steel Forge Puff Jacket found its way into our selection with relative ease – it's an exceptionally warm and insulated jacket, wrapped in fabric that's highly abrasion-resistant, with a DWR (durable water repellent) finish. On colder days you can stuff your wind-bitten extremities into the handwarmer pockets.
The cinch-closure hood is easy to operate as well, so you wont be fumbling around and cursing the world when your hands are trembling.
You might just fall in love with those handwarmer pockets, which are deep enough to fit gloved hands, as well as being useful for stashing your gloves when the sun starts beating down again.
1. Men's Storm Racer Jacket ($269)
Last up for our menswear, we've found our way to this integrated design that's styled for mountain running, with an ultralight 3-layer emergency waterproof shell and innovative double zipper.
The double-zip construction grants easy access to food, water and other supplies when you need them. It also increases your comfort in terms of ventilation during those longer, or more arduous, mountain missions.
Of course, it's all Fair Trade Certified™ sewn, with a featherweight H2No® Performance Standard shell, built out of 100% recycled nylon ripstop fabric. Not only will this racer jacket keep you dry it also feels soft and exceptionally comfortable against your skin.
Patagonia Windbreaker Jackets for Women
5. Women's Houdini® Jacket ($109)
Now for our women's jackets – we're back to the Houdini®for a design that utilises 100% recycled nylon.
This take-it-anywhere jacket provides weather-resistant protection for high-output activities in a range of environments. The zippered chest pocket can easily be converted into a stuff sack with a carabiner clip-in loop.
The slim fit and drop tail combine to give you additional comfort when you're on the move. While the hood can also be adjusted in one pull, without blocking your peripheral vision and making you susceptible to flanking surprises or sheer drops on the trail.
4. Women's Houdini® Air Jacket ($179)
Next up, we've got another Houdini jacket that comes into its own when endurance is needed most. This one is best for longer missions, with improved breathability and weather resistance. It also has those features we should accept as standard by now, like an essential PFC-free DWR finish.
The whole design is ultralightweight and fitted with a texturized back to increase next-to-skin airflow and prevent overheating on the trail. You can wear this jacket safely for high-output activities – it's probably best worn over technical tees and base layers – and soak up a superior fit while you're on the move.
Again, the hood can be adjusted in one pull and you'll still benefit from peripheral vision, which is a feature that definitely comes in handy if you're moving at a faster pace.
3. Women's Classic Retro-X® Fleece Jacket ($229)
The Classic Retro-X® Jacket is windproof and warm, with 100% polyester fleece (85% recycled). It's safe to say this is a windproof barrier you can rely on, wrapped in a fleece exterior, which is moisture-wicking.
The brushed-polyester mesh lining has HeiQ® Pure odour control – something fellow campers will surely be thankful. Then there's a full-length front zip and internal wind flap to keep out any unwanted gusts that just love to prickle your gooseflesh.
2. Women's Skysail Jacket ($199)
Inspired by popular heritage Patagonia sailing jackets, the Skysail is one of our more stylish options, with a very modern silhouette. It's made of 95% nylon and 5% spandex with a DWR (durable water repellent) finish and 40+ UPF sun protection.
The three-panel hood cinches down when the weather gets blustery and you can also rely on a stand-alone collar to nuzzle up to and keep your neck warm.
The Vislon® zipper is covered by a placket that can be easily secured with hidden snaps as well. Throw in two oversized front pockets, with flapped closures, and you're bound to feel cosy and tightly sealed if the elements turn against you.
1. Women's Dirt Roamer Jacket ($249)
Finally, the wonderfully-named Roamer Jacket is that article of clothing you'll put on and leave on forever. As you might expect it's very breathable and well-suited for vagaries of weather and different climates – not to mention varying altitudes as well.
You can dump heat on sweaty climbs and shed wind and light swirls of precipitation with ease. It seems to have been with descents and exposed ridgelines in mind, refined to accommodate more mobile wearers and on-bike maneouvres.
The soft knit backer helps to wick moisture and prevent clamminess, which often clings to high-output adventures. This is a great option for anyone who wants to travel light, far and fast, overstepping any surprises the trail might have for you.
Other Patagonia Gear