Best Patagonia Fleeces for Men and Women
Check out the ultimate collection of Patagonia Fleeces for men and women.
Best Patagonia Fleeces for Men and Women
Patagonia knows a thing or two about outerwear that can stand the test of time. Their fleece jacket has been released in many iterations since the 1970s.
Many aspects of their approach has evolved during this process of development.
Yet one thing that always stayed the same was their focus on conscientious, durable and lightweight designs. It's why you see this brand in the wardrobes and kit bags of all kinds of outdoor enthusiasts, from veteran climbers to family campers.
Patagonia aren't just famous for being one of the most ethical manufacturers on the market, they meticulously test, refine and style everything they make to meet the most stringent standards set by lovers of wild places.
In this article, we're turning to this seasoned purveyor of fleecy wonders, hoping to seek out the best examples of quality fleeces for both men and women.
Here we have our selection of eight Patagonia fleece jackets that truly give testimony to decades of innovation and research:
Best Patagonia Fleeces For Women
Browse the collection of Patagonia Fleeces for women.
8. Women's Lightweight Synchilla Snap-T
Slightly puffier than your classic Patagonia look, this cosy pullover fleece is a lightweight (14.3 oz) throwback to the 1980 design. It comes fitted with that single button-closure pocket on the chest, which is handy.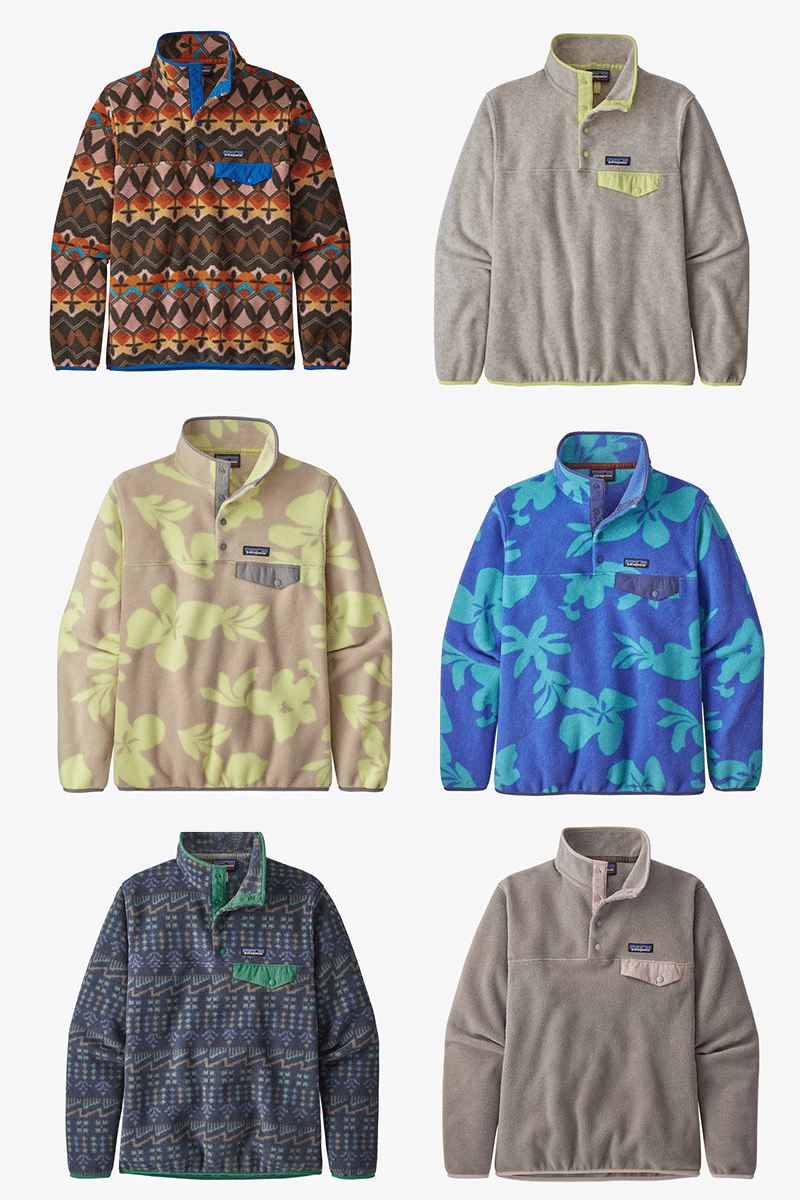 In terms of additional features, the design is simplistic and styled for everyday use – think long walks with the dogs, or post-activity relaxation around a campfire. It's built for laidback moments, really.
Wrapped in soft materials and unmatched for comfort as opposed to being bulked-out for durability.
Women's Lightweight Synchilla Snap-T Specifications
Made of warm, midweight 100% recycled polyester fleece
Nylon trim on stand-up collar reinforces classic Snap-T four-snap placket
Yoke-seam detail with nylon chest-pocket flap and snap closure
Elastane binding at sleeve openings and hem
Hip length for warmth and comfort
Fair Trade Certified™ sewn, which means the people who made it earned a premium for their labor
Made in Nicaragua.
Weight: 363 g (12.8 oz)
7. CrossTrek Hybrid Hoodie (Women's)
One of the most versatile fleeces out there.
Usually, your standard fleece is either made for performance warmth, or everyday wearability. The lightweight (16.3 oz) CrossTrek bridges that divide.
It is stylish enough to still look smart in urban environments. While it also uses soft Polartec Power Stretch performance-fit fabric to allow for active mobility, and comes fitted with elasticated hood, as well as two zippered pockets.
Check out the excellent Patagonia Joggers
The ripstop nylon reacts well in tough weather conditions too – it's water-repellent and wind-resistant. So, this hoodie really doubles as both outerwear and a mid-layer when the temperature falls.
6. R1 Air Full-Zip Hoodie (Women's)
Arguably one of the most stylish jackets in our selection.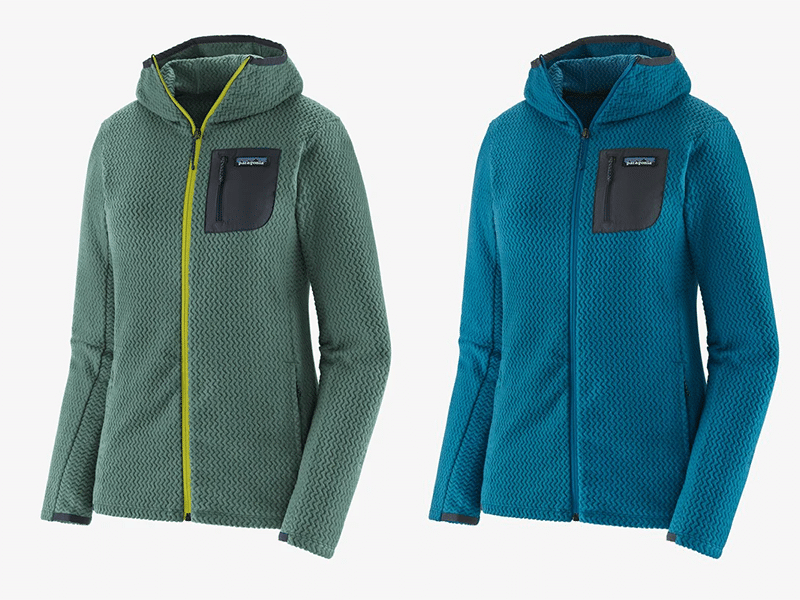 Made from 100% recycled polyester, the R1 Air is a technical jacquard fleece that's incredibly lightweight (10.9 oz) and breathable. It's structured to keep you comfortable on the move and it's quick-drying too, ideally suited for high-exertion out in the grips of colder weather.
The design utilises hollow-core yarns and a zigzag texture to wick unwanted moisture – to dry fast during outdoor activities. One other addition we love is the inclusion of off-shoulder seams to make your pack straps less irritating, coupled with woven binding along the back hem and cuffs for a more improved fit.
5. R1 TechFace Hoodie (Women's)
Again, another of Patagonia's lightweight (11.9 oz) R1 Hoodies.
Similar to the R2, this jacket is seldom seen far from the bodies of climbers and hikers around the world. Warmth and high-performance meet in this weather resistant cross layer, sealed in double-weave fabric.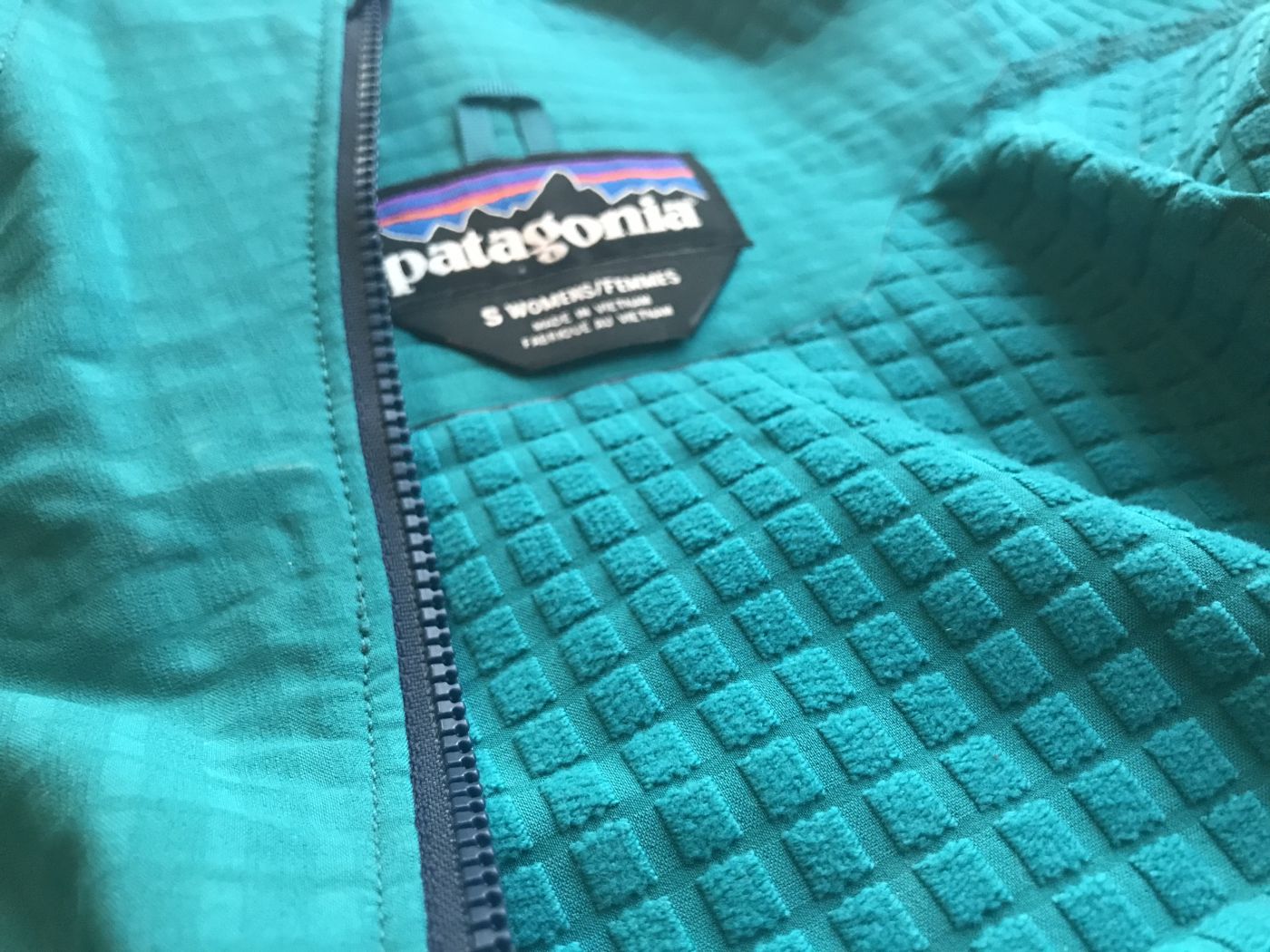 The versality of this fleece is necessitated by varying mountain conditions – the fabric is warm against the skin and doesn't trap in heat. It is also treated with a durable water repellent finish in case the heavens open.
While the articulated pattern allows for a liberating range of movement.
Throw in an under-the-helmet hood, replete with laminated visor, and you've got a sure contender for best women's fleece jacket out there.
Patagonia Fleeces For Men
Browse the collection of Patagonia Fleeces for men.
4. Retro-X Fleece Jacket (Men's)
The Retro-X channels an old-school approach to performance focused insulation.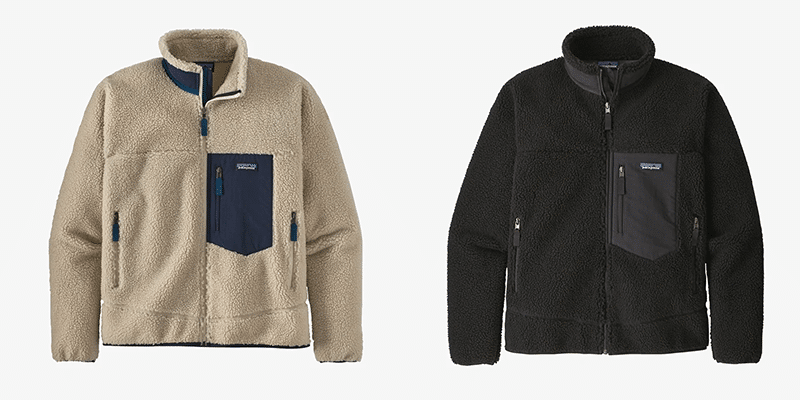 Whether you're heading out into chillier climes, or kicking back in the campsite, this jacket comes bolstered with a windproof membrane, knitted-mesh interior and a wrapping of external Sherpa fleece.
It's breathable and high-wicking, so don't worry about any sweaty prolonged activity.
This does make the jacket a little heavier, but seems to sacrifice very little as far as packability is concerned. Weighing in at 27.3 oz, the Retro-X is less lightweight and slightly more durable than some of its fleeced cousins.
It is actually built as a tough wind-blocker, despite the soft appearance. This jacket is also made from 50% recycled materials.
3. Better Sweater Fleece Jacket (Men's)
Like comfort? Meet your new best friend.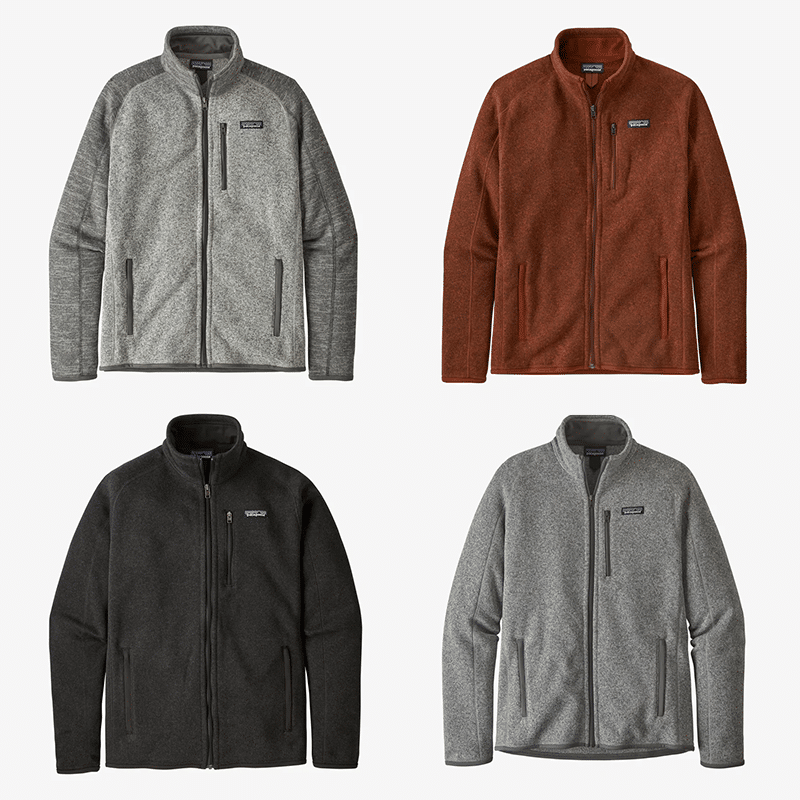 Patagonia's Better Sweater is similar at first glance to the more stylised Synchilla.
The design caters for a relaxed fit and slouches casually into an urban friendly aesthetic. However, what you might not be noticing, is a considerable upgrade in warmth and durability.
This jacket weighs a hefty 22.5 oz and qualifies as a heavyweight fleece, cuddling the wearer with recycled polyester and a fleece interior, with heathered yarns. It's very warm, of course, with a flat-seam construction to reduce bulk.
The Better Sweater comes fitted with a full-zip standing collar to protect you against any biting winds.
Again, it's a favourite among mountaineers and climbers, faced with the upper reaches of peak-seeking adventures.
2. R2 Fleece Jacket (Men's)
The word you'd use to describe the design would likely be: 'minimalist'.
Don't let the simplicity fool you though, this is the ultimate midlayer, refined for the shifting moods of cold weather. It's very breathable and could set the standard for compressed quick-drying warmth.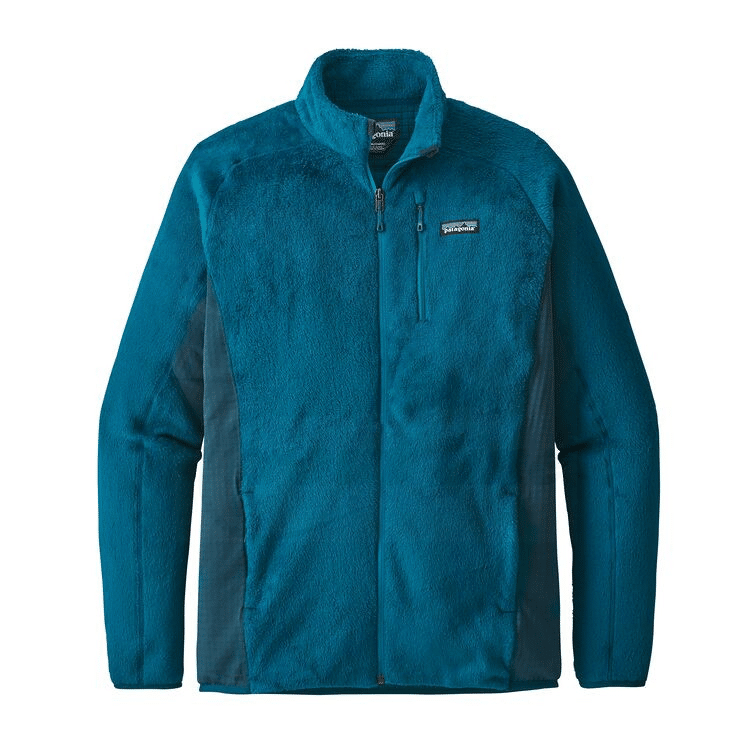 Pull on this layer of directionally knit Polartec Thermal Pro fabric and you're pretty much ready for anything. The stretchy moisture-wicking fabric is soft and forgiving, with side panels to improve fit and abrasion resistance.
The zippers all have sonic-stitch seam construction, which we love! Another way to cut down on bulk and add to the overall bombardment of next-to-skin comfort.
1. Woolyster Fleece Jacket (Men's)
Finally, we come to the our final pick!
Weighing in at 17 oz – shifting this jacket onto our lightweight scale – this Woolyster Fleece complies with the heritage design and features a blend of polyester, recycled wool and nylon, all of which is Fair Trade Certified sewn.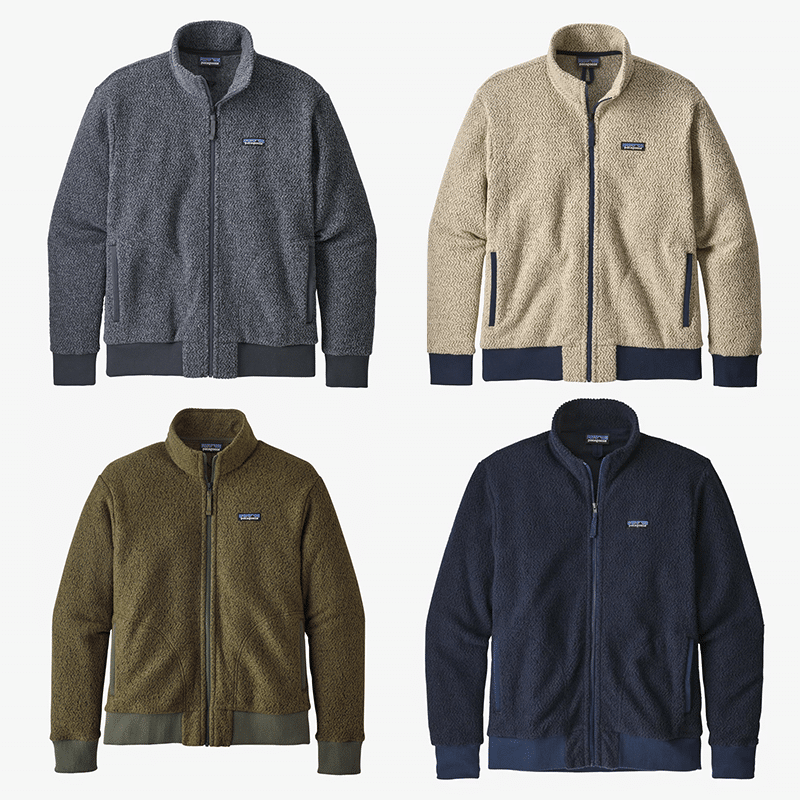 Available in the popular 'forge grey', this easy-wear fleeces comes equipped with a full-length centre zip-through collar and twill-tape pull for easy removal.
The handwarmer pockets and rib-knit trim on the cuffs are neat additions to bring you all-day comfort, securing this jacket's suitability for all kinds of environments, from city streets to rugged mountaintops.
There you have it! That's the OFS selection of our favourite Patagonia fleece jackets.
Learn More
Keen to find more innovative jacket designs for both men and women?
Check out the Patagonia website now.
Get inspired for your next adventure and check out the best Patagonia shorts you should take with you.