Best Hiking Trails in Norway
Check out our selection of the best hiking trails in Norway.
Why Choose Norway for Hiking?
If you decide to go hiking in Norway, you'll be enjoying the benefits of a country that's safe, beautiful, and accessible. The terrain is varied, with mountains and fjords creating a unique landscape for adventurers to trek across.
There are no dangerous animals as you might find on other trails in Africa or Australia.
Hikers can expect good weather; it's not too hot or too cold for long distances.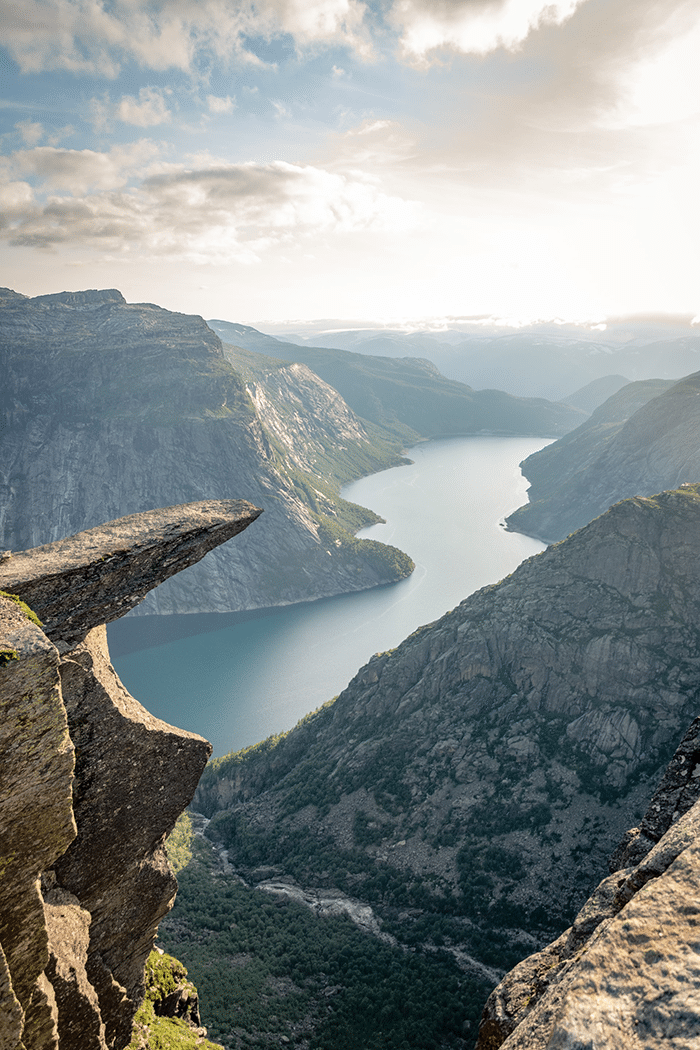 The trails are well-maintained and easy to follow, so it's rare that hikers get lost. If you do encounter problems along the trail, there's always someone nearby who will help out if needed—the people in Norway are friendly!
To top it all off, there is ample accommodation available at many points during your journey: camping sites, cabins and lodges are easily found along most major routes.
Hiking Trails in Norway
Find your perfect adventure.
Trolltunga Trail, Hordaland
The hike to Trolltunga, meaning "Troll's Tongue," is one of the most popular hikes in Norway and arguably the country's most famous hiking trail. The rock juts out horizontally 700 meters above Ringedalsvatnet lake and provides stunning views of the surrounding mountains and lake.
This day trip from [town name] is approximately 20 kilometers (12 miles) round-trip. The hike begins at Skjeggedal, where you'll walk through a valley surrounded by cliff walls before reaching the island-dotted Lake.
After a steep climb up to Preikestolen Fjellstue, you'll continue uphill for about two hours before being rewarded with spectacular views of Ringedalsvatnet Lake below. If you're used to hiking in mountainous terrain, this trail shouldn't be too challenging—there are some exposed sections that require caution but no technical climbing skills are needed.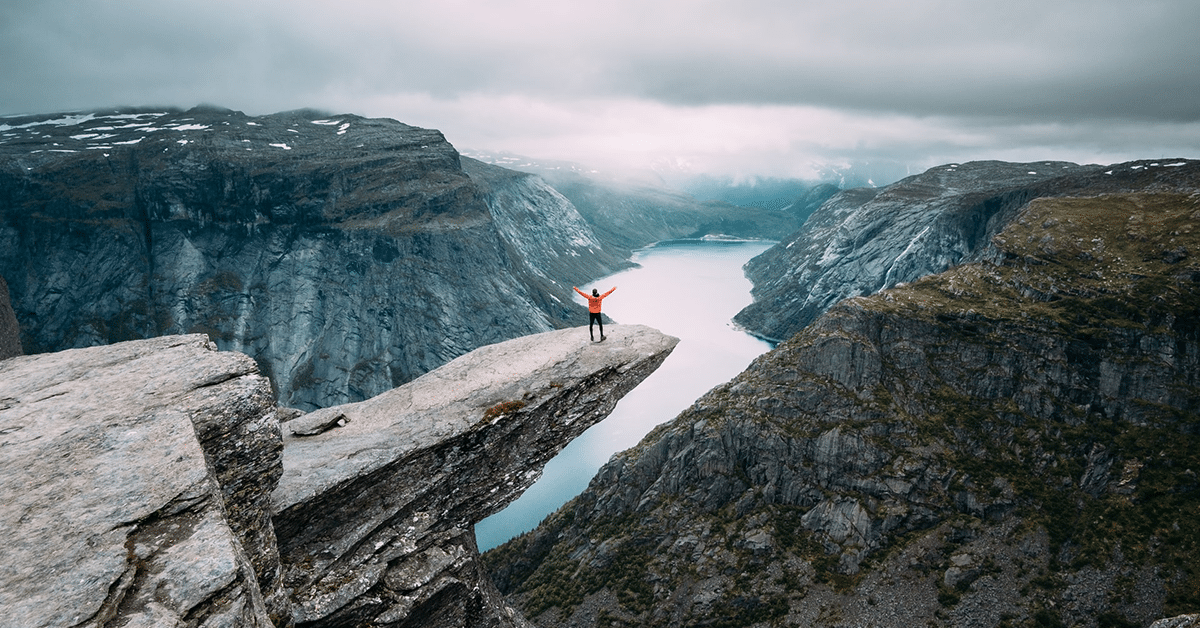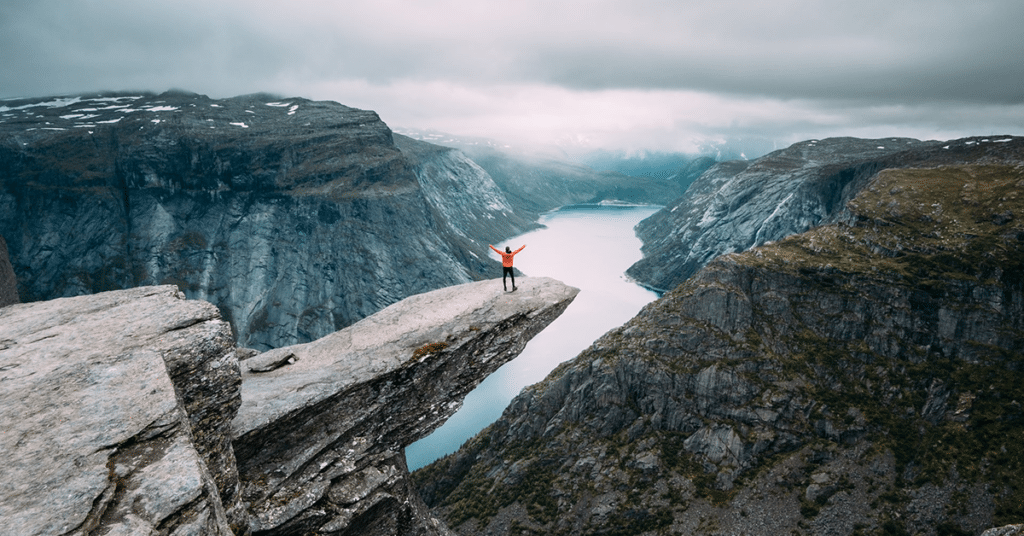 When hiking to Trolltunga, remember that weather conditions in Norway can change quickly so come prepared with sun protection (sunscreen or clothing), rain gear, warm layers, and sturdy boots or shoes appropriate for wet conditions.
You should also bring plenty of water and snacks along with your camera! If you're planning on camping overnight near the trailhead then we recommend staying at [hotel name]. Once back in town after your epic hike, reward yourself with a pint of beer.
Other nearby attractions include visiting Vøringsfossen waterfalls or taking a fjord cruise on Sognefjord.
Pulpit Rock, Stavanger
The Pulpit Rock trail starts near Stavanger in the Ryfylke area and is a hike that's not technically challenging, but it is steep—so you'll have to work hard.
The reward, however, is one of Norway's most stunning views. Walk up above the tree line to see Lysefjorden below you and mountains surrounding you on all sides. This trail takes 4-5 hours total (round-trip) and covers 6km.
Avoid walking too close to the edge of the cliff, take care when you're with kids and don't forget your camera—the panoramic views are breathtaking!
Hiking Trails in Norway: Besseggen Ridge, Oppland
In Oppland, Norway, the Besseggen Ridge is one of the most popular hikes in the country. It's not an easy trek—you'll encounter steep climbs and descents, slippery conditions on rocks covered in alpine moss, and a need for good hiking boots as well as quality equipment like gloves and crampons. But if you're up for it, you'll be rewarded with views of deep blue tarns set against emerald green mountainsides.
The trail runs along a mountain ridge with steep drop-offs on both sides, so those who are faint of heart may want to consider something less perilous. You'll start the hike at Gjendesheim, a mountain lodge where you can arrange to have your car parked while you're out on the trail.
From there it's about eight miles to Memurubu, where you can hop into a boat to return to Gjendesheim or continue another seven miles back to where you started. If that sounds like too much effort all at once, consider breaking up the trip by staying overnight at Memurubu instead of booking a round-trip boat ride from Gjendesheim—that way you can make camp at Memurubu and spend an extra day exploring or relaxing before heading back down toward civilization.
Hiking Trails in Norway: Kjerag Glacier, Rogaland
When to go: Best from June to August. Other times of the year have unpredictable weather patterns.
How to get there: Fly into Oslo. From there you can take a short flight or car ride (2 hours) to Stavanger. The trailhead is an hour north of Stavanger by car, but it will be easier if you find a tour company that will drive you there and drop you at the glacier's base.
Difficulty: Moderate – Difficult, depending on your experience level and how far up on the glacier you're intending to climb. There are also sections of slippery ice and snow along the way, so expect some added challenges in those areas.
It is highly recommended that experienced hikers take this route with an expert guide who can lead them safely through difficult terrain while providing interesting information about local flora & fauna as well as history lessons from past explorers who have trekked this path before them!
Nordkalottleden Trail, Troms and Finnmark
The trail stretches across Nordic countries in a 1,400-kilometer route that extends from Kautokeino (Norway) to Kilpisjarvi (Finland). In Norway, the path passes through Troms and Finnmark counties. It takes about three months to complete the entire length of Nordkalottleden.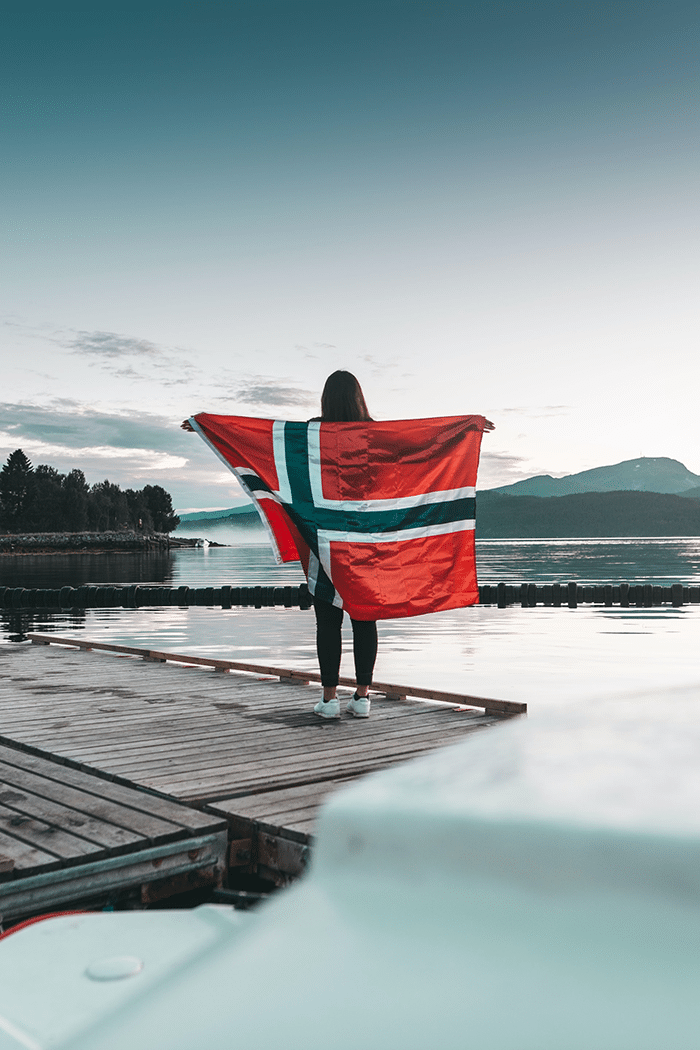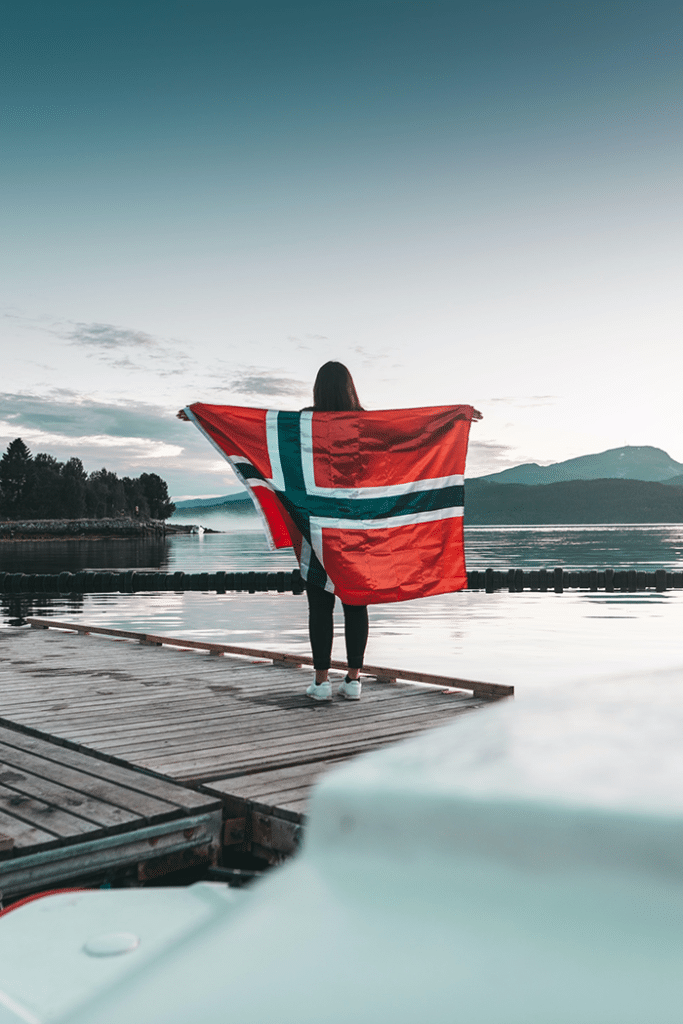 Trail length: 1,400 kilometers
Difficulty level: Experienced hikers only; there are no cabins along the way
When to hike: Mid-June through mid-September is best; in winter, it's open for skiing and hiking on ice. Some sections are closed during calving season for reindeer between May 15th and June 15th. Note that the Finnmark section is only open to hikers between July 1st and September 30th because some areas are used by reindeer herders as pasture during other times of year.
Some sections may be closed due to avalanche danger when there has been heavy snowfall in winter or spring. Check each municipality's website for information about closures or call one of their visitor centers before embarking on your adventure.
Cost of hiking: Free if you don't stay at any accommodations along the way; expect to pay around 350 NOK/day if you choose cabins or hotels overnight
What to expect: The terrain varies from barren plateaus with rocky patches, birch forests, tundra areas and mountain ranges where you have expansive views over valleys and lakes far below you.
You'll be exposed to both hot sun (with temperatures over 30 degrees Celsius) and rainstorms that can last for days; it's important not only that your equipment is waterproof but also that you dry out clothes every day so they don't get moldy from constant dampness!
How much food you need depends on how many rest days you have.
Is Norway Good for Hiking?
There are a wide variety of trails to choose from, whether you're looking for something short and sweet or something that will challenge you. As a whole, it's not too difficult to find one that matches your skillset.
Additionally, if you're interested in trying out different types of routes, there's plenty of opportunities to switch things up as far as difficulty goes.
Norway is a wonderful destination for hikers no matter the time of year, but plan carefully around the weather conditions if you want the most enjoyable and enjoyable experience possible!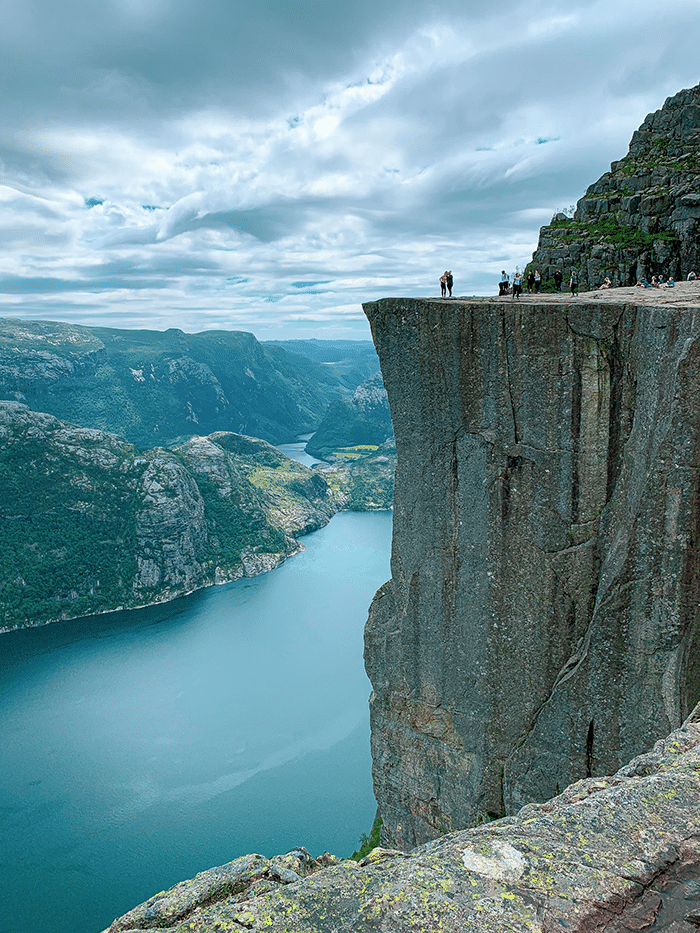 In general, the summer months (June through August) are when people do most hiking in Norway. The temperatures then tend to be on the warmer side (if not exactly hot), which can make for more comfortable conditions for longer walks.
Winter and early spring are often cold and snowy; this makes long hikes more challenging because avalanche danger is higher than at other times during year. Winter hiking offers its own unique pleasures though (the crisp air, the pristine snow) so if it sounds like fun then get out there!
Norway is the Ideal Place to go Hiking
Norway is a perfect place to go hiking because it has it all.
It has the most beautiful scenery in the world, with lush valleys and majestic mountains that are sure to take your breath away. It also has a mild climate, meaning you can hike in any season and never feel too hot or too cold.
For those reasons and many others, Norway has the best hiking trails in the world.
What is the Weather Like in Norway for Hiking?
Weather in Norway is notoriously unpredictable. The climate varies widely by region, and it can even vary widely on one hiking trail that crosses multiple regions.
If you are traveling to Norway for the sole purpose of hiking, it's probably best to go in summer. In general, the further north you go in Norway, the more extreme and varied the weather will be.
In winter, there is a lot of snow throughout Norway. Snow levels can fluctuate from season to season, but mountains above 1000 meters will almost always be covered with snow between November and May.
The temperatures are generally cold enough for your water bottle to freeze if left outside overnight at any point during the winter months.Temperatures above freezing tend to only occur between May and September.
There is little precipitation in summer except rain as it doesn't get warm enough for snow.Temperatures below 0 C (32 F) are common year-round in mainland Norway; even during July or August temperatures may not exceed 10 C (50 F).
High winds occur throughout most of Norway since low pressure systems pass over frequently.
You'll want to leave extra time on hikes if you're traveling when these winds might pick up suddenly—you might have an easy time getting up a mountain early in the day but coming down quickly becomes difficult once your progress on foot is slowed by strong winds.
Learn More