Best Hiking Routes in Sweden
Check out our selection of the best hiking routes in Sweden.
Why is Sweden Great for Hiking?
Sweden is a great place to hike both because of its natural features and because of its location in northern Europe. Here's why:
Sweden has some of the most beautiful hiking trails in the world—and it may surprise you how many there are. With thousands of miles of hiking paths and trails, you can find the perfect experience for you within easy driving distance from wherever you're located in this long country.
No matter if your preferences lean more toward solitude or socialization, gentle inclines or challenging climbs, or forested areas or open spaces, there's a trail for you. And generally speaking, all of them will provide gorgeous views that leave an impression on every visitor.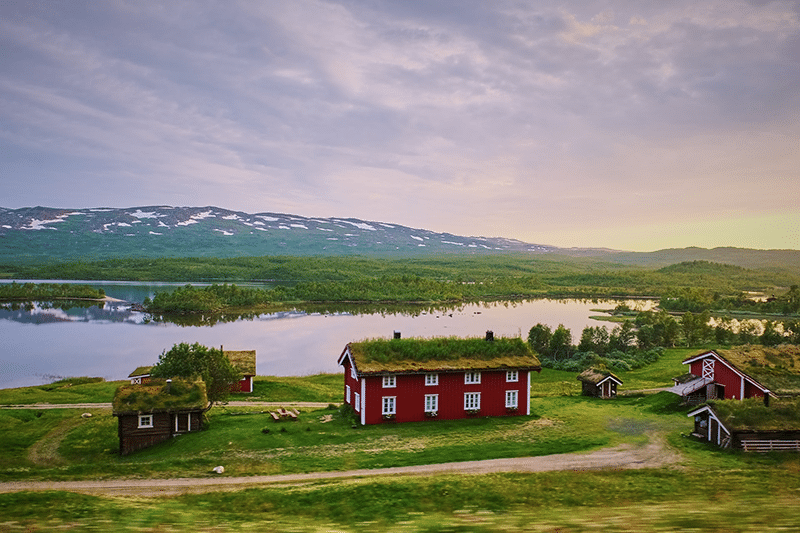 Sweden is one of the most sparsely populated countries in Europe—not just geographically but also by population density. This means whether you prefer hiking alone or with others, there will be plenty of opportunities to find a peaceful experience without encountering too many other people along the way.
The fjäll (or fell) are mountains located above the tree line that offer stunning panoramic views across much of Scandinavia.
Characteristic landscapes like Trollkyrka National Park feature rounded granite outcroppings and uplifted rock beds characteristic to Sweden's geologic history. While these areas are very different from each other cosmetically, they have been formed by similar tectonic processes over millions (and even billions!) of years!
Best Hiking Routes in Sweden
Find your next adventure.
The Kungsleden Route
Kungsleden, or The Royal Trail, is the most popular hiking route for a very good reason.
Hikers are treated to over 440 km of pristine woods and mountains stretching through northern Sweden all the way from Abisko in the north to Hemavan in the south.
It's a national park that also happens to be part of the European E1 long-distance footpath.
Even with this huge expanse of spectacular nature, you're never far away from civilization—you can find accommodations at strategically placed huts operated by STF every day or two along your hike.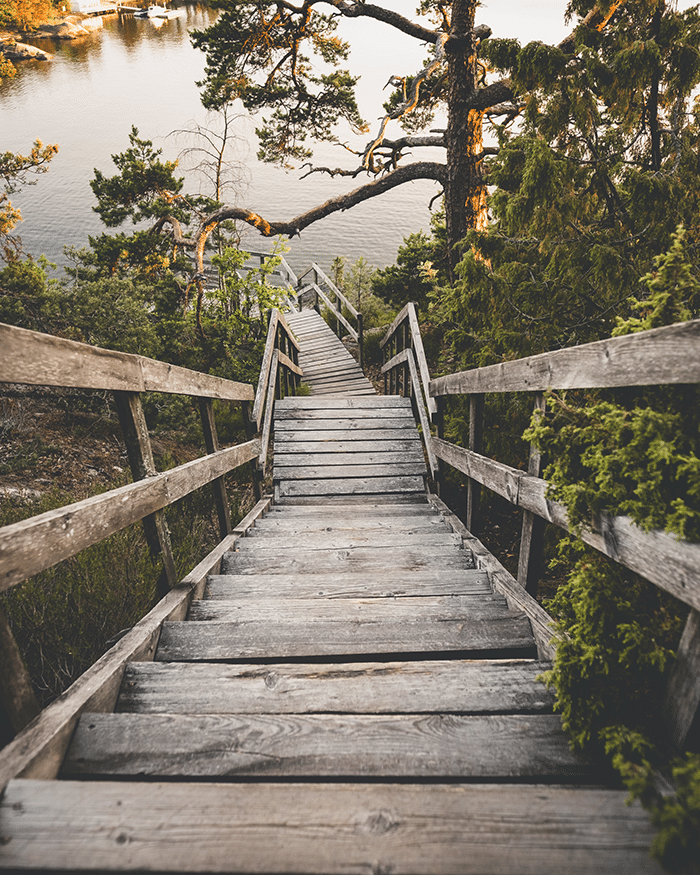 The best time for hiking is between June and September, when all huts are open and you can be sure of avoiding bad weather (although if you want to brave it out through snowier conditions there are summertime options too).
As far as difficulty goes, Kungsleden has options suitable for everyone. The northern half—the easiest section—can even be enjoyed by children, with its gentle walking paths and well-tended cabins serving hearty meals every evening.
Stay warm on your hikes with Yak wool!
Once you hit Saltoluokta Fjällstation (located around midway between Abisko and Hemavan) things get a little rockier; although still accessible even for new hikers there's no more hut accommodation available here so you'll have to go fully self-sufficient with camping gear or continue on using wilderness cabins owned by local residents (booking these is absolutely essential).
If that sounds like too much effort then there's always the option of hiring tour guides who will take care of all your equipment needs!
Hiking Routes in Sweden – Bohuslan
If you're looking to hike in Bohuslan, the best times to visit are between April and October.
The trail is about 300 km long, so be prepared to spend a week or more walking through beautiful nature.
You can choose to camp along the way at designated camping areas or stay in one of the many hostels and hotels that you'll find in towns along the trail.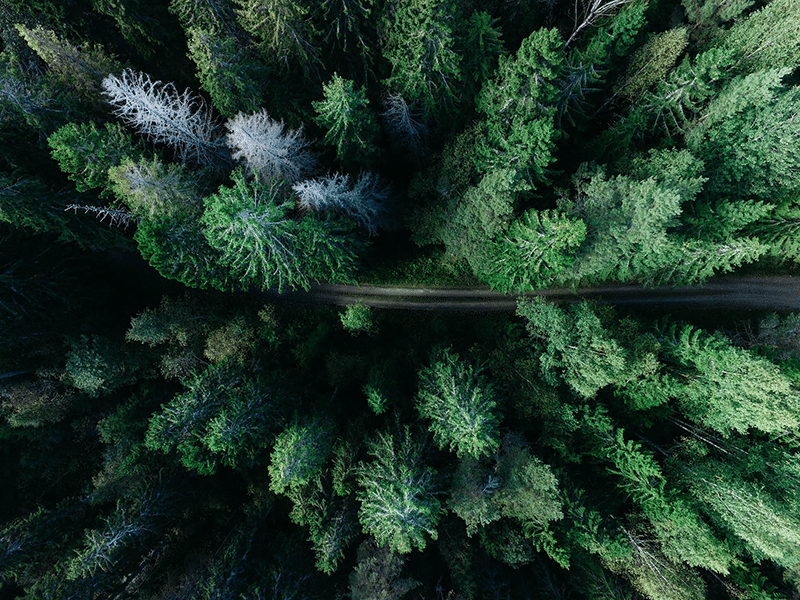 The trail is popular for hikers, but don't expect solitude, since it can get pretty crowded on weekends during summertime. Despite this, there are many places where you can stop for a swim and rest before continuing your trip.
The hiking season usually starts around Easter and continues until November/ December (when there's snow). The best way to hike Bohusleden is by breaking it up into several days.
This way you get an unforgettable experience filled with food for both body and soul!
Dalsland-Varmland
The Dalsland-Varmland trail is a high-profile route that runs from the coast of Dalsland to Karlstad in Värmland. Along this route you'll pass by Trädgårdsön and Lake Vänern, Sweden's largest lake.
The trail also follows part of the 'High Coast Trail', one of Sweden's National Scenic Trails (Nationalscenerier) as well as a UNESCO World Heritage Site. And finally, the route passes through one of Sweden's national parks; Tresticklan National Park.
Distance: ~217km
Duration: 12 days
Difficulty: Medium to High
Accommodation: Find accommodation that suits you – if you are looking for adventure and an opportunity to meet new people then choose a mountain lodge or similar accommodation type.
If you want something simpler then bring your tent along or avail yourself of Sweden's "everyman's right" law which allows you to pitch your tent almost anywhere outside someone else's land (always ask first!).
Hiking Routes in Sweden – Sarek National Park
The Sarek National Park is a popular destination for experienced hikers looking for a true challenge.
As the least populated area in Sweden, the national park is not a place to go if you want to enjoy civilization whilst hiking.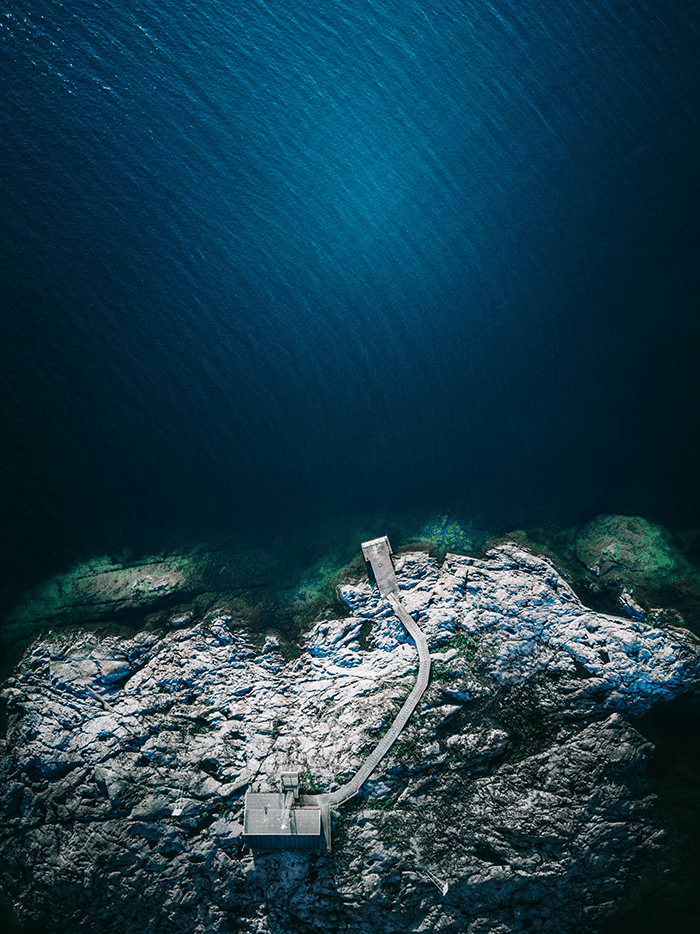 Instead, this park is meant to give visitors an experience of extreme nature without having to leave Sweden. Sarek National Park also happens to be located in the Arctic Circle which makes its landscapes even more different than what you may be used to in other parts of Swedish nature.
What makes this particular national park such a great location for hiking is that it offers such a large variety of views. From mountain peaks to glaciers and valleys, this park will take your breath away with its beauty.
Sörmlandsleden – Sörmland hiking trail
Known as "Sweden's most romantic hiking trail," travellers can take advantage of this nearly 600-mile route and its impressive views.
Spanning across the Sörmland region, which is often referred to as the heart of Sweden, the trail connects castles, forests and lakes.
Popular attractions include Ulriksdal Palace, which features a beautiful baroque garden overlooking Lake Mälaren, and Ekebyhov Castle, one of Sweden's most well-preserved baroque castles.
You can hike the entire trail or take section hikes on your own schedule — just be sure to plan ahead with plenty of time for rest stops in between to enjoy some traditional Swedish food!
Find more information about hiking in Sweden during certain seasons and popular routes for each season.
Hiking Routes in Sweden – The Jämtland Triangle
The Jämtland Triangle is a 200km route through the mountains of Jämtland, a region in central Sweden.
This route passes through several nature reserves, offers views of some of the highest peaks in Sweden, and is considered one of the most beautiful hiking routes in the country.
The best time to do this hike is during July and August, when you can expect almost 24 hours of sunlight.
The Pilgrim Path St Olavsleden
St Olavsleden, which is also known as the Pilgrim Path, makes up approximately 350 miles of a walking trail through Sweden.
The path was originally used by medieval pilgrims en route to the Nidaros Cathedral in Trondheim, Norway. The entire pilgrim route from Gothenburg to Trondheim is around 1,000 miles and passes through several cities along the west coast of Sweden.
The Pilgrim Path St Olavsleden has been awarded three stars by European Ramblers Association (ERA), which means it's an excellent path for hiking.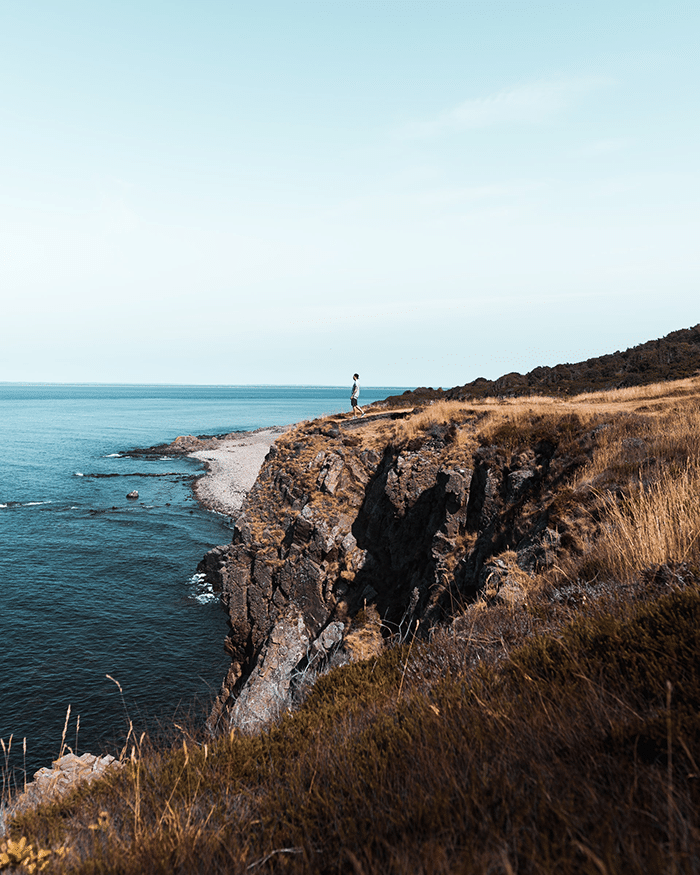 To earn this distinction, a path must be well signposted and easy to follow; it must offer great variety in terms of landscapes, sights and culture; and it must be engaging from start to finish on both sides of the border.
Hiking Routes in Sweden – Kebnekaise
The highest peak in Sweden, Kebnekaise, is located in the northern part of Lapland, within the national park of the same name.
Visitors can hike up to Kebnekaise by way of two routes: one for those who want a long but non-technical climb and another for those who would like an easier and shorter trip.
The first route is called the southern route. It is a 13-kilometer (8 miles) hike that takes about five or six hours; it begins at Nikkavuoma, with a higher starting point than on most other hikes.
From here, you can see Sweden's second highest peak, Tarfala Peak (1,984 meters), and mountain ridges such as Sytertoppen and Vierehtijarvi.
This trail is considered medium difficulty because parts of the path are rocky and rooted; however, it isn't overly steep.
The trailhead can be found by heading east from Kiruna along Highway 97 to Nikkavuoma visitor centre. There are also several cabins along this route that provide overnight accommodations to hikers who wish to break up their trip over multiple days.
The second hiking route up Kebnekaise starts at Kebnepakte hut and goes over Paikjaharrun ("the reindeer's track"), a ridge between peaks known as Laddjuvaggi and Vierranvaggi before reaching the summit plateau.
This path isn't recommended for inexperienced hikers because it's quite long—it covers 18 kilometers (11 miles) over six or seven hours—and steeply uphill at some points; however, there's no need for climbing or any other technical equipment besides good walking shoes or hiking boots.
Additionally, you'll have enough time during your hike to stop for lunch before reaching your destination at the top of Sweden!
The Emigrant Trail (Utvandrarleden)
The Emigrant Trail (Utvandrarleden) is a long-distance hiking route in the south of Sweden. The trail starts at Södertälje in the south, and ends at Karleby, Norrköping in the north.
The trail runs alongside lakes and through woodlands, which are typical features of Sörmland. It takes approximately 12 days to complete this trail.
The trail roughly follows the same path as a famous historical emigration route that people used to leave Sweden for America.
In the 19th century more than one million Swedes emigrated to North America on their way to new lives abroad.
Hiking Routes in Sweden – Skåneleden Trail
The Skåneleden Trail is a popular long-distance trail which runs through the best of southern Sweden.
The trail is composed of 35 sections, ranging in length from 2 to 26 kilometers. It takes most hikers around 25 days to complete the entire trail, with each day bringing new scenery and experiences along the way.
The best time of year to hike the Skåneleden Trail is between June and September; in July the weather is especially mild and pleasant, and many flowers are in bloom.
The main highlight of section 19 is the nature reserve Kullaberg. From this high point you get incredible views both out over Himmerfjärden and across land towards Kattegatt.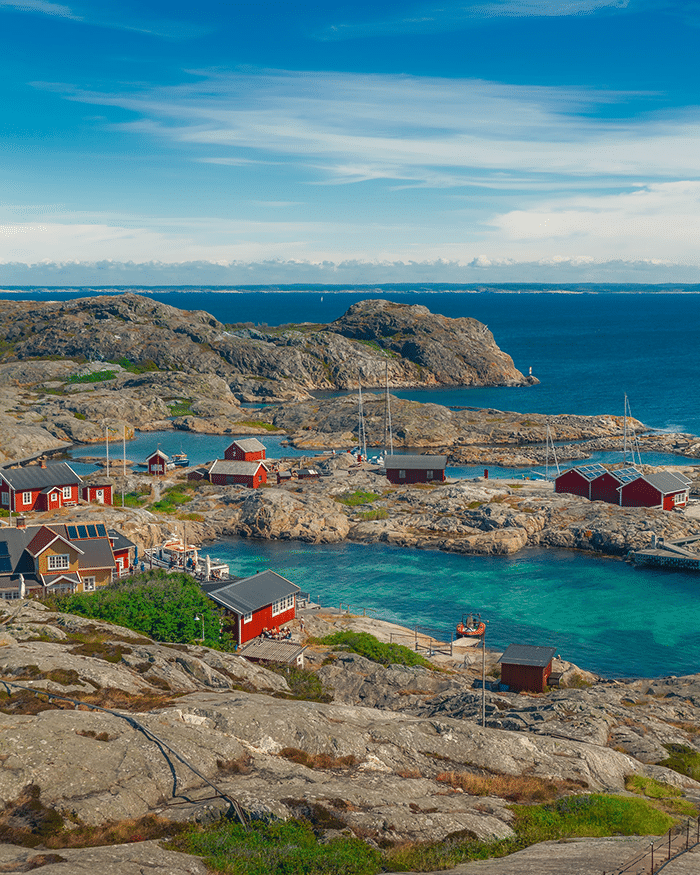 To access section 19 of the Skåneleden Trail, take a train from Copenhagen Airport (CPH) towards Helsingborg C where you can connect for Mölle station via Malmö Central Station.
Take a taxi from Mölle station to your accommodation for the night, Hotel Gästis Mölle. Overnight at Hotel Gästis Mölle before beginning your hike early the next morning: allow yourself 6 hours to complete section 19 at a leisurely pace (approximately 15 kilometers).
This route has an intermediate difficulty level due to its length: although it can be completed fairly easily by hikers who are accustomed to walking long distances on uneven terrain with a backpack or light overnight pack on their backs, it may be quite challenging for inexperienced or older hikers who have not spent much time walking up steep hills or carrying heavy loads.
Note that you will need sturdy hiking boots as well as trekking poles or sticks if your knees tend to give you trouble on downhill trails
Hiking Routes in Sweden – Tyresta Hiking Route
Located in the Tyresta Nature Reserve is this 12-mile (19.3-kilometer) route that is guaranteed to satisfy any adventure seeker's appetite.
You will hike on a well-marked path through dense forest as you come across several pristine lakes and wildlife viewing opportunities for moose, deer, and foxes.
The trailhead is located only 16 miles (25.7 kilometres) from the capital city of Stockholm, making it an easy trip from the city centre to get out into nature and explore!
The difficulty level of this hiking route is moderate due to some technical terrain and a few steep climbs throughout the forest. The hike takes between four and five hours to complete and has an elevation gain/loss of 820 feet (250 meters).
This is one of Sweden's most popular hiking routes so it can get congested on weekends during peak season when the sun doesn't set until after 10 p.m., so plan accordingly!
Things to Consider When Hiking in Sweden
Be Aware of the Weather
You might have been hiking at the same time of day in your home country, but Sweden's latitude could mean that it's darker earlier than you're used to.
Bring a Map
Even if you downloaded an app that lets you track your hikes, keep a hard copy with you just in case something happens to your phone.
Stock up on Gear
Bring a flashlight, compass (or GPS), whistle, first aid kit, water bottle, sunscreen and bug spray to ensure you don't get caught without any vital supplies.
What is the Weather like in Sweden?
Swedish weather is unpredictable and varies depending on season, altitude and latitude.
The country's northern reaches experience subarctic conditions with long, cold winters and short, cool summers.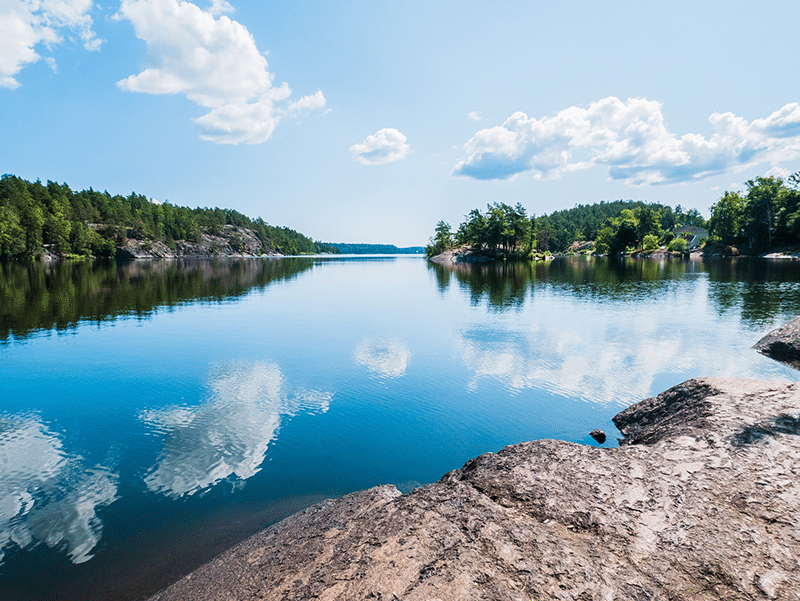 But the weather in southern Sweden is more temperate. And in general, the west coast of the country is warmer than the east coast (the Gulf Stream passes along its west coastline). In spring (March-May), temperatures range from -2 degrees Celsius to 8 degrees Celsius (28 to 46 degrees Fahrenheit) but can hit 15 degrees Celsius (59 degrees Fahrenheit) during a warm spell.
Summer weather (June-August) typically ranges from 20-25 degrees Celsius (69 – 77 degrees Fahrenheit).
Autumn drops off at an average temperature of around 5-10 degrees Celsius (41 to 50 degrees Fahrenheit) while winter comes in between -25 and 0 degrees Celsius (-13 to 32 Fahrenheit).
What Hiking Gear Do you Need for Sweden?
The essential things you need for hiking in Sweden include:
Waterproof, comfy hiking shoes/boots
Appropriate layering of clothes (base layer, insulating layer and shell layer)
A comfortable, but durable backpack to store your gear in while on the trails
Hiking pants that are breathable and have pockets
A map and a compass (the trail may not be well marked) to keep track of where you're going
A headlamp with extra batteries
First aid kit with bandages, medicine, etc. (just in case something happens)
Sunscreen, sunglasses and insect repellent (depending on where you go)
In addition to these essentials, it's also recommended that you pack a water filter so you can drink from streams or lakes if needed.
As for trekking poles – they aren't necessary for most hikes except for those in the mountains.
However, some hikers like them because they make balancing easier when walking on uneven surfaces or carrying heavy backpacks.
How Big is Sweden?
Sweden is a long, skinny country with a fairly small population of 10 million people.
At 450,000 square kilometres, Sweden is roughly the size of California or twice the size of Great Britain.
Sweden is bordered by Norway to the west and Finland and Russia to the east. It also borders Denmark via its southernmost tip, which lies just north of Germany.
Sweden's northernmost point is located in Treriksröset at 69°59'N. This makes it further north than any point in Alaska or Canada!
Sweden's southernmost point at Hanstholm in Denmark lies at 56°00'N—still relatively far north compared to most European countries. The highest point in Sweden is the Kebnekaise mountain (2,111 m) and its lowest point is Kristianstad (-2 m).
How Many People Live in Sweden?
Sweden has a population of over 10 million people, and the majority of them live in urban areas.
Stockholm, the capital city, is home to a little less than 1 million residents. Swedish is the official language in Sweden, but until recently legislation was passed that made English one of its national minority languages.
The largest cities after Stockholm are Gothenburg and Malmo (where IKEA was founded).
It also means that there are some truly remote places for hikers to explore.
Is Sweden Popular for Hiking?
Sweden is a very popular hiking destination. The third largest country in Europe, it offers some of the most beautiful scenery in the world, and there are over 1,000 trails to choose from.