How to Choose the Best Peg Board for You (Plus Workouts, Muscles Worked, Benefits and Technique Tips)
The Peg Board is an excellent piece of exercise equipment for any home or commercial gym/box.
They build impressive upper body strength, muscle, balance, coordination and confidence.
This article will help you to understand all the benefits of the Board in greater detail, how they will help you and where and how to buy the right one for you based on quality, value, style and durability.
We have also included a selection of Peg Board Workouts so that you can choose new and exciting ways to add the Board into your training once you have chosen the right one for you.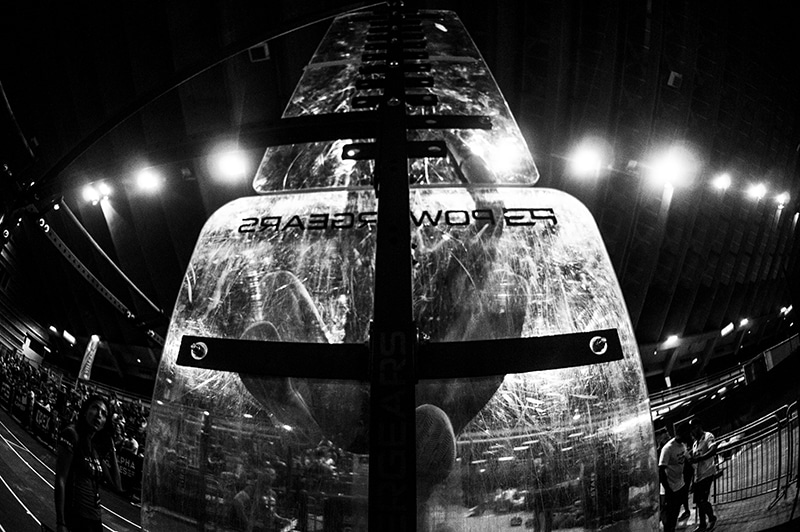 Which Peg Board is Best for You?
A great Board needs to be high quality, sturdy, durable and reliable.
Our Boards of choice are the two variations from Rogue.
Sure, you can find cheaper alternatives with lower grade wood and poor-quality craftsmanship but we believe that when it comes to your health and fitness, you should never cut corners.
Rogue Peg Boards
The official, wall-mounted Rogue Peg Board is made in the USA from your choice of top-quality maple or pine.
Each set includes one 1.5″ thick board (95.625" tall x 11.75" wide) and two grip-friendly wood dowel rods—each measuring 6.5" in length and 1.19" in diameter.
An increasingly popular tool for upper body training, climbing Boards can be a simple but dynamic addition to a small garage gym or a larger training facility.
Rogue's design includes 35 staggered holes along the roughly 8-foot ascent of the wood board, with six counter bored holes for mounting (mounting hardware not included). The full unit weighs in at 38LB.
Peg Board Options
Rogue offer two different Boards, the Rogue Peg Board and the Rogue Echo Peg Board.
Both are excellent but the Rogue Echo variation is the premium product.
Rogue Peg Board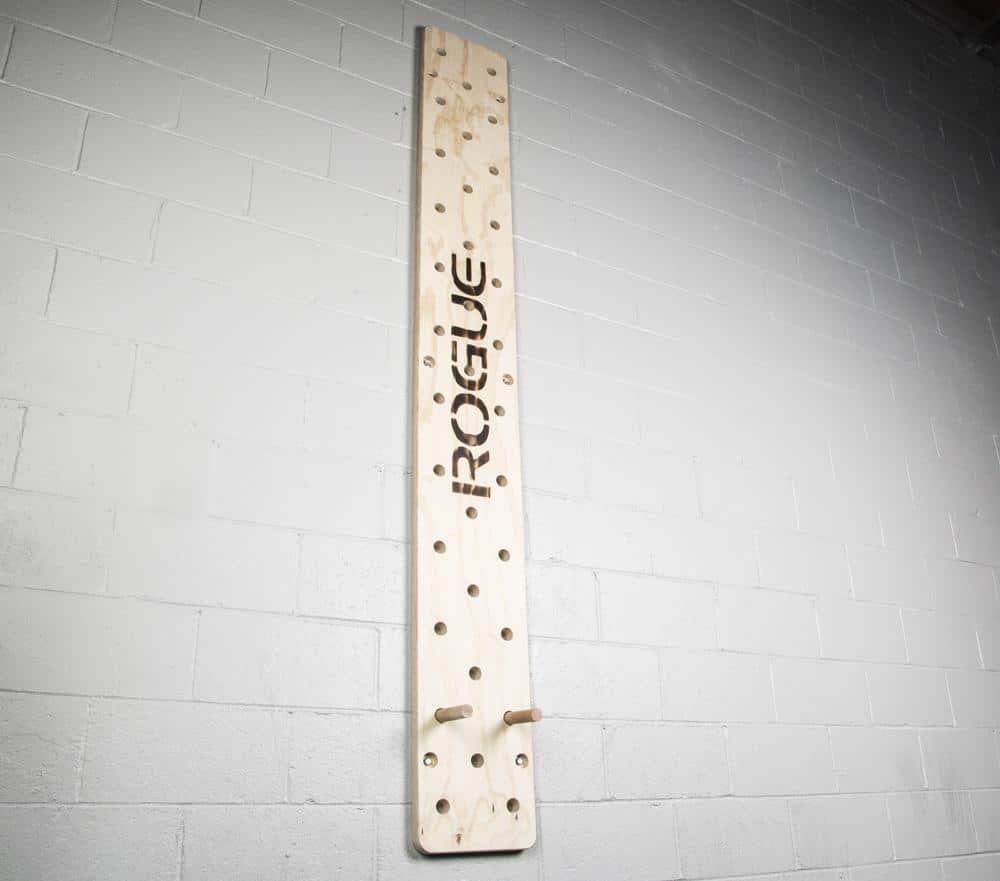 | | |
| --- | --- |
| Type of wood | Pine |
| Finish | None |
| Branding | Rogue branding burned into wood, running up the face of the board |
The is no finish on the wood which saves you money and allows you to add your own (wax, varnish etc).
Rogue Echo Peg Board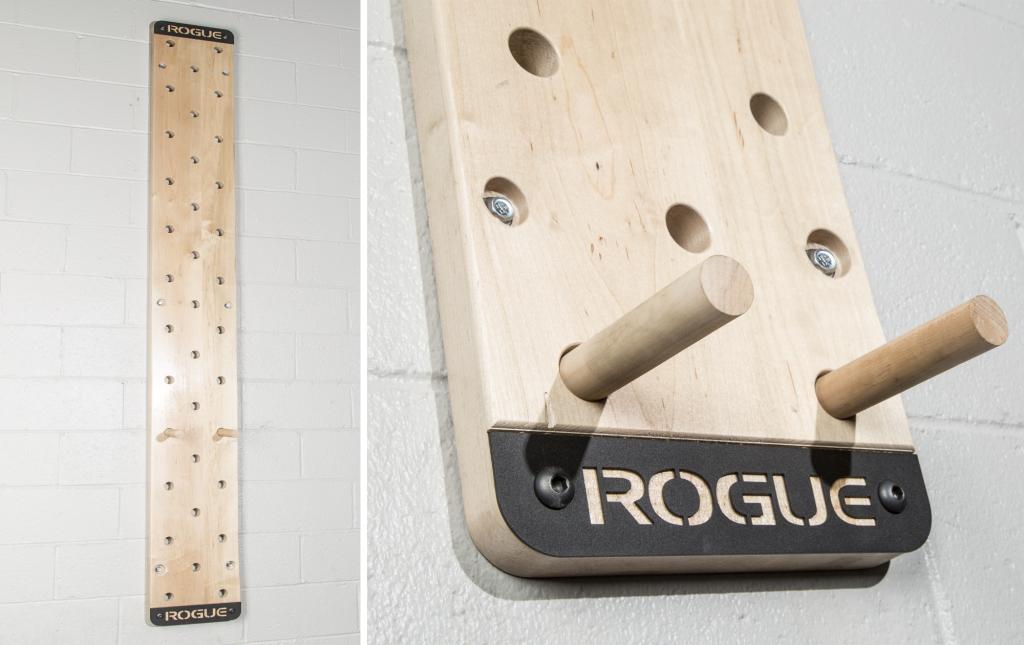 | | |
| --- | --- |
| Type of wood | Maple or Pine |
| Finish | Polyurethane Finish |
| Branding | Black Washer Plates installed at both ends of the board with laser-cut Rogue branding. |
Please Note: Boards can be mounted vertically or horizontally (mounting holes are spaced 40" apart and 9.25" across).
Whatever setup you choose, be sure to mount to a secure wall that can handle the weight of the board itself PLUS any static and dynamic loads being applied to the unit.
Specifications:
Made in the USA
Wood Board available in Pine or Maple
95.625" tall x 11.75" wide x 1.5" thick
35 Staggered Holes
2 Pegs / Dowel Rods: Unfinished Hickory – 6.5" long, 1.19" diameter
6 Counter Bored Mounting Holes
Mounting Hardware NOT Included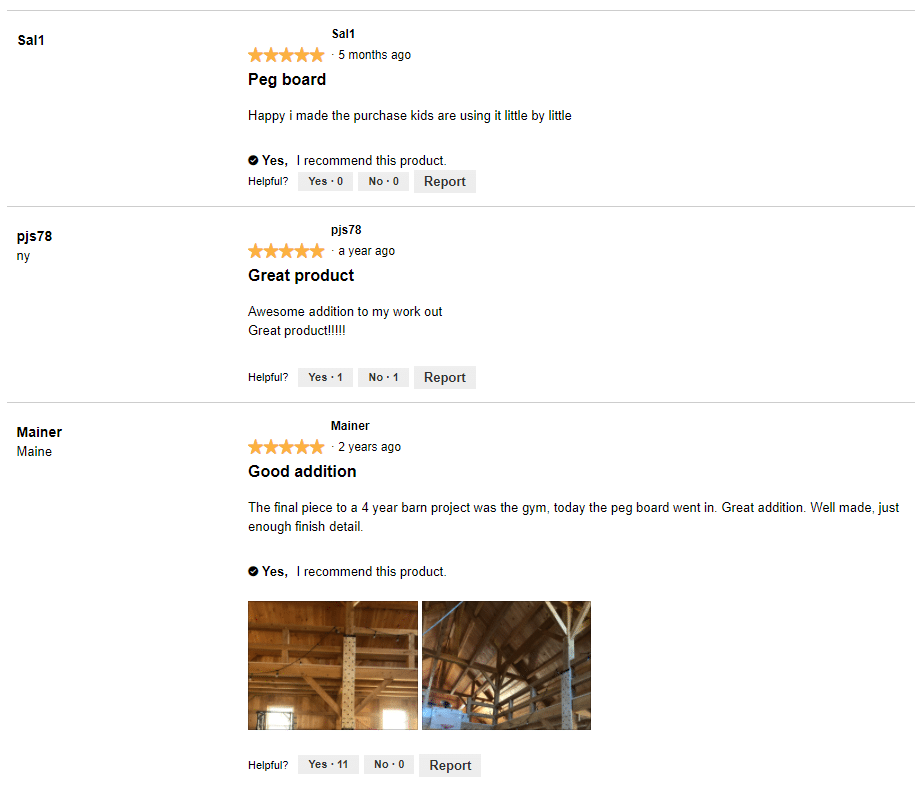 Benefits of the Peg Board
The Peg Board Builds Strength
The Board is an excellent tool for building muscle and upper body strength.
As well as pure raw strength, the Board also develops muscular endurance because of the large amounts of time under tension. Think about how long your body is active and engaged during a single ascent and descent of the Peg Board.
This is excellent for hypertrophy and endurance. You are forced to maintain control and precision at all times, even under extreme fatigue.
Every athlete must learn to balance their body whilst they grip onto a single stick. This requires a lot of strength and athletic competency.
The Peg Board Enhances Stability and Movement
During the movement many smaller muscle groups are coordinated and worked hard.
You must be able to hold your entire body in place whilst performing a skilled task (making sure the peg fits in the right hole).
This improves proprioception and stability in a way that will transfer over to other harder bodyweight exercises.
The Peg Board Helps to Reduce the Risk of Injury
The Board demands solid strict movement. You cannot fake your way up the Board.
Because of this, every time you train on the Board you will strengthen your shoulders, back, arms and core in an honest and effective way.
The shoulders are especially taxed by the Board.
This is great because the shoulders are one of the easiest joints in the human body to injure.
Sustained effort on the Board will then strengthen them for other exercises (weightlifting, gymnastics) or outdoor activities (rock climbing, kayaking etc).
Which Muscles does the Peg Board Work?
The Board was a staple piece of equipment in climbing long before it found its way into functional fitness.
As a result it works many upper body muscles that are also incredibly useful for climbing:
Latissimus Dorsi
Traps
Shoulders (especially the rear delts)
Biceps
Chest
Forearm
Grip and Fingers
Many other smaller muscles are also worked by the Board. These include:
The Teres Major (situated below the shoulder blade) is responsible for internal rotation.
The Brachialis (above the elbow) help to move and balance the forearm.
Peg Board Technique Tips
These technique tips will help you improve your ability on the Board.
Keep your body close to the Board.
Shift your weight to the side of the body with the supporting arm (the one gripping the Peg that is already in the hole).
Make sure to always remove each Peg from the hole with a horizontal trajectory. This will make it less likely to stick, which in turn would waste precious time and energy.
Keep your chest at the same height as the Peg that is inserted in the hole.
What Else can you Use a Peg Board for?
A Board can be a great tool for getting creative with your Pull Ups.
It can also be used for Leg Raises, Toes to Bar or Knees to Elbow.
Peg Board Workouts
Add these Workouts into your training.
Workouts – Peggy
Amrap 12 min
1 Board ascent
100m run
12 single arm devil's press
The goal is to not have to scale the Peg Board ascents, so take it easy on the run and the devil's press.
Workouts – Split Triplet
5 Rounds for Time
1 Board Ascent
100 Double-Unders
10 Dumbbell Hang Split Snatches (80/55 lb)
10 Dumbbell Hang Clean-and-Jerks (80/55 lb)
Time Cap: 20 minutes
For the Peg Board ascent, both pegs must make it to the top row. Both pegs must come below red line before dropping.
Athletes must use opposite arm from lead leg on split movements. Athletes must alternate arms on each rep of the hang snatch.
Workouts – Redemption
For Time
3 Board Ascents
21 Thrusters (135/85 lb)
2 Peg Board Ascents
15 Thrusters (135/85 lb)
1 Board Ascent
9 Thrusters (135/85 lb)
Time Cap: 10 minutes
With a running clock, as fast as possible perform the prescribed work in the order written.
Score is the time on the clock when the last 9 Thrusters are completed.
Workouts- Cerberus
21-15-9
4-3-2
Then:
15-12-9
3-2-1
Then:
12 Bench Press (205/145 lb)
2 Rope Climbs 15′
9 Bench Press (205/145 lb)
1 Board Climb
6 Bench Press (205/145 lb)
1 Legless Rope Climb 15′
Move immediately from one section of the workout to the next. No rest between sections.
Workouts – Aeneas
For Time
5/4 Board Ascents
40 Thrusters (85/55 lb)
33 feet Yoke Carry (425/345 lb)
33 feet Yoke Carry (565/405 lb)
33 feet Yoke Carry (665/445 lb)
Time Cap: 8 minutes
Athletes will complete the Board ascents and 40 thrusters before moving to the yoke.
They then will carry the yoke across the floor, stopping twice to add weight, then crossing the finish line.
Workouts – Pedal to the Metal 1
For Time
3 Board Ascents
24 calorie Row
16 calorie Bike
8 Dumbbell Squat Snatches (100/70 lb)
Time Cap: 6 minutes
Athletes will move through stations of each exercise. The event is complete when the athlete finishes the last rep of the Dumbbell Squat Snatch and crosses the finish line.
Score is the time on the clock when the athlete crosses the finish line.
Workouts – Eight Pin
3 Rounds for Time
8 Deadlifts (135/95 lb)
8 Lateral Burpee Bar Hop Overs
8 Hang Power Cleans (135/95 lb)
8 Lateral Burpee Bar Hop Overs
8 Shoulders to Over-Head (135/95 lb)
10 ft Board Ascent
Choose one bar and weight for the execution of lifting movements. For the lateral burpee bar hop overs, be sure to have two feet on the ground before takeoff.
Perform one Board ascent at the end of each round, this is a great entry level to board climbing in WOD conditions for the athlete who has just begun to discover this movement.
Upgade your Gym and Fitness
So now you know what type of Board is right for you, and what workouts you should try, check out this collection