Why You Should Train with the Rogue 3 In 1 Sandbag
Everything you need to know about the Rogue 3 in 1 sandbag, and why you need it in your gym and training.
What is the Rogue 3 in 1 Sandbag?
It is a durable sandbag that also allows for three additional training options.
This ingenious training tool gives every athlete far more options that a regular sandbag.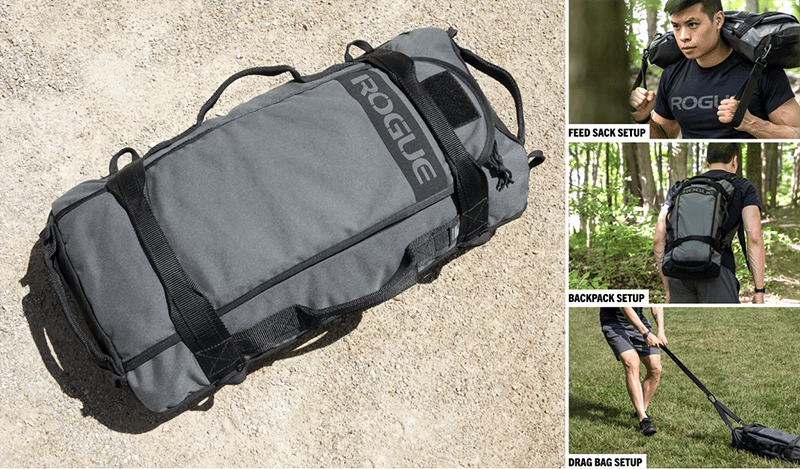 The price is normally $220.
For November 2023 only it is $175!
How Does the Rogue 3 in 1 Sandbag Work?
This high quality and extremely durable sandbag is unique because it allows you to use the equipment in three distinct ways.
Each variation allows you to use the sandbag as a completely different training tool.
Sandbag with Straps
The small handles allow you to carry the sandbag securely on your back when squatting and training, or in the front rack position. It can also be picked up, thrown and carried.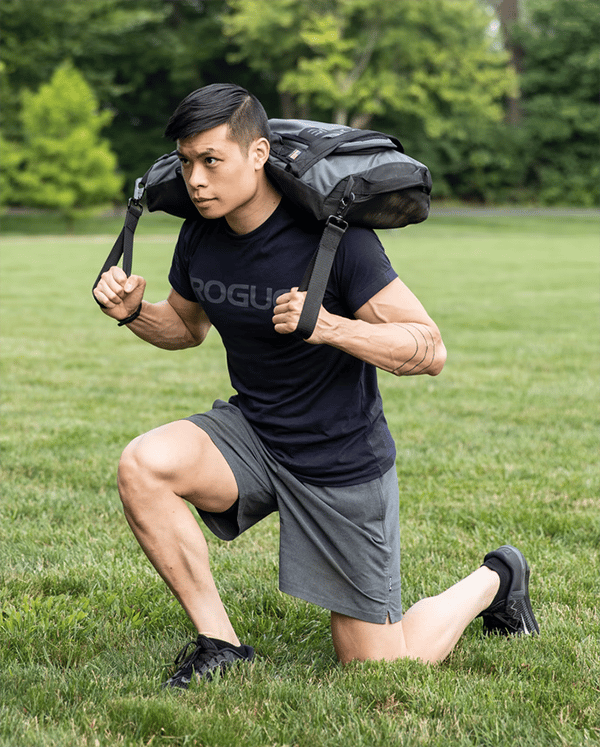 Backpack
Longer straps cleverly attach to turn the sandbag into a weighted rucksack. Perfect for rucking and sprinting.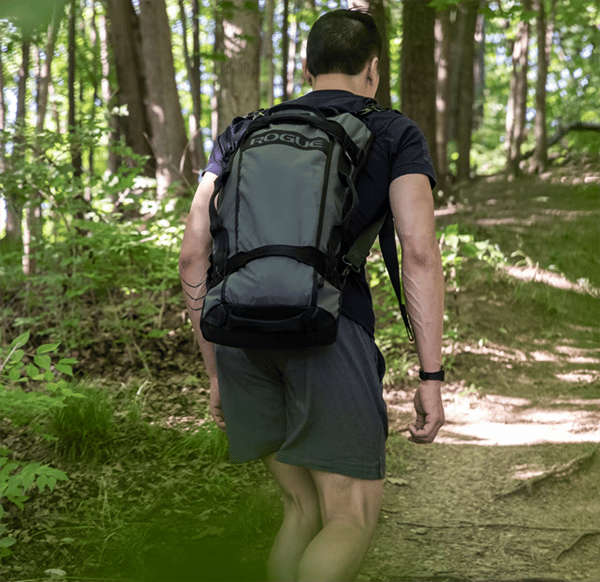 Drag Bag
This adapts the sandbag into a sled weight that can be dragged wherever your workout requires.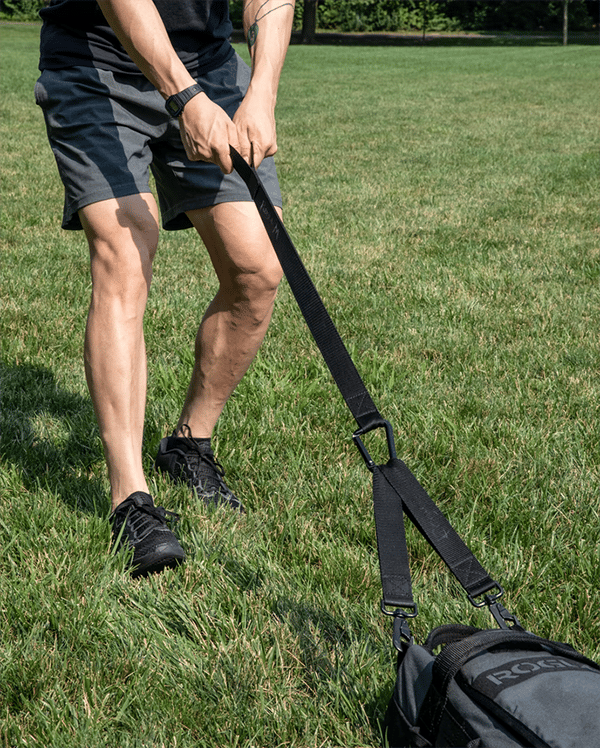 The Rogue 3 in 1 Sandbag Details and Equipment
A dynamic new variation on their time-tested Rogue Training Sandbags, it comes with additional sets of straps and attachment points, enabling more configurations for a wider variety of workouts.
Each bag includes a pair of 12" utility straps for a long-handle set-up (similar to the Rogue Feed Sacks), two Backpack straps for ruck-style training, and a single 32" long strap for dragging. All of these straps can be conveniently stored in the built-in mesh pocket we've included under the main flap opening of the bag.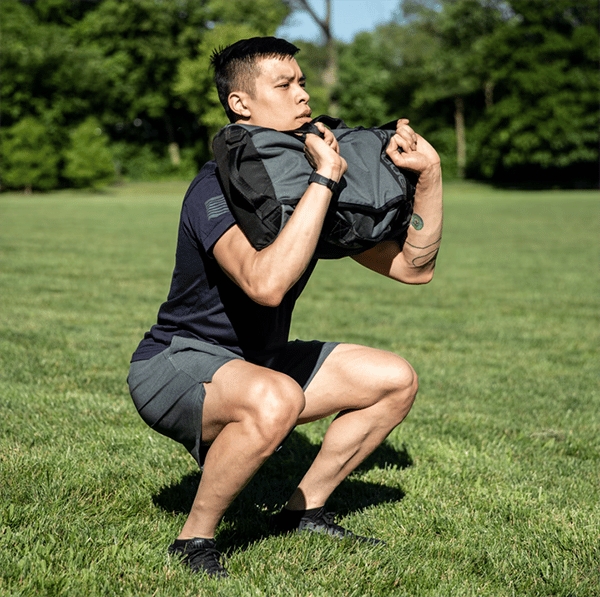 The Rogue 3 in 1 Sandbag measures 24" in length (same as the standard Medium Rogue Sandbag) and is constructed from 1000D Cordura with heavy-duty nylon webbing, laser-cut Rogue branding, and a 2×3" loop rectangle for adding a custom patch.
The bag features (6) x-box stitched exterior handles and the 12″ Utility Straps include a swivel hook design to prevent twisting during use. On the interior, built-in reinforcement straps are designed to secure and lock in any added filler/weight, creating a stabilizing "web" when cinched down.
Different Options
Rogue offers the 3-in-1 Sandbag is three formats, depending on your filler preferences:
Option 1 – Bag and Straps Only
No filler bag is included with this option, but we still recommend using one in order to prevent sand from leaking or getting trapped in the sandbag's zipper.
Option 2 – Bag & Straps and Medium Funnel Filler
The funnel filler option allows users to get their bag to a maximum weight capacity of 80 LBS with sand (32 LBS w/ crumb rubber). Please Note: The funnel filler needs to be inserted into the bag prior to filling, so this option lacks interchangeability.
Option 3 – Bag & Straps and (4) 10LB Rogue Brick Bags
Our 10 LB "Brick Bags" are loadable 10.5" long mini sandbags made from 1000D Cordura with a secure Velcro closure.
This option is best for athletes who may want to swap out weights more often and with less effort. While a set of 4 are included standard with this package, the 3-in-1 Sandbag can hold up to (6) 10LB Brick Bags, for a max capacity of 60 LBS.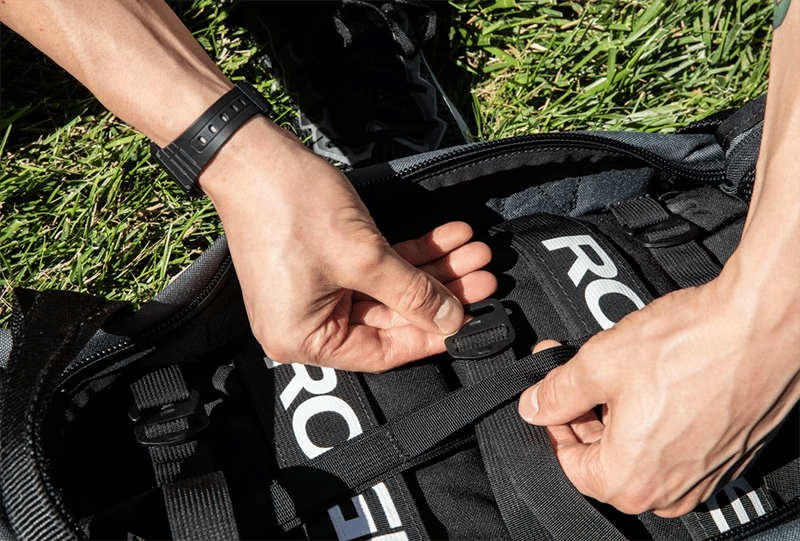 The 3 Different Training Set Ups for The Rogue 3 in 1 Sandbag
The huge advantage of the sandbag is that it can easily be changed into three different set ups, providing you with three great options for your training.
Sandbag / Feed Sack Set Up
A pair of multipurpose 12" extension straps enable the 3-in-1 Sandbag to function similarly to the long-handle design of the Rogue Feed Sacks.
The swivel hook design ensures the utility straps won't become twisted during use. In this configuration, athletes can quickly move the bag into a sprint-carry position on the back/neck.
It's also useful for squats, thrusts, clean and press, and more.
Backpack Setup
Rogue have included a pair of adjustable backpack straps with 3" wide cordura + spacer mesh padding over the shoulders.
These straps clip on quickly and easily using the black swivel hooks on each end. Enables rucking as well as bonus potential as a standard rucksack or backpack outside the gym.
Drag Bag Setup
Users can configure the Sandbag as a drag bag by using the (2) 12" utility straps on one end of the bag and then connecting them to the 32" long dragging strap via the included carabiner.
They have reinforced the bottom of the bag with ballistic nylon to improve the durability when dragging.
Gear Specs
Made in the USA
Patent Pending
1000D Cordura Construction
Heavy-Duty Nylon Webbing
Weight (Unfilled): 3.75 LB
Dimensions (Unfilled): 24" L x 13" W x 5" H
Laser-Cut Cordura Rogue branding
2×3" Loop Patch Space
6 Exterior Handles
Interior Cinching Straps for Securing Weight
Mesh Pocket for Holding Attachable Straps
Included Attachable Straps: (2) 12" Utility Straps, (2) Adjustable Backpack Straps, (1) 32" Dragging Strap
Fill Capacity (Sand)
80 LB w/ Funnel Filler, 60 LB with Brick Bags.
Note: (4) 10LB Brick Bags included with standard Brick Bag option.
Notes about the Rogue 3 In 1 Sandbag
Do not use on abrasive surfaces as this may cause damage to the product.