Rogue vs York – What is the Best Vertical Plate Tree to Buy?
So, what is the best vertical plate tree to buy for your needs?
Whether you are equipping your home gym or completing the storage needs for your CrossFit Box or commercial gym, vertical plate trees are an excellent way to keep your space organised and professional.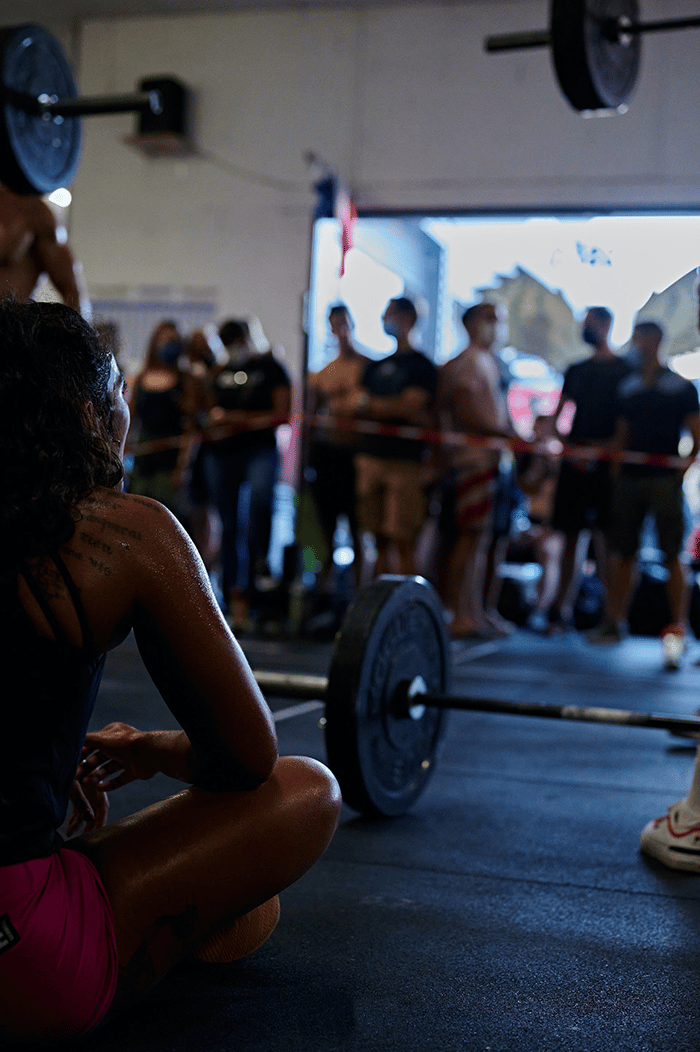 What is a Vertical Plate Tree?
A vertical plate tree is a storage system designed to hold bumper plates and weight plates for weightlifting.
Some variations also stack barbells.
What are the Benefits of Vertical Plate Trees?
More organised gym space
Increased floor space for athletes and workouts
Keep bumper plates and weight plates safe
Easier loading and unloading of weights and barbells during training sessions
Quick Choices
If you already have a good idea of what you need, check out our quick guide.
Click on the link that is most applicable to your requirements.
Otherwise scroll down to find the perfect storage system for your garage or commercial gym or box.
Rogue vs York Vertical Plate Trees – What Sets them Apart?
York Olympic A-Frame Plate Tree
It is what it is. The classic A-Frame plate tree that has been accommodating 2″ Olympic plates for over 60 years.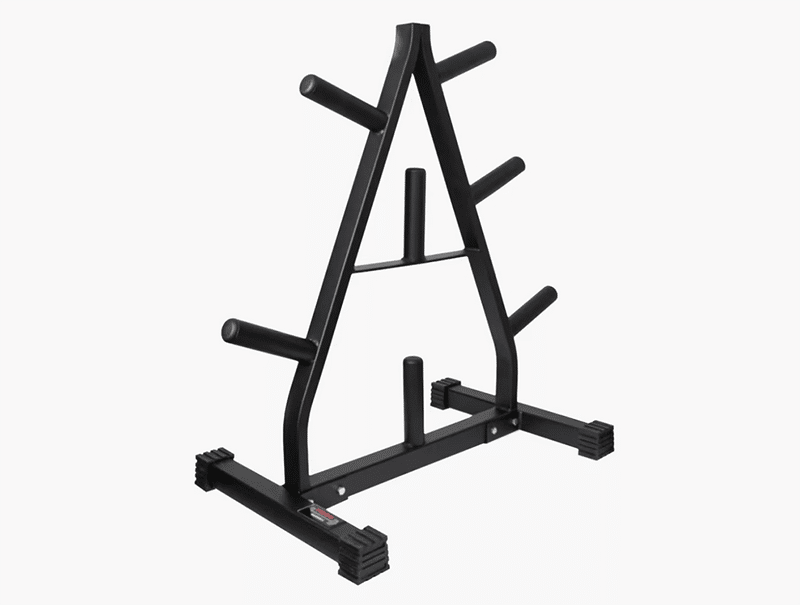 York practically invented the barbell, so they definitely know how to make a bulletproof plate rack.
Gear Specifications and Dimensions
Length: 29″
Width: 20″
Height: 36″
7 pegs for Olympic plate storage
Colour: Black
Made In USA: No
Rogue Vertical Plate Tree 2.0
The simple, old-school plate tree is still the gold standard when it comes to efficient bumper storage at affiliates and garage gyms around the globe.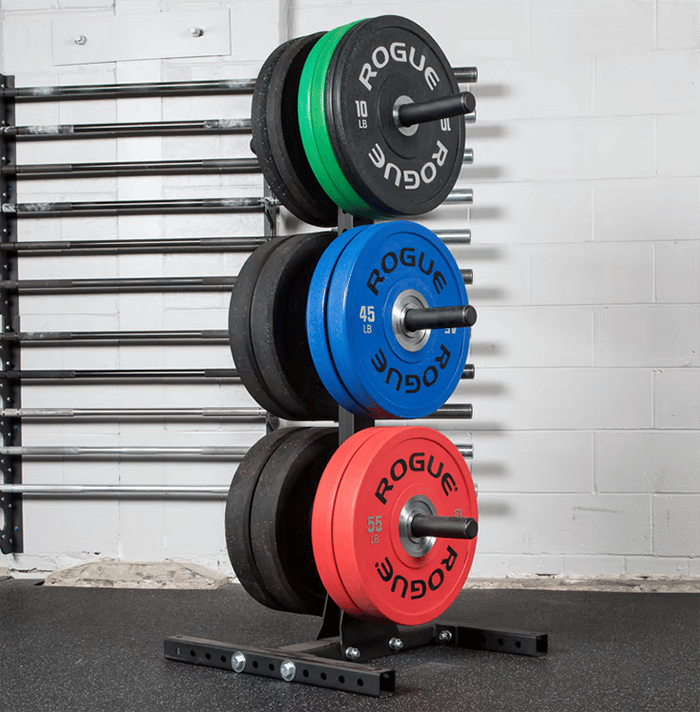 That said, there's always room for a little refinement. Rogue's updated Vertical Plate Tree—built in the USA—improves on traditional models with a reinforced triangle-plate base, optional wheels for mobility, and re-positioned posts that enable full-size Oly plate storage on all three tiers.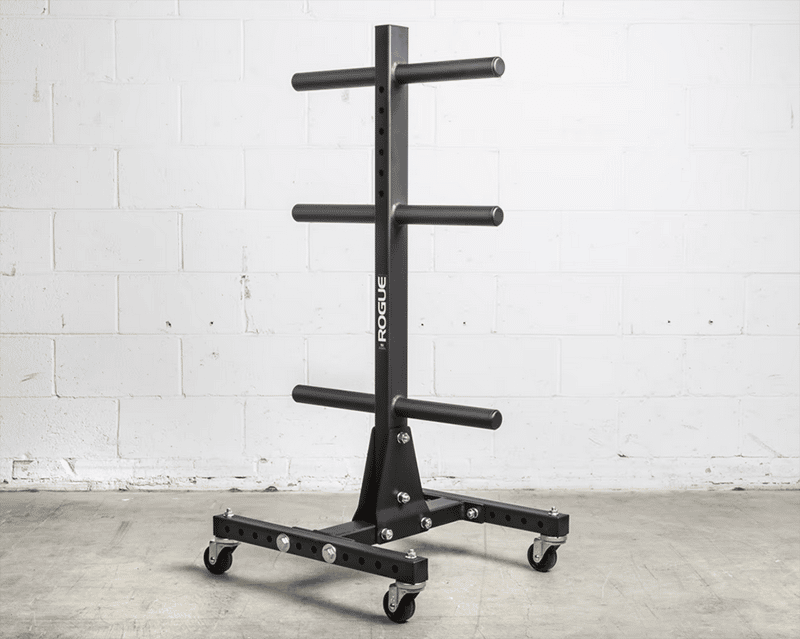 The unit's new bolt-together design also reduces shipping costs while maximizing overall stability.
Compatible with any and all IWF standard Olympic plates, the Vertical Plate Tree 2.0 is equipped with six 12" long storage posts (three on each side) constructed from 1.5" Schedule 40 pipe. Each of the posts on the roughly four-foot tall tree are evenly spaced at 18.275″ on centre to offer a good mix of versatility and storage capacity.
What is the best Rogue Deadlift platform?
Gear Specifications and Dimensions
Made in the USA
26″, 12″ post length L x 24″ W x 50″ H
New, Bolt-Together Base Design w/ Triangle Plates
(6) 12" Plate Storage Posts – Schedule 40 construction
All 3 Tiers compatible with Full-Size 450mm / 1.9″ OD Olympic Plates
Weight post spacing: 18.275″ on center
Optional Set of (4) Wheels Available
Made In USA: Yes
Length 26″, 12″ post length
Width 24″
Height 50″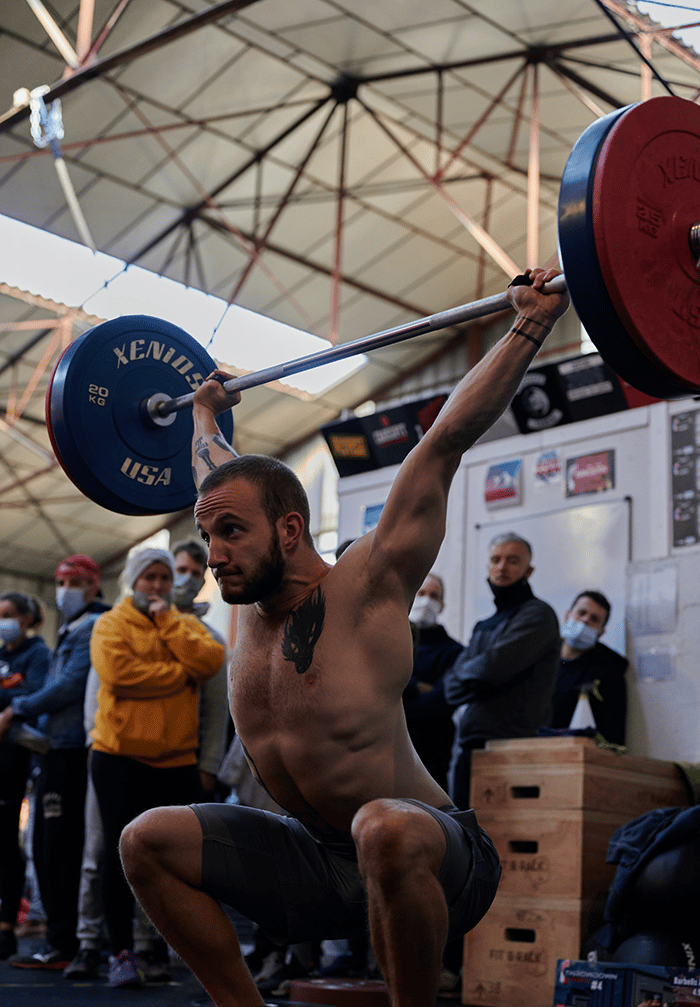 York Single Sided Bumper Plate Tree
Vertical bar storage for two Olympic Bars and two vertical pegs for collar storage.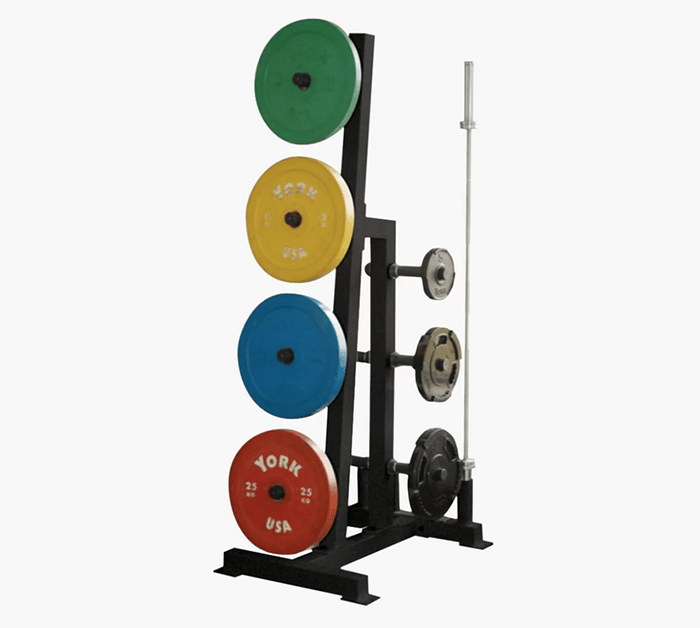 The front side of the tree features four weight storage pegs to accommodate Bumper Plates or any 45LB iron plates.
Six additional plate storage pegs are located behind the front side of the tree; two more pegs for Olympic Plates, 45LB or 100LB. plates, and four more pegs for smaller increments.
Gear Specifications and Dimensions
Colour: Black
Made In USA: No
Product Weight: 198LB
Length: 43″
Width: 28″
Height: 79″
Material Type: 8 Gauge Steel Tubing for a heavy, stable frame
Front Storage Peg Length: 12 7/8"
Side Storage Pegs Length: 8-1/4″
What is the Best Place to Buy a Vertical Plate Tree?
The best place to buy a vertical plate tree is from Rogue.
How Much Do Vertical Plate Trees Cost?
How Long do they Last?
These are some of the most durable and long-lasting pieces of gym equipment that exist.
To be honest, you will probably never need to replace them your entire life.