Rogue vs Force USA – What is the Best Leg Press Machine?
So, what is the best leg press machine?
In this article we will pit Rogue against Force USA, two titans of the fitness equipment market, so that you can find the right leg press machine for your home or commercial gym.
The leg press machine is one of the most popular pieces of gym equipment and a must-have for any home or commercial gym.
If you already have an idea of what you need, click on our quick guide below to find our top recommendations.
Quick Guide
What is a Leg Press Machine?
A leg press machine is a piece of exercise equipment used to strengthen the lower body. It's particularly useful for building muscle mass and strength in the quadriceps, hamstrings, and glutes muscles.
What are the Benefits of a Leg Press Machine?
The leg press machine is an essential piece of equipment for many gyms. It's a good choice if you want to build muscle and get stronger, as it allows you to add weight easily and gradually over time. This can help prevent injury and keep your workout safe.
It locks the athlete into place, isolating the pressing movement and taking out the need for balance and stabilisation that would other wise be needed from a back squat or lunge.
This means athletes can go heavy and really blast out the reps to maximise those strength and muscle gains.
It is also incredibly popular with large numbers of gym goer as a leg day accessory or finisher exercise.
It is also suitable for athletes of all ages and ability levels.
This makes it a great investment, as it will keep a lot of people happy.
Rogue vs Force USA Leg Machines – What Sets them Apart?
| | | | |
| --- | --- | --- | --- |
| Brand | Force USA Leg Press Combo | Rogue ISO Leg Press 35 | Force USA Compact Leg Press |
| Height | 60 in | 47" | 57 in (145 cm) |
| Angle | 45-Degree Angle Sled | 45-Degree Angle Sled | 45-Degree Angle Sled |
| Width | 66 in | 64 in | 52 in (132 cm) |
| Depth | 94 in | 98 in | 65 in (165 cm) |
| Weight Rating | 1000 lb | 2,475 lb | 660 lb (300 kg) |
| Extras | Adapts for 4 different exercises | Adapts for single leg work with split platform Professional gade | Easy to store |
| Price | I,999.99 USD | 6,250.00 USD | 1,099.99 USD |
| Where to Purchase | Force USA Combo | Rogue ISO Leg Press 35 | Force USA Compact |
Force USA Ultimate 45 Degree Leg Press Hack Squat Combo
When You're Serious About Leg Day!
The Force USA Ultimate Leg Press & Hack Squat Combo is engineered to develop explosive lower body strength and solid legs.
It features a 45-degree angled design that combines a leg press, hack squat, forward thrust, and calf raise into one lower body strength training system!
4-In-1 Combination Machine
45-Degree Angle Sled
5 x Leg Press Plate Angles
6 x Leg Press Back Rest/Hack Squat Plate Adjustment Points
5 x Starting Leg Press Heights (Lock Out)
5 x Safety Stopper Positions
4 x Band Pegs Included
9 x Band Peg Adjustment Points
4 x Weight Plate Storage Holders
Olympic or Standard Weight Plates
Developing Your Legs Has Never Been Easier
The Force USA Ultimate Leg Press and Hack Squat Combo is engineered to quickly develop and strengthen your lower body muscles including your quads, hamstrings, glutes, and calves.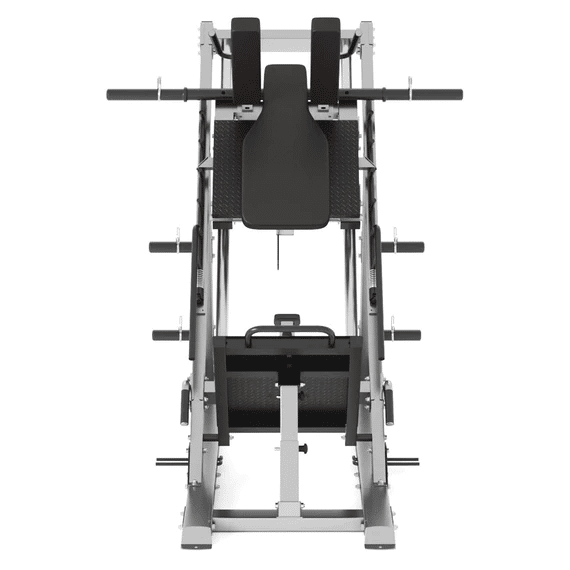 Boost your metabolism and increase your athleticism as you develop a solid foundation for all of your strength training. Simple to use even if you've never used a Leg Press machine before.
A staple in fitness facilities, their combo machine is used by high-performance trainers, athletes, strength training coaches, and personal trainers alike for serious lower-body development.
Quickly and easily convert from one machine to the other in seconds. Back pad angle, foot plate angle, and safety stopper adjust with a simple pull of the pop-pin.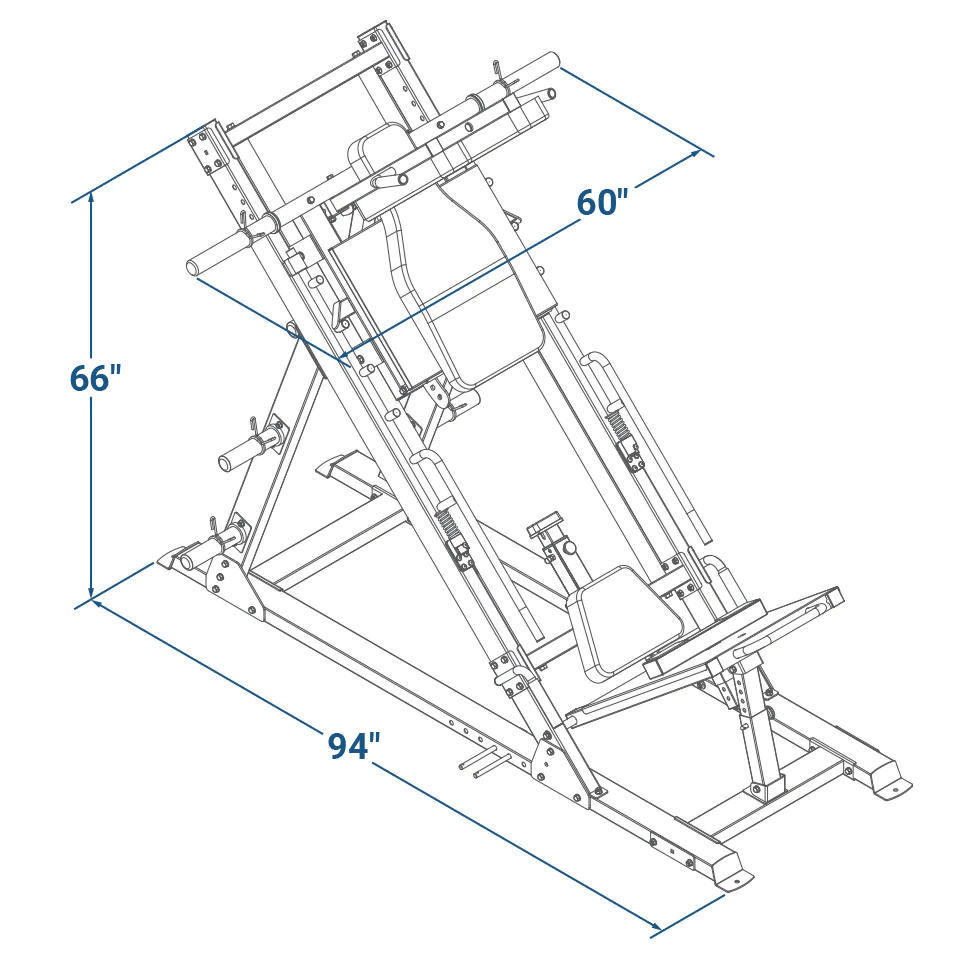 Built-in safety components provide enhanced safety. Train confidently to muscle failure. Safety rail handles on both sides. Adjustable safety catch stops the carriage from lowering any further.
Band peg positions on the upper frame provide assistance and lower frame positions add greater resistance to your concentric phase when combined with our optional Super Bands.
Combines Four Leg Machines into One Compact Unit
This is an incredibly versatile leg press machine, allowing you to change the set up in order to perform 4 different exercises.
Leg Press
The Leg Press offers a comfortable seat with an oversized footplate allowing you to vary your stance for greater emphasis on specific leg muscles. Ultra-smooth in motion thanks to the Force USA Hover-Glide mechanism.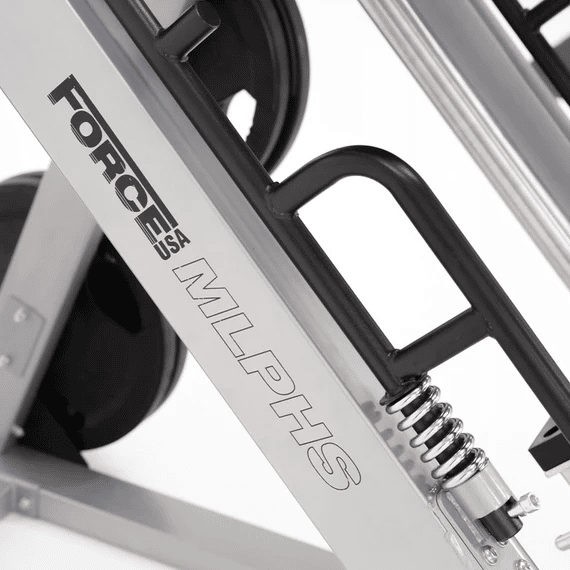 Hack Squat
The Hack Squat targets your Quadriceps, Hamstrings, and Glutes with deeper squats and varied foot positions for a wide range of movements and isolations. Padding and handles have been lengthened to offer ideal positioning regardless of your size.
Forward Thrust
With their innovative design, you can even do forward thrust exercises when you step onto the metal floor plate and face forward towards the pad.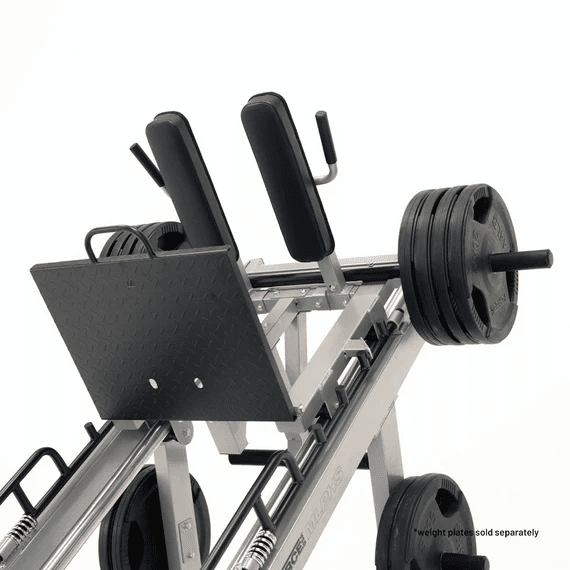 Calf Raise
The Force USA Ultimate Combo includes a calf block attachment to help you isolate, develop, and strengthen your calves.
Included with the Force USA Leg Press and Hack Squat Combo:
26 x 22 in Foot Plate
Extra-Sturdy 13 GA Steel Construction
11 GA Steel Joints and Stress Points
Dual Floor Support Beams for Maximum Rigidity and Stability
2 x 4 in Steel Mainframe
Calf Block for Calf-Focused Workouts
4 Weight Plate Storage Holders
Additional Plate Holders Beneath Sled for Extreme Weight
4 Band Pegs and 6 Band Peg Positions
5 Racking/Safety Lockout Positions
Laser-Cut Powder-Coated Steel Construction
Commercial Grade Vinyl Upholstery
Specifications:
| | |
| --- | --- |
| Width | 66 in |
| Depth | 94 in |
| Height | 60 in |
| Foot Plate | 22 x 26 in |
| Weight Rating | 1000 lb |
Rogue Iso Leg Press 35
The Rogue Iso Leg Press 35 is a heavy-duty, bilateral/unilateral leg press machine suited for athletes of any size and experience level, with 4 weight pegs offering a total load capacity of up to 2,475 LBS.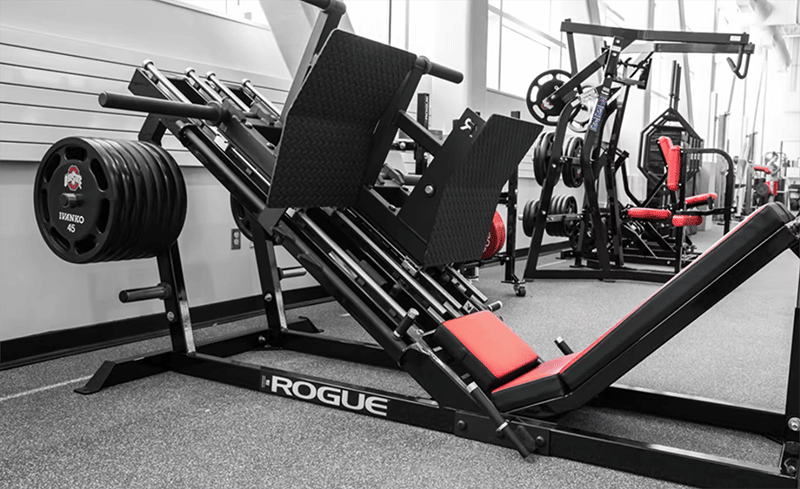 A pop-pin adjustable lumbar seat and adjustable spring safety stops are also part of this innovative design, along with a multi-angle diamond-tread foot deck, linear ball bearings for smooth action, and four bolt-on stainless steel posts for additional plate storage.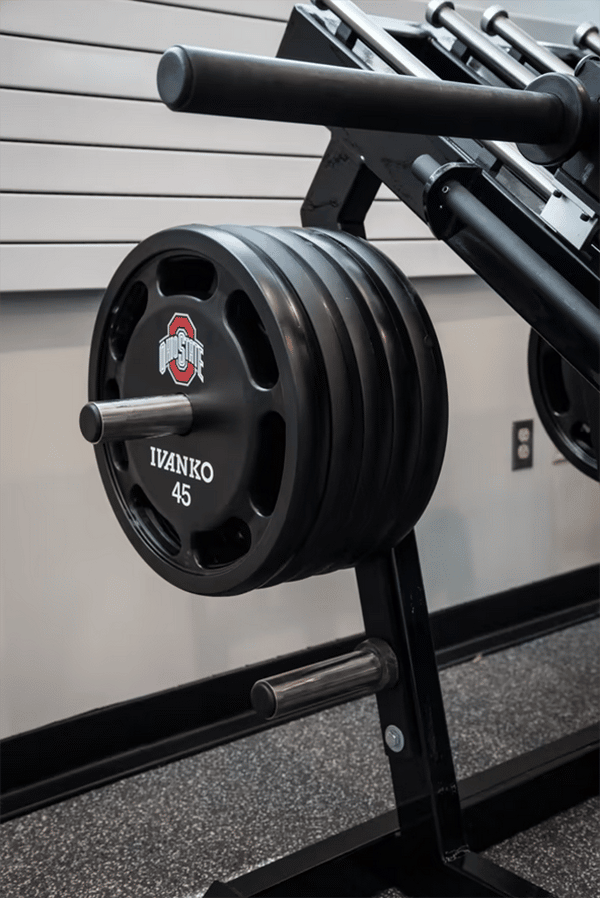 As one of the few professional-grade, American-made leg press machines on the market, the 700LB Iso Leg Press 35 addresses many of the old criticisms of these machines, delivering more than 60% of true weight in average resistance and allowing for concentrated double and single leg exercises.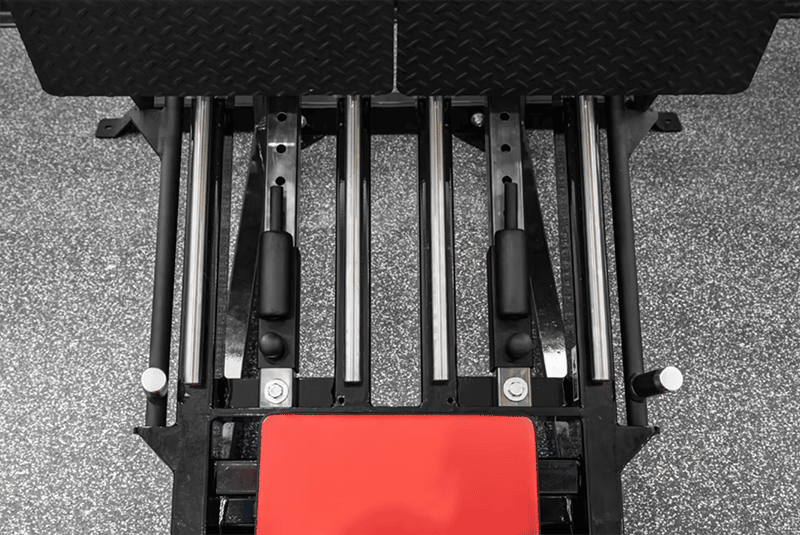 Each unit is constructed from quality steel with a Texture Black Powder Coat finish on the weight peg assembly, spring stops, locking handles, and foot deck (for added grip/traction).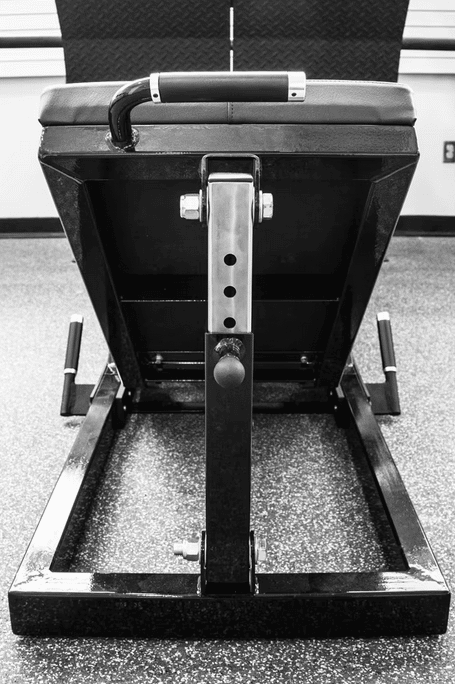 The rest of the main frame—and the storage post mounting plates—feature a Medium Gloss Black finish.
Specifications:
Built in USA
Weight: 708LB, 182LB sled weight
2,475LB weight capacity (with 1″ thick cast iron plates)
Adjustable Lumbar Seat & Spring Stops
Two Angle Foot Deck
Spring Loaded Stop Handles
(2) 17.25″ Weight Pegs and (2) 10.5″ Weight Pegs
(2) 14″ Storage Posts and (2) 7″ Storage Posts
Texture Black Powder Coat Finish on Foot Deck, Weight Pegs, Spring Stops & Locking Handles
MG Black Finish on rest of frame
Unit Ships Fully Assembled
Force USA Compact Leg Press
The Force USA Compact Leg Press is a powerful lower body strength training solution that's perfect for garage gyms or home gyms with limited floor space.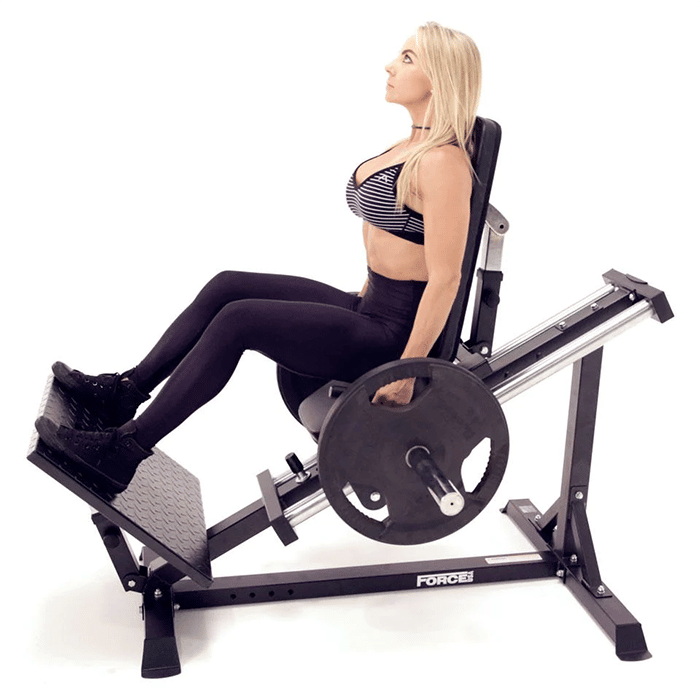 Never skip leg day again with this innovative space-saving leg press that combines a standing leg press and a calf raise into the space of a single compact leg press footprint.
Measuring 65 in deep and 52 in wide, the Force USA Compact Leg Press is designed to use the least amount of floor space while providing the most beneficial leg exercises.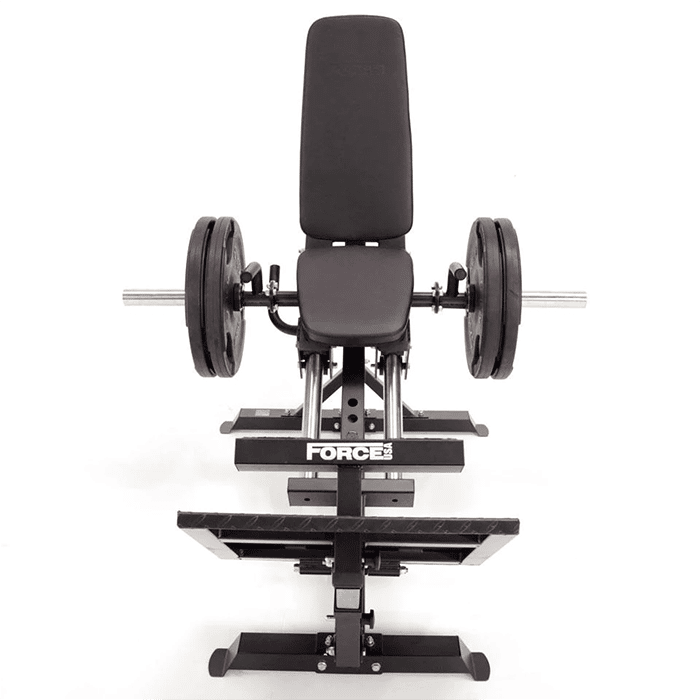 Made of heavy-gauge rolled steel tubing with a lifetime structural warranty and a weight capacity of 660lb, you know it's built to last.
The ultra-smooth track provides a full range of motion from the top all the way to the bottom and back up again. Accommodates user heights up to 6 ft 6 in.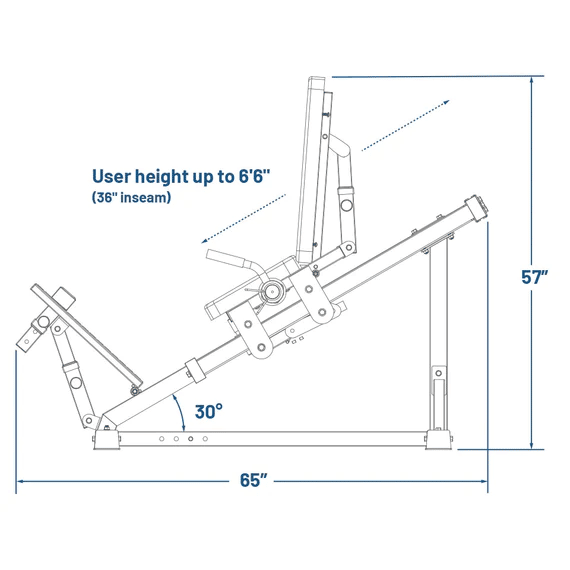 The footplate measures 23 x 20 in so you can target different muscles or different parts of the same muscles by placing your feet wider or closer apart or by turning the foot.
12 in long sleeves allow you to add a greater number of weight plates to help you max out each workout.
Adjusting the back pad or footplate angle and calf block height is simple thanks to commercial gym pop-pins. Safety pin positioning helps control proximity to the footplate.
Stability has been enhanced with wide steel tubing and angled support framing. Solid steel-plated end caps add additional stability.
Ultra-smooth motion thanks to the Force USA Hover-Glide mechanism.
The hole positions on the Compact Leg Press and included Band Peg adds greater resistance at the peak of the concentric phase.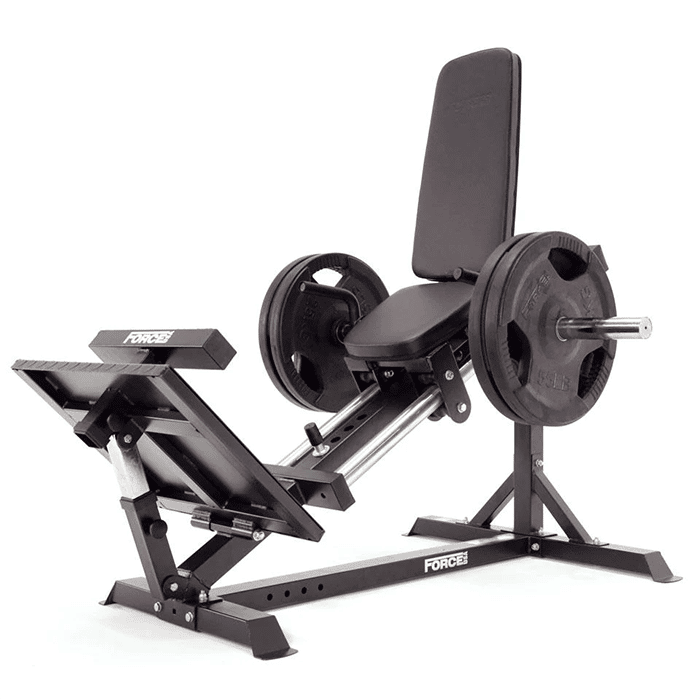 Ergonomic comfort-coated grip handles are positioned on either side. Assists in getting in and out and helps focus on leg drive when exercising with a heavy load.
Eco-friendly commercial grade powder coat followed by a clear coating. Durable and long-lasting protection.
High-density commercial grade foam padding with ultra-thick laminated wood base. Firm and comfortable.
Superior commercial grade vinyl upholstery. Rip-Stop mesh backing helps prevent rips and tears.
Specifications:
| | |
| --- | --- |
| Width | 52 in (132 cm) |
| Depth | 65 in (165 cm) |
| Height | 57 in (145 cm) |
| Foot Plate | 23 x 20 in |
| Weight Rating | 660 lb (300 kg) |
Is the Leg Press Machine Suitable for Beginners?
The leg press machine is an excellent way for beginners to start building lower body strength and muscle.
It's also a great way to build confidence in the gym, since it can be quite daunting when you're new and everyone around you seems like they know what they're doing.
The leg press machine is simple enough that anyone can use it, but it's still challenging enough that it will give you a good workout as well.
Are Leg Press Machines Good for Home Gyms?
The leg press machine is a great addition to any home gym. With this piece of equipment, you can work on building muscle in your legs and also focus on your balance and stability.
A leg press machine is a great way to get a full body workout by using just one piece of equipment.
You can perform the movement with light weights for high reps or heavier weights for low reps depending on whether you want to build strength or muscle. This will help develop both the upper and lower leg muscles, as well as stabilize the core area around your hips and spine.
Is the Leg Press Machine Essential for Commercial Gyms?
There are several reasons why leg press machines are essential for commercial gyms. They're a great way to build muscle and burn fat, they're affordable and easy to install, they can accommodate beginners as well as advanced athletes, and they're perfect for both strength training or cardio workouts.
You'll want to keep in mind that these machines aren't just for building massive quads or doing lunges with heavy weights—you can get an incredibly effective workout just by using lighter weights.
Conclusion
The leg press machine is a staple in any gym, and it's one of the best exercises you can do for your lower body. It targets your quads, hamstrings and glutes, which makes it perfect for shaping up those muscles! If you have been struggling with knee pain or wanting to build muscle mass on your lower half, the leg press may be just what you need.
How Much Do Leg Press Machines Cost?