Best Rogue Gym Bags for Athletes
These Rogue Gym Bags will kit you out for success whatever and however you train.
Rogue Fitness are a company that are synonymous with extremely high quality, functionality and durability.
They kit out events such as the CrossFit Games, demonstrating how their equipment functions superbly under the harshest conditions and most rigorous testing grounds.
Quick Links
If you know what kind of Rogue Gym Bags you are looking for, click on the quick links below to find our top choices.
Rogue Insidious Sling – X-Pac
This exclusive Rogue-branded version of DEFY's Insidious Sling carry bag is hand-made in Chicago, IL, utilizing a unique multi-layered composite fabric called X-Pac™.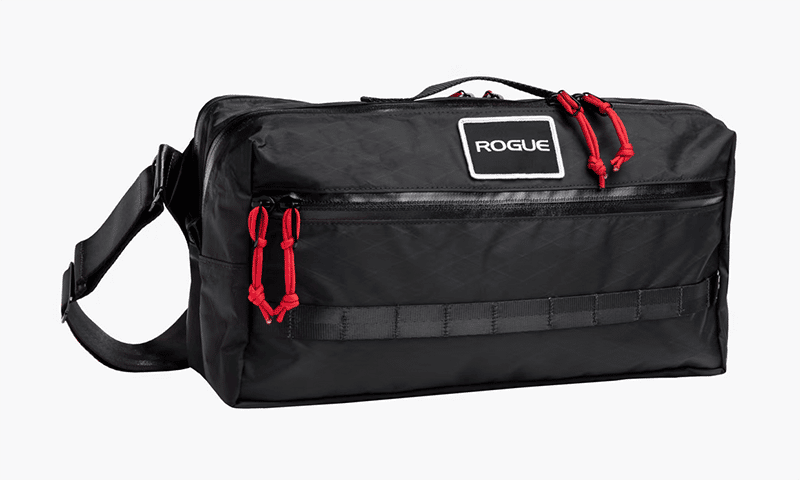 First developed for use in specialized racing sails, X-Pac includes a 210D Ripstop nylon face fabric, X-Ply mesh, and a polyester film + light 50D taffeta backing with a water-resistant coating.
Adapted for a multipurpose duffel bag, this combination creates a lightweight but structurally sound material that's rainproof up to 200 PSI, UV resistant, and able to retain its shape no matter how many gym lockers, trunks, or overhead bins it gets stuffed into.
The Insidious Sling is well suited for everyday use and big adventures alike, measuring a compact 16" wide x 9" tall x 5" deep, and equipped with a closed-cell foam padded strap (reversible from lefty to righty), a quick-release buckle (tested at 1,000 LBS), and YKK AquaGuard zippers.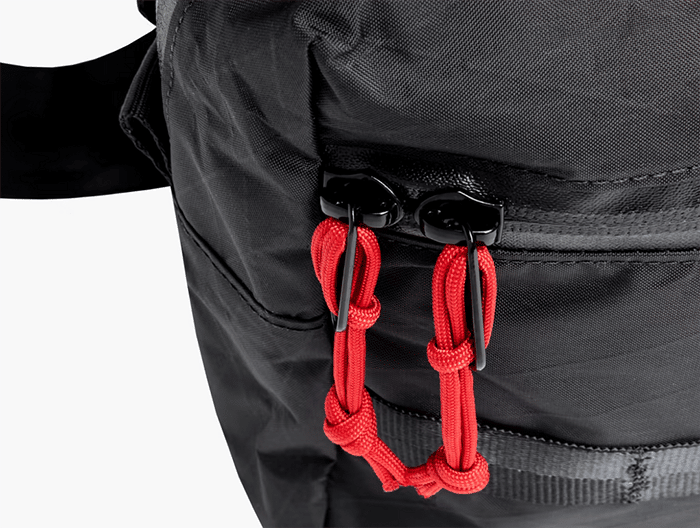 Sized for a standard 13" laptop, the carrier has an 8" x 16" padded tech pocket plus several additional interior compartments for small accessories and valuables.
It also fits a 13" x 4" water bottle with room to spare.
Specifications:
Hand Made in Chicago, IL
Exclusive design with Rogue logo in white and red zipper pulls
Dimensions: 16″ wide x 9″ tall x 5″ deep
Approved for Carry-On use
Materials: X-Pac™ / VX21 BLACK DWR – 1500, 210 D Ripstop Nylon face, .25 mil polyester film, Black Polyester X-PLY at 22, 50 D polyester taffeta backing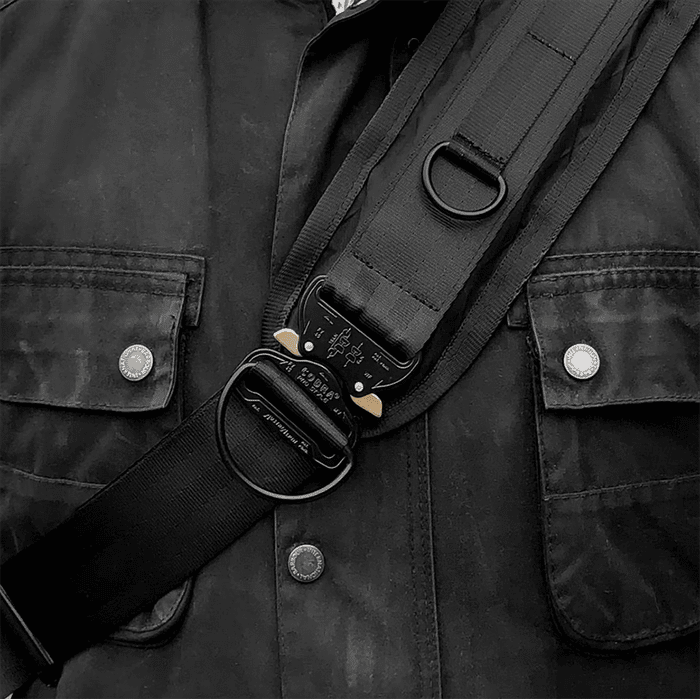 Fit: 13″ Mac Air, iPad, Camera, and other tech fitting below dimensions.
Padded Tech Pocket: (Closest to Body): 8″ Tall x 16″ Wide
Zippers: 3 YKK Water-Resistant VISLON® AquaGuard® Zippers
Strap: Closed-Cell Foam Padded – Removable, Reversible for 'Righties' + 'Lefties'
2″ AustriAlpin™ COBRA® Quick-Release Buckle capable of holding 1,000 lbs.
3 Compartments: Pockets, pen / tool holders, dimensional pockets, MIL-SPEC Rifle Gun Clip for keys
D Ring on Back: For attaching optional Stabilizer Strap
Weight: 2.5LB
Volume: 10.5 L
Rogue Gym Bag
The original Rogue Gym Bag is a 21st century take on the classic all-purpose, go-anywhere, take-a-beating carryall.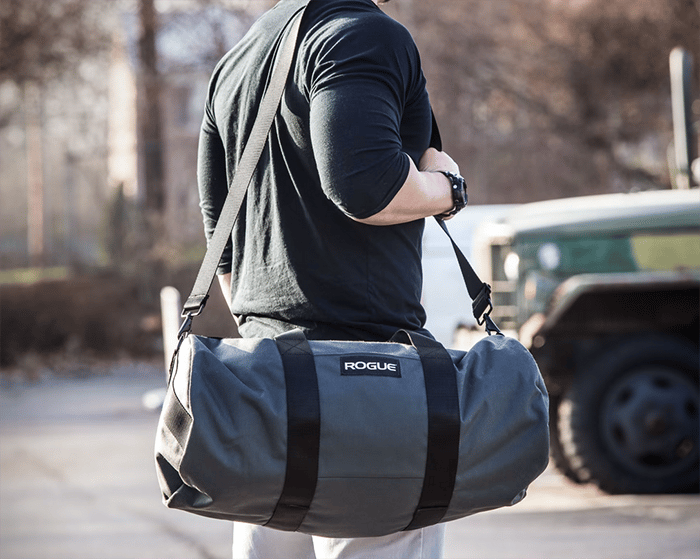 Made in America from 1000D Kordura, this compact 24"x 10"x10" duffel bag is equally at home in the locker room, out on the field, in your passenger's side seat, or stowed in an airplane's overhead bin.
Available here in standard black or grey and a new Ripstop Black design.
All versions of the bag include an adjustable and fully removable shoulder strap, two grip-friendly nylon handles, and a full-length zipper—securely reinforced to the bag using stitched-in nylon strips.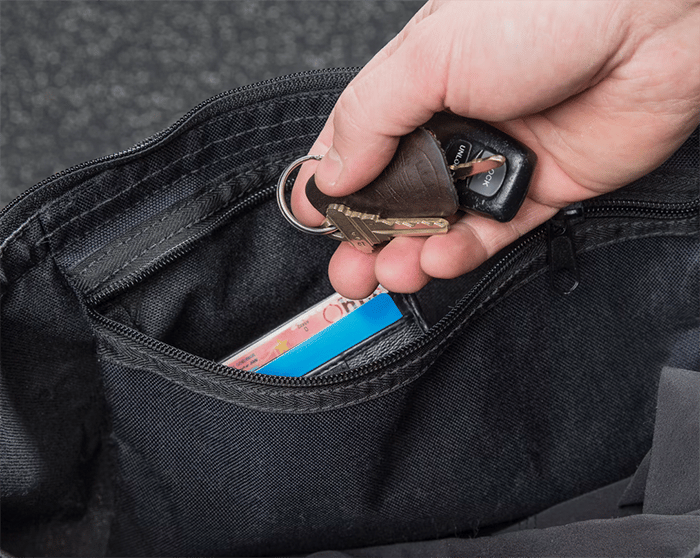 Each bag also features one external pocket and one internal zippered pocket for safely storing your valuables.
Rogue Gym Bags Specifications:
Made in the USA
Dimensions: 24" x 10" x 10"
Material: 1000D Kordura with 2″ wide nylon handles and straps
Colours: Black, grey or ripstop black
Adjustable/Removable shoulder strap connects to metal D-rings with metal strap clips on each side of bag
Full-length primary zipper for quick, easy access
external pocket and (1) zippered internal pocket
External Rogue logo patch
Rogue Tote Bag
Rogue's Tote Bags are Made in the USA from 1000D Cordura, with two sets of nylon webbing straps attached—a short grab-and-go carry handle + a longer, over-the-shoulder option.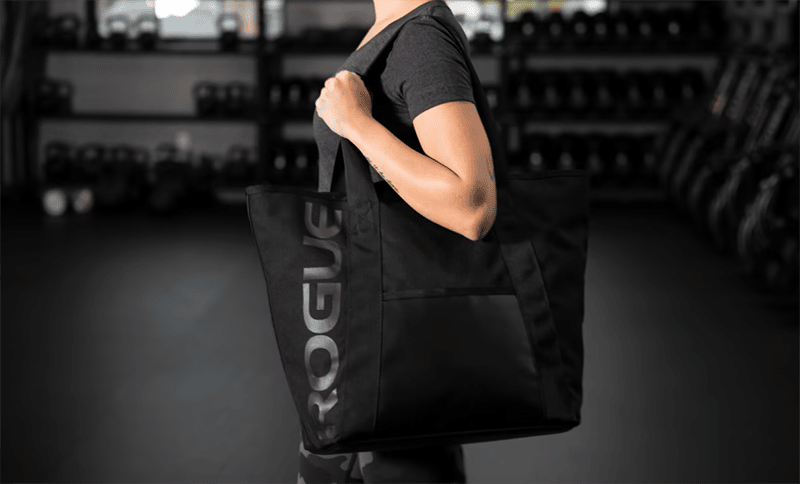 The bottom of each bag and its two exterior 8"x8" pockets feature the same durable vinyl material used in their Rogue Medicine Balls, so users can load up the tote with gym gear, groceries, odds and ends, etc. without worrying about tears/fraying of the fabric or outside moisture getting into the bag.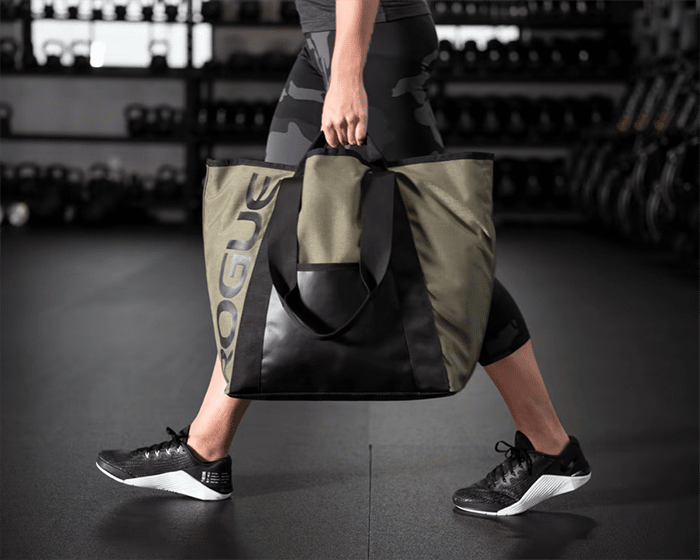 The interior of the Rogue Tote Bag is unique and multi-functional, as well, with a zippered closure cordura pocket, a velcro closed mesh pocket, and a gun-hook style clip that's great for securely holding a set of keys.
Customers can choose from two colour options: Black and Olive Green. Both versions of the tote include the Rogue logo printed vertically down one side of the bag.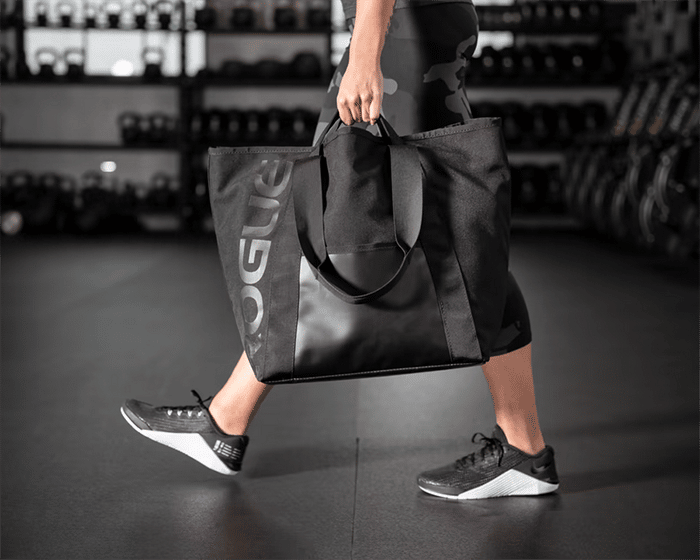 Rogue Gym Bags – Tote Specifications:
Cut and Sewn in Columbus, OH
1000D Cordura construction
Dimensions: 23″ wide at the top x 16″ tall. Base is 15″ wide x 9″ deep
Weight: 2LBS
Nylon Webbing Handles: Short hand-carry set and long shoulder strap set
Moisture & Scuff Resistant Vinyl protecting base and exterior pockets
Colour Options: Black or Green (both w/ Rogue branding)
Rogue Chalk Bag
The Rogue Chalk Bag is Made in the USA from 18 oz. coated vinyl, with medium-weight nylon webbing along the rim and trim.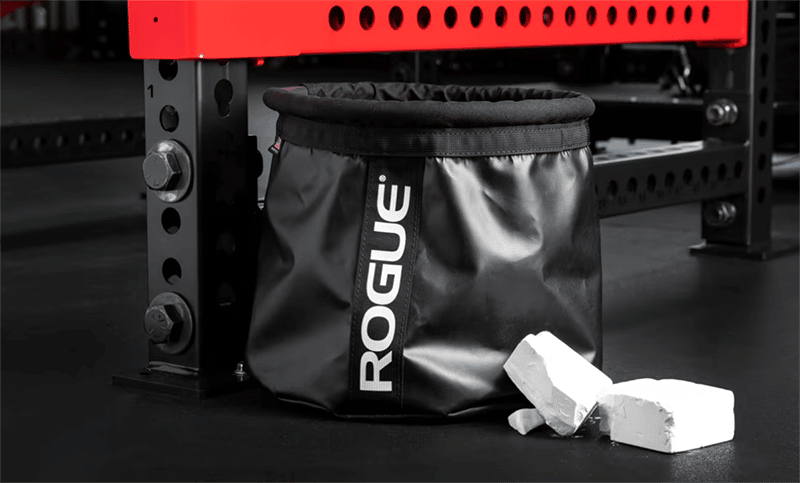 A wide open-top design enables easy access, and the ring tubing includes a 600×300 PVC polyester fabric sleeve-serving as a dust-wicking guard to keep the chalk in the bag and off your flooring.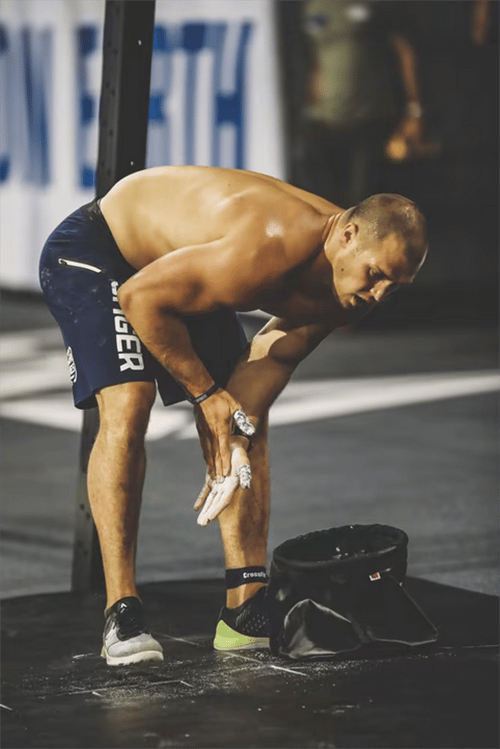 They're offering the Chalk Bag in black with a polyester Rogue logo patch attached.
Durable construction, convenient portability, and enough capacity to serve a large-scale gym.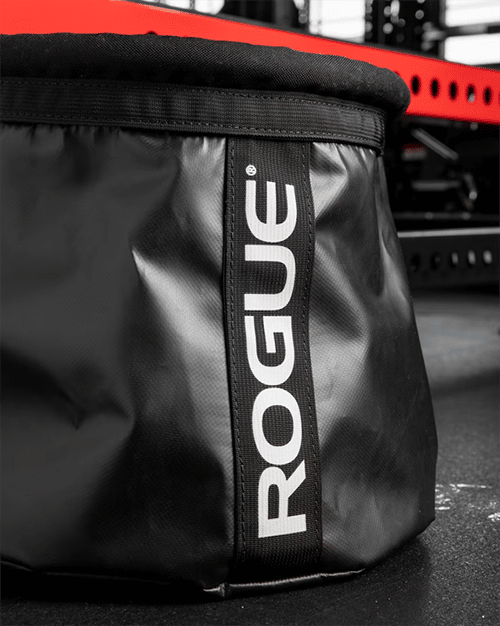 Rogue Gym Bags – Chalk Bag Specifications:
Made in the USA
Height: 11″
Diameter: 11.5″
Volume: 1142.5 Cubic Inches
18 oz. coated vinyl construction
Open top tubular rim with 600×300 pvc polyester fabric sleeve
Stitched nylon webbing along rim and trim
Polyester Rogue logo patch
Rogue Barbell Carry Bags
Fully cut and sewn at the Rogue factory in Columbus, Ohio, this Barbell Carry Bag is made from an ultra-durable and weather-resistant Black 1000D Nylon Cordura with a 1.5" wide nylon webbing carry handle.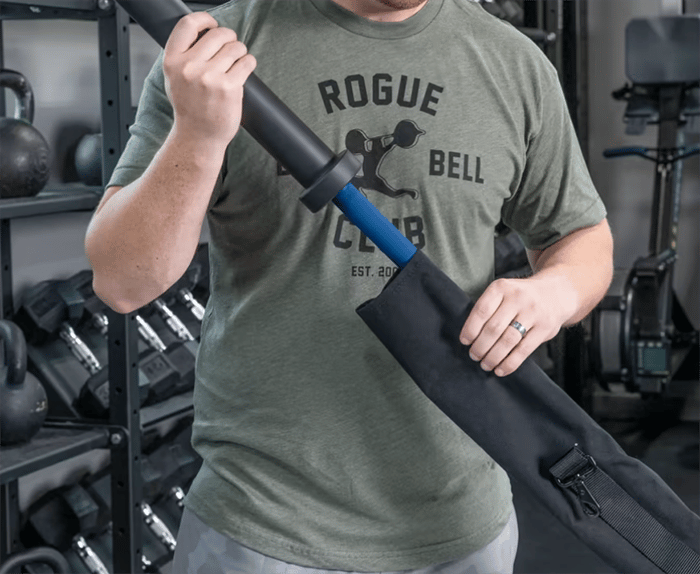 There are two size options available: 80" for their standard 15KG women's bars (Bella Bar, 25mm Oly Bar, etc.) and 87" for the 20KG men's bars (Ohio Bar, 28mm Oly Bar, Rogue Bar, etc.).*
Each Rogue Barbell Carry Bag includes a secure, hook and D-ring closure on one end, and a hook-and-loop section for adding custom patches on the opposite end.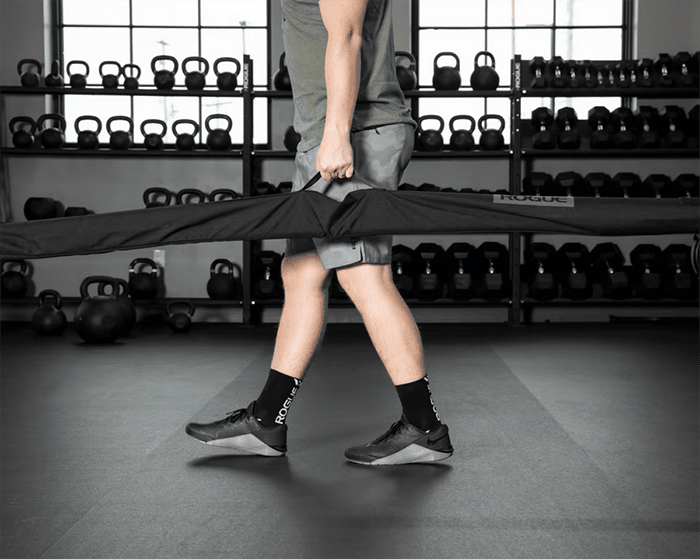 The centre of the bag features a laser-cut Cordura Rogue label; black text on grey panel.
*Measurements are based on the length of the bag when closed.
Rogue Gym Bags – Barbell Bag Specifications:
Made in the USA
Carry Bag for Standard Rogue Barbells
Two Length Options: 80" (for women's 15KG bars) and 87" (for men's 20KG bars)
Diameter: 3"
1000D Cordura Nylon Construction
1.5" Wide Nylon Webbing Handle
Loop portion for attaching patches
Grey Rogue label on centre of bag
Bag Colour: Black
Rogue Shoe Bags
A small mesh carryall that enables optimal airflow for gym clothes and footwear after a workout.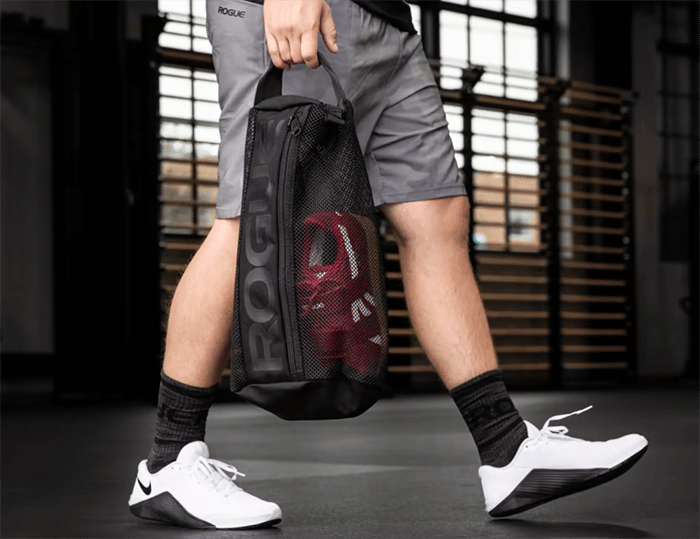 Each Rogue Shoe Bag is cut and sewn in-house at their Columbus factory, and includes a nylon webbing carry handle, YKK zipper, and a strip of 1000D Cordura featuring the Rogue logo on your choice of a black or green panel.
The empty bag measures 16" long x 11" wide x 6" tall, making it suited to just about any shoe size, with additional room for a shirt, shorts, socks, etc.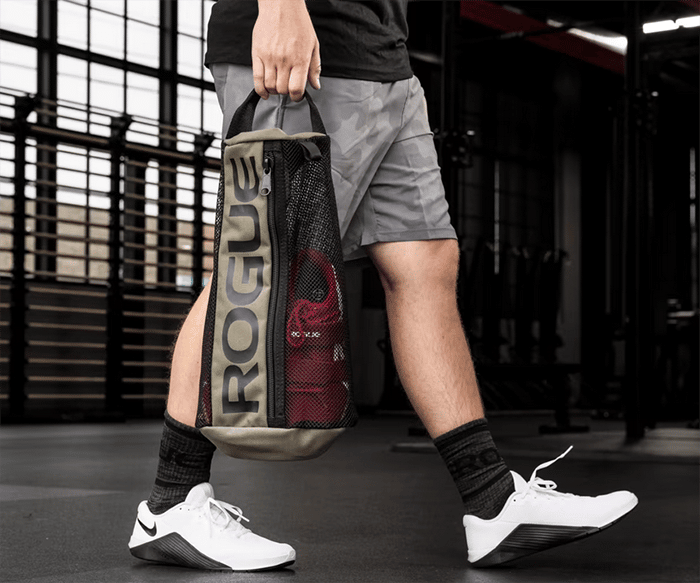 Rogue Shoe Bag Specifications:
Cut and Sewn in Columbus, OH
Black Mesh Outer for Airflow / Breathability
Dimensions: 16" x 11" x 6"
YKK Zipper closure
Nylon Webbing Handle at one end
1000D Cordura panel with Rogue logo
Colour Options: Black or Green
Rogue Kit Bag
More compact than a duffel and better equipped for the gym than a standard carryall or satchel, the Rogue Kit Bag is the all-purpose solution for getting your essentials from point A to point B.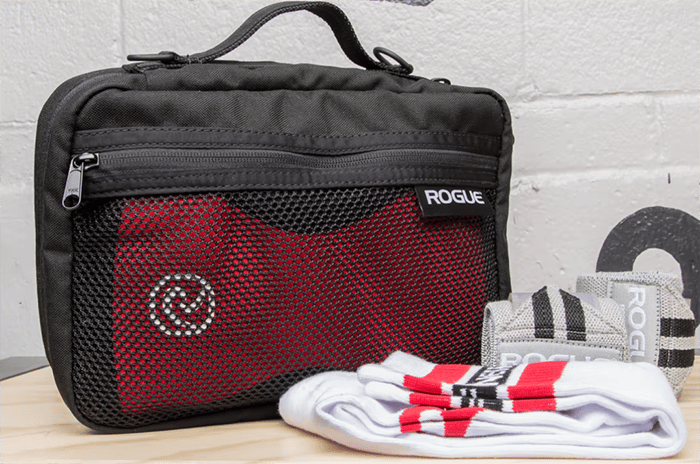 They worked with CrossFit legend and longtime Rogue athlete Matt Chan to design a small carrier that could address some of the basic, everyday concerns of the high-performance athlete.
This started with an ultra-durable 1000D Kordura construction and flexible, polypropylene interior panelling, then moved on to practical features like two exterior, ventilated zipper pockets on either side of the bag—perfect for storing and drying out a pair of knee sleeves after a workout.
Check out the awesome Roark Duffel Bags
Rogue Kit Bag Specifications:
Made in the USA
1000D Kordura construction
Dimensions: 12" x 10" x 3"
Exterior mesh pockets for drying out two knee sleeves, separately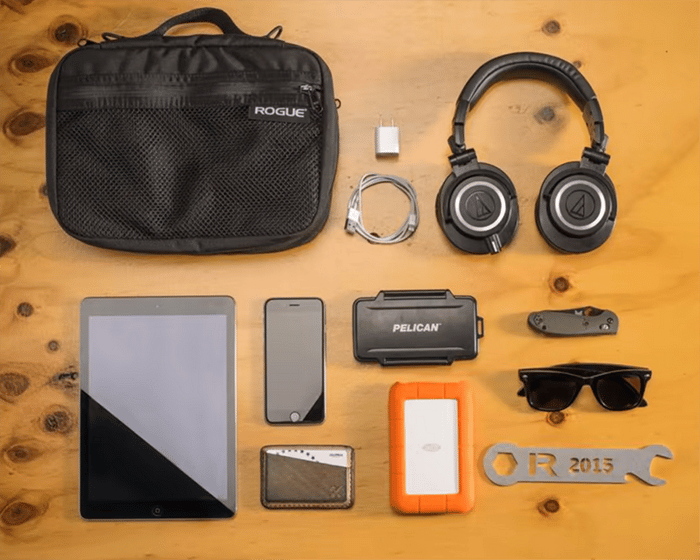 Main internal compartment with (1) mesh pocket and (1) closed Kordura pocket—good for keeping gloves or any item with chalk isolated from the rest of your stuff
Velcro loop for attaching wrist wraps, gymnastic grips, etc.
Nylon webbing handle with D-rings
Colour: Black
Rogue labels sewn on to each side of bag
Rogue Fanny Pack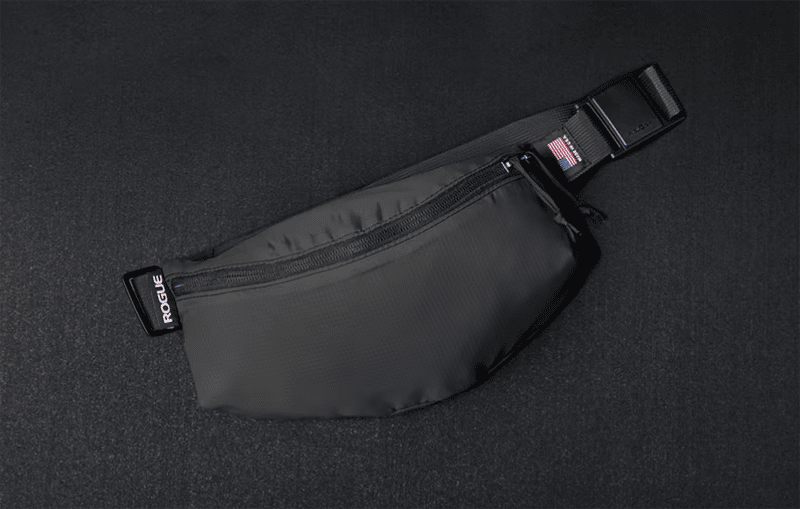 Now available in two colour/design options, their exclusive Rogue Fanny Pack features a zipper with black paracord pulls, a 1.5" wide nylon waist strap, and a Slim Fidlock magnetic slider buckle to effortlessly lock it in place.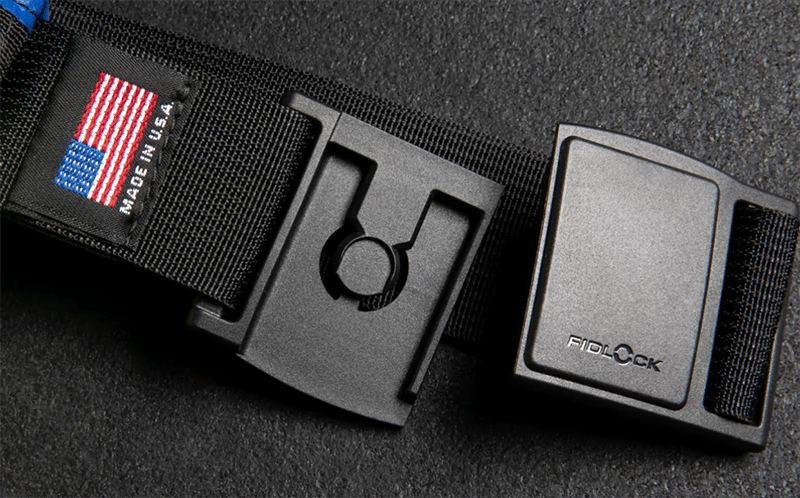 The strap is adjustable from 29" to 42", and the unique buckle design offers a great alternative to standard side squeeze buckles, enabling the pack to be worn around the waist OR as a sling bag.
Rogue Fanny Pack Colour Options:
Black: 70D Coated Ripstop Nylon Exterior, 500D Black Coated Nylon Lining
Camo: 1000D Urethane Coated Nylon, 70D Black Ripstop Interior Lining
Each fanny pack comes with two tags; one with Rogue branding and the other with a Made in the USA flag logo.
Rogue Fanny Pack Specifications
Unisex Fanny Pack / Bum Bag
Made in the USA
Dimensions: 10.5″ wide x 5.5″ tall x 2.5″ deep
Weight: 0.25 LBS
Quality Materials
1.5" wide Nylon Webbing Strap – Adjustable from 29" to 42" waist
Fidlock™ Magnetic Slider Buckle
2 Zippers with paracord pulls
Rogue / Made in the USA tags
Colour Options: Black, Camo
Rogue Gym Bags
Rogue Gym Bags cannot be beaten in terms of functionality and durability.
They are an excellent investment for both your health and wallet.