10 Best Cotopaxi Fleece Jackets For Men And Women
Find your perfect new piece of gear from this selection of Cotopaxi Fleece Jackets for men and women.
Cotopaxi clothing For Men and For Women always promises to be sustainably designed and built to withstand the vagaries of life outdoors.
Unlike its lava-spewing namesake – the Cotopaxi volcano in the Ecuadorian Andes Mountains – this B Corp Certified brand strives to leave no trace on its surroundings.
Founded in 2014 by Davis Smith, who lived near the volcano as a child, Cotopaxi has earned its reputation as a relatively new, but environmentally conscious and innovative purveyor of outdoor gear.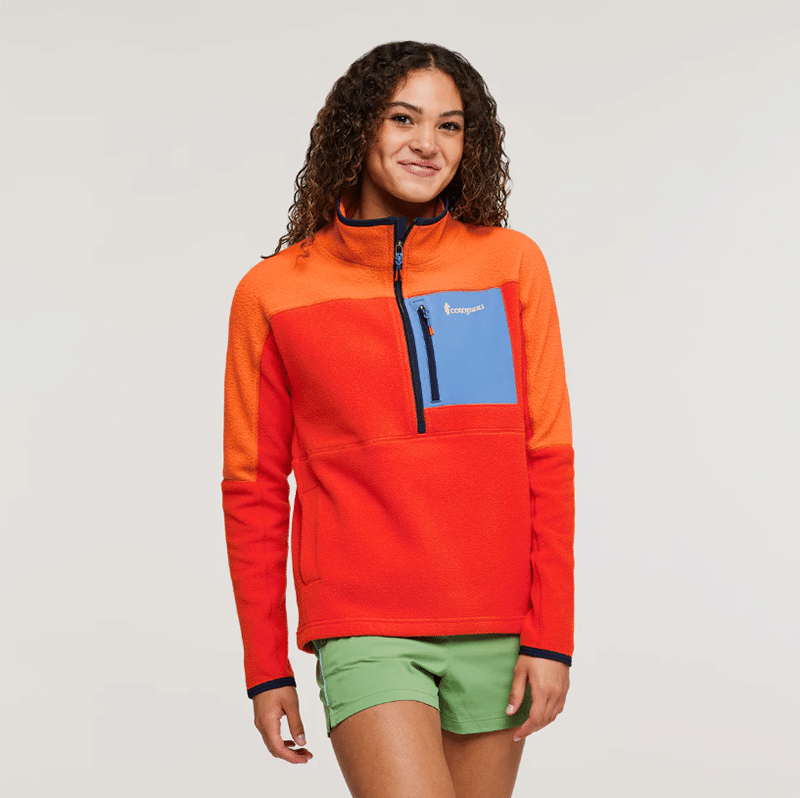 In their own words: 'Adventure inspires us to see the world and make it better'. This, simply put, is the ethos behind a company that moved fast, erupted into the outdoor clothing industry and secured its spot as one of the world's most popular brands today.
Their gear is designed as part of a mission to inspire global change, outfitting nature lovers and fuelling their outdoor experiences, without trampling anything that is worth leaving your doorstep for.
This may sound a little hyperbolic, but the proof is in their actions – Cotopaxi dedicated 1% or more of their revenue to nonprofits helping impoverished communities.
Their Gear for Good® pledge – similar to the Patagonia statement that 'doing good is good for business' – ensures they will always make durable gear, which has been ethically and sustainably put together.
While their business sheds its ego and attempts to divert a portion of their profits into the Cotopaxi Foundation to support communities in need. By 2025, the brand plans to use only recycled, repurposed, or responsibly sourced materials, in all of their products.
The founder, Davis Smith, grew up in Latin America among glacial rivers, free-roaming llamas and mountain trails snaking off in all directions.
Cotopaxi (one of the world's tallest active volcanoes) became a centrepiece in his life – in fact, his school was even named after it.
His experiences early in life taught him the value of empowering local communities and providing the fundamentals for a dignified life: health care, education and livelihood.
In our opinion, this is what makes Cotopaxi stand out in a crowded market. Their sustainable products and positive business operations are unique selling points that are too rarely taken seriously.
If all that was somehow taken away, they still make industry-leading gear that does everything you need it to – and more!
Cotopaxi Fleece Jackets for Men
So, let's don our Cotopaxi-appreciation-caps and check out 10 of our favourite Cotopaxi Fleece Jackets For Men And Women:
5. TECA FLEECE PULLOVER ($100)
Either a stand-alone jacket or cosy midlayer, this Teca Fleece Pullover is ideal for anyone in need of unfussy clothing for many different purposes (there's also a design for Women).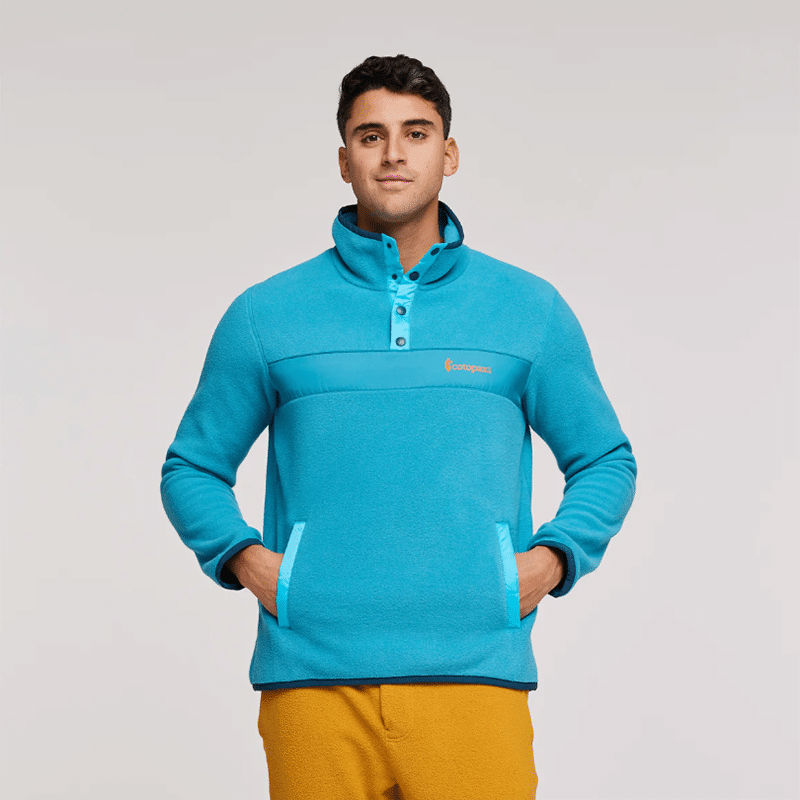 This laid-back fleece is brightly styled and made from recycled fleece and repurposed polyester taffeta with DWR finish.
Saved from the landfill, the materials are best-in-class, with a snap opening at the front and comfortable elasticated binding on the collar, hem and cuffs.
So, stuff your hands into the Kangaroo pockets and soak up the cuddling warmth of this much-loved pullover.
4. AMADO FLEECE VEST ($70)
Another lightweight fleece – this time the vest design contributes to an exceptional layering piece.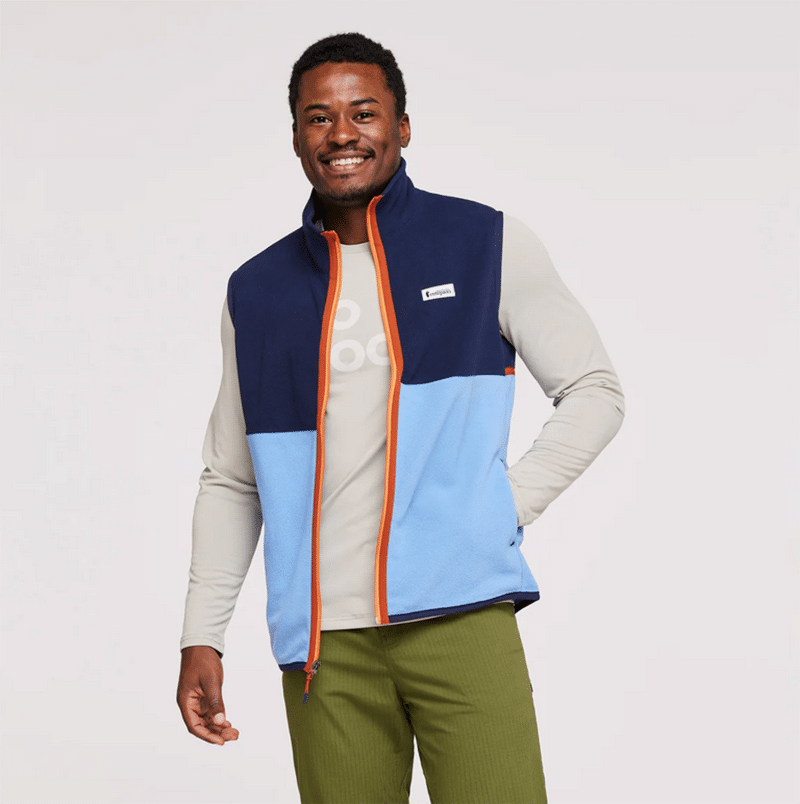 Made from soft 100% recycled polyester, the comfortable Amado Fleece Vest has a retro-inspired look and drop-in hand pockets to protect your extremities from any unwanted wind chill.
Again, comfort is assured when you layer up with this one and stretch into the relaxed fit, with elastic binding on the armholes and hem.
The design is versatile and suitably paired with a long sleeve tee, or mountain jacket.
3. OTERO FLEECE FULL-ZIP HOODED JACKET ($150)
Moving on from more laidback fleeces, the technical Otero Hooded Jacket is perfect for long hikes in cooler weather.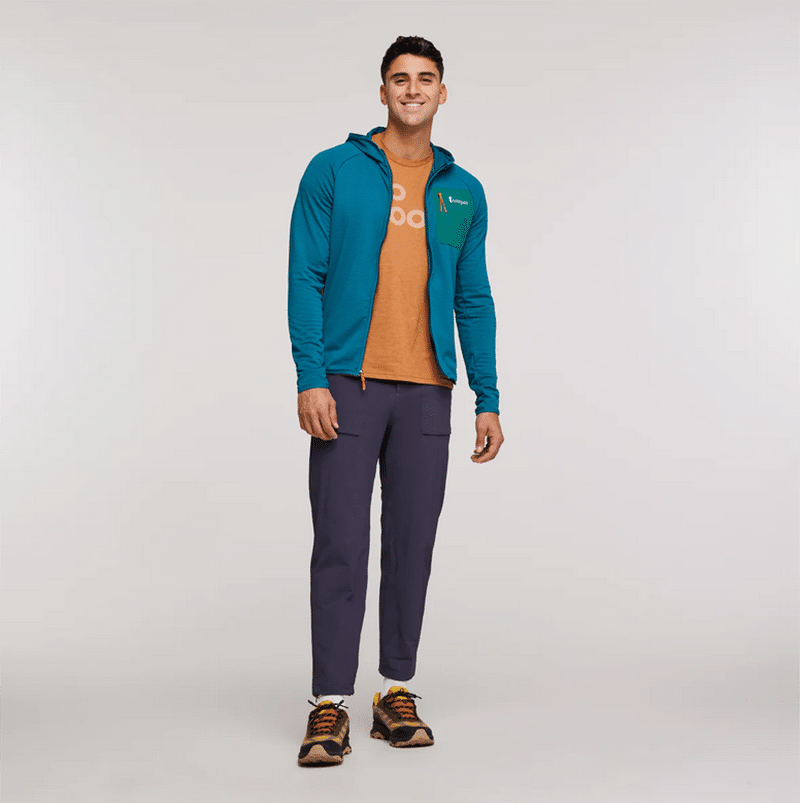 Stay cosy in a fleece fit for activity – made with a sustainable blend of recycled polyester with spandex – back by a raised grid for added breathability.
Concealed zippers contribute to an uncomplicated design, with a fitted silhouette and offset underarm seam. Choose your layers wisely and pull up the scuba hood for a secure fit.
Then take on your adventure outdoors, unbothered by the blows of wind and rain.
2. TRICO HYBRID JACKET ($175)
Quilted insulation (concentrated in the upper body and hood for core warmth) is one of the reasons this Trico Hybrid Jacket is so popular.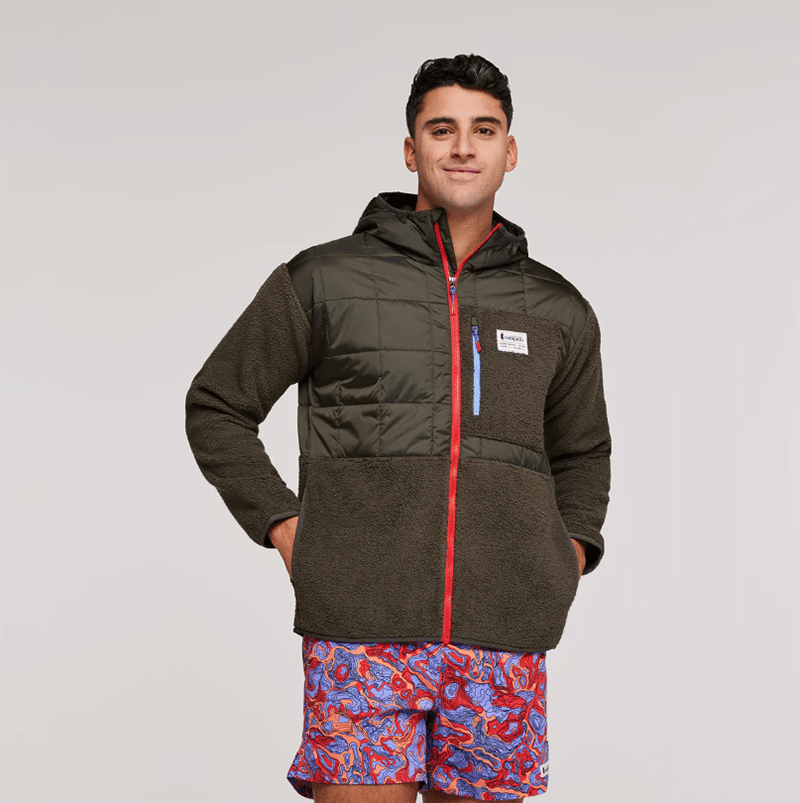 It's such an effective multipurpose layer, suitable for all kinds of environments. You can stroll in the city, or step up onto the snow-covered slopes, enjoying the combined benefits of a high pile fleece and insulated vest.
It's a highly versatile jacket, made from recycled polyester and fleece, with reliable warmth distribution – so, you can escape the cold, with less concern about overheating.
You'll enjoy a snug fit with hood, cuff and hem elastic binding as well. 
1. TECA FLEECE HOODED FULL-ZIP JACKET ($130)
Last up, we've picked out the Teca Fleece Hooded Full-Zip jacket, sustainably-made from recycled & repurposed materials (100% recycled polyester fleece).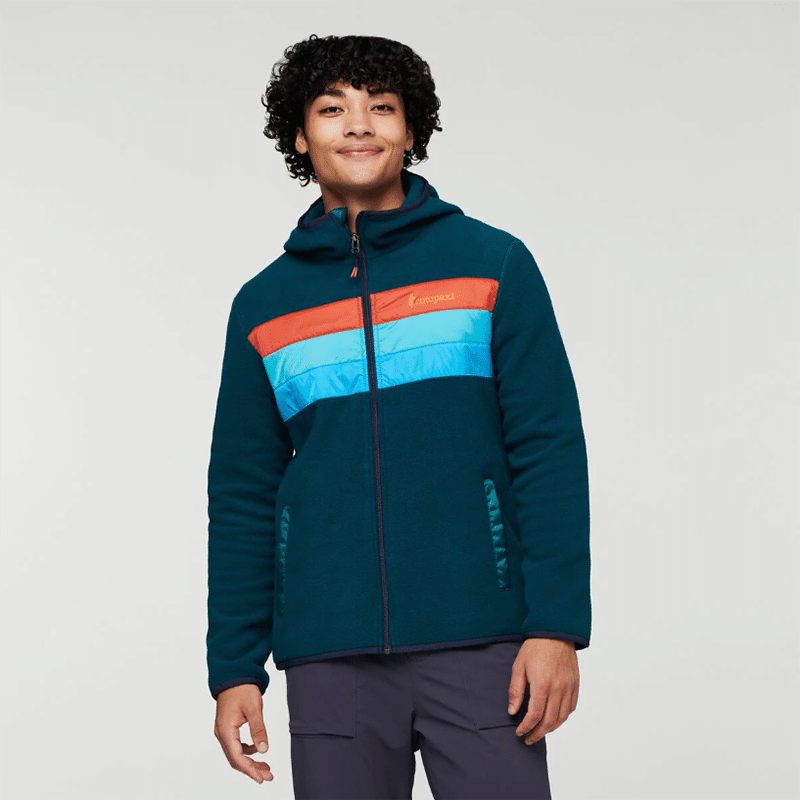 This limited-edition piece is great as an eye-catching stand-alone jacket, or a midlayer in colder weather.
The design is fitted with a cosy scuba fit, so the wind struggles to nip your cheeks and you can escape it creeping down your neck as well.
This jacket has two hand pockets for easy storage, or added warmth, and a full-zip down the front for improved wearability.
This is a salient example of exactly what Cotopaxi does so well – an uncomplicated design, made properly and conscientiously, stripped of all excess and affectation.
Cotopaxi Fleece Jackets for Women
5. AMADO FLEECE VEST ($70)
Who isn't looking for extra warmth on exposed mountain slopes?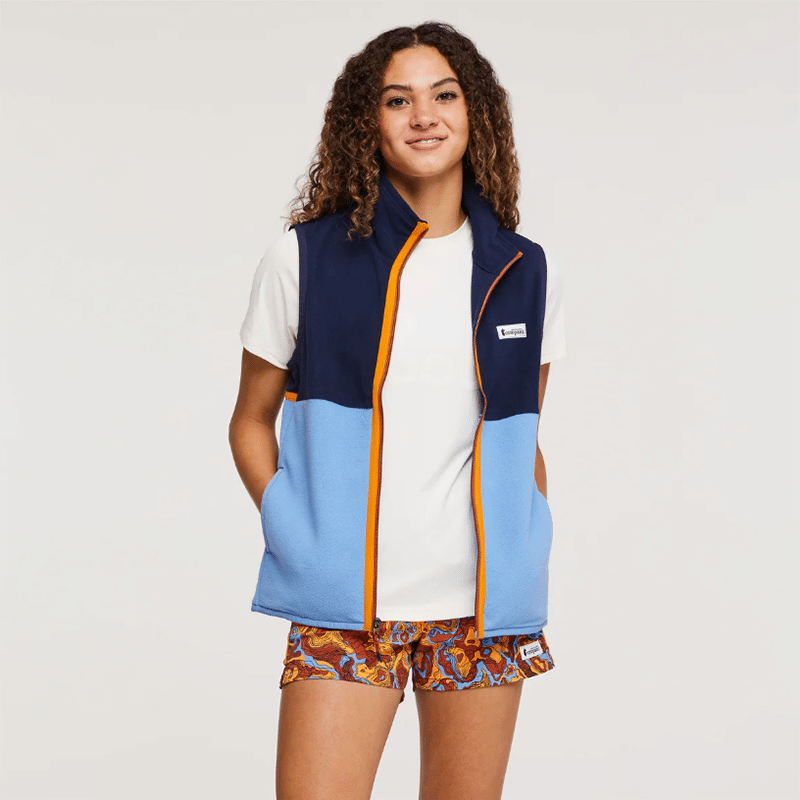 This lightweight fleece vest packs a great boost of added cosiness, serving as the perfect layering piece and made Cotopaxi's high quality soft recycled fleece.
It's safe to say the Amado Fleece Vest is easy to love, with a retro-inspired design, featuring a woven logo label, and simple versatility that allows it to be paired with pretty much anything – long sleeve tee, jacket… you name it!
Throw in the usual elastic binding on the armholes and hem, as well as drop in hand pockets, and you may just have your new favourite hiking companion.
4. OTERO FLEECE HALF-ZIP PULLOVER ($140)
Packing more in terms of warmth and breathability, this impressive technical fleece is a shoo-in for our lineup, bring all that cosy warmth Cotopaxi is fast becoming famous for.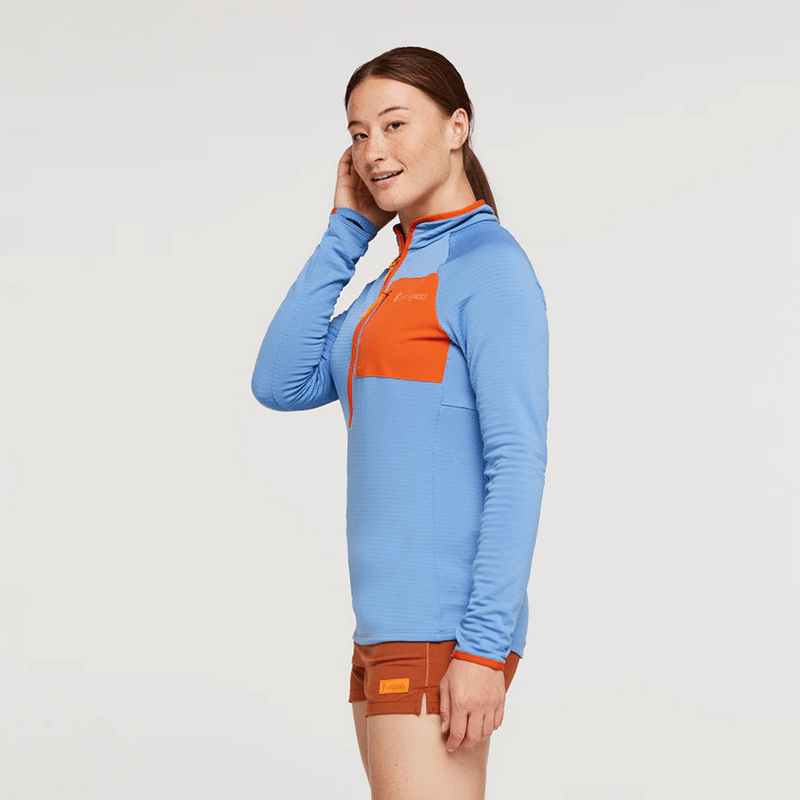 Stay snug on cool weather hikes and feel unrestricted in a design that's styled and refined for movement.
The Otero Half-Zip Pullover is made from a recycled polyester blend, featuring a raised grid back that comes in handy for more strenuous hikes, or other sweat-inducing adventures.
We love the zippered patch chest pockets too – another neat touch is the addition of easy-to-use sleeve thumbholes, which simplify layering. Like most of our picks, this one is also available in Men's.
3. TRICO HYBRID JACKET ($175)
If quilted insulation is your thing, the Trico will likely be your ideal multipurpose layer, suitable for urban environments, or cool alpine adventures.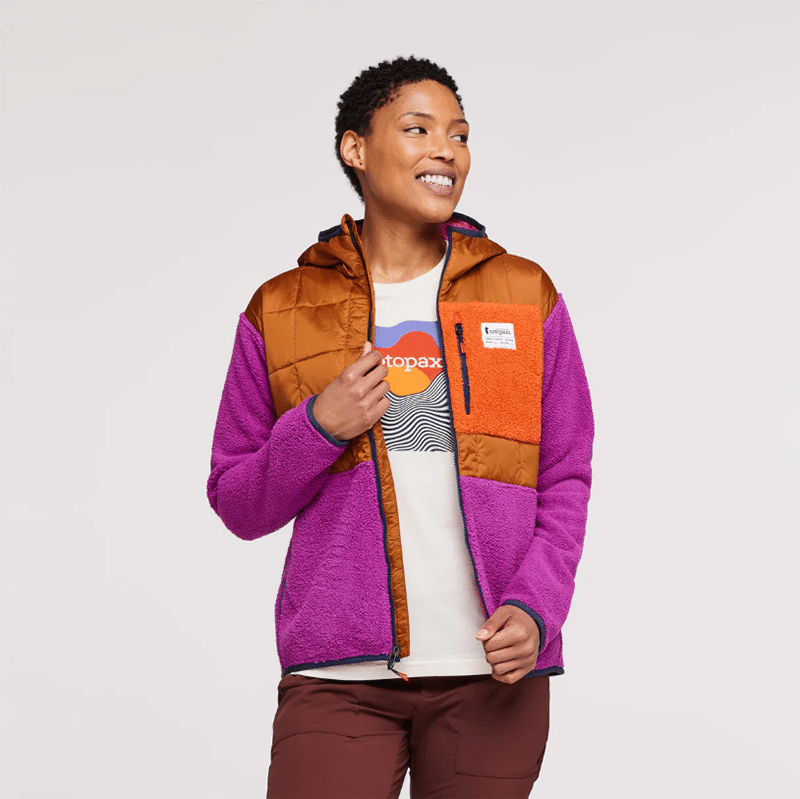 This hybrid layer has all the cosiness of high pile fleece, combined with the warmth of a cleverly insulated vest, making for a truly versatile jacket that won't let you down.
The 100% recycled synthetic insulation provides an even distribution of warmth as well, so the cold doesn't get to you and it's easier to avoid overheating.
The upper body and hood insulation will withstand tougher conditions and supply you with that much-needed core warmth, which is again enhanced by two drop-in hand pockets and elastic binding on the hood, cuffs, and hem.
2. TECA FLEECE VEST ($85)
This one is perfect for milder days in the shoulder season – if temperatures haven't dropped enough for you to be stuffed into an oversized, insulated jacket.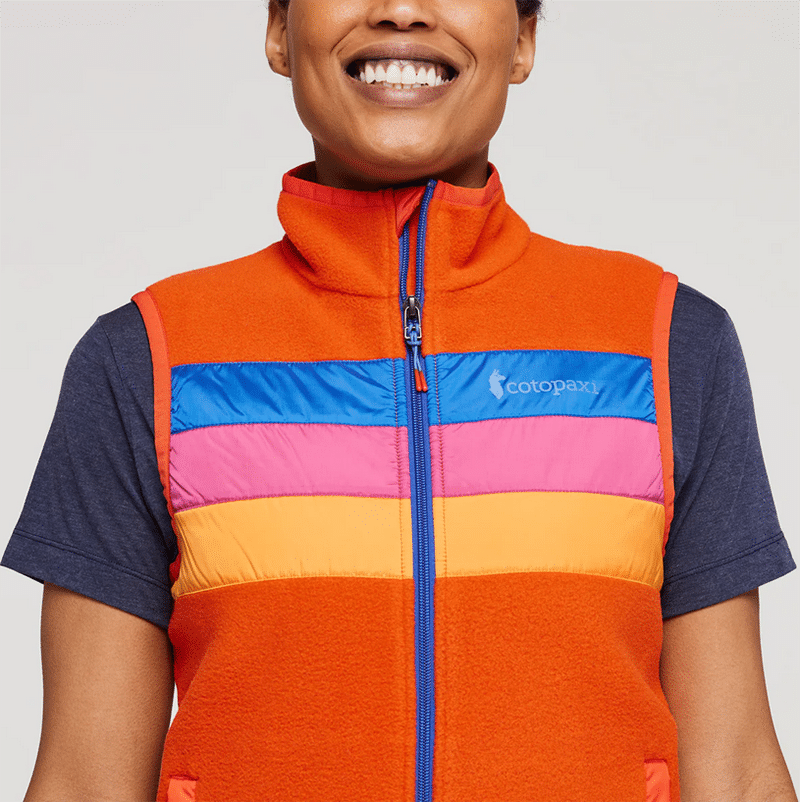 This limited-edition Teca Fleece Vest is made from recycled/repurposed materials, brightly styled and shed of any unwanted extras, with early spring or late autumnal days in mind.
If you're more commonly out in the snow-laden winter, you can also layer this 100% recycled polyester fleece under a jacket for extra warmth.
1. TECA FLEECE PULLOVER ($100)
Finally, we've come to the last offering in our line-up of outstanding Cotopaxi fleece jackets, and of course we've rounded it all off with a good one.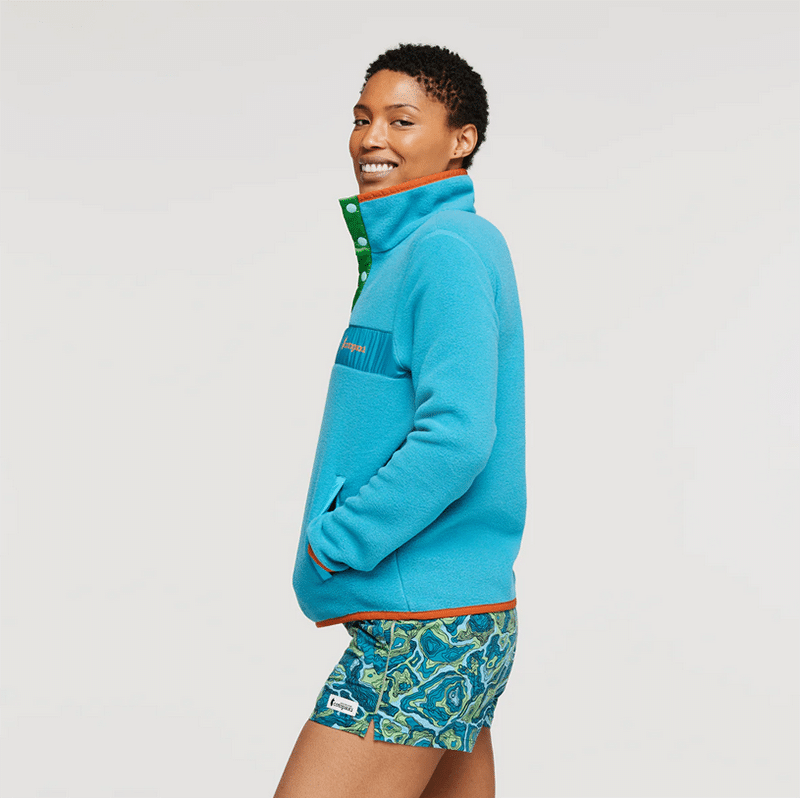 Also available in Men's, the limited-edition Teca Fleece Pullover is a no fuss fleece that's ideally suited as laid-back wear – made from 100% recycled polyester fleece.
Wear it as a stand-alone jacket, or as a midlayer if you're off to hit those ice-hardened trails.
Of course (as we've come to expect from this brand), this pullover is made from recycled fleece and repurposed polyester taffeta, which would otherwise be headed for the landfill.
We also appreciated the additions of a snap opening, centred on the front, as well as comfortable elastic binding on the collar, hem and cuffs.
More Great Cotopaxi Equipment