5 Reasons to Buy the Rogue KS-1 Kids Squat Stand
The Rogue KS-1 Kids Squat Stand is one of the first of its kind in the industry—a durable, American-made weight training station that adapts the features of a standard Rogue stand into the ultimate compact beginner's unit.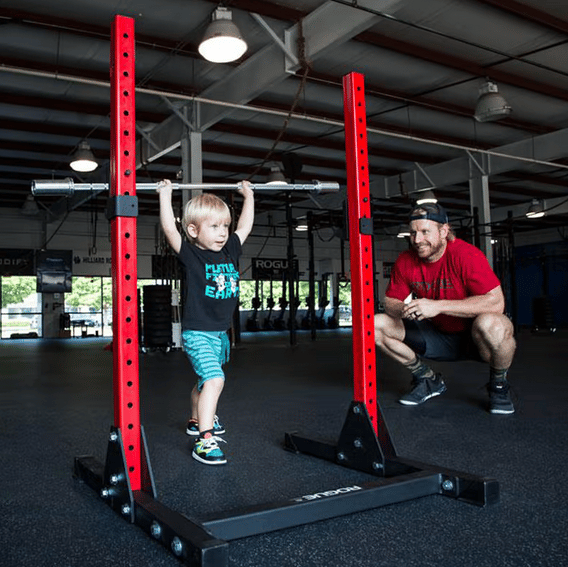 The Rogue KS-1 Kids Squat Stand
Whereas most children's weight training gear amounts to glorified toys, the KS-1 is a genuine piece of Rogue equipment.
The 48.625″ tall unit measures 28″ between the uprights, making it uniquely compatible with beginner barbells like the Rogue T-2.5KG Tech Bar.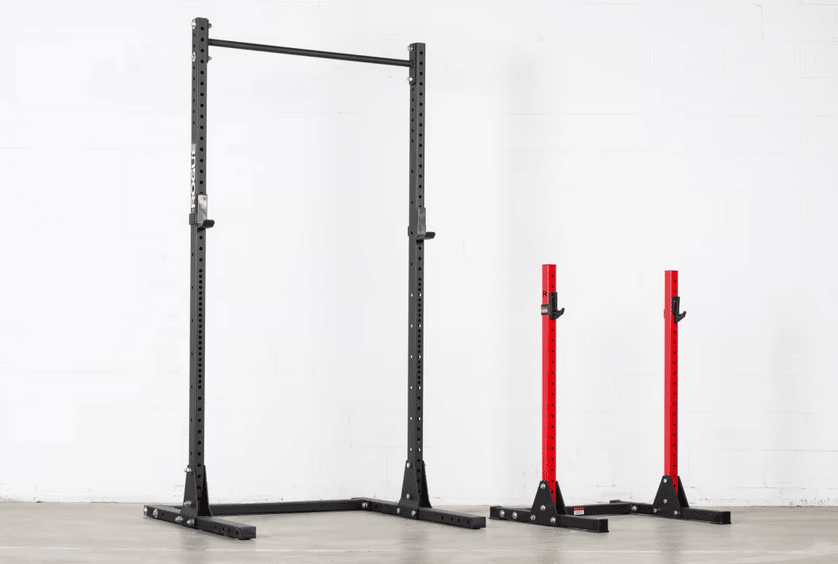 If you want to introduce a child athlete to the look and feel of training on an actual competition-level rack or squat stand, this is the ideal system.
What is the Weight Capacity of the Rogue KS-1 Kids Squat Stand?
The KS-1 stand has a maximum weight capacity of 150LB and uses 1/2″ bright zinc hardware with capped uprights and specially designed steel+UHMW J-cups.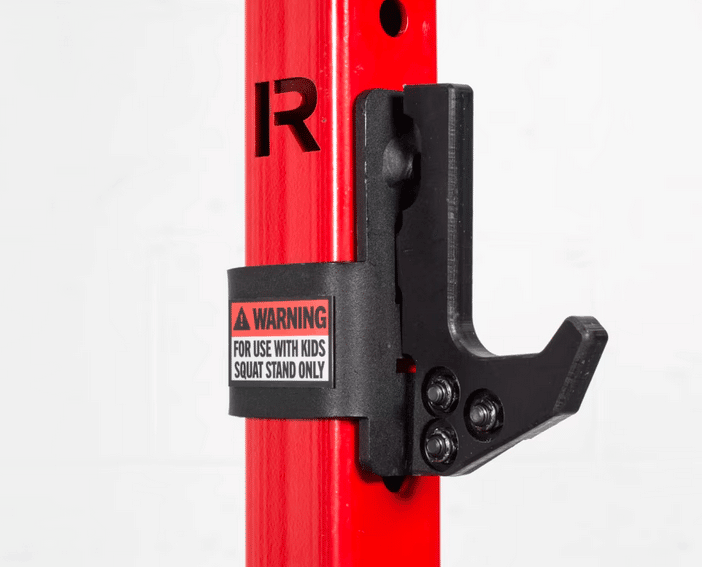 The base, triangle plates and J-cups are all finished in our signature black powder coat, while the uprights feature our distinctive MG Rogue Red finish.
Reason 1 – Built for Kids, Held to Rogue Standards
Rather than simply designing a novelty "kids version of a squat stand," the goal with the KS-1 was to take the original core elements of Rogue's standard squat stands and make them available to younger athletes—those learning to train with a technique / beginner barbell.
The result is a junior-sized unit—measuring 28″ between the uprights—that's built from the same quality 2×2″ 11-Gauge Steel as many of their leading racks and stands. Optimized for durability, stability, and versatility.
Reason 2 – Quality Rogue Construction
Manufactured in Columbus, OH, USA, the KS-1 Kids Squat Stand features a pair of 48" uprights made from 2×2″ 11-Gauge Steel, along with a stabilizing base with triangle plates and a back crossmember.
The holes measure 1/2″ in diameter and are spaced 2″ on center up the front and back of the uprights, which also feature laser-cut Rogue "R" logo branding.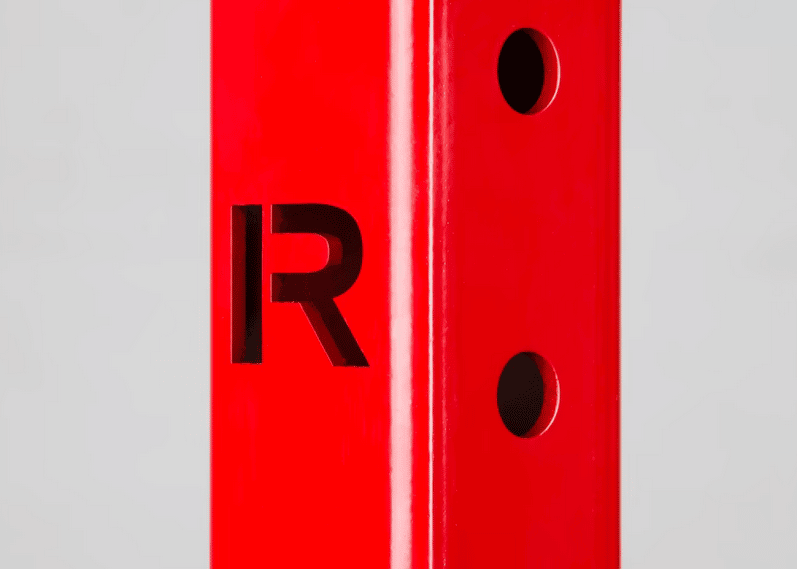 The unit comes with 0.5″ bright zinc hardware, is safety-capped on the top of the uprights and base tubes, and weighs 65LB when fully constructed. Its maximum weight capacity is 150LB.
Reason 3 – Fit & Finish
Every weld and laser-cut of the KS-1 is inspected individually at each step of the process for integrity and appearance.
Every part is again individually inspected for finish after the addition of the Signature Black and Rogue Red powder coats. The entire package receives a final comprehensive quality assurance check before it's shipped.
Reason 4 – Pair with Other Child Athlete Products from Rogue
Also designed and manufactured in Ohio, the Rogue T-2.5KG Technique Bar works as the ideal companion barbell to the KS-1 Squat Stand.
Though it's sized for children, the T-2.5KG is compatible with standard Oly plates and includes three sets of knurl marks at IWF and IPF standards.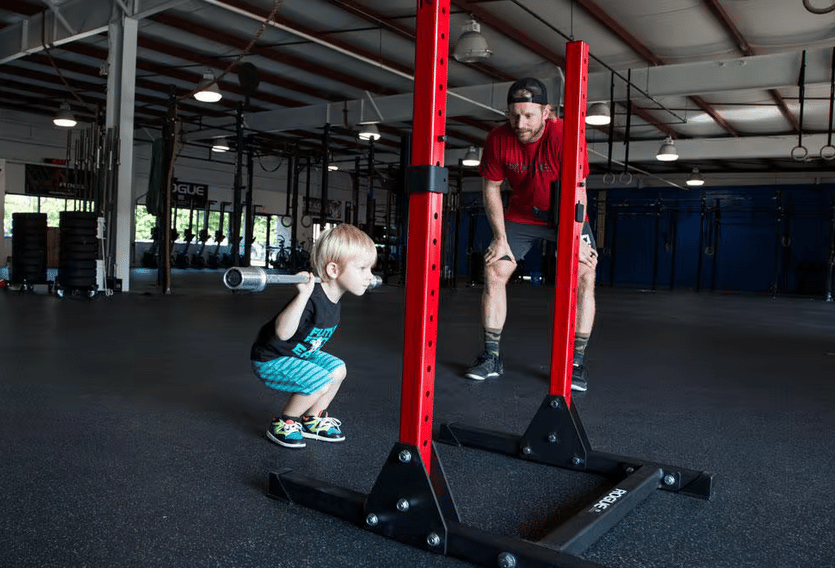 They also offer a broad range of exclusive Rogue youth athletic apparel to help the youngster dress like mom or dad in the gym.
Reason 5 – Exclusive J-Cup Design
The J-cups included with the KS-1 are a new design created exclusively for this junior stand.
Bent from a single piece of steel (other than the pin that goes through the upright), the J-cups feature a fully UHMW plastic hook portion that helps eliminate any potential sharp edges.
Please Note: These J-Cups are NOT compatible with other Rogue racks/stands.
Safety Information for the Rogue KS-1 Kids Squat Stand
The KS-1 Squat Stand should ONLY be used with adult supervision.
Due to small parts being present, the KS-1 is NOT recommended for children under 3 years old.
Consult your pediatrician to make sure resistance training is appropriate for your child.