Best On Running Shoes for You
Check out the Best On Running Shoes.
Who Are They?
This company, born in the Swiss Alps, have quite simply revolutionised how it feels to run, enabling us to move with less strain on our muscles and joints. Their radical idea has been to soften each landing, which in turn leads to a more explosive take-off.
The softer the landing, the further runners will be launched in response…
It might not sound particularly ground-breaking, but On have gathered crazy momentum with their core philosophy – purveyors of a softer and more comfortable experience on the trails – which redefines running on hard ground as running on clouds.
The Story
Their story began in Switzerland, from humble Zürich headquarters, back in 2010.
Early on, the brand was spirited by a sizeable ambition to transform the world of running.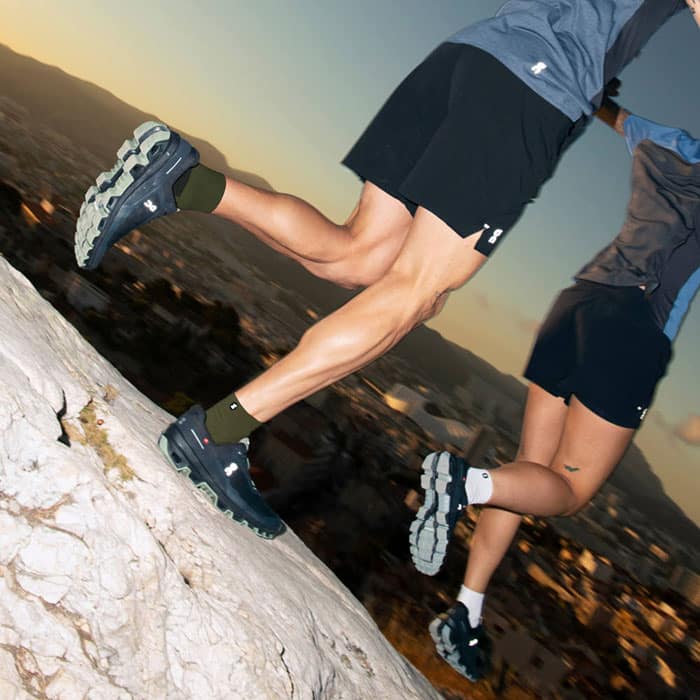 The kind of talk investors might've scoffed at in those first hard years. Yet ten years later, On has become an internationally recognised name, celebrated by runners around the world. Their cushioned products have graced the feet of around seven million running hobbyists, across 50 different countries. All the while, the brand still gains more speed, like a scree runner hurtling down the dry side of a mountain.
The People
As with many success stories, it began with a few friends: former professional athlete Olivier Bernhard (a three-time world duathlon champion and multiple Ironman winner), David Allemann and Caspar Coppetti. All three of them were lifelong runners, joined by the same goal to make runners feel like Hermes, bouncing with winged feet on a track of clouds.
The Mission
They set out to fine-tune the design of a running shoe that would offer this unique sensation and brought in a Swiss engineer to develop a prototype shoe. At this point, the symbiosis of experience and expertise yielded an early seed, which would later burgeon into the first On creations.
More prototypes emerged, all with the same initial goal from the outset.
They needed to provide cushioned landings, followed by firm take-offs. This motion was absolutely paramount to the design process. Each new wave of shoes was carefully picked apart, tested and examined, until the three friends had what they were looking for.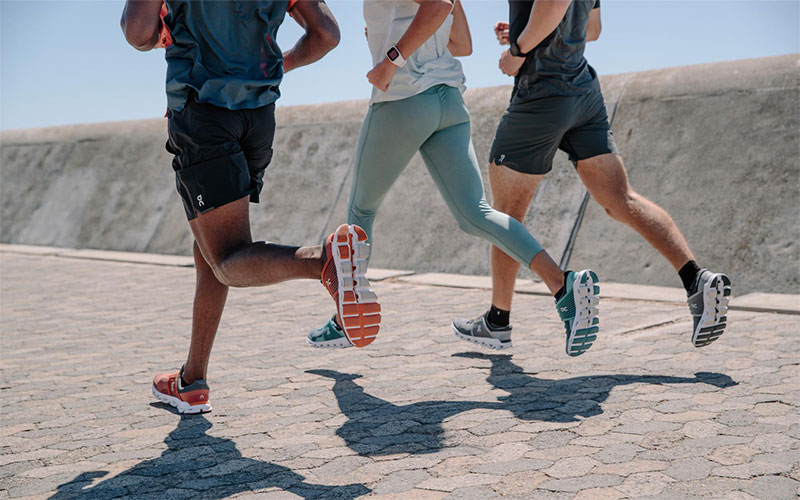 Together, they formally established On, in Zürich, and released their innovative product range, engineered with Swiss technology. A month later, in February 2010, one of their prototypes won the ISPO BrandNew Award – a recognition offered for innovation in sport. Test runners were increasingly enthusiastic and early testimonials described the desired sensation as being like running on clouds.
By July 2010, the first running stores exhibited displays of On shoes and cloud running was introduced to a wider market.
Why humans evolved to be great long distance runners
Now, On running shoes are available in over 6500 retail stores, around the world, in 50 different countries. They still have their European headquarters in Zurich, but have since opened offices in the US, Japan, Australia and Brazil. On products continue to collect international design and technology awards. As always, they show no sign of slowing down, striving to kick up clouds of dusty scree as they hurtle on across the slopes of innovation.
Best On Running Shoes for Men
Cloudstratus
£150.00
White | Black
Double the CloudTec® give you double the running power boost. This high performance shoe comes with added cushioning to support longer distance road runs, whether you're trying to cut your 5K time, or challenging yourself with a marathon distance.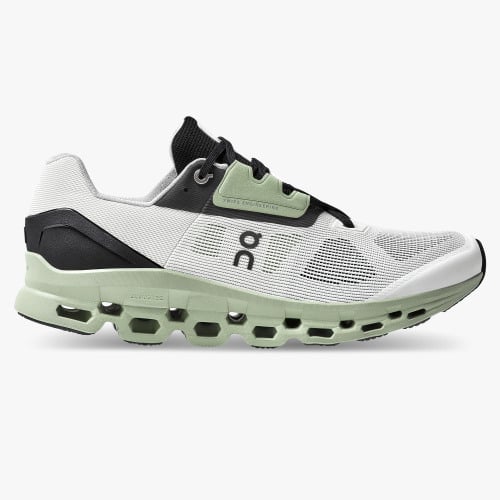 Cloudstratus shoes feature two layers of Helion™-boosted CloudTec®, which offers greater vertical and horizontal cushioning.
Connected forefoot Cloud elements align with Speedboard® technology for improved energy return, as well as better durability and road protection. If you want more cushioning as you run, these shoes are perfect for you, built to protect your joints from lumps and troughs on the way ahead.
They're not oversized either and lose nothing in terms of performance. Travel farther and last longer in the comfortable Double Clouds, with a re-engineered midsole, recycled upper portion and refined inner construction.
Best On Running Shoes for Women
Cloud 5
£120.00
Black | White
A fan favourite in the On community, the Cloud 5 Women's Shoe is an all day/all season product, re-engineered for more comfort – no matter what the ground chucks up at you.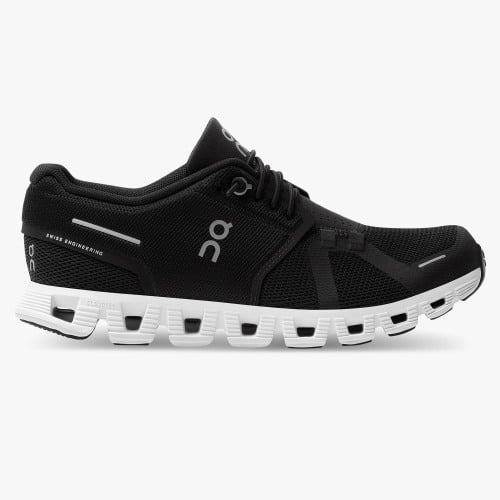 The increased midsole and updated CloudTec® configuration give you those trademark Cloud soft landings. At the same time, they enable runners to launch forward with more stability and to hit the trails with a unique style of movement.
We love the speed-lacing system – if anyone else is sick of tying knots, you'll love it too – that allows you to lock your feet into the Clouds, faster than ever.
Or, if you're more used to classic laces, you'll find a pair tucked away in the box for you as well.
Best On Running Shoes for Flat Feet
Cloudsurfer 6
£135.00
Eucalyptus | Citron

Without a doubt, the Cloudsurfer 6 is one of the best On Cloud shoes you'll find for flat-footed runners. All the features are aligned to bring you maximum comfort, cushioned in that special way which made the On Cloud brand so popular worldwide.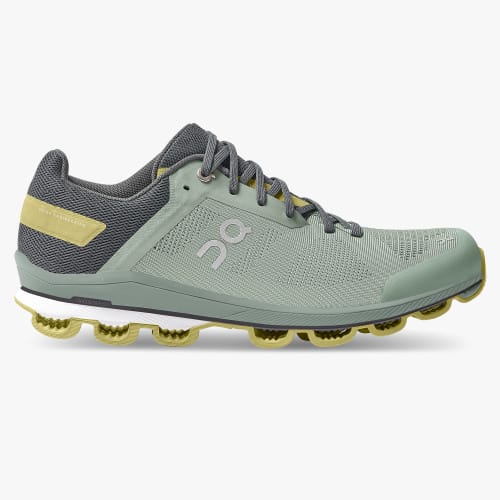 Note the buoyant air pockets in the outsole to give you extra cushioning on impact, and to protect your feet as well.
The CloudTec Sole is extra flexible for a more powerful push-off and to improve momentum with your foot strikes. In these sixth-generation road shoes, comfort and racing-flat speed are combined.
They are the ultimate companion for running a 5K, or a more gruelling marathon. Enjoy the Rebound Rubber Cloud elements that give you a unique feel as your feet pound the trail.
The outsole is also fitted with a fast-tuned Speedboard and supported by Zero-Gravity midsole – the secret to feeling like you're running on clouds, mile after mile. The design will mould to your foot shape as you tread the road and provide reliable support at speed. Refined in its sixth generation, the On spirit is never more alive than in the innovative Cloudsurfer 6.
Best On Running Shoes for Walking
Cloudventure
£135.00
Black | Reseda
You don't just have to run on clouds, you can walk on them too! Whatever distance you want to reach on the trail, this third-generation shoe is custom-built for easy movement on less stable ground.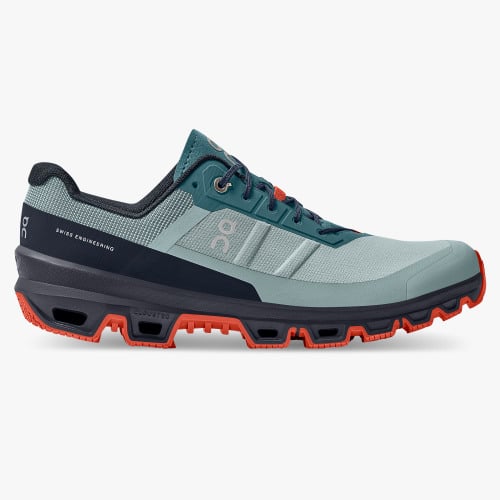 Technical features and precision are a key priority. You'll find improved ground control from the newly configured CloudTec® and supportive Helion™ superfoam, giving you smooth movement across varying terrain.
The patented slingshot Speedboard® gives the runner direct and swift feedback beneath their feet. While improved Missiongrip™ enables runners to stay fixed to the way ahead.
The sophisticated third-gen Cloudventure shoes are suited for walks more technical trails too. Superfoam will be your new best friend as it helps to prevent aches, blisters and joint or ligament damage.
Cloudventure shoes offer fantastic grip and cushioned support on steeper climbs and downhill meanders, when a walk might suddenly turn to a light jog.
Best On Running Shoes for Hiking
Cloudrock Waterproof
£180.00
Rock | Eclipse
Waterproof, durable and super comfortable, these lightweight speed-hiking boots come equipped with Missiongrip™ technology, for terrain-proof exploration. These strengthened shoes won't shy away from more bruising conditions out there on the trails.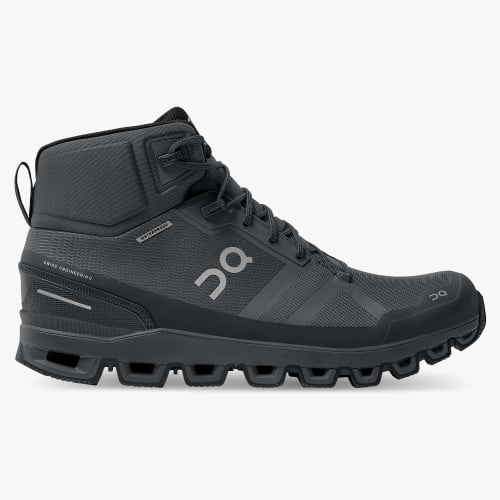 On's speed-hiking boots are designed for optimal traction, pace and support.
Trail-tested in the Swiss Alps, the Cloudrock Waterproof shoes will take you to mountain-top and change the levels of comfort hiker expect up there. Complete with Missiongrip™ rubber traction and lugs that dig into uncertain ground, these shoes are infinitely practical too.
The Swiss-engineered FlexLock system allows you to fasten laces with a single pull and you can use the tongue straps to secure your laces as well.
There's a 360° mudguard to prevent splatter, Speedboard® features for additional propulsion and stability and coveted cloud-striding Zero-Gravity CloudTec®, bringing you those cushioned landings we all know and love.
Best On Running Shoes for Marathon
Cloudflow
£130.00
Rust | Eclipse
The best in no-compromise comfort, lightweight Cloudflow shoes are made for the fleet-footed, with cushioned strides and elite-level technology accessible to all runners. Experience ultralight Helion™ superfoam for a more responsive feeling when your foot hits the ground.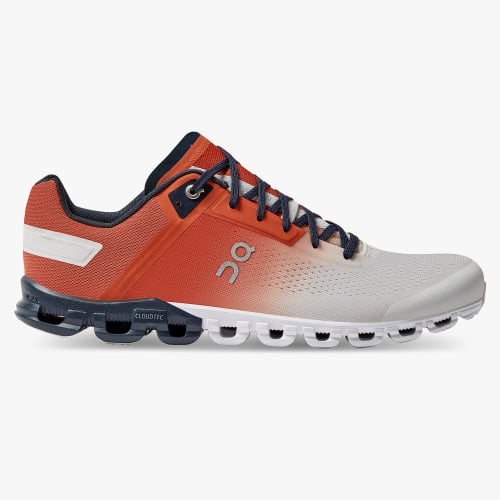 The design is cushioned for much-needed road protection if the trail hardens underfoot as well.
These shoes are engineered with mesh upper for a more secure fit and have evolved to support elite athletes, with third-generation refinement. Cloudflow shoes will push you faster, with explosive Speedboard® technology to boost each stride and launch you forward in spring-like bursts.
These shoes are specifically engineered to perform best at high speeds, or to maximise endurance in a marathon, with the added comfort you'll need to crush those final few kilometres. These shoes are available in a wider fit, with their broader cousin: Cloudflow Wide .
Best On Running Shoes for Treadmill
Cloud X
£130.00
Rust | Rock
Stable, agile, versatile… three words to sum up the ultra-reactive Cloud X running shoe. In these innovative On creations, you'll find all the comfort needed for indoor runs and mixed-sport workouts.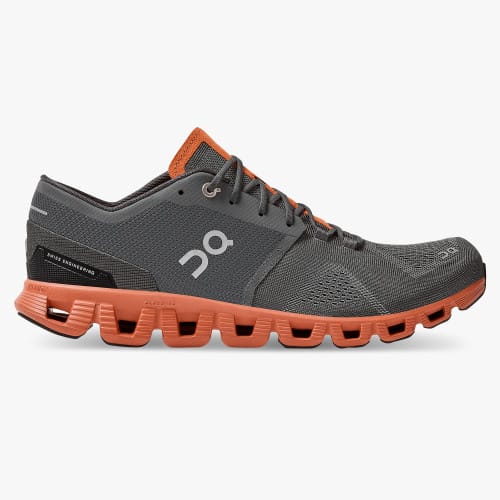 If you want something lightweight – a shoe that won't weigh you down – yet powerful, the reactive CloudTec® outsole and Helion™ superfoam combine to give you explosive bursts that don't feel weighted.
The design features moulded cushion pads that support the heel and supply additional comfort and security (added stability comes in the form of raised sidewalls). You'll find patented Speedboard® technology hidden within these shoes to energize each step. In fact, we reckon you'd be hard-pressed to find a better underfoot training partner, than the Cloud X.
The design is refined for a range of activities, from ultra-agile movements at a fast pace to those sweaty long-haul workouts that never seem to end. Track, street, or gym… the Cloud X takes it all in its stride and stands out as being very worthy of the tagline it comes with: be stronger and run longer.
Best On Running Shoes for Plantar Fascitis
Cloud Dip
£140.00
Cork | Cocoa
The Cloud Dip is a reinforced lightweight shoe that's tough and game for every day adventures. Check out the ballistic weave upper and hand-applied 360° mudguard – the kind of features you'd expect to see in a good trail shoe.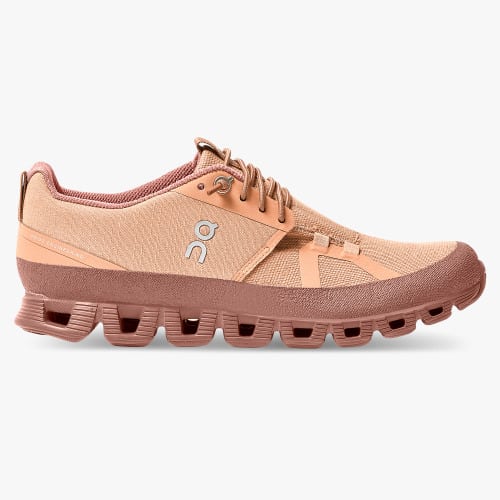 At the same time, Cloud Dip shoes utilise the iconic Cloud design and take it into new territory, with cutting-edge features for fearless steps and relentless forward momentum.
Durability and comfort are the central design focus, which is what you need to protect feet in all states of discomfort – great for any runners who suffer from ongoing aches, or pains! There's a reason they've called it the toughest Cloud variant so far, built to tread wherever you go and to stomp on the most uncertain trails, with the usual Zero-Gravity foam and CloudTec® outsole, keeping your feet wrapped in cushion.
Expect soft landings and springy launches from high-propulsion Speedboard™ to boot.
Best On Running Shoes for High Arches
Cloudstratus
£150.00
Rose | Red
Again, the Cloudstratus gives runners double the CloudTec® for increased performance and maximum added cushioning. Make light work of road runs and go farther than ever before.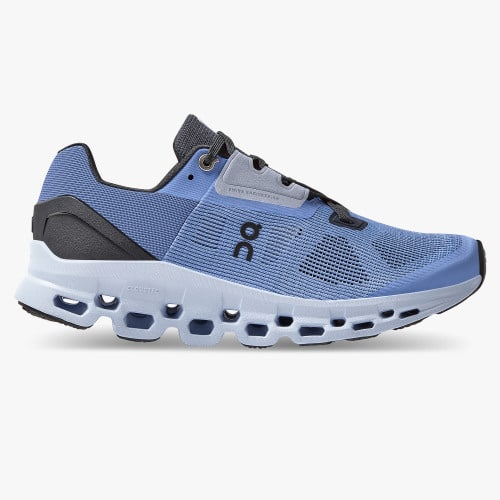 These shoe are seemingly custom-built for runners who need a little extra support and stability. Double Cloud technology includes a re-engineered midsole, recycled upper portion and reinvented inner construction.
You'll get all the comfort and support you need. In fact, these are the two ingredients of a Cloudstratus shoe, with two layers of Helion™-backed CloudTec®, giving you more vertical and horizontal cushioning as well.
Not to mention the forefoot Cloud elements, elegantly aligned with in-built Speedboard® technology, from years of careful refinement. Runners will experience stand-out energy return and the durability you want for long-lasting road protection.
Best On Running Shoes for Overpronation
Cloudflyer Wide
£140.00
Black | White
Finally, we've come to the Cloudflyer Wide. These stable running shoes are not just beautiful to look at, they feature an ideal construction to correct the stride of an overpronator.
They're less aggressive in this correction, with fine-tuning technology and a wealth of biomechanical research to bring you gait-fixing designs, without losing anything in terms of comfort on runs. The bonus is there's less injury risk in these lightweight and fully-cushioned shoes. They're also ultra-reliable for training with patented Helion™ support.
Whatever your running style, you'll enjoy a unique wide fit and the plushest tongue you'll find in any On shoe. Not to mention that the Cloudflyer Wide pretty much leads the pack, where comfort is concerned. There's enough Helion™ superfoam to soften the ground underfoot, as well as bespoke Speedboard™ and 3D-moulded heels for added ground support, like you've never felt it before.
In these bad boys, you can put in hard miles with relative ease. Go further, last longer and push harder on all terrain. Or, as the marketing states – this is a shoe 'for the grinders'. In the Cloudflyer Wide, you can take on long runs with maximum poise and technique. The Cloudflyer Wide is also available in the standard width: Cloudflyer.
Find Out More
On running shoes got you itching to find more innovative outdoor clothing?
Learn more from our equipment page.