Why You Need a Rogue Work Bench
If you want to buy the best, then the Rogue Work Bench is perfect for you.
Rogue Fitness are known for producing high-quality fitness equipment. They offer a wide range of equipment, including weightlifting equipment, strength training equipment, cardio equipment, and more.
Top Quality Construction
One of the reasons why Rogue Fitness equipment is good quality is because they use high-quality materials in their products.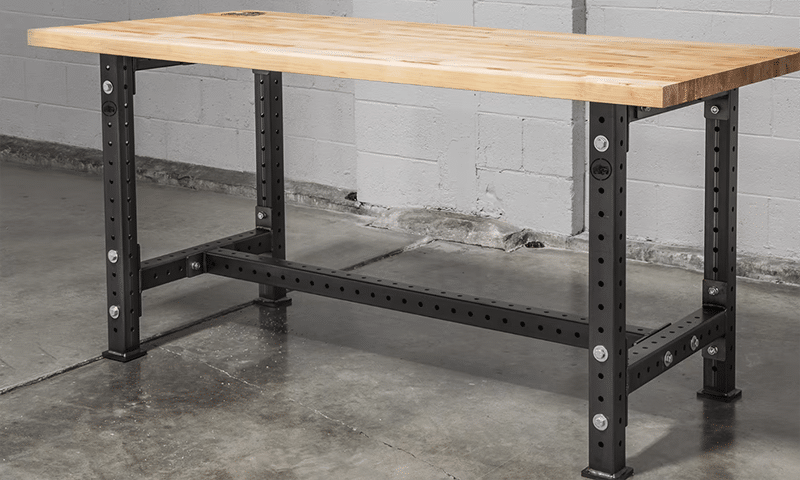 For example, their weightlifting bars are made from high-strength steel, and their plates are made from durable cast iron. They also use quality materials in their other equipment, such as high-density foam in their mats and heavy-duty fabric in their bags.
In addition to using high-quality materials, Rogue Fitness also has a reputation for excellent craftsmanship. Their equipment is carefully designed and built to withstand heavy use and last for years. They also offer warranties on many of their products to give customers added peace of mind.
Overall, based on customer reviews and industry reputation, it can be concluded that Rogue Fitness equipment is of excellent quality.
Rogue Work Bench
With its 2.5×2.5″ 11-Gauge Steel frame, the Rogue Work Bench is everything you'd expect from an individually crafted piece of American industrial furniture—simple, functional, and built for generations of use and abuse.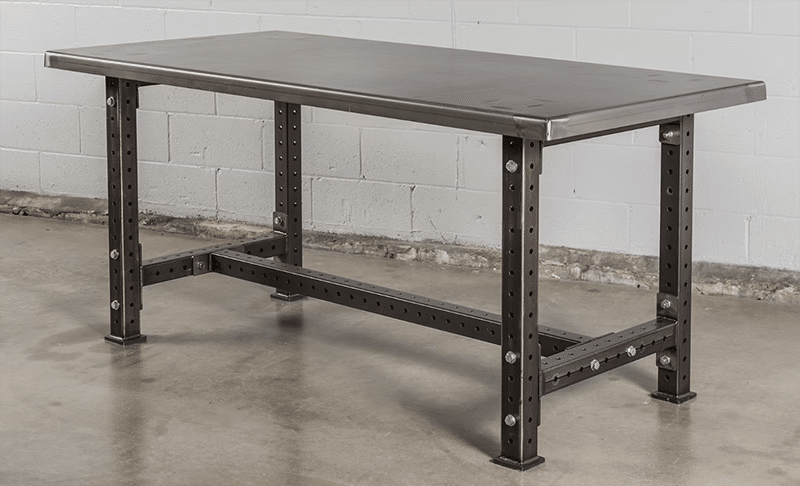 What you might not expect is its versatility.
The Rogue Work Bench's unique, modular design makes it compatible with a range of optional attachments and add-ons (some they haven't even devised yet), and also allows multiple benches to be linked together in sequence to create a larger custom workspace.
Rogue Supply currently offers the Work Bench in two sizes (72" x 36" or 96" x 36") with your choice of a wood or steel top.
The unit can be assembled using 1/2″ hardware. The frame has a standalone weight of 135LB (72″ Frame) or 151LB (96″ Frame) with a 33.25" height and 61" x 29" (72″ Frame) / 85″ x 29″ (96″ Frame) footprint. Use the column on the right to select your preferred bench size and material.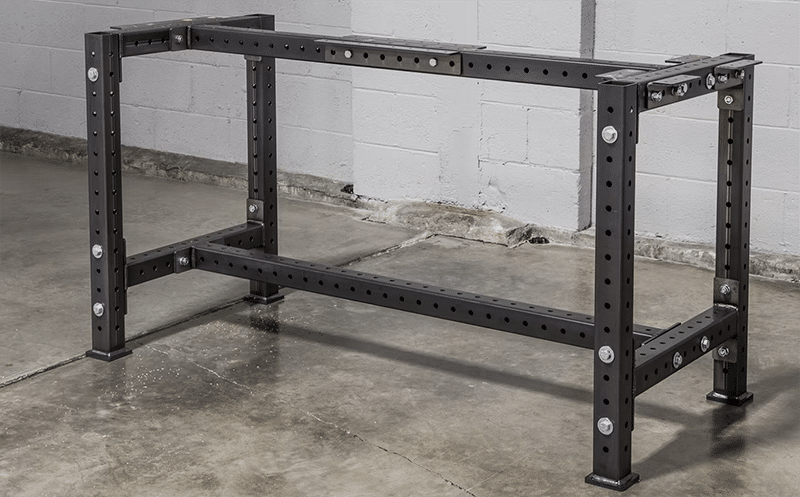 *The satin clear finish is a transparent finish. This will show any blemishes or marks from the manufacturing process that are present in the steel.
Rogue Work Bench Specifications
Made in the USA
Rogue's own in-house work bench design
2.5×2.5″ 11-Gauge Steel construction
Modular features for expansion / attachments
Size Options: 72"x36" or 96"x36"
Choice of Top: Wood or Steel
Finish Options: Satin Clear or Satin Black
72″ Frame Specs: 60" x 28" x 33.25"
96″ Frame Specs: 84″ x 28″ x 33.25″
Frame Alone: 72″ – 135LB | 96″ – 151LB
Which Athletes Work with Rogue Fitness?
Rogue Fitness has a number of professional athletes and teams that they sponsor and work with. Here are some examples:
Mat Fraser – 5x CrossFit Games Champion
Tia-Clair Toomey – 6x CrossFit Games Champion
Rich Froning – 4x Individual CrossFit Games Champion and owner of CrossFit Mayhem
Katrin Davidsdottir – 2x CrossFit Games Champion
Josh Bridges – CrossFit athlete and former Navy SEAL
Camille Leblanc-Bazinet – CrossFit athlete and 2014 CrossFit Games Champion
Hafthor Bjornsson – Icelandic strongman and former World's Strongest Man
Chris Spealler – CrossFit athlete and seven-time CrossFit Games competitor
Brent Fikowski – CrossFit athlete and three-time CrossFit Games podium finisher
These athletes and teams work with Rogue Fitness in various ways, including using their equipment, promoting the brand, and collaborating on new products.
Rogue Fitness has a strong presence in the functional fitness community and is known for supporting and working with top athletes in the sport.