Rogue Fitness vs Kabuki Strength – What is the Best Camber Bar?
What is the best camber bar when it comes to your training? This extensive guide compares and contrasts the two best camber bars on the market to help you make the right choice for your requirements, tastes and budget.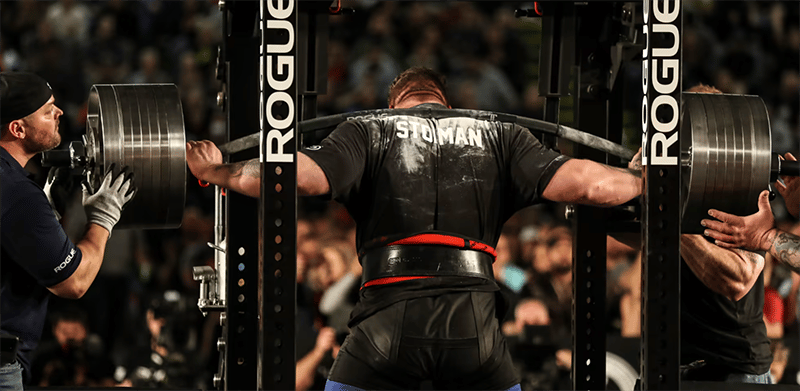 What is a Camber Bar?
A camber bar is a curved barbell that is designed for strength training and powerlifting.
What are the Benefits of a Camber Bar?
There are many benefits of using this type of speciality barbell, including, but not limited to, the following points:
Takes pressure off the shoulders and elbows when squatting
Can be used even by people with poor mobility
Can be used by athletes of all shapes and sizes
Beneficial angle for the wrists to grip the barbell when squatting
Build more strength with less weight
Increased range of motion during the bench press
Quick Choices
If you already know what you need, then click on one of the links below to find the perfect camber bar for you.
Rogue vs Kabuki Strength – What Sets Them Apart?
| | | |
| --- | --- | --- |
| Brand | Rogue Fitness | Kabuki Strength |
| Weight | 60LB | 60LB |
| Length | 95″ | 94" |
| Diameter | 38MM | 38MM |
| Curve / Bend | 4.4" Drop | 4.3" Drop |
| Designed with | Westside Barbell | Chris Duffin |
| Where to Purchase | Rogue Fitness | Kabuki Strength |
Rogue CB-4 38MM Camber Bar
The Rogue CB-4™ 38MM Camber Bar was developed in collaboration with Westside Barbell, and made its public debut as the "Double T" Bar at the 2022 Arnold Strongman Classic (nick-named in honour of the late Dr. Terry Todd).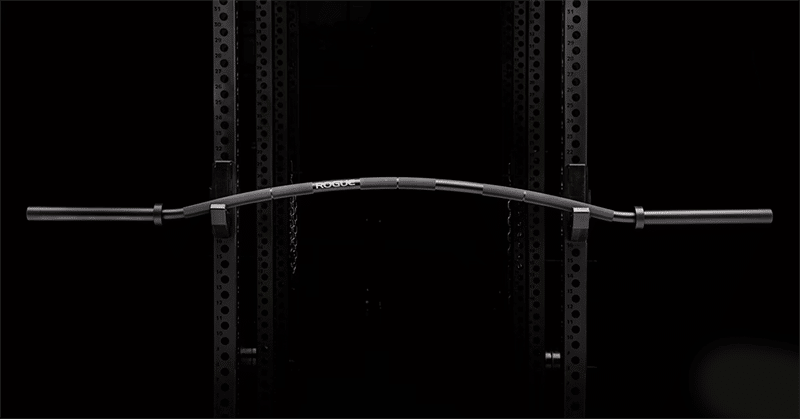 The goal with this design was to build a curved / bowed specialty bar suited not only to the world's top powerlifters and Strongmen, but athletes of every size and ability level.
To get there, Rogue started with a series of different prototypes–of varying diameter, bend angle, and knurl pattern–and sent them all over to the least compromising focus group in the iron game: the athletes at the Westside Barbell Gym.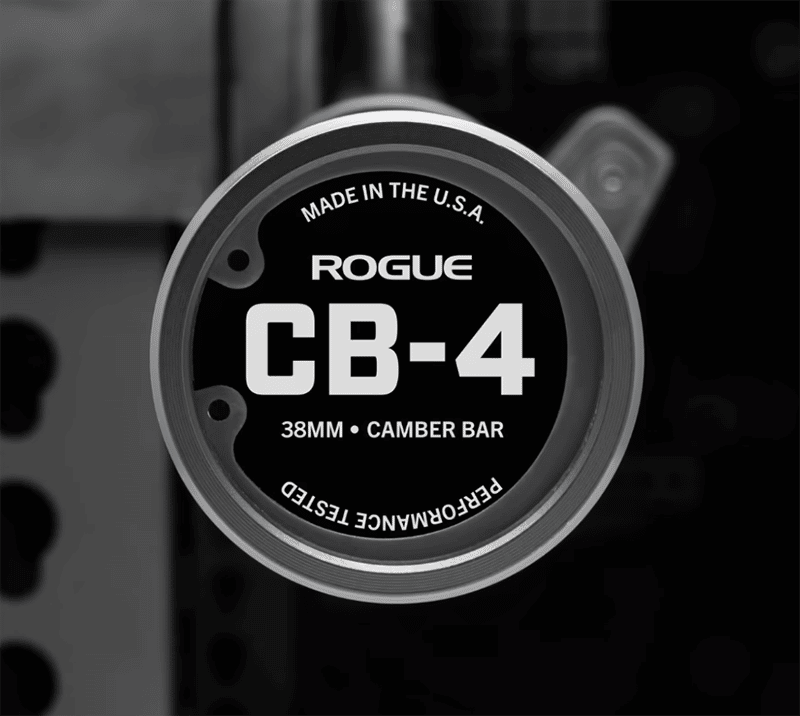 Through their repeated testing and direct feedback, Rogue were then able to determine which specs best delivered all of the key benefits they were looking for.
Design Intent for Rogue
A bar that takes pressure off of the shoulders and elbows, allowing athletes with flexibility issues or injuries to continue to squat heavy.
A bar that accommodates the size of the strongest competitive and at-home lifters, giving them room to place their hands wider apart than a standard barbell.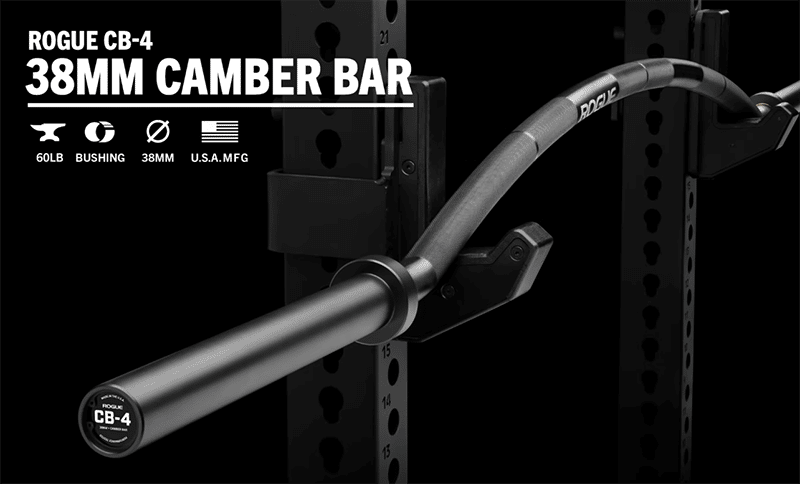 A bar that allows athletes to increase their range of motion when benching while, again, keeping undue stress off of the shoulders and elbows.
A bar that enables athletes to build strength with less weight . . . specifically, by providing the optimum drop between the centre of the bar and the sleeves, the athlete is forced to keep the lower back tight in the squat, resulting in a stimulus greater than that of the same weight on a straight bar.
A bar that does not bounce at high weights of 900 LBS or more, reducing safety risks.
The Solution for All Athletes
The solution was the CB-4 Camber Bar, a 60LB, 38MM curved power bar with a 4.4" drop and a substantial 55" wide bend, giving athletes of every size the ability to find a point on the curve that works for them.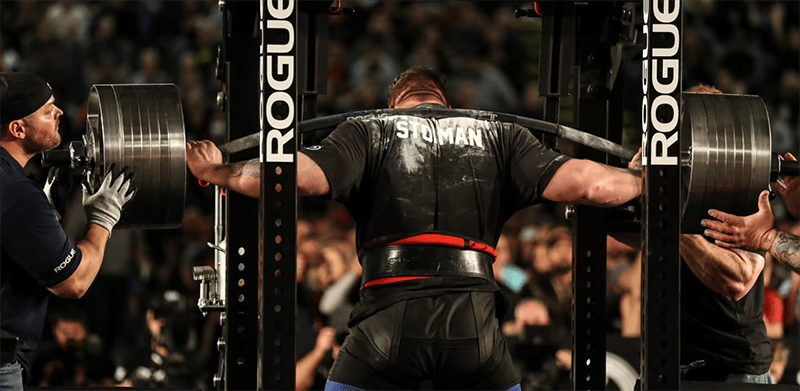 In addition to allowing more hand placement flexibility, the extra 9" of distance between the sleeves also ensures that–on most racks– the cambered portion of the bar won't flip down when unsupported.
Hand Forged in the USA
The 95" shaft of the CB-4 is machined at their Columbus factory with the power bar knurl, then precision-bent by one of Rogue's local partners and finished with a Black Cerakote coating for excellent corrosion resistance and a firm grip.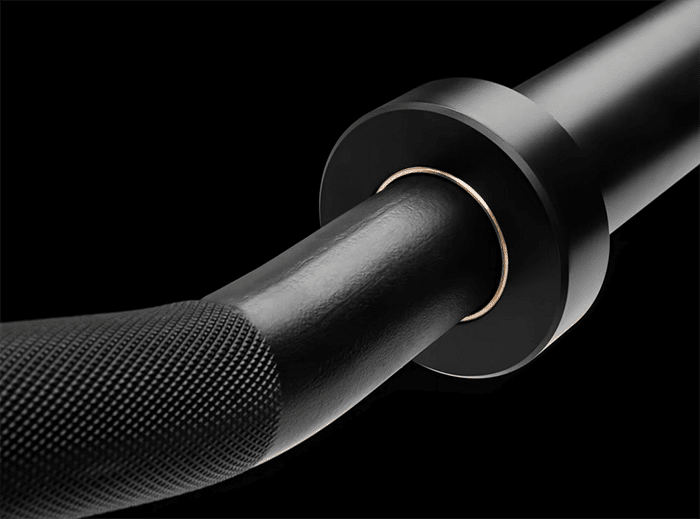 The rotating sleeves are friction welded and machined in-house and given the new proprietary matte black finish, which is the best in the industry for extending the vibrancy and longevity of the colour.
Once assembled, all bars are individually tested and assessed for quality before shipping out.
This includes ensuring that each sleeve is straight, within an angle tolerance of +0.5 / -0.0 degrees.
Specifications
Made in the USA
Specialty Powerlifting Bar
Diameter: 38MM
Length: 95″
Loadable Sleeve Length: 16″
Extra 9" Between Sleeves
Curve/Bend: 4.4" Drop
Weight: 60LB
Sharp Power Knurl + Centre Knurl
Friction-Welded Rotating Sleeves
Shaft Finish: Black Cerakote
Sleeve Finish: Proprietary Matte Black Finish
Sleeve Angle Tolerance: +0.5 / -0.0 Degrees
Put to the Test at The Arnold Classic
This bar made its public debut as the "Double T Bar" (in honour of Dr. Terry Todd) at the 2022 Arnold Strongman Classic.
In the Maximum Squat event, it handled extremely heavy loads up to 966 LBS, proving it had no limitations even at the highest levels of competition.
Developed with Westside Barbell
Rogue worked with the team at Louie Simmons' legendary Westside Barbell to test and refine the CB-4 Camber Bar.
They give their athletes a wide range of different bar diameters and sleeve spacing in order to identify the specs that would best achieve the central goals: reducing stress on the shoulders and elbows; enabling greater flexibility in hand placement; improving safety on heavy lifts; and allowing athletes to build strength with less weight.
Greater Strength Gains with Less Weight
By providing the optimum drop between the centre of the bar and the sleeves (4.4"), the curved design of the CB-4 Camber Bar forces the athlete to keep their lower back tight in the squat, resulting in a stimulus greater than that of the same weight on a straight bar.
All bars are backed by a Lifetime Warranty.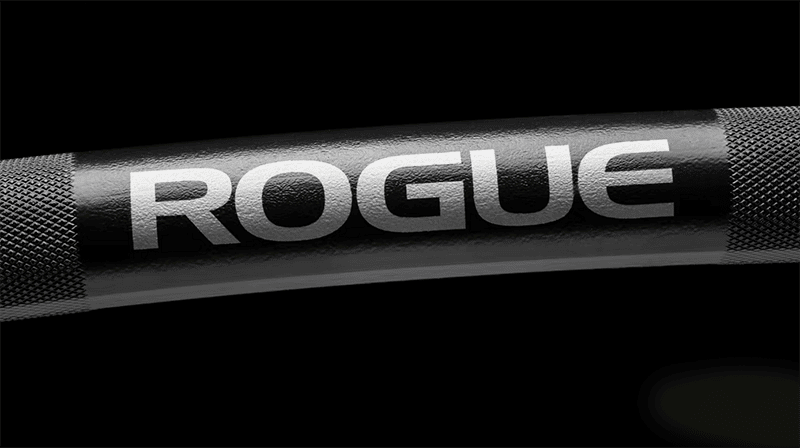 Always Finish Strong
The bar's shaft features a Black Cerakote finish; this is a ceramic-based coating first widely used in the firearm industry for its remarkable durability in thin applications.
Few finishes offer better corrosion resistance over time.
For the sleeves, Rogue used their equally robust proprietary matte black finish, which greatly extends the longevity and vibrance of the colour far beyond traditional barbell finishes.
Kabuki Strength Duffalo Camber Bar
Developed by renowned strength coach and powerlifter Chris Duffin, the Kabuki Strength Duffalo Bar features a proprietary multiple radius bend that is uniquely designed for both squatting and pressing movements.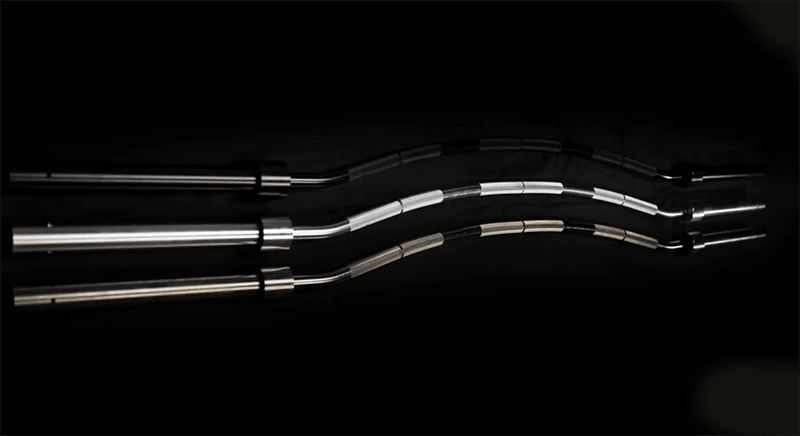 The curve of the bar reduces stress on the shoulders, biceps, and back, while enabling scapular retraction and superior joint centration.
For any lifter looking to focus on form and performance while reducing muscle fatigue and injury risks, this is a must-have specialty barbell for the arsenal.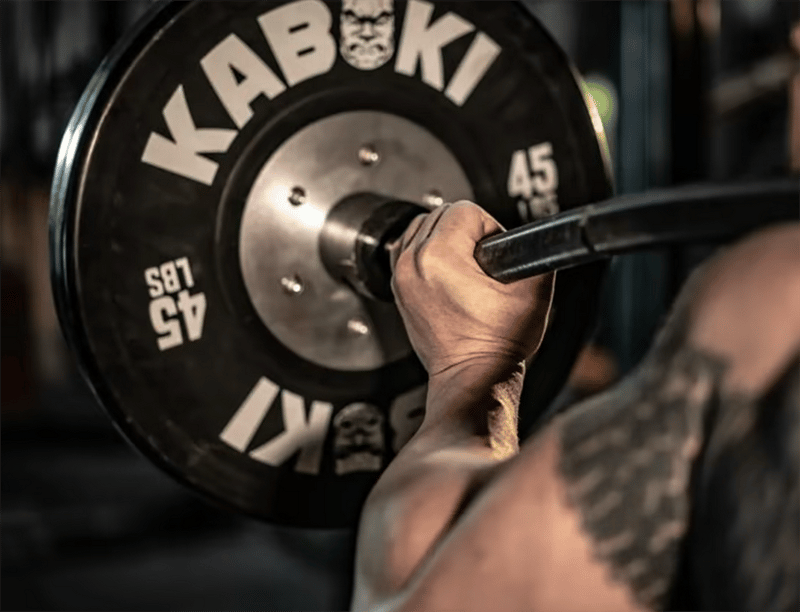 The Duffalo Bar is manufactured from a 195 KSI tensile strength alloy steel (32mm diameter) and features oil impregnated bronze bushings. The curve of the bar is contoured to comfortably suit just about any size athlete, whether performing low bar, high bar, or even front squats.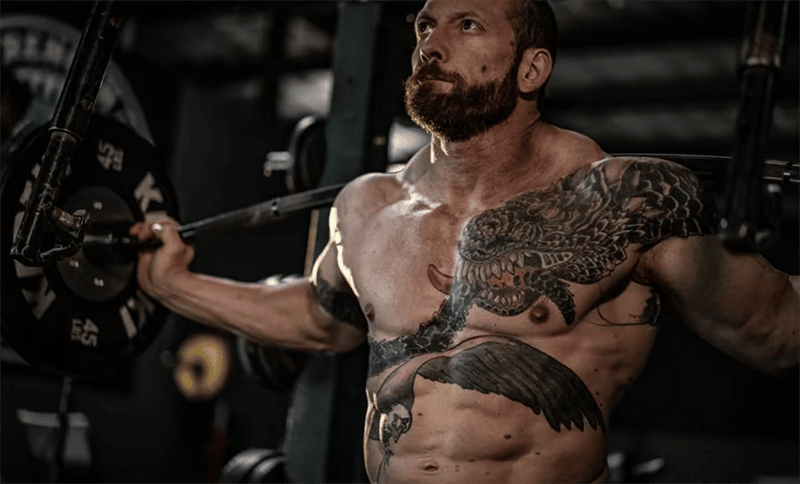 This design also leaves out the unnecessary center peak that often cancels out some of the benefits of similar curved buffalo bars. When held in the pressing position, the Duffalo Bar forces a beneficial wrist angle that reduces strain on the shoulders while promoting better lat and scapular engagement.

There is 17.25" of loadable sleeve length on the Duffalo Bar, with a load capacity topping 1,500 LBS. An expansion point is also built-in to the collars for Kabuki Strength's optional Band and Chain Handle Attachment.
What is the best Rogue Deadlift platform?
Colour Options for the Duffalo Bar
All Duffalo Bars are manufactured in Portland, Oregon, and are available in three options: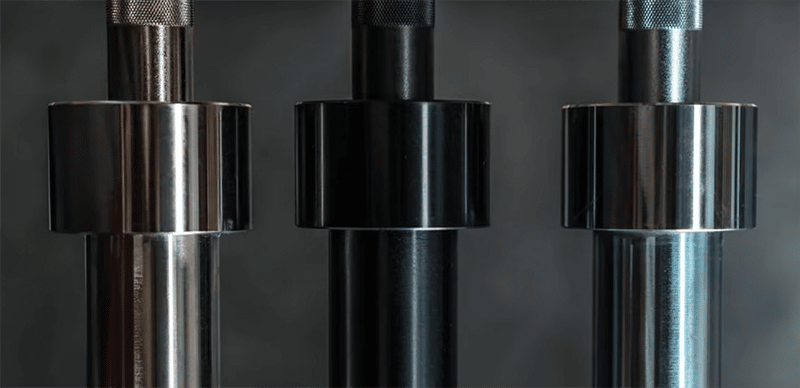 Clear Zinc: Shiny and bright with a bluish-silver hue that fades to a gunmetal grey color over time. Standard but durable option.
Black Oxide: Adds minor corrosion resistance, limits light reflection, and creates a great gunmetal black finish.
Electroless Nickel: A premium finish typically used in high wear environments. This finish has a high level of corrosion resistance, wear resistance, and longevity of its bronze color.
Why use a Duffalo Bar?
You should use a Duffalo bar because they are excellent quality, will last a lifetime, have been designed by some of the best lifters and designers in the game and because they will help you develop more strength with less weight, protect your body and enhance your skills.
What is a Camber Bar Used For?
This type of speciality barbell is used for strength training and powerlifting.
Can you Bench with a camber bar?
Yes, you can. It provides a longer range of motion and an alternative style of grip for your hands.
Camber Bar Squat
Here's how to squat with the cambered bar:
Place your grip across the upper part of the barbell or on the vertical posts if you struggle with shoulder mobility
While holding onto the bar, dip underneath it and set the upper part on top of your rear delts
Bring your feet forward, so they're positioned directly under your hips
When ready, push the floor away to stand tall and let the bar settle to minimize any swinging
Slowly take one step back, then a second step back to clear the hooks
Pause to allow the bar to stop swinging, then widen or narrow your stance width to your preference
Take a deep breath into your abdomen and begin squatting down
Once the crease of your hip dips below the top of your thighs from the side, you've gone deep enough
Push the floor away to accelerate back to the starting position
Pause for a couple seconds between reps, and before walking forward to re-rack the bar
Camber Bar Weight
Most Camber bars tend to weight between 25 to 30 kg.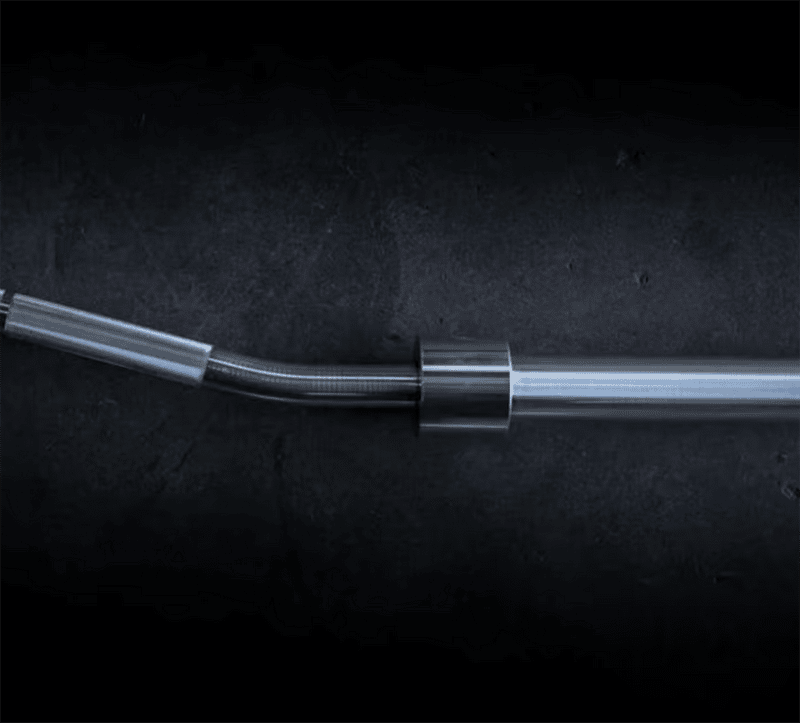 What is the Best Camber Bar?
Our top choice is the Rogue Camber Bar.
Other Equipment