Best Able Carry Backpacks
Check out the best Able Carry Backpacks if you need style, durability and functionality at an affordable price.
Who are Able Carry?
Able Carry is a Hong Kong based company that has been creating high quality gear since 2018.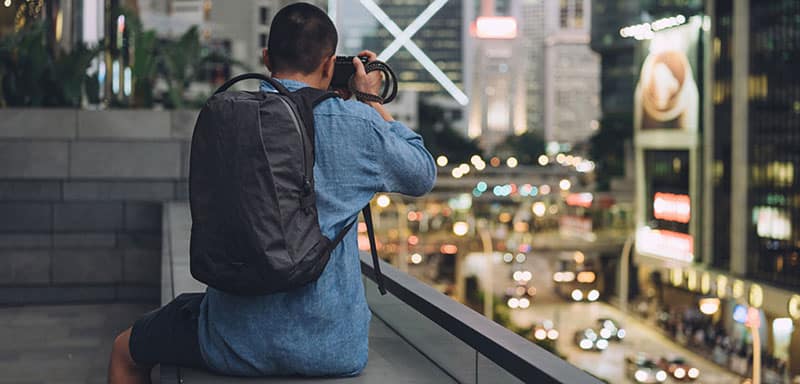 Their 20L "Daily" Rucksack emerged from a successful kickstarter campaign and they have been going strong ever since.
When it comes to city and travel backpacks, there are no shortage of options. But which ones are the best? We've done a lot of research on this topic, and we're excited to share our top picks with you.
Why are Able Carry Backpacks Good?
Firstly, they are made from high quality materials and have a lifetime guarantee.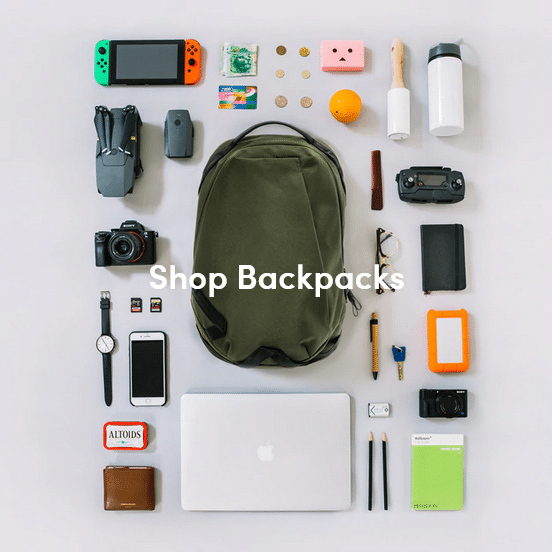 This means that you can use your Able Carry backpack for years without worrying about it falling apart on you. The outer shell is made from waterproof material (so no accidental spills), while the inner lining and straps are made from even more durable materials so they won't tear or wear out any time soon either!
Also consider how much time you will save when using this bag instead of a traditional backpack that has many compartments inside – everything will fit seamlessly together in one space so no digging around for things like shoes or snacks later on down the road!
Let's dig into our choices of the best Able Carry backpacks.
Able Carry Backpacks – Daily Backpack
This backpack is the perfect size for your everyday needs.
It has a slim profile, making it easy to slide into any bag or briefcase without taking up too much space. The padded laptop sleeve can fit most 15″ laptops, and there are multiple compartments on the interior so you can organize your items in an efficient manner.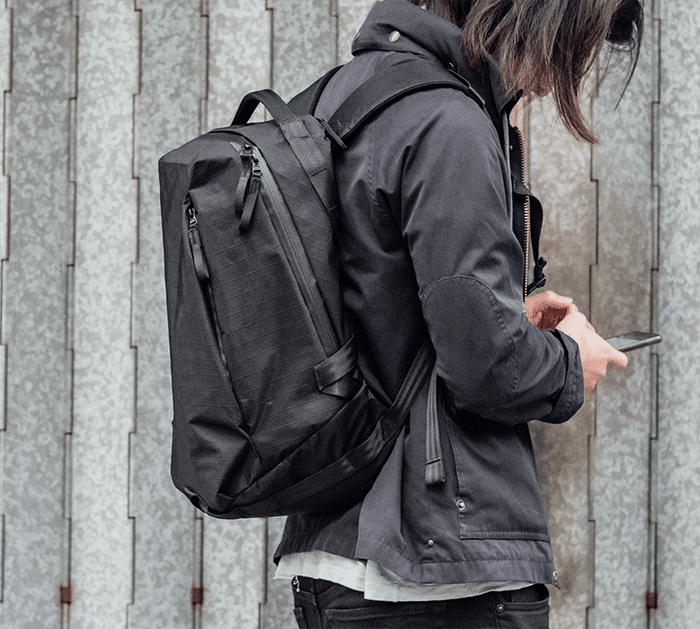 The Able Carry Daily Backpack is built with the modern workplace in mind. 20L of storage, protective laptop sleeve and designed for comfort on the go, the Daily carries all you need to do what you love, anywhere.
Colour: Cordura Olive, Black, Navy
Cordura branded Nylon is an often used material known for its strength, abrasion resistance and colourfastedness. A Durable Water Repellent (DWR) coating adds water resistance to this colourful fabric.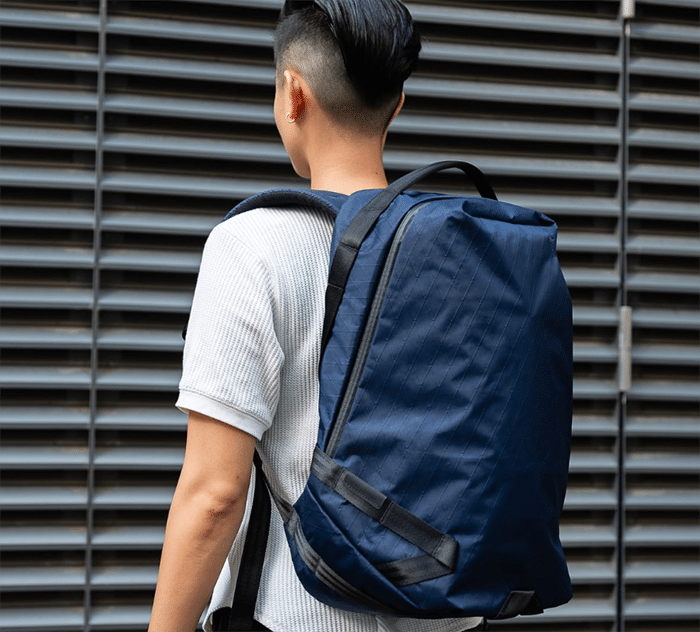 The exterior features webbing that's ideal for attaching accessories such as water bottles or umbrellas. The entire backpack is made from durable nylon fabric with heavy-duty stitching throughout; this will help keep everything in place no matter what kind of load you might be carrying around!
The Daily Backpack weighs about 2 pounds when empty.
Price: 128 USD
Able Carry Backpacks – Thirteen Daybag
The Thirteen Daybag is a 13-litre backpack that has a lot of great features for anyone who wants to use it as a day bag.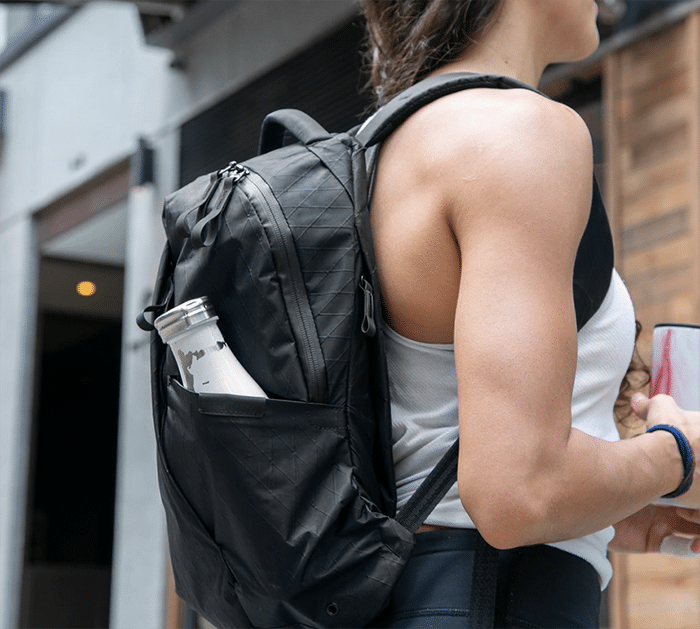 You can also use this as a work bag, cycling bag, travel bag, or hiking bag. Compact with surprising capacity and plenty of pockets, the Thirteen is ideal for both busy commutes and leisurely strolls. Comes in US-made X-Pac fabric.
X-Pac is a made-in-USA fabric featuring high strength with low weight. Reinforced with a distinct polyester X-Grid, and often backed with a laminated piece, X-Pac fabrics add sturdiness to any frame.
It comes in four colours: black, blue/grey/white, blue and orange.
Price: 128 USD
Able Carry Backpacks – Daybreaker
The Daybreaker is a small day pack that's perfect for the gym or for day trips. The laptop compartment is padded, as are a few other compartments.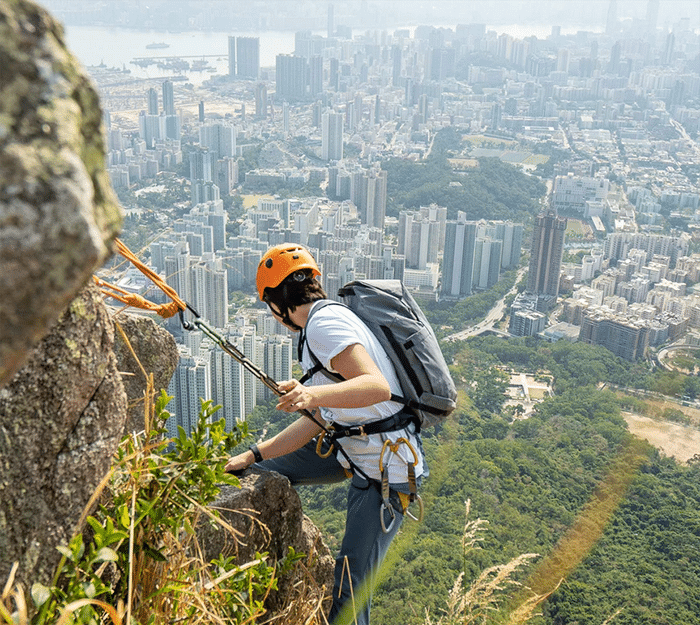 It also has an expandable top to allow for more space when necessary, as well as a convenient side pocket that fits all your water bottles and other gear without making them jostle around too much.
The 25L daypack built for comfort, engineered for strength, and designed to be used all day, everyday.
Fits most 15″ laptop devices
X-Pac Fabric or Cordura Ripstop Nylon
Price: 108 USD
Able Carry Backpacks – Max Backpack
The Max Backpack is a great option for daypacks.
It's comfortable to wear and easy to pack, as well as durable and water-resistant.
The Ultimate Everyday backpack for work, play, and travel. Built with 30L of smart, efficient storage, engineered carry comfort, and secure features.
Fits up to 17″ laptop devices
X-Pac Fabric and Cordura 1000D Nylon
Colour: Ocean Blue
Price: 260 USD
Able Carry Accessories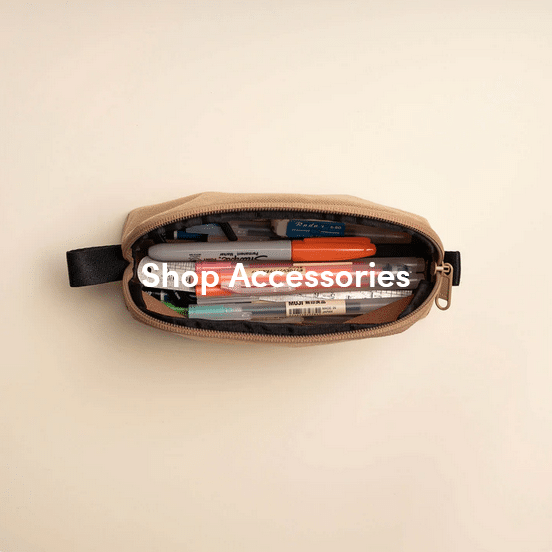 Able Cooler
The Able cooler is a lightweight yet durable backpack, which is perfect for any outdoor adventure. This backpack is made from rip-stop nylon and features a removable cooler compartment that can hold up to 24 cans or bottles. The Able Cooler has an adjustable shoulder strap with breathable mesh padding and two side pockets that are perfect for storing water bottles or other necessities.
The Cooler fits perfectly into any Able Carry backpack, or carried as a sling with the carry strap.
Price: 56 USD
Stash Pouch
The Stash Pouch is a small accessory that can be attached to any of the Able Carry backpacks.
It is designed to hold small items and keep them safe while you are traveling. The pouch is made of durable material that has been treated with an anti-theft coating, making it difficult for thieves to cut open the bag without being noticed by others around you.
Price: 20 USD
Joey Pouch
A compact Joey Pouch is the perfect accessory for keeping your essentials safe and easily accessible when you're on the go.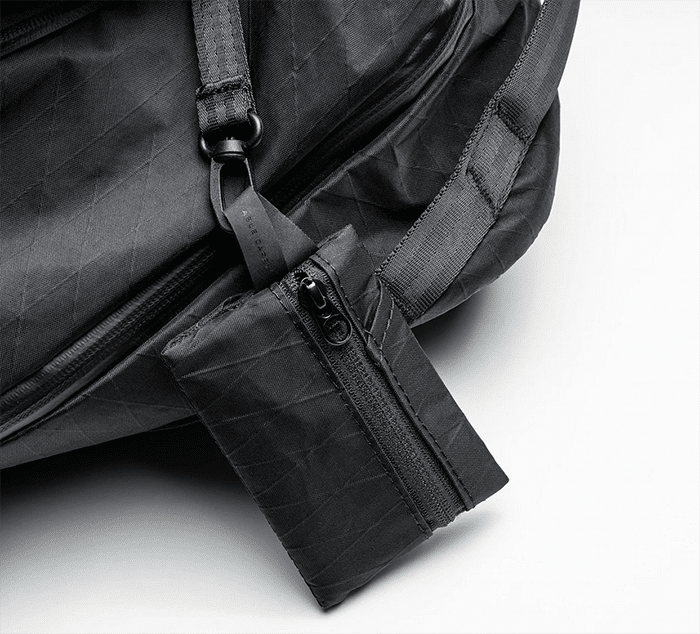 This little guy will take cards, keys, and other small knickknacks. With an X-Pac shell, Hypalon detailing, external card slot and a key loop, the Joey clips onto our backpacks, or can be used as a standalone carrier.
It features double zippers with snap closures to keep your belongings safe from rain or dust, and a key ring attachment so you can keep track of keys. The Joey Pouch comes in a variety of colours, making it easy to coordinate with any backpack or bag.
Price: 24 USD
Able Carry Rain Cover
When it comes to protecting your backpack from the rain, Able Carry has got you covered. The brand's Rain Covers are designed to fit every type of bag in their line-up, so there's no need to worry about whether or not it'll fit yours.
Able Carry Everyday Backpack Rain Cover
The Everyday Backpack Rain Cover is made from nylon fabric that can withstand the elements and keep your goodie safe from the rain. It also has an adjustable drawstring waist belt for added security when traveling on foot or by bike.
Able Carry Travel Backpack Rain Cover
This lightweight rain cover is designed specifically for travelers who want to protect their belongings from unexpected weather conditions while also keeping things light and easy-to-carry around town when not in use. It's made with siliconized fabric that keeps water out without affecting functionality inside or outside of your backpack (and doesn't scratch up against metal zippers).
Are Able Carry Backpacks Waterproof?
Water-resistant materials are built to resist water, but they are not waterproof. Water-resistant means that a material will repel water, while waterproof means that the material won't let any moisture through it at all.
Able Carry explains, "However, like most zipped backpacks, our backpacks are not waterproof: water can eventually seep in in prolonged exposure, so to protect your bag in for longer exposure or in heavy rain, we recommend adding a raincover for enhanced protection."
This is a crucial difference to understand when choosing backpacks for use in wet conditions. If you want your backpack to be completely impervious to rain and snow, then look for one with a fully waterproof exterior shell made from materials like GoreTex or TPU (Thermoplastic Polyurethane). These materials are designed specifically for this purpose and can keep out both snow and rain indefinitely.
What are Able Carry Backpacks Made From?
Cordura Nylon
Cordura branded Nylon is an often used material known for its strength, abrasion resistance and colourfastedness. A Durable Water Repellent (DWR) coating adds water resistance to this colourful fabric.
1000D
A mid-weight weave that is a good balance of toughness and flexibility.
210D Ripstop
A lightweight weave with a rip-resistant pattern.
X-Pac
X-Pac is a made-in-USA fabric featuring high strength with low weight. Reinforced with a distinct polyester X-Grid, and often backed with a laminated piece, X-Pac fabrics add sturdiness to any frame.
VX21
The VX21 and X42 series are a lightweight, tear-resistant material layered a nylon surface, X-Grid support, and a polyester backing for waterproofing and structure.
X50
X-Pac X50 and X51 features the X-Grid with polyester film backing for waterproofing and structure, and a surface layer of 500D Cordura Nylon for strength. A splash of Multicam pattern for tops out the X50s.
Do Able Carry Backpacks have a Guarantee?
Able Carry offers a lifetime guarantee on all Able Carry products. This means that if anything goes wrong with your backpack, you can return it and they will replace it.
If you are a customer in the USA, Able Carry will repair any product that fails due to a manufacturing defect or normal wear and tear, within 90 days of purchase. They may also repair or replace any other product that fails due to normal wear and tear within 1 year of purchase.
Products must be returned to Able Carry freight prepaid with proof of purchase (receipt).
Please note that any replacement products sent to customers in North America do not have additional warranty coverage beyond the first 90 days; however, they still have full manufacturer's warranties which may provide additional coverage for up to 5 years from date of manufacture depending on the manufacturer's policies.
What is the Best Way to Clean Able Carry Backpacks?
When it comes to the best way to clean Able Carry backpacks, there are a few things you should keep in mind.
First and foremost, never put your backpack in the washing machine or dryer!
This can cause damage to the material and stitching. To wash your backpack with a mild detergent, simply wipe down any stains with a damp cloth first, then wash by hand using cold water and mild detergent.
Avoid using bleach or any harsh chemicals when cleaning your backpack as these may damage its colour or material over time.
Once you've washed it by hand and wrung out excess water (don't wring too hard), let it air dry overnight on something like an old towel so as not to stretch out the seams of your bag unnecessarily during drying time
What Hardware do Able Carry Backpacks Use?
Able Carry bags comes standard with premium, durable hardware.
YKK RC Zippers
YKK is the largest supplier of reliable zips. We use Racquet Coil zips that's commonly chosen by the luggage industry for its strength.
Duraflex POM
Duraflex POM hardware uses industrial-strength POM, a plastic that's highly impact resistance and known for durability.
Trims
Nylon Webbing – Tough load bearing webbing used for all anchors points.Hypalon Details (available on Daily Deep Black, and all Thirteen models)
Explore the Able Carry Backpacks Collection
Other Equipment